Linux may be a fan-favorite in the hosting industry, but this doesn't mean it's the only choice for developers. Although not as popular, Windows-based web hosting is a viable option – especially if you want to run a website based on the ASP.NET framework.
You could try using the Linux-friendly .NET Core or the competing Mono platform, but neither option has all the Windows-specific components included in ASP. In this case, you're better off with a web host that offers Windows plans.
Finding an affordable ASP.NET host that's also reliable is easier said than done – but not impossible. Although ASP may be open-source, Windows Server isn't, and the cost is often passed on to you. Dozens of companies claim to be the best ASP.NET web hosts, yet only a handful optimize their servers to run it, and even fewer use the latest version of Windows Server.
I tested more than a dozen services to find the best ASP.NET hosts, and I can tell you that many didn't make the cut despite glowing customer "reviews" (I'm looking at you, GoDaddy and Network Solutions) – so read on to find out who actually did.
Short on Time? These Are the Best ASP.NET Hosting Services in 2022:
Kamatera – Flexible cloud servers with scalable resources for ASP.NET hosting.
InterServer – Shared ASP.NET hosting plans with unlimited resources.
SmarterASP.NET – High-performance ASP.NET servers with a 60-day free trial.
What We Look For in the Best ASP.NET Hosting Services
Here's what I prioritized in my search for the best ASP.NET hosting providers.
Compatibility. I didn't even take a second look at Linux setups trying to pose as ASP.NET hosts. You want the benefits of the entire .NET framework, and for that you need Windows Server.
Optimized servers. It goes without saying that the latest versions of .NET, Windows Server, MSSQL, and IIS are preferred. An up-to-date infrastructure promises better security and improved performance.
Value for money. ASP.NET hosting plans tend to be expensive. If a host is going to ask me for more money, it'd better give me additional (useful) features, like automatic backups and improved security.
Database and module support. It's helpful to have MySQL, MariaDB, and PostgreSQL support aside from MSSQL because you never know when you might have to interact with an application based on a LAMP stack. This makes an additional module like ODBC a must-have. You may also want support for other modules, like Access, MVC, or Silverlight.
Expert knowledge. Windows Server technology doesn't benefit from the same kind of community that Linux has. This makes it all the more important to have Windows experts ready to help when something goes wrong. And if there's anything we can count on, it's that if something can go wrong, it will – that's what blue screens are for, right?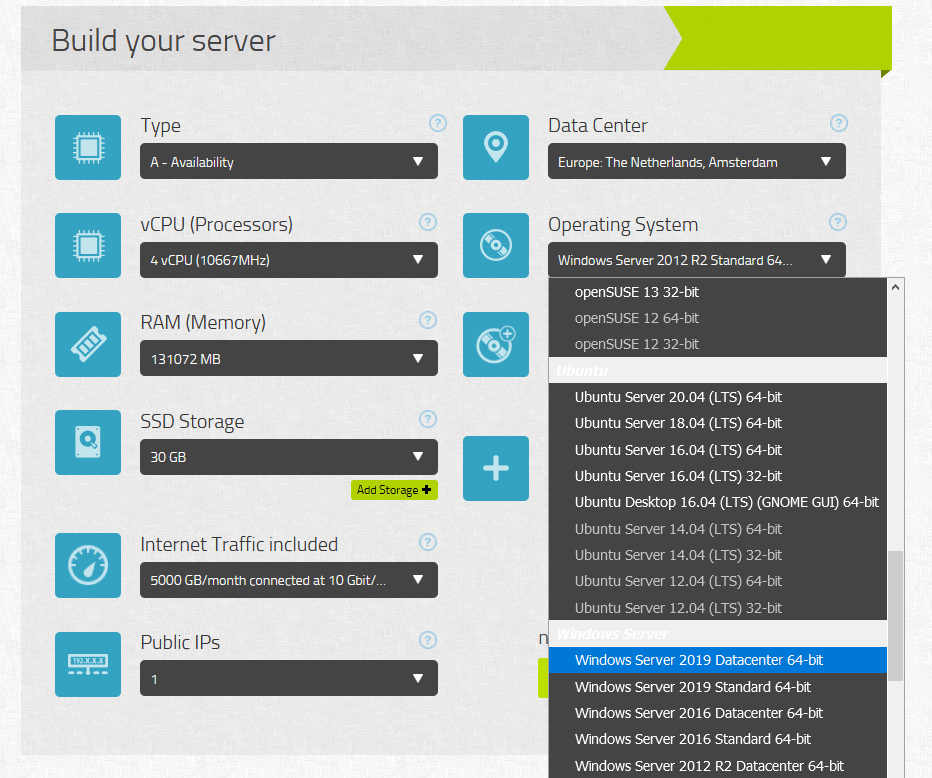 Kamatera's incredibly flexible cloud servers are a good solution if you need an affordable custom hosting environment. It may not be as cheap as Hostinger's VPS, but you can add as much CPU power, RAM, and SSD storage as you need (within certain limits). Then, choose your data center location, operating system, and control panel – and you're good to go.
The downside with Kamatera is that you only get a small amount of storage and traffic included when you sign up. Moreover, if your incoming traffic is more than double the outgoing traffic, you'll be charged for that. To be fair, at roughly $10 per TB, the pay-as-you-go rates are nothing to worry about.
Kamatera is one of the few web hosts that maintains a large network of data centers in the Middle East. If you have a website or app with users mostly from Israel, Egypt, or the neighboring countries, you'll definitely want to consider going with Kamatera.
Features
Four types of CPU. Choose between shared, general purpose, burstable, and dedicated processors. Dedicated processors offer guaranteed resources and unmatched performance, but they're roughly four times more expensive.
Extended daily backups. This is a great feature I'd like to see included in more hosting plans. For an additional fee, you get daily, remotely-stored backups. Restore previous versions whenever you want.
Third-party licensing. As an authorized Microsoft partner, Kamatera's licensing costs are slightly lower than the market average. This will save you money and time you'd otherwise have to spend on registering and installing Windows products. As a bonus, software updates are implemented automatically.
Free trial. Kamatera offers a 30-day free trial. If you're thinking of switching hosts, this will allow for a risk-free transition.
Read our expert Kamatera review for more on pricing.
.NET Framework

Fully customizable

ASP.NET

Fully customizable

Data center locations

US, Canada, the Netherlands, Germany, UK, Israel, Hong Kong

Starting price

$

4.00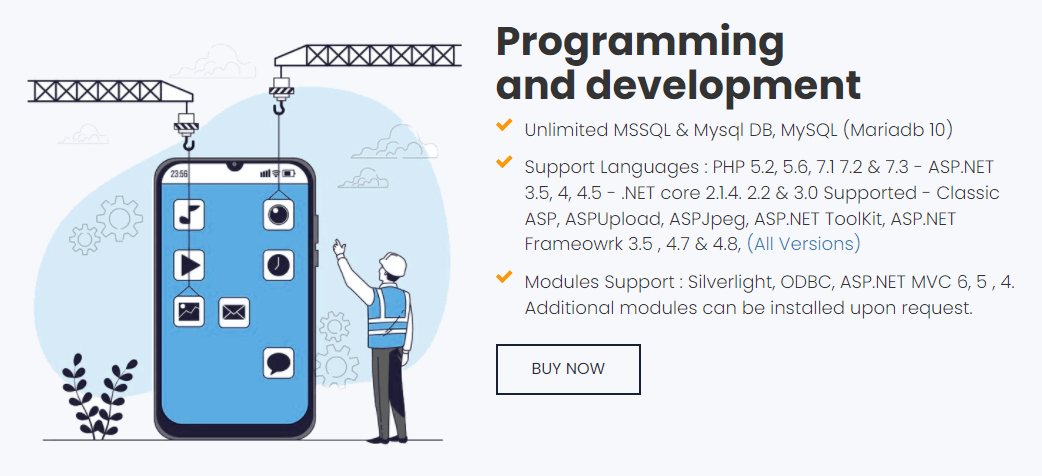 InterServer runs an IIS web server stack with the latest versions of MSSQL, .NET, and Visual Studio. Its shared hosting infrastructure is based on Windows Server 2016 machines, but VPS plans also offer the option of 2019 and Windows 10.
Although there's only one ASP.NET plan, it's got all the resources you'll need. You get unlimited SSD storage, unlimited email accounts, and unlimited databases. You can use this low-cost plan to host up to 25 websites, and there's no need to worry about SSL security because you can install Let's Encrypt certificates with a few clicks.
InterServer uses the Windows-compatible Plesk control panel, which features over 100 of the most popular apps and CMSs, including WordPress, Magento, and more. It's not exactly Softaculous, but it gets the job done.
The downside with InterServer is that you don't get a free domain name when you purchase ASP.NET hosting. However, you do get discounts for long-term commitments, as well as advanced developer modules. You can create apps in Silverlight, connect applications written in other languages using ODBC, and more.
Features
Speed optimizations. InterServer's ASP.NET plan uses the IIS web server, built-in caching in the form of FastCGI, and a 10Gbps Cisco Network. You also get access to Cloudflare CDN.
Advanced security. All shared hosting plans benefit from InterShield security. Any IP trying to connect to your ASP.NET website is verified against known blacklists, while user requests are filtered for known hacking strings.
Dedicated application pool. Your account gets a separate worker process, which offers a greater degree of security and guarantees improved performance.
Underloaded servers. In an industry where many hosts overload their servers with as many users as possible, InterServer goes against the tide and promises to go no higher than 50% of server capacity.
For more on features, read our full InterServer review.
.NET Framework

3.5, 4.7, 4.8

ASP.NET

Classic ASP, ASP.NET MVC 4, 5, 6

Data center locations

US

Starting price

$

2.50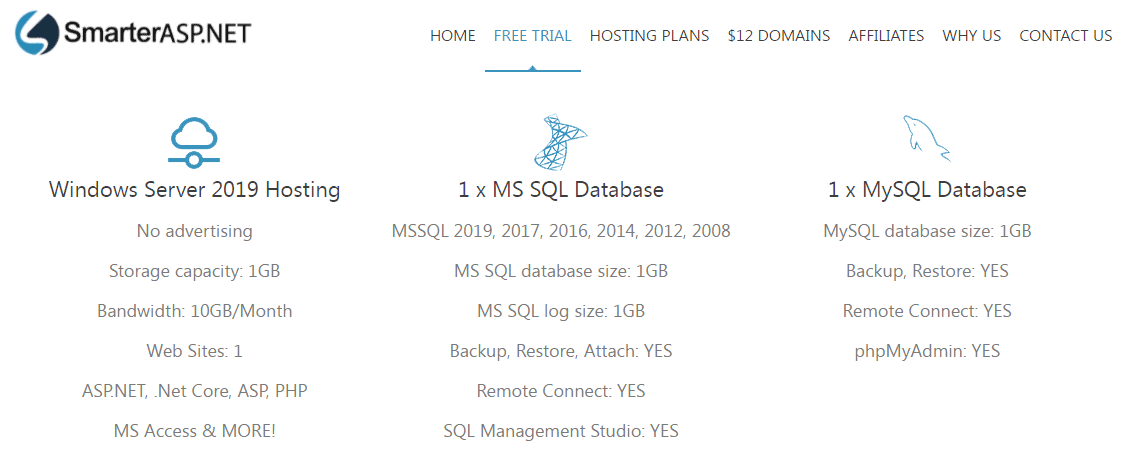 Despite the corny programmer humor in its name, SmarterASP.NET has been at the forefront of ASP.NET hosting for decades. It's one of the few companies that makes sure to keep all of its infrastructure updated. Only Windows admins can understand the sheer commitment this takes, because few tasks will test your patience more than applying updates to Windows software.
Because maintaining compatibility with Windows updates can be problematic, SmarterASP.NET gives you the option to spin up an account with legacy releases, e.g., Windows Server 2016, 2012, or .NET Core. This level of flexibility is not often matched in the Windows hosting industry.
SmarterASP.NET's 60-day free trial is a great opportunity to test the service. You don't even need to sign up with a credit card to get it up and running – you'll be asked for payment details only once the free trial expires. And after two months, you get another two months to ask for a refund if you're not satisfied.
SmarterASP.NET Web Hosting
Features
High-performance servers. SmarterASP.NET delivers some of the fastest page loading speeds you'll see from a Windows server. My Sucuri Load Time Tester showed total loading times of under a second across the board. The loading time from Los Angeles was an impressive 0.028 seconds.
Proprietary control panel. The company's hand-rolled control panel is responsive and easy to use, although you have to get your account verified by a support agent before you are granted access to all available resources.
Semi-dedicated plans. SmarterASP.NET has a great in-between solution for websites that have outgrown their shared resources, but may still be too small for a VPS. Semi-dedicated accounts are hosted on servers with a maximum of 10 customers, while SQL data is hosted on a separate machine.
Developer features. Even though this is ASP.NET hosting, PHP is available up to the latest version on all accounts, and so is Node.js. Premium accounts give you CGI scripting capability.
Need more info before deciding? Read our full SmarterASP.NET review.
.NET Framework

3.5, 4.7, 4.8

ASP.NET

Classic ASP, ASP.NET MVC 1 – 6

Data center locations
US
Starting price

$

2.00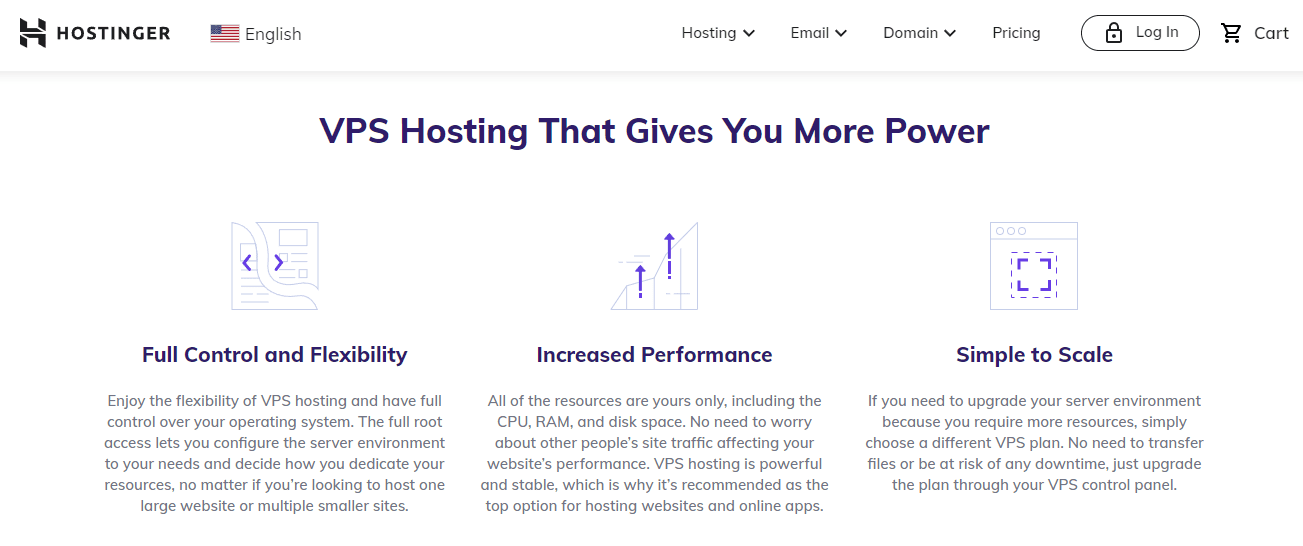 Hostinger offers the most affordable premium hosting plans in the industry, and its VPS plans are no exception. While none of the company's shared hosting plans support ASP.NET, its flexible VPS plans do. These scalable VPSs are well-suited for medium- to high-traffic websites or applications developed in .NET.
Hostinger's entry-level VPS plan is just $2.99 per month and gives you access to 1 Intel Xeon vCPU, 1GB of RAM, 20 GB of SSD storage, and 1TB bandwidth. By comparison, SmarterASP.NET's cheapest VPS plan is over twenty times more expensive. With Hostinger, you can get up to 8 vCPU cores, 16 GB of RAM, 250 GB of SSD storage, and 12TB bandwidth.
Hostinger is the most affordable ASP.NET host in terms of processing power. This makes it a great choice for busy websites or apps, but you'll have to sign up for two years or more to get the best prices.
Features
Full root access. All of Hostinger's Windows VPS plans come with full administrator privileges. You can configure your hosting stack with the .NET framework and modules you want.
Streamlined VPS management. Like many leading web hosts, Hostinger opted to create its own control panel. hPanel offers a streamlined management experience for your VPS environment. Here, you can back up and restore anything you want with a couple of clicks, and upgrade your plan with no downtime or lost files.
Smart security. Although Hostinger's VPS plans are unmanaged, you'll still get advanced DDoS protection and server-level security with BitNinja. You'll also get a dedicated IP address for your VPS server.
Concurrent access. If you're working with several collaborators, you can upgrade to concurrent VPS access from the dashboard. This facilitates collaboration for sysadmin teams, but it costs more.
Read our expert Hostinger review for more details.
.NET Framework

Fully customizable

ASP.NET

Fully customizable

Data center locations

US, UK, the Netherlands, Lithuania, Indonesia, Singapore, Brazil

Starting price

$

1.99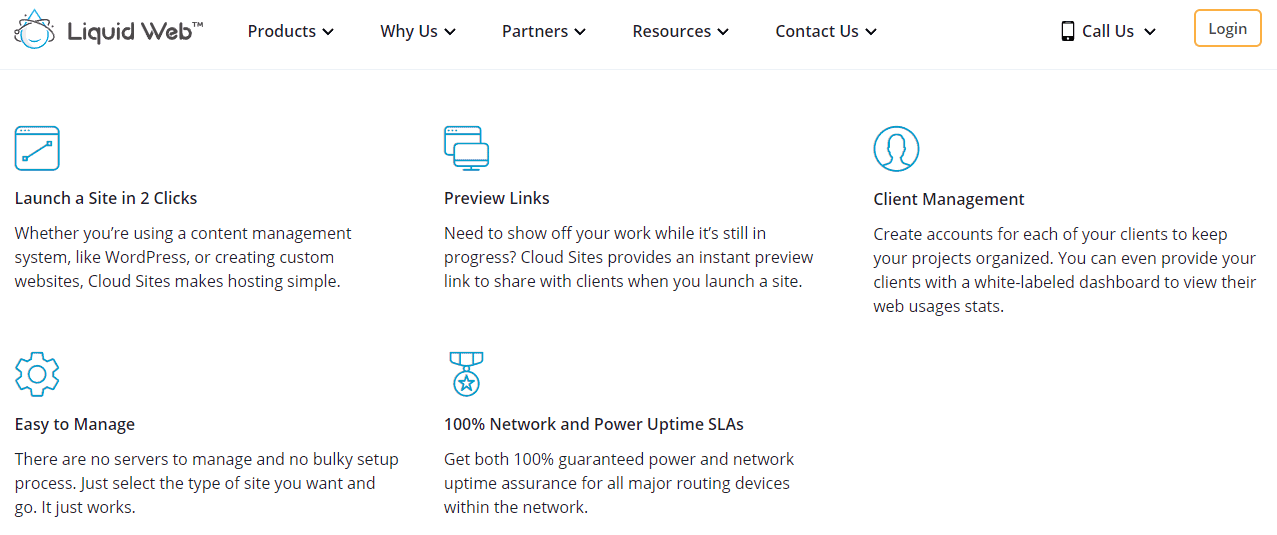 If you don't mind paying extra for quality ASP.NET hosting, Liquid Web's Cloud Sites is an excellent solution. You get a redundant cloud environment that spans multiple VMs and servers, so when your traffic increases, resources are scaled automatically.
The best part about Cloud Sites is the managed service that comes with it. Operating systems, CMSs, databases, and email accounts can all be set up with just a click. The auto-installers guarantee fast deployment, and you can ask the Liquid Web team to add additional modules anytime you need to. Meanwhile, Liquid Web will manage load balancing, DNS, firewalls, and more for you.
Features like preview links and the white-label dashboard allow you to manage projects for clients. If you're a developer or agency, these tools will make your life much easier. Show your clients how their website is progressing at a test URL, and then give them access to a white-label dashboard once everything is up and running.
Features
Load balancing. Whether you run just one or multiple websites or apps, load balancing ensures traffic spikes won't bring down your platform by routing visitors across multiple servers.
Cloudflare CDN. All Cloud Sites accounts come with Cloudflare's CDN integration. This will significantly speed up static content loading for worldwide visitors.
Enhanced protection. Liquid Web's firewall package is quite expensive on its own, so you're getting an awesome deal by having it included in your plan. All incoming traffic will be processed and vetted before it reaches your website.
Built-in autoscaling. Liquid Web's cloud infrastructure automatically allocates more resources as required to your websites. If your account uses more bandwidth than what is included in the Cloud Sites plan in a given month, the host will charge you a per-GB overage fee.
See why our expert recommends Liquid Web in our review.
.NET Framework

4.0., 4.5.2, and 4.7

ASP.NET

Fully customizable

Data center locations

US, the Netherlands

Starting price

$

13.30
Which ASP.NET Hosting Service Is Best for You?
Although the hosting industry doesn't lack competition for ASP.NET hosting, you won't find as many options as you would with PHP-based hosting. And out of these options, only a handful of hosts offer outstanding Windows hosting services.
If you want an affordable shared hosting plan that is ASP.NET-ready, InterServer is the best overall choice. Despite being shared hosting, you'll still get speed optimizations, advanced security, and underloaded servers.
If you're working on a budget but need a lot of flexibility, consider Hostinger's VPS plans for big projects. These plans are wholly scalable and you'll get a lot of resources for half the price of its competitors.
Kamatera's customizable servers are ideal for both large and small projects. Scale resources as needed without upgrading plans or paying for extra features you don't need. Kamatera comes with a 30-day free trial so you can test out the service before committing.
If you want to try out a service before committing, SmarterASP.NET has a 30-day free trial period. You can take advantage of this offer to see if SmarterASP.NET is the right fit.
If you're still on the fence about the best ASP.NET host for your needs, I've summarized the most important features of each service in the table below:
ASP.NET Hosting Type
Windows Server Version
ASP.NET Version
Starting Price
Kamatera

VPS, Cloud, Managed Cloud

2008 to 2019

Any version

$

4.00

InterServer

Shared, Cloud VPS, Dedicated

2016 (shared and VPS), 2019 (VPS), Windows 10 (VPS)

Classic ASP, ASP.NET MVC 4,5,6

$

2.50

SmarterASP.NET

Shared, Semi-Dedicated, VPS, Cloud

2019, earlier releases also available

Classic ASP, ASP.NET MVC 1 through 6

$

2.00

Hostinger

VPS

N/A

Any version

$

1.99

Liquid Web

VPS, Cloud, Dedicated

2012 R2

Any version

$

13.30
FAQ
Which is the best host for ASP.NET?InterServer is an affordable Windows hosting option. Its ASP.NET plan includes everything you need to reliably host websites on Windows Server, from the latest version of MSSQL, .NET, and Visual Studio to speed optimizations, and more. This host makes it very easy to build any type of website. With InterServer, you don't need to worry about storage, data transfer, or email inbox limits – there's no cap on any of these. InterServer often has some great deals you can find on our coupons and deals page.Can you get free ASP.NET hosting?Technically, yes. InterServer, Hostinger, and Kamatera all offer a money-back guarantee. This means you can receive a full refund within a certain amount of time. Be sure to read the fine print carefully, though. All of the web hosts on our list of best hosting services in 2022 have a money-back guarantee, with the exception of Hostwinds. SmarterASP.NET has a free 60-day trial period, and an additional 60-day timeframe where you can claim a refund.Can you host ASP.NET on Linux?Yes, in theory. You can use a Linux-friendly ASP.NET Core package released by Windows – but aside from missing modules, you're also likely to encounter a lot of configuration issues. ASP.NET was intended to be used with IIS and Windows Server, so for the most reliable hosting experience, you should use Windows-based hosting.Can you run ASP.NET on Apache?Yes, there are two ways to do so. The first is to use Mono, which is a cross-platform, open-source version of .NET that will work with Linux. The second involves setting up ASP.NET Core on Linux. This isn't an easy or beginner-friendly task, though, as you'll have to dive deep into sysadmin territory. Generally speaking, you're much better off to choose a host that supports IIS and Windows Server, as these technologies are optimized for and fully compatible with ASP.NET-based websites.