Arvixe and Bluehost are both owned by EIG (Endurance International Group). While many EIG-owned hosting services have become quite similar,
there are some important differences you should know about between Arvixe and Bluehost.
I have extensively researched and tested both hosts based on five major areas of their service.
As far as I'm concerned, Arvixe is the winner of this comparison
– it gives you a bunch of different features that Bluehost charges extra for. That said, neither host is a perfect choice. If you're looking for high-quality hosting, Hostinger can give you just that for an even lower price.
Click here to see Hostinger's best plans
, or read on for the full story.
1. Plans and Pricing
Bluehost Is Cheaper, but Arvixe Gives You Better Value
Bluehost advertises bargain headline prices, but these don't tell you the whole story.
While Bluehost's initial prices may be lower than Arvixe's, the value you get with Arvixe is well worth the difference.
For example, with Bluehost's entry-level shared hosting plan, you get 1 website, 50 GB SSD storage, unmetered bandwidth, and 5 email accounts. Arvixe, on the other hand, offers 6 websites, unlimited disk space and bandwidth, as well as unlimited parked domains and subdomains. You also get as many email addresses as you want.
A free domain name is included with some hosting plans from Arvixe
A free domain name is included with some hosting plans from Bluehost
Bluehost does offer significant discounts, but only if you sign up for a three-year term, as a one-time deal only.
 The two-year contract is less attractive, while the one-year plan is just slightly cheaper than Arvixe's starter shared offer. After renewal, the two plans cost virtually the same. In addition, Arvixe gives you the possibility to pay on a monthly basis and still get a free domain for one year. With Bluehost, you only have the option of yearly plans.
Arvixe's entry-level VPS plan is more generous, with 2GB of RAM, 4 vCPU, 50GB of storage, and unmetered data transfer.
 To get similar resources with Bluehost, you have to purchase its Enhanced VPS. You might save a little with Bluehost's first-time offer, but the plan will then renew at an even higher price than Arvixe's.
A free domain name is included with some hosting plans from Arvixe
A free domain name is included with some hosting plans from Bluehost
Arvixe offers a better deal than Bluehost for dedicated server solutions as well. If scaling is important to you, Arvixe has three cloud dedicated options that ensure your resources are isolated with the help of Hyper-V technology.
Bluehost's Enhanced Dedicated is cheaper than Arvixe's 4GB RAM, 1TB server, but again, this is only for the initial term.
 Once you have to renew, Arvixe's plan is actually cheaper. In addition, Arvixe includes 100% server management, unlimited data transfers, and managed security updates.
Arvixe has a 45-day money-back guarantee, while Bluehost only gives you 30 days.
Keep in mind that you will not get refunded for any add-on services you buy with your hosting. If you do opt for a refund, you'll also be charged a fixed fee to keep your domain. Overall, if you compare Bluehost and Arvixe based on their prices, Bluehost is cheaper only initially, while Arvixe is a better value purchase with cheaper renewal fees. However, neither of these hosts can compete with Hostinger, which offers shared hosting for as little as
$
1.99
.
A free domain name is included with some hosting plans from Hostinger
2. Support
Neither Bluehost nor Arvixe Is Going to Win Any Awards for Support
Bluehost has 24/7 support via live chat and phone, while Arvixe has 24/7 live chat, email, and support tickets.
Both of them also have good knowledge bases. Since Arvixe and Bluehost are both owned by EIG, you can expect similar support quality. To confirm this,
I went through two similar interactions with live chat agents from both hosts.
Bluehost's agent started by asking about my needs and made a recommendation based on my response. The interaction was pleasant, which is what you want from any customer support service.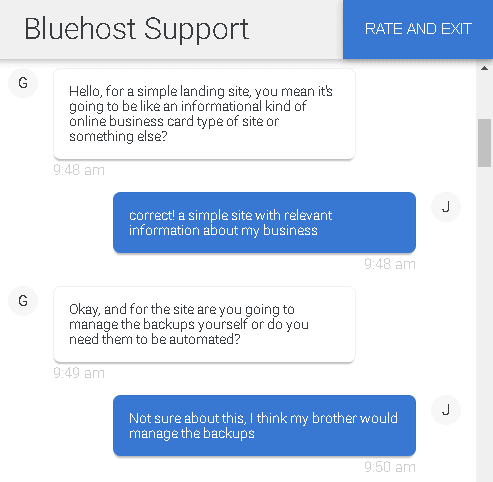 The agent then recommended I purchase the SEO Tools add-on, which essentially doubles the monthly cost of the company's cheapest shared plan. Then, he offered to help through the process of buying and setting it up.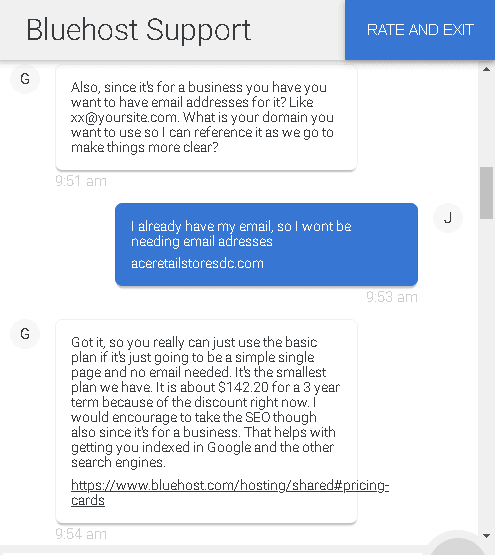 Bluehost's support agent asked me if I wanted help to purchase a plan no less than three times during our short interaction. It might just be me, but
I got the feeling that the focus of the conversation was to make a sale, rather than address my questions.
Arvixe's support agent didn't try to push any sales, but they also offered less information overall.
 Like with Bluehost, the agent asked about my needs before offering a recommendation.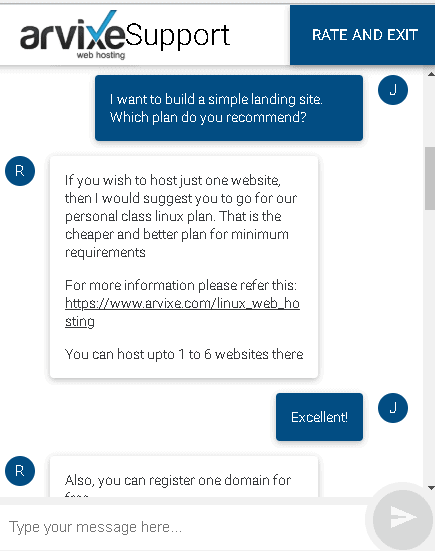 What I didn't like was that Arvixe's agent did not offer to help me with connecting a domain that was already registered on a different site. Instead of trying to take me through the process, they told me to contact the company where the domain was bought.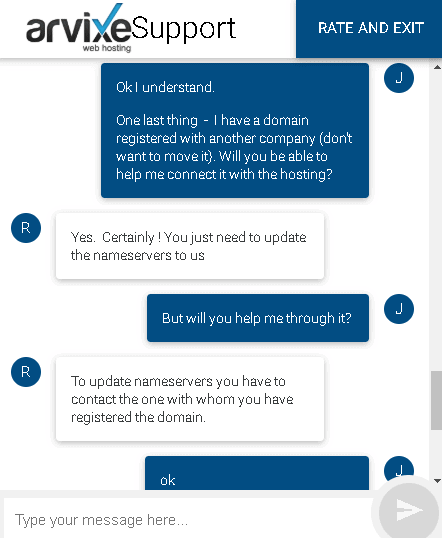 All in all, support is not an area where Bluehost or Arvixe excel, so it's difficult to choose a winner for this category.
If I had to pick one, I'd rather go with Arvixe and not be pestered by constant sales pitches.
3. Features
Arvixe Throws In a Lot of Freebies, Bluehost Makes You Pay More
To better understand the actual value behind Bluehost and Arvixe's marketing slogans, let's take a closer look at the features you get with each basic shared hosting plan. You'll notice that the two plans are very similar, but Arvixe pulls ahead with a few additional freebies. For example,
Bluehost gives you a free domain only on yearly plans, whereas Arvixe offers the same feature even on monthly plans.
In addition,
 Arvixe is a better choice if you plan to use a website builder, since it includes one on all plans.
Bluehost, on the other hand, doesn't offer a site builder on any shared hosting plan.
Backups are a complicated issue with both Arvixe and Bluehost.
 Neither the shared Basic nor the Plus plans from Bluehost include proper automatic backups, while Arvixe offers daily R1 snapshots on all plans. There's a difference between snapshots and backups, though. R1 snapshots are not technically backups, since they're not stored in a different place and they're mostly used as a short-term solution. Better than nothing, but not very reassuring overall. Here's a summary of the features you can expect with the basic shared plan on Bluehost and Arvixe:
| | | |
| --- | --- | --- |
| Feature | Arvixe | Bluehost |
| Hosting Type | Shared, VPS, cloud dedicated, bare-metal dedicated, reseller plans | Shared, managed WordPress, VPS, cloud, dedicated servers |
| Free Domain | Yes | Yes |
| Free SSL Certificate | No | Yes |
| Disk Space | Unlimited | 50GB to Unlimited |
| Bandwidth | Unmetered | Unmetered |
| Automatic Backups | Yes | Yes, but not guaranteed on all plans |
| Control Panel | cPanel | cPanel |
| Email Accounts | Unlimited | 5 to Unlimited; 1 Microsoft email account, free for 30 days on all plans |
| Free CDN | No | Yes |
| Free Site Migration | No | No |
| Money-Back Guarantee | 45 Days | 30 Days |
4. Performance
Bluehost and Arvixe Offer Similar Performance
One major problem with Bluehost is that it refuses to disclose the location of its data centers. This means
you don't get the freedom to choose a server that is closer to your target audience.
You don't even know exactly where your website is hosted. Arvixe isn't much better. The company says the "majority of its servers" are located in Dallas, Texas, but that's as far as it goes. If you need to abide by strict compliance laws, location could be an issue with either host.
Both Bluehost and Arvixe offer SSD storage on all their shared hosting plans.
This is a major pro and it will likely give your website decent speeds for visitors from the same region. Unfortunately,
Arvixe doesn't offer an integrated version of Cloudflare CDN like Bluehost
. This doesn't mean you can't activate it yourself, but that it will take a couple more minutes than clicking a button on your dashboard. CDNs are important since they ensure decent loading speeds for visitors who are located far away from where your website is hosted. Unfortunately,
 Most EIG hosts do not offer any kind of uptime guarantee and Bluehost is no different.
 Basically, Bluehost makes no promise in terms of service quality, which is worrying, to say the least.
Arvixe does have a 99.9% uptime SLA, but there are several fine-print clauses you might want to check beforehand.
 For example, this doesn't apply to unmanaged VPS and/or dedicated plans. If you experience more than 0.1% downtime in a month on a shared hosting plan, you can apply for credit equal to one month of service. Many of Arvixe's servers saw a hefty amount of downtime shortly after the buyout, likely due to major changes in infrastructure and personnel. However, it seems that Arvixe has since fixed the issue and has become more predictable in terms of hosting quality.
Bluehost did not do very well in our performance tests. To see what went wrong, check out our
expert Bluehost review
. Arvixe may not be perfect, but it managed a good performance score on our end. To read more about its performance-related features, head over to our
in-depth Arvixe review
.
5. Security
Arvixe Keeps You Safe, Bluehost Makes You Pay… Yet Again
Bluehost provides a free SSL certificate from Let's Encrypt, while Arvixe offers a premium SSL certificate, but for an extra fee.
To avoid the cost of Arvixe's Positive SSL, you can install Let's Encrypt certificates straight from your Arvixe cPanel dashboard. On the Choice Plus and Pro plans, Bluehost offers Domain Privacy, automated backups, as well as spam filtering for your email, but you don't get these on the Basic or the Plus plans.
Arvixe, on the other hand, includes automatic backups, spam filters, and an advanced firewall for free, even on the entry-level shared plan.
If you want to benefit from advanced security with Bluehost, you can buy the SiteLock Essential add-on, but this will practically double the initial cost of a Bluehost Basic plan.
Arvixe Is Better than Bluehost, but Just Barely
Based on my analysis, Arvixe is slightly better than Bluehost in terms of performance, security, and features.
 Bluehost is cheaper than Arvixe, but those attractive headline prices are a one-time offer. While there are crucial differences between these two hosts, keep in mind that both companies are owned by EIG. As such, you'll notice a similar approach to the quality of service. Instead of choosing the lesser evil, my recommendation is that you
check out Hostinger
, an industry-leading service, before making a decision. Neither Bluehost nor Arvixe made into our list of the best hosts. To see the companies that did, read our list of
the best web hosting services
.
Plans and Pricing
Affordable, good value plans that are actually cheaper than Bluehost on renewal
Low-cost entry prices, but steep renewal fees
Key Features
Unlimited storage, unmetered bandwidth, unlimited emails, and automated backups included in all plans
Unlimited storage on most plans, unmetered bandwidth, automated backups included in higher-tier plans
Performance
SSD storage, 99.9% uptime guarantee, a single data center in Dallas, US
SSD storage, free Cloudflare CDN, no uptime guarantee, undisclosed server locations (US-based)
Security
Non-exclusive, paid SSL certificates, free spam filters and firewalls on all plans, high level of infrastructure security
Free SSL certificates, free Domain Privacy and Protection on Plus Choice and Pro, SiteLock Essential available for a fee
Support
24/7 support via email, ticket, and live chat; extensive knowledge base
24/7 support via live chat and phone; extensive knowledge base
FAQ
Which host is better, Bluehost or Arvixe?
Even though Bluehost and Arvixe are owned by the same parent company, Arvixe is better overall. Despite a slightly higher initial price, the cost of the two services is similar following renewal. In addition, Arvixe provides more features, better standard security, and improved performance. Bluehost, on the other hand, makes you pay for essential add-ons that ultimately double or even triple the cost of an entry-level plan. If I were you, I wouldn't settle for either Bluehost or Arvixe. Instead, I would compare them to more competitive hosts included on our list of the best web hosting services.
2. Does Arvixe offer SSD?
Yes. Arvixe offers SSD storage on all shared hosting plans. However, if you want to benefit from solid-state drives on your VPS or dedicated plan, a paid-for upgrade is necessary. Personally, I'd choose one of the hosts on our list of the best and cheapest SSD hosting services.
3. Does Bluehost offer cloud hosting?
Bluehost does offer three cloud plans for increased resource flexibility, lower maintenance costs, and better website performance. The problem with Bluehost is that it does not have an uptime SLA and that it doesn't disclose the location of its servers. If you're looking for a good cloud host, click here for our recommendations.
4. Is Arvixe cheap?
When you compare Arvixe with services like Bluehost, it appears to have a high cost. However, Arvixe offers more value for your money and is actually cheaper following renewal. For example, Arvixe includes 6 websites, unlimited emails, unlimited storage and bandwidth, as well as automated backups in its PersonalClass shared plan. Still, there are much better hosting deals out there. Our frequently updated hosting coupon page is a great place to start looking.