Both Amazon Web Services (AWS) and GoDaddy are big names in the web hosting world, and they have lots of hosting options – but that's about where the similarities end.
AWS is better if you're a developer, while GoDaddy's web hosting plans are best if you need a personal or small-business website.
AWS is more than hosting, it's Infrastructure as a Service (IaaS), with advanced features like artificial intelligence (AI) and other cool add-ons. GoDaddy is at the opposite end of the scale – it's great for beginners, has a focus on shared hosting, and is budget-friendly. I've taken on the challenge of testing GoDaddy vs AWS on price, support, performance, features, and security. The results aren't particularly surprising, but, to be blunt, I don't really recommend either AWS or GoDaddy.
 If I had to pick a winner, GoDaddy would be it, simply because it offers hosting solutions for everyone from bloggers to corporations.
It's far from perfect, however, and there are better solutions. If you want the simplicity of GoDaddy,
Hostinger is a much better choice
. And if you want the benefits of AWS's infrastructure without the hassle,
check out Cloudways
.
Click here to see GoDaddy's latest deals
– or keep reading to see which host is best for you.
1. Plans & Pricing
GoDaddy's Fee Structure Is Easier to Navigate
If you compare the pricing and plans for GoDaddy and AWS, you'll find two pretty different business models. On its website, GoDaddy clearly presents four pricing tiers for shared web hosting: Economy, Deluxe, Ultimate, and Maximum. Higher-tier packages provide things like more processing power, a premium DNS, or a free SSL certificate.
What I liked most about GoDaddy's pricing model was flexibility.
 You can select from billing cycles ranging from monthly to every three years, with longer terms giving you higher discounts. On the flip side, renewal fees are higher than average, so you'll want to sign as long of a term as you can afford.
GoDaddy Hosting Web Hosting
A free domain name is included with some hosting plans from GoDaddy Hosting
There are no terms with AWS; you simply pay as you go.
 You first select your hosting options, including which platform you want to use and how much memory, processing power, disk space, and bandwidth you need. You pay each month based on capacity, usage, and traffic. And as an added incentive, AWS will throw in a CDN for free for the first year of hosting with most plans. You'll also pay less if you reserve capacity in advance. The entry costs to both AWS and GoDaddy are pretty similar. You can get started with fairly little. You can't really say that one is "cheaper" than the other, because the cost depends on your needs. If you're a huge online business with complex web applications, AWS makes financial sense.
But if you're a small business that doesn't need all the high-end options that AWS offers, GoDaddy's plans will suit you just fine.
Keep in mind one other option: Cloudways with AWS infrastructure.
If you're a bigger business that needs high-end features, but you don't have the time or expertise to configure a plan with AWS directly, Cloudways + AWS could be the perfect fit.
Read our Cloudways expert review to find out more
.
2. Support
GoDaddy Support Is More Accessible
Now let's take a look at AWS vs GoDaddy in terms of customer support.
GoDaddy offers live 24/7 customer support via phone and email.
 Its Help Center was also easy to navigate, and I was able to find the answer to my question about e-commerce functionality for managed WordPress plans. The next step was to ask the same question via live chat support. I connected with an agent in a little less than a minute, and he answered my questions clearly and professionally.
The only downside was that I felt he pressured me a bit too much.
 Instead of telling me more about WordPress hosting, he immediately asked if he could "buy a plan for me" right then and there.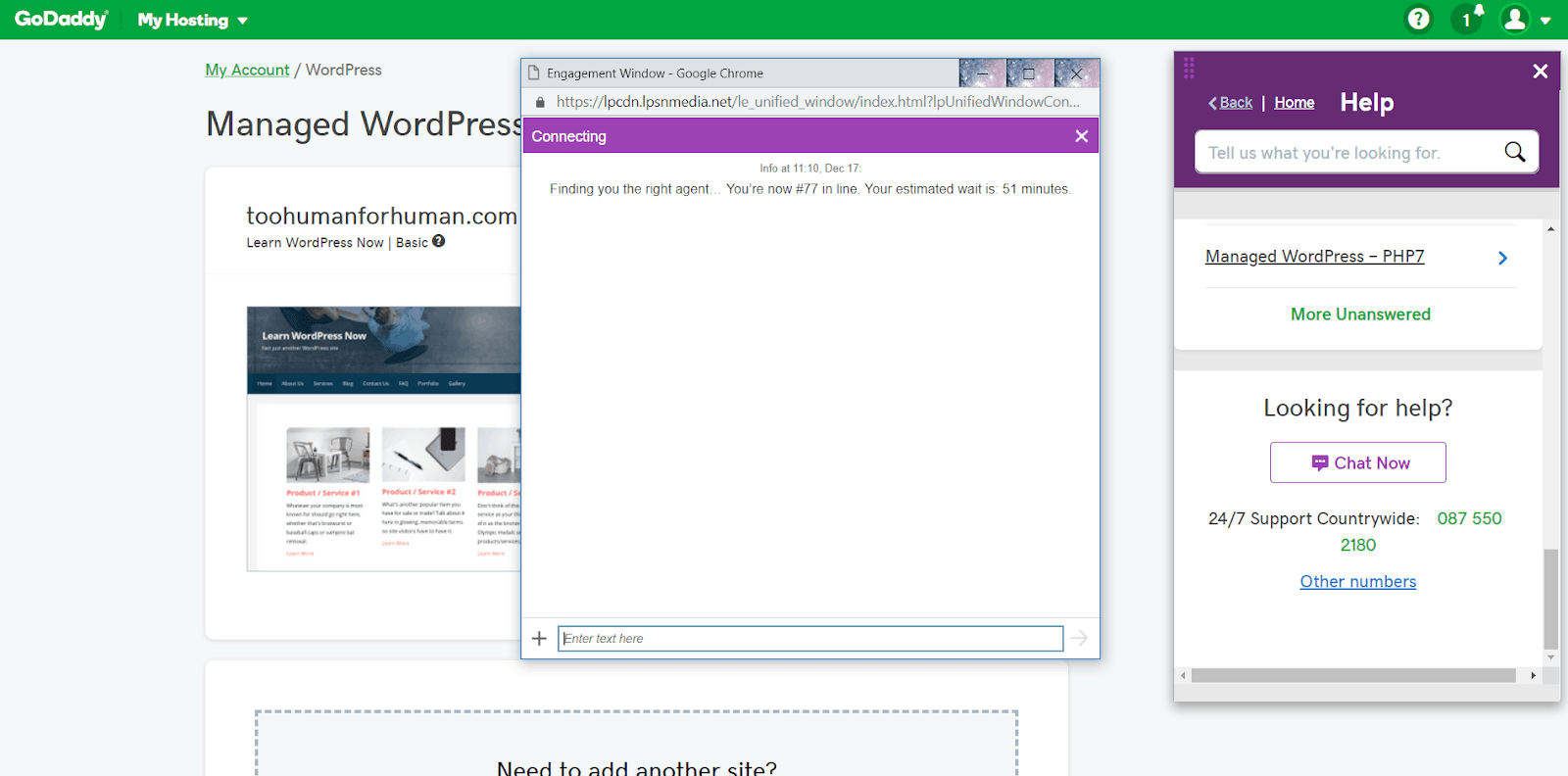 AWS has four support tiers, the cheapest of which is free.
The free plan includes 24/7 customer service,
but it's a ticketing system where you'll need to wait for a response. I went ahead and tested out the free-tier support option, and it did live up to my expectations. I received a prompt response, and after a few emails back and forth, my issue was resolved in less than 24 hours.

With some AWS premium support plans, you get a dedicated account support team to not only troubleshoot but to guide developers and help deploy AWS applications. Needless to say, this "army" of support is only accessible to the largest AWS clients like FanDuel and Verizon.
Unless you're one of the big boys, GoDaddy's support is more accessible and affordable.
3. Features
GoDaddy's Features Win on Usability
In terms of the sheer volume of features, AWS offers more than GoDaddy.
But to be completely honest, most average users simply won't need most of them. Integrating a personal or small-business website with things like robotics, direct satellite feeds, or Internet of Things (IoT) devices is just not necessary. Navigating the various features, products, and add-ons on the AWS website is also extremely confusing. Not to mention that pricing isn't very clear and you'll often need to be a technical expert to even understand what certain features are.
With GoDaddy, it's clear which features you're getting with each package.
And the features themselves are competitive and meet the hosting needs of most individuals or small businesses. However, features like an SSL certificate, premium DNS, and a website builder only come with Ultimate or Maximum packages. Let's say you're building a WordPress site from scratch. You're likely comparing the features of AWS Lightsail to the GoDaddy Ultimate plan. With GoDaddy, you get a WordPress hosting package that includes automatic daily malware scanning, a free SSL certificate, customized backup intervals, and more. You can get the same with AWS, but you'll have to customize the plan yourself, and the costs may add up. The sky's the limit with AWS when it comes to features. But unless you have a huge budget, technical experience, and/or time to invest in learning the AWS platform,
your time and money are better spent with GoDaddy. You'll get all the features you need and with much less hassle.
| | | |
| --- | --- | --- |
| | AWS | GoDaddy |
| Hosting Types | Dedicated, VPS and cloud hosting | Web, VPS, dedicated server, WordPress hosting |
| Free Domain | No | Yes |
| Site Builder | No | Yes |
| SSL Certificate | Paid via AWS Certificate Manager service | Free with Ultimate or Maximum plans only |
| Server Locations | North America, Europe, Asia, Oceania, Latin America | North America, Asia |
| Support Channels | Email, video guides, knowledge base | Chat, phone, email, forum, video guides, knowledge base |
| Uptime Guarantee | 100% | 99.94% |
| Developer Tools | Build custom tools on the AWS platform | Connect external tools using API |
| Bandwidth | Unlimited | Unlimited |
| Disk Space | 20GB to unlimited | 30GB to unlimited |
| Control Panel | AWS Management Console | cPanel |
| Email | Amazon SES (Simple Email Service) (paid add-on) | One Office 365 email (free first year only, renewal required) |
4. Performance
Amazon's Infrastructure Gives AWS the Edge
Sure, GoDaddy is one of the oldest names in hosting.
 But there might not be a bigger technology brand today than AWS.
With servers in North America, Europe, Asia, Oceania, and Latin America, you'd expect AWS to outperform GoDaddy in most speed and efficiency metrics. I put that theory to the test by comparing the performance of Amazon EC2 and GoDaddy. The results of my AWS test were outstanding with regards to connection and load times. And it's evident that AWS's massive global infrastructure of servers plays a key role. Amazon EC2 performance remained consistent across all regions I tested for. GoDaddy's 99.9% uptime guarantee doesn't stand out in the overall hosting landscape. The good news is, according to my testing, GoDaddy's actual uptime was 99.974% over a four-month period. But in some not-so-good news, its performance was quite unimpressive. For example, my testing revealed an average page load time of 2.94 seconds, which is, uh, not ideal.
Comparing the performance of AWS to GoDaddy is almost like pitting a Ferrari against a Toyota.
Major companies that run complex web applications and need near-perfect uptime for their millions of users will likely prefer AWS. While GoDaddy will get you to your destination, it may be a bumpy ride. If you're choosing between AWS and GoDaddy and are starting to think that AWS is way too much for your needs,
I recommend you take a look at Hostinger as a high-value, high-performance alternative to GoDaddy.
Check out our
in-depth Hostinger review
. Read our
detailed AWS review
to see why it crushed our performance test. For all the gory details on GoDaddy's performance,
check out our in-depth review
. Don't forget that you can benefit from the power of AWS without the hassle of managing it yourself if you opt to manage AWS containers through Cloudways.
5. Security
GoDaddy Gives You All the Security You Need – AWS Doesn't
AWS hosts some of the largest corporations in the world and therefore offers some of the most cutting-edge security options for its customers. But the same theme with AWS continues, as choosing which security products you need can make your head spin. AWS does include some free security add-ons, like a public SSL certificate and a standard-tier DDoS attack shield subscription.
But once you start getting into features like private SSL certificates and managed threat detection, costs can quickly skyrocket.
Moreover, some AWS security tools need to be purchased from a partner via the AWS Marketplace. These apps from partners like Fortinet and Cisco are most often paid, and you might need some technical know-how to install them properly.
GoDaddy has a more than adequate set of security features that you'll get with most plans.
 This includes fraud, virus, and spam protection along with 256-bit email encryption and protection. GoDaddy also has a webpage dedicated specifically to web security, offering additional products, packages, and add-ons. I'd recommend a yearly subscription to one of GoDaddy's security packages: Essential, Deluxe, Ultimate, or Express. These include varying levels of things like threat monitoring, daily/weekly backups, and expedited hack response.
GoDaddy's bundles aren't too expensive and actually cover more than the essentials for most users.
In a perfect world, all of our websites would have AWS-level security and cyber defense tools.
But in the interest of simplicity and cost-effectiveness, I'd go with GoDaddy.
Conclusion
Even though I've declared GoDaddy the winner of this matchup isn't meant to be a putdown to AWS.
Amazon has developed a robust and innovative hosting platform that numerous prominent companies are utilizing for various unique purposes. Furthermore, getting started on AWS is made accessible through Lightsail's one-click installation feature for content management systems such as WordPress or Drupal. It is worth noting that, in certain cases, this approach can prove to be highly cost-efficient. But for the majority of us, choosing GoDaddy will make hosting so much simpler. Their pricing and packages are clear, their billing options are flexible, and they offer a website builder.
For an even simpler (and better) option, check out Hostinger, which has everything a beginner needs at very low prices.
AWS might be a fancy new sports car. But many of us just want a sedan that gets us around, is simple to maintain, and is easy on the wallet. And that's GoDaddy. Want more info on why GoDaddy is the winner?
Check out this detailed review
.
For a closer look at AWS, read this in-depth review
. And keep in mind that if you want the benefits of AWS but don't have the technical know-how to manage it yourself,
Cloudways
 might be the perfect hosting provider for you. One final consideration before you choose a host:
neither GoDaddy nor AWS made our top-ten list of hosting services.
 To see who did, see our guide to the
best web hosting providers in 2023.
Comparison Table
Plans & Pricing
Confusing and sometimes expensive
Clearly stated and good value in most cases
Key Features
Endless apps and integrations on the AWS Marketplace; one-click WordPress and CMS install
Dedicated WordPress hosting, paid website builder, digital marketing tools, Outlook 365 email accounts, free domain
Performance
100% uptime guarantee, fast loading times worldwide
99.9% uptime guarantee; good performance, varies by region
Security
Wide array of paid security add-ons, services, and apps
Tiered security packages tailored to your business needs
Support
Free-tier support is email only; additional support purchased by resources consumed/reserved; geared toward enterprise
24/7/365 live support via chat or phone with all plans; Help Center is user-friendly; agents responsive, but upsell is annoying
FAQs:
Is GoDaddy a better all-around hosting option than AWS?
While GoDaddy edged out AWS in this showdown, it's important to remember that neither made the list of our top web hosting providers. GoDaddy is the preferable option for the majority of personal and business users due to simplicity and cost. In certain scenarios, the advanced capabilities of AWS might be worth paying for.
Does AWS offer dedicated WordPress hosting?
The short answer is: no. AWS does offer one-click install of WordPress as a part of its CMS migration capabilities, but WordPress users are more likely to find one of GoDaddy's managed WordPress plans much easier to get started with. However, GoDaddy missed out on our list of top six WordPress hosting providers.
Does GoDaddy offer competitive performance?
GoDaddy's performance was much better than I anticipated, and it is competitive with most other hosting providers on the market. Comparing GoDaddy to AWS is almost unfair, as AWS has access to Amazon's vast global server and cloud computing network. But for most instances, GoDaddy gets the job done.
How suitable is AWS for small- to medium-sized businesses?
If you're a small- to medium-sized business, freelancer, or entrepreneur, then I would strongly advise against using AWS. Time is more valuable for small-business owners than anything, and you don't want to get bogged down in the technical details of AWS. If you really want that enormous AWS infrastructure, though, take a look at Cloudways, which can give you just that, while they manage your hosting for you.