the benefits offered by GoDaddy tilt the balance slightly in its favor.
How do I know? I tested both hosts, as we always do in these comparisons, and found that while they have similar pricing (with different term lengths), GoDaddy has the more convenient customer service structure, a more familiar cPanel, and a more transparent performance guarantee. That said,
neither host is ideal.
For even better service,
other hosts like Hostinger offer better service and more features for similar costs.
You can
check out Hostinger's latest deals here
, or keep reading to see how IONOS by 1&1 and GoDaddy compare to one another.
1. Plans and Pricing
IONOS by 1&1 Offers Shorter Term Lengths Than GoDaddy
IONOS by 1&1 is one of the biggest full-service hosting providers in the world, giving you the option to choose from a range of hosting services, including shared, cloud, VPS, WordPress, dedicated server, and reseller hosting. It offers three tiers for regular customers and two more tiers for agencies. GoDaddy also offers WordPress-optimized shared hosting, dedicated hosting, and VPS plans at a similar price point.
GoDaddy's basic Economy plan
 offers unmetered bandwidth and 100 GB of storage, while its higher-level plans offer unlimited storage. And for the first year, new users also get a free domain name and business email.
GoDaddy Hosting Web Hosting
A free domain name is included with some hosting plans from GoDaddy Hosting
A free domain name is included with some hosting plans from 1&1 IONOS
However, GoDaddy does charge for site migrations, backups, security, and SSL certificates (at an annual fee).
 Its low basic price also comes at the cost of a three-year commitment, after which renewal prices increase.
 And GoDaddy makes its money by offering a bunch of upsells and cross-sells when you attempt to purchase its plans, so make sure that you watch out for that. IONOS by 1&1 features a slightly lower starting price than GoDaddy, but it will increase your renewal rates greatly. It does offer you the option of choosing a one-month plan with any tier, whereas GoDaddy's shortest term length is three months. Personally, I wouldn't choose either of these hosts. Hostinger offers much better performance for much better prices, and you can sign up for as little as one month.
A free domain name is included with some hosting plans from Hostinger
2. Support
IONOS by 1&1 Has a Less Efficient Support Configuration Than GoDaddy
When it comes to customer support, IONOS by 1&1 has a different setup than most hosting companies. For general issues, IONOS by 1&1 has a Help Center where topics are organized by category.
But if you wish to speak to a customer agent and are not yet a customer, you will need to contact IONOS by 1&1 support staff via telephone, as opposed to email or live chat.
IONOS by 1&1's support lines are open 24 hours a day, seven days a week – but lines are often busy, so you may need to be called back. If you are already an IONOS by 1&1customer and you decide to call for help, you'll also need to know your IONOS by 1&1 customer ID and a temporary phone pin (which you get if you log in). Customers – with any level plan – have more options, such as a
 free round-the-clock consultant via phone, email, or chat.
 If you want to take advantage of this personal consultant, however, you'll need to activate it after purchasing your plan.
GoDaddy's support structure is a bit more straightforward.
 It offers live chat and phone with dedicated lines for multiple countries around the world, available 24/7. Like IONOS by 1&1, GoDaddy also has a Help Center, although it does not provide email support. GoDaddy has a clear Statement of Support on its site, clearly detailing what it can and cannot help customers with (for example, GoDaddy supports purchase, renewal, and setup of products, but does not support content creation, traffic generation, or hardware training). But what is it like to interact with these customer service agents personally? In my experience, IONOS by 1&1 agents seem more curt and not particularly friendly, often posting a link in answer to questions without bothering to answer in their own words, with context: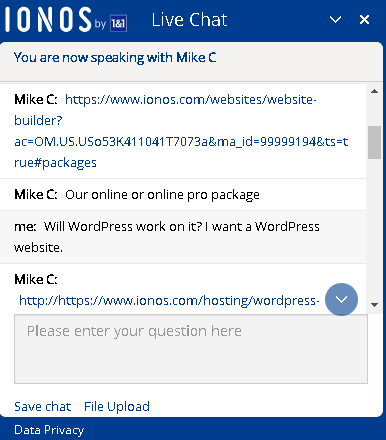 When I tested IONOS by 1&1's customer support, the agent didn't even bother with proper spelling or punctuation. This would not normally be extremely important, but combined with the short answers, I got the impression that the agent didn't really care: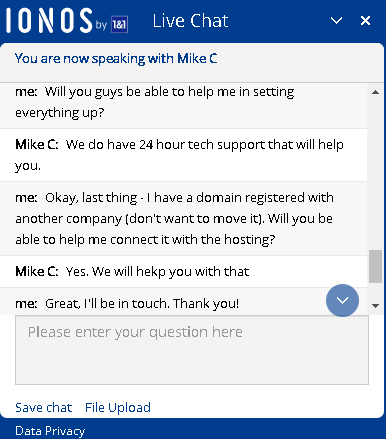 On the other hand, the GoDaddy customer service agent I contacted was friendly and personable, even using emojis, which I liked: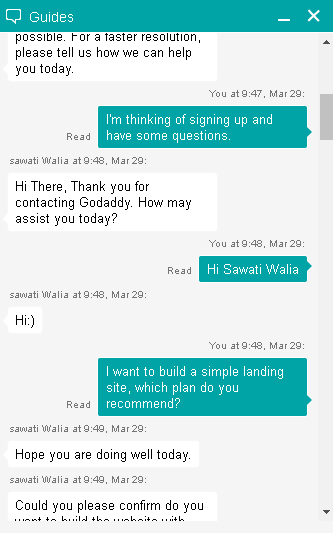 This agent was far more willing to go out of his way to look up information in order to respond to questions thoroughly: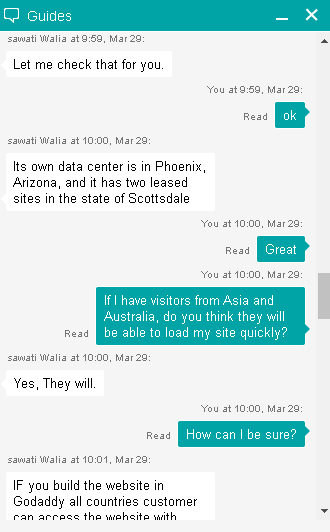 With both hosts, if you prefer to do it yourself and solve your own problems, you'll have access to well-organized customer knowledge bases organized by the most useful and common topics.
 GoDaddy's knowledge base allows you to search, or browse by product or category, while IONOS by 1&1 organizes its information by product only. Although it is nice that IONOS by 1&1 offers a personal consultant for paying customers, the fact that it does not have a presale live chat puts it at a disadvantage when compared to GoDaddy. So you could say GoDaddy pulls ahead slightly in the Support category, especially if you're a shopper trying to get to know the products.
3. Features
GoDaddy Offers the Familiar cPanel, IONOS by 1&1 Does Not
IONOS by 1&1 comes with website building tools, an automated WordPress assistant that will guide you through setup if you're a beginner, online marketing services, and all the basics (SSL certificates, automatic daily backups, and a CDN, which is free with the purchase of a top-tier plan). And while IONOS by 1&1 is a beginner-friendly host, it also offers a few perks for web developers, supporting Perl, Ruby, Python, SSI, etc., and giving tech-advanced site owners access to tools such as SSH, FTP, SFTP and Git version control. But watch out, when it comes to perks like the website builder,
 you won't be able to access the premium version without an added subscription.
Also, bizarrely, IONOS by 1&1 also doesn't offer free website migration which can be a pain if you have a technically-complicated site to migrate, and aren't exactly a tech professional. Another drawback:
 IONOS by 1&1 does not include a cPanel,
which may be disorienting for you if you're familiar with that common control panel.
GoDaddy, on the other hand, offers both cPanel and Plesk.
It provides a broad range of products and services, such as its own simple drag-and-drop website builder and integrations with more than 100 popular web applications, including popular content management systems WordPress (including thousands of free templates), Joomla, and Drupal. GoDaddy also offers all of the basic necessities of a website, including SSL certificates, domain registration, and CDNs. But many of these perks are bundled in with higher-tiered plans or have to be purchased separately. Still,
 if you're looking for a convenient hosting platform with a familiar control panel that has the best chance of offering every service and feature you need, GoDaddy is your best bet.
| | | |
| --- | --- | --- |
| | IONOS by 1&1 | GoDaddy |
| Hosting Types | Shared, WordPress, dedicated server, reseller | Shared, dedicated, WordPress, VPS |
| Free Domain | For the first year | For the first year |
| Free SSL Certificate | ✔ | ✘ |
| Disk Space | 100GB to 500 GB | 100GB to unlimited |
| Bandwidth | Unmetered | Unmetered |
| Automatic Backups | ✔ | ✔ |
| Control Panel | Uses its own custom setup | cPanel or Plesk |
| Email Accounts | For an extra fee | Free for the first year, then for an extra fee, if you purchase a cheaper plan |
| Free CDN | ✔ | ✔ |
| Free Site Migration | ✔ | ✘ |
| Money-Back Guarantee | 30 days | Annual plans: 30 days Monthly plans: Prorated after 48 hours |
4. Performance
Both GoDaddy And IONOS by 1&1 Offer Solid Performance, But Neither Is Spectacular
When it comes to performance, IONOS by 1&1 offers users fast loading speeds and consistent uptimes, which it maintains with 10 data centers and more than 90,000 servers located in 40 different countries (this is called geo-redundancy, and is included with all hosting packages).
IONOS by 1&1 gives users the ability to choose from five Performance Levels to adjust for changing traffic levels without having to switch to a different hosting package.
And if you choose its cloud hosting plan, you can select which data center you want to use, meaning that your audience can potentially enjoy faster loading speeds if they are located near your chosen center. GoDaddy has a slightly lower uptime guarantee than IONOS by 1&1, but not by much.
A GoDaddy plan comes with the promise that if it goes below its 99.9% uptime guarantee, you may request a credit of 5% of your monthly hosting fee.
 But GoDaddy makes sure that customers won't have to call in the guarantee, by consistently maintaining its 99.9% uptime track record.
Out of all the shared hosting services we tested, Hostinger's performance was the best, which is another reason why I think it's the best choice. You can see the full test results in our
in-depth Hostinger review
.
5. Security
GoDaddy Has a Broader Range of Security Options (But You Have to Pay for Them)
GoDaddy's 24/7 security monitoring is designed to keep you safe. It has an impressive arsenal when it comes to security.
Besides offering eight different versions of SSL certificates on its site, GoDaddy also offers its own suite of website performance and security tools,
using technologies such as Spamhaus, Sucuri, and Norton. Security features include a web application firewall, advanced DDoS attack mitigation, a CDN, malware scanning and removal, and more. The only drawback is that
these website security options are not automatically included in every GoDaddy hosting package, but rather are available for an additional monthly fee.
 And for the lowest shared hosting plans, you won't get free SSL certificates. On the other hand, all IONOS by 1&1 come with free Wildcard SSL certificates, SiteLock malware protection, and DDoS protection to keep your site safe from hackers. IONOS by 1&1 cloud servers also come with a firewall policy center that lets you control access to your server ports. Aside from that, IONOS by 1&1's security features are pretty straightforward and not quite as varied and extensive as GoDaddy's offerings. If you're simply looking for the lowest cost security, you may prefer IONOS by 1&1. However, if having more robust, high-quality security features to choose from is important to you, then GoDaddy wins.
Neither Web Host Shines, but in a Head-to-Head Contest, GoDaddy Wins
When you don't have great options to choose from, even a slight benefit will make one web host stand out over another unideal choice. That's the situation we face here with GoDaddy and IONOS by 1&1. Both are massive, popular hosts who have been in the hosting space for a very long time. Both offer low-cost plans and basic services, including shared WordPress hosting and standard money-back guarantees. And both are quite hum-drum, neither amazingly valuable nor a hassle to work with. Still, if you had to choose between one or the other, GoDaddy pulls ahead with a small lead.
With its use of cPanel and Plesk, it's impressive (albeit separately priced) security features, and its more straightforward support system,
GoDaddy has just the slightest edge
 over IONOS by 1&1.
But if you don't restrict yourself to choosing between these two solid but uninteresting web hosts, you might look toward stronger choices. You can find out more about
all
your options on our
list of the top web hosts
, where you might be surprised how much value you can get for a reasonable price from other hosts.
Hostinger, for example, not only has the cheapest plans available
, but also offers a range of powerful features for both beginners and advanced users alike – including such perks as daily/weekly site backups, caching to improve speed, generous hosting space, and more.
Comparison Table
Plans and Pricing
Low price, 30-day money-back guarantee
Low price, 30-day money-back guarantee
Key Features
Uses its own control panel, website building tools, an automated WordPress assistant, and a mobile admin app
Offers cPanel and Plesk, free email for the first year, drag-and-drop website builder, and integrations with 100+ popular apps from WordPress to Drupal
Performance
With ten data centers and 90,000+ servers, IONOS 1&1 provides consistent and fast uptimes with five performance levels to choose from as your website traffic ebbs and flows
GoDaddy has a 99.9% uptime guarantee that, if violated, means customers can request a 5% monthly hosting fee credit
Security
Free SSL certificate, daily backups and geo-redundant structures and server systems, supports both SFTP and FTPS for secure file transferring
Has its own suite of site security and performance tools that you can purchase separately, no free SSL certificate
Support
No online chat for non-clients, but there is a personal assistant for paying customers
24/7 support available via phone or chat for non-clients and clients alike
FAQ
Which is better, IONOS by 1&1 or GoDaddy?
When push comes to shove, GoDaddy surpasses IONOS by 1&1. But neither IONOS by 1&1 nor GoDaddy are our top choices for quality hosts. If you're looking for the best web hosting services in 2023, make sure you check out our Best Web Hosting Services for 2023.
Does GoDaddy offer WordPress hosting?
Yes, it does. GoDaddy offers five WordPress hosting plans, with automatic software and security updates and pre-built sites and page editors for beginners. For even better WordPress hosting, you can check out our list of the 6 Best Managed WordPress Hosting Providers in 2023.
Who owns GoDaddy?
GoDaddy was founded in 1997 by Bob Parsons and is the largest ICANN-accredited domain registrar in the world. Its headquarters are based in Scottsdale, Arizona, and in addition to domain name registration and hosting services, GoDaddy also offers other e-business services from internet marketing to website development.
Does GoDaddy offer shared hosting?
Yes. GoDaddy includes multiple tiers of shared hosting: Economy, Deluxe, Ultimate, and Maximum shared hosting. Each shared hosting plan comes with one-click install of WordPress and 100+ additional apps. If you need more power than shared hosting, GoDaddy offers VPS and business hosting options. But before you commit to a long-term plan, be sure to visit our web hosting coupon page, where you could snag a better deal for GoDaddy or an even better host.