Free hosting with 000webhost might appear to be a good solution, but it depends on how serious you are about your website. You know there's always a catch with freebies, and in this case, it's 000webhost's limitations. When it's time to upgrade your account, you'll be led straight to Hostinger, which owns 000webhost. You could stick with zero customer support and paid add-ons galore with 000webhost, or
take my expert recommendation and choose Hostinger right from the start.
Paying for a plan with a reputable web host like Hostinger could give you a whole lot more right from the get-go,
so keep reading to see if free is really worth the high cost of your time. I dug deep into 000webhost vs Hostinger in a battle over five critical rounds:
Pricing
You Can't Beat Free… Or Can You?
000webhost operates on a "zero-cost website hosting" basis, and its upgrade options take you to Hostinger.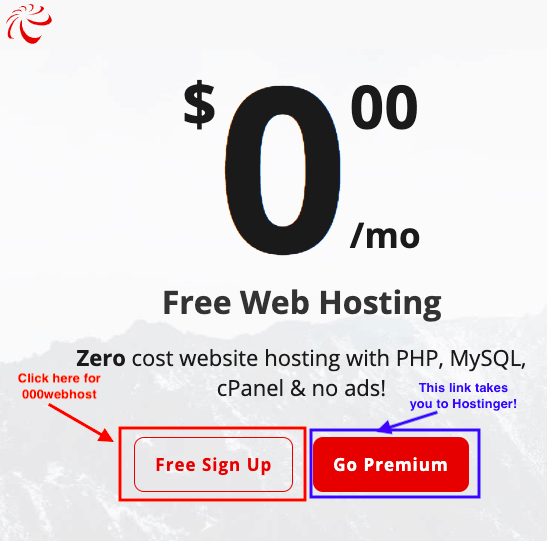 Does free automatically mean the best value?
Well, it depends on what you want to use your website for. With 000webhost, you can install WordPress and build a great-looking website, but there are far stricter restrictions on storage space and bandwidth (traffic), so it won't really work for a professional website. You have to use a 000webhostapp.com subdomain (e.g., yourwebsite.000webhostapp.com), because
000webhost has disabled the option for using your own domain name for your hosting
. This feature will be a paid upgrade in the future, but for now, 000webhost requires you to upgrade (to Hostinger) for your own domain name. If you're practicing for building your first website, creating a personal site, or just need to test a site before it goes live, then a subdomain might work okay. But
if your website is for business, subdomains give entirely the wrong impression
. What you save by opting for free hosting isn't enough to justify a subdomain that suggests that you don't care enough about your business to invest in a domain name.
Hostinger's prices are some of the lowest in the industry
(especially if you choose the
single shared hosting plan
) and its plans give you the space and bandwidth you need to build your business online. If you choose the Premium plan or above, a free domain name is included for the first year, saving you the cost of buying a domain name elsewhere.
And the winner is:
It depends. If you're looking for a cheap way to build a personal website, then 000webhost's zero-cost hosting is absolutely the best value (how could it not be?) but if it's a business website you need, then Hostinger wins hands down.
Features
000webhost Has Lots of Limitations – Hostinger Gives You More Options
If you get what you pay for, then what does zero-cost hosting actually give you? In the case of 000webhosting, the answer is … not much. The screenshot below indicates what exactly is included in the free hosting (and Premium refers to Hostinger's Single website plan).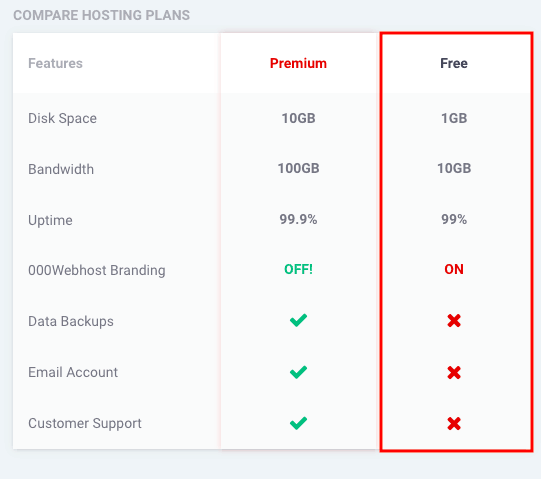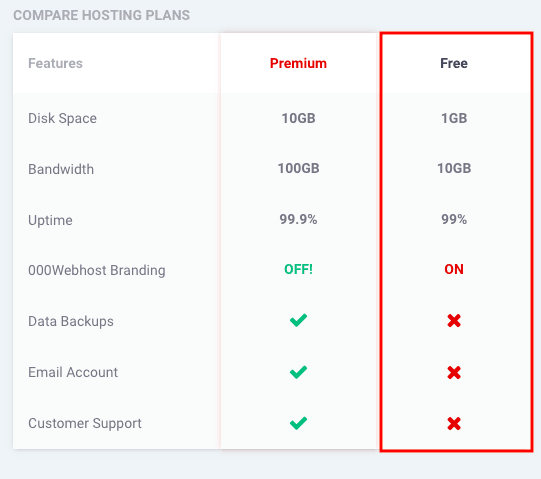 000webhost's 1 GB of disk space isn't going to allow you to host a lot of multimedia,
for example, and you're also limited in the amount of traffic you can receive. With free hosting, you'll also have 000webhost branding displayed on your site (usually in the footer).


What else does Hostinger give you that 000webhost doesn't? The list is quite long:
Free website migrations
Weekly backups (daily backups on the Business plan)
One-click installation of apps (000webhost only offers WordPress or its own builder)
A cache manager (for better speed)
Free domain for a year on Premium plan and above
30 GB to 200 GB of SSD storage, depending on your plan
Unlimited bandwidth on Premium plan and above
24/7 customer support
Email address (one business email account, free for six months on Premium and above)
100 websites on Premium and above (000webhost lets you host a maximum of two)
And the winner is:
Hostinger. It clearly has a massive advantage over 000webhost – proving that you really do get what you pay for! Read our
in-depth review on Hostinger
 to see what our expert thought of all the features on offer.
Reliability & Uptime
Hostinger's Reliability Is Excellent – 000webhost Has Downtime Issues
Google recommends your website pages load within two seconds to prevent visitors from impatiently clicking away, so the speed of your hosting can have a big impact on the success of your website. Luckily, both
Hostinger and 000webhost have impressive page loading speeds – with averages of less than half a second for both
. However, website performance isn't just about speed. Reliability is also a huge concern – because if your website is down and customers can't access it, the cost to your business in lost business can be significant.
Hostinger's uptime record is consistently good, with uptime averages of at least 99.98%
(which equates to around eight minutes of downtime over the course of a month). Hostinger provides performance monitoring, too.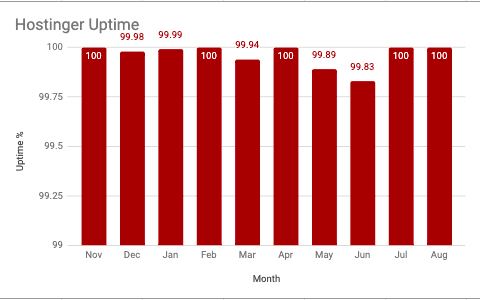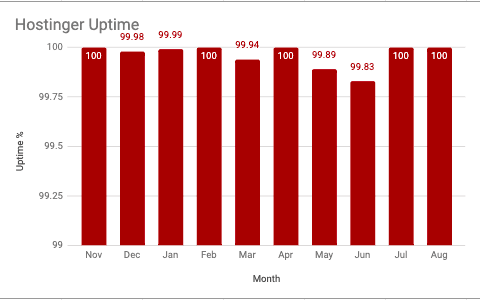 000webhost is a completely different story.
It has disappointing uptime records, with some months dipping into the 97-98% range. (At 98%, that's more than 14 hours of downtime in a month.)
The unreliability of 000webhost outweighs the benefits of "zero-cost website hosting." And since it's free, there isn't any kind of compensation for when your site goes down. Since 000webhost is owned by Hostinger, which has an uptime of 100% most months, its downtime seems strange – but there could be a number of reasons for this, such as overloaded servers or older servers that are not frequently maintained.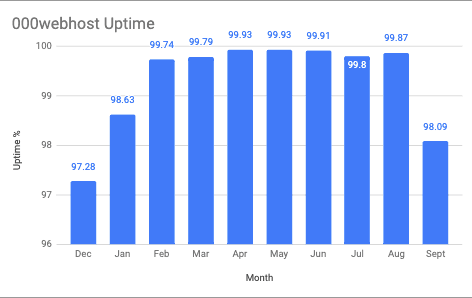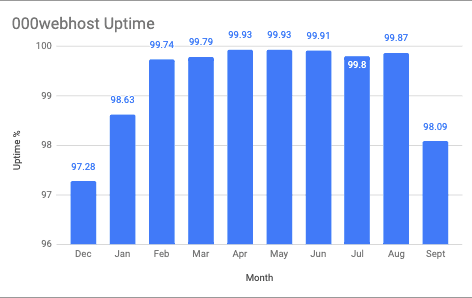 And the winner is:
Hostinger. When it comes to reliability, 000webhost has far too much downtime to come close to Hostinger's stellar performance.
Security
Hostinger Gives You Exceptional Security – 000webhost's Is Too Basic
Malware and brute force attacks can have a devastating effect on your website, and if you're in business, that could be really damaging. Imagine your customers' data being stolen in an attack – would they be able to trust you again? While web hosts don't always give you all the security you need, basic protection at the server level is something you should expect.
000webhost has built-in firewalls and DDoS (distributed denial of service) protection,
and its servers are monitored 24/7 – that's the extent of the security features on offer. It's enough to protect your website from a certain amount of malicious traffic, like hackers and malware – but there's no option to add on extra security features. For more security, you have to upgrade to Hostinger. Is it starting to feel like 000webhost's whole purpose is to push you toward Hostinger?
Hostinger uses BitNinja security on all its plans
, which gives your website protection against:
DDoS
Malware
Hacking attempts
Botnets
Brute force attacks
Script injection
And the winner is:
Hostinger. Its security features will give you much more protection compared to 000webhost – and if you want to add more security to your 000webhost website, you'll be prompted to upgrade to Hostinger anyway!
Support
000webhost Only Has Community Support – Hostinger's Support Is 24/7
Because 000webhost is free, you don't get customer support – instead, you will have to rely on community support, in a forum.
The forum is relatively active, so you should get answers to your questions
, but not necessarily from a trained professional. You can also search for similar questions that have already been answered.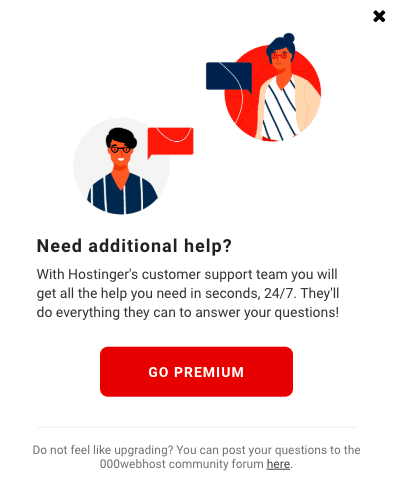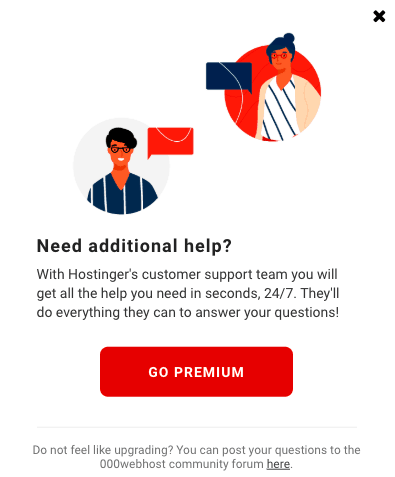 Hostinger's support is live chat only, but you can expect a rapid response and quick resolution of your issues.
Hostinger also has a large knowledge base full of helpful articles and tutorials to walk you through a wide range of technical issues – including issues with WordPress, SSL, and more.
And the winner is:
Hostinger. You get support from a team of experts, and your questions will be answered quickly. If you run into issues with your hosting, this is the level of support you're really going to need.
Hostinger's Low-Cost Hosting Beats 000webhost's Zero-Cost Hosting
Proving that free isn't always the best option – even when it sounds really attractive – Hostinger clearly outperforms 000webhost in almost every way. Hostinger's prices are so low, its paid plans are definitely worth the investment.
Our Recommendations
If you're building a business website, then Hostinger is the only real choice in this battle.
You'll benefit from expert help, extra security features, better reliability, and more resources. You can even create a professional impression with an email address such as
[email protected]
For personal websites, such as a blog, hobby website, or a home for family updates, 000webhost could be a nice solution.
If you're looking to test it out, read our expert's
full review of 000webhost
 to find out more and then you can always upgrade to Hostinger later: Just click on
Go Premium
on 000webhost, and you're already there!
Value
Zero-cost website hosting, but you can't have your own domain name even if you buy one separately
Low-cost web hosting plans that give you excellent value for the money and a professional website for your business
Features
Limited storage and bandwidth, and you can only install WordPress (no other apps)
More storage, more bandwidth, a business email address, and a free domain name on some plans
Performance
Poor reliability, but great page loading speeds
Superior for reliability, and excellent page loading speeds
Security
Basic server-side security, but no other security options
Weekly backups and BitNinja security to keep your website fully protected
Customer Service
Support only via the 000webhost forum
24/7 live chat support with fast responses