Most shopping cart platforms serve as add-ons to existing websites, but PinnacleCart does a lot more than just make visitors' checkout process easier.
PinnacleCart is a SaaS platform, which means that web hosting and site security are included in the subscription price. And since it's a cloud-based software, you can expect better performance.
Plus, PinnacleCart charges no transaction fees and lets you sell an unlimited number of products. On the downside, there's no POS system to track inventory from a physical store.
You can set up your store in English or in various languages, including Danish, French, Italian, Spanish, Russian, Portuguese, Chinese, German, and Bulgarian.
While PinnacleCart is a solid e-commerce solution, it didn't make our list of the top website builders in 2023.
Features and Ease of Use
Getting started with PinnacleCart is pretty easy, and you don't need to enter your credit card information. Just type in the name of your store and your contact information, and PinnacleCart will generate a website for you that can be edited to match your style.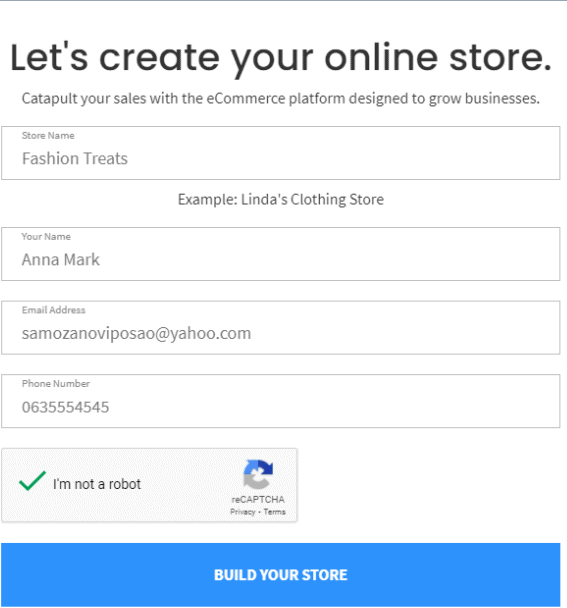 PinnacleCart doesn't have a ton of themes, but it offers a solid selection of quality designs in various categories, from food to sporting equipment. All themes are mobile responsive, and you can change themes without losing your previous edits.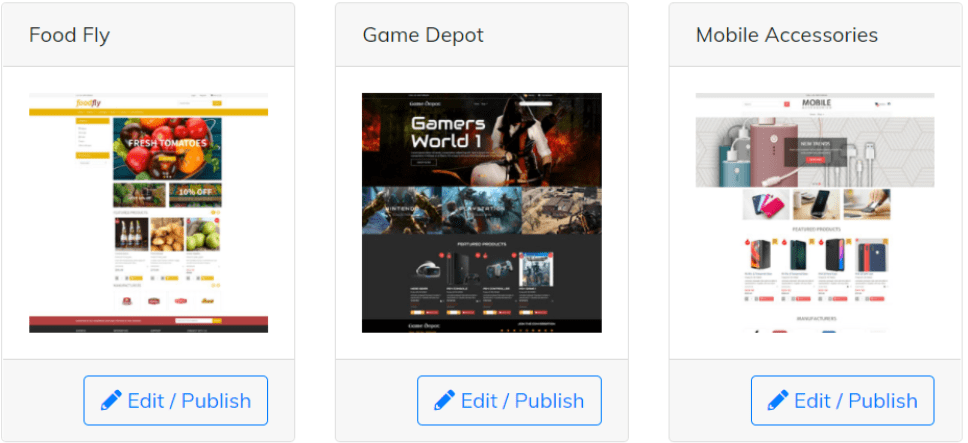 With the drag-and-drop site editor, things like adding a logo or customizing a form are super easy. What I liked best are its image-related features Magnify and Lightshot, which really make your products stand out on the page. Another great asset is the ability to upload photo galleries (not just individual images) to showcase your products.
If you're tech savvy (which I'm not), you can access your theme's CSS files for advanced customization, or hire someone from PinnacleCart's team of experts to design a site for you for an additional fee.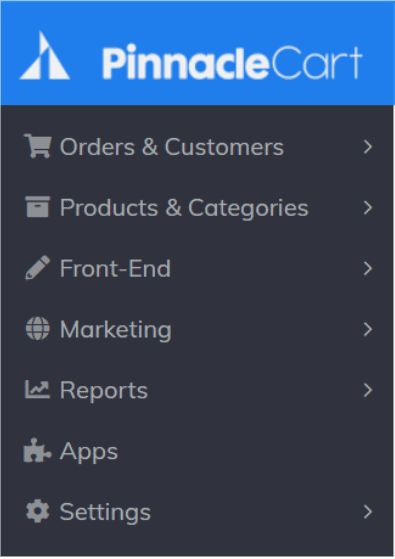 What I found particularly helpful was the Quick Start Guide, which appears in the dashboard when you sign up. It takes you through all the stages of setting up your online store, from adding products to setting up payments and shipping options. If you don't want to follow the guide straightaway, you can access it later under the tab with your username.
Adding products is pretty straightforward, and you can easily add descriptions, product variants, and an unlimited number of product attributes.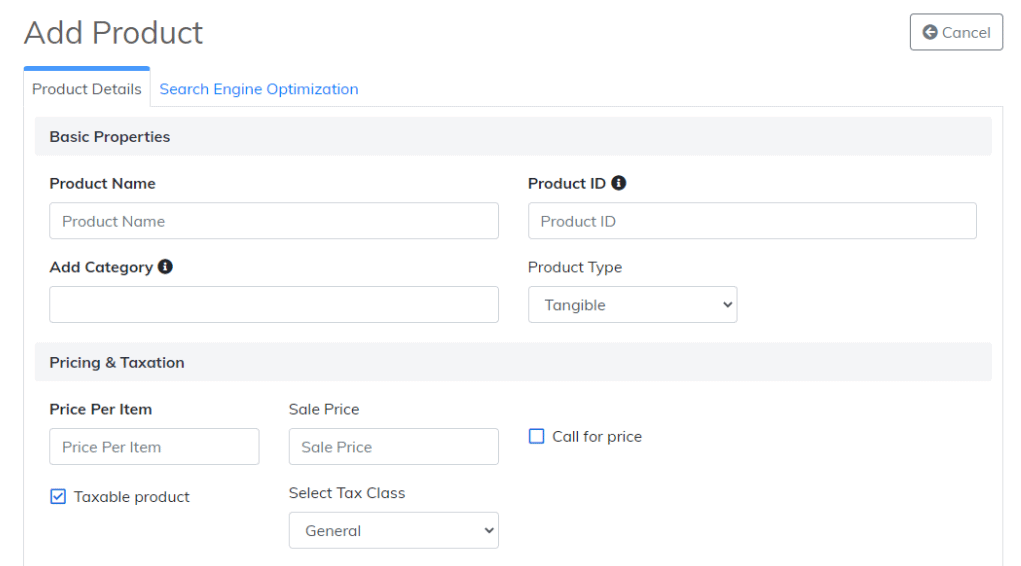 There's a built-in set of SEO and marketing tools to help you promote your business. You can add meta descriptions and custom URLs, offer promo codes and gift certificates, add product reviews, display recommended products, send abandoned cart emails, and more.
You can also transfer your storefront to your social media profiles so customers can share your products or shop directly on Facebook, Twitter, or Google+.
PinnacleCart also has lots of apps to help you extend your site's functionality. For example, you can integrate Google AdWords to run online ad campaigns, Google Analytics to track your site's performance, Endicia to help you generate shipping labels, or QuickBooks to assist you with accounting and tracking revenue.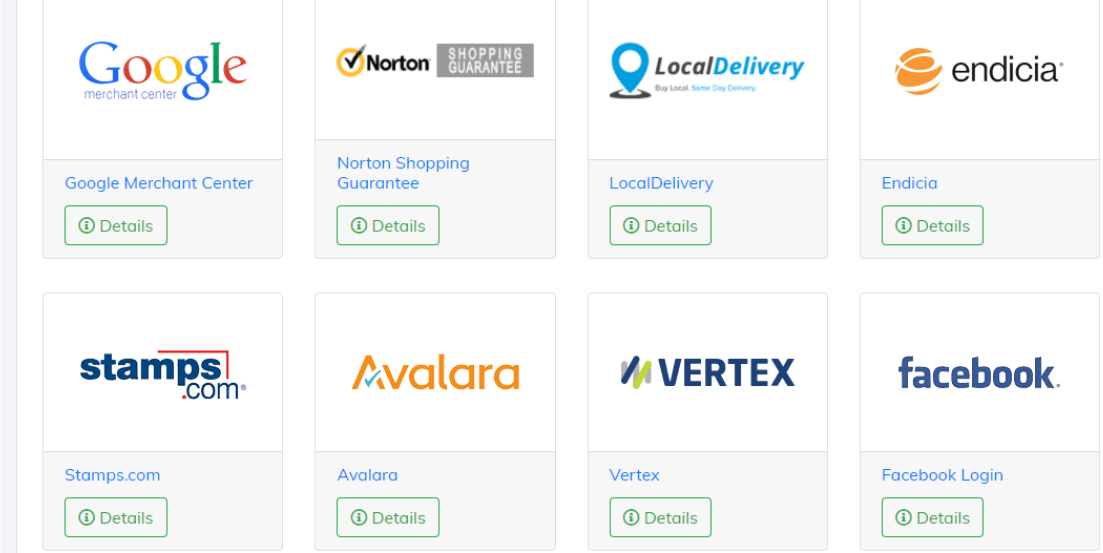 Another perk is that you can export your products to platforms like Amazon, eBay, and Yahoo Shopping to sell there as well.
Pricing and Support
PinnacleCart doesn't have a free plan, but it does offer a 14-day free trial (which you should definitely use to try before you buy, since the company doesn't issue refunds).
Because PinnacleCart is a cloud-based platform, its three plans (Standard, Advanced and Enterprise) are all pretty similar in terms of functionality. Each offers a pretty cool QuickBooks integration, no transaction fees, and the ability to add unlimited products, for starters.
The major difference is in terms of storage space and bandwidth, with the Standard plan limiting you to 10GB and 20GB respectively. Also, Standard plan subscribers can accept payments only via PayPal and PruPay.com, while higher-tiered plans give you access to over 30 payment options.
In addition to an extensive support center, PinnacleCart offers email, live chat, and phone support (this last channel is only available to users on the Advanced and Enterprise plans).
To test out their response time, I sent them an email asking whether I'll be able to switch between templates if I changed my mind. I got my response in less than two hours, and the customer support agent was very friendly and helpful.