Previously, some Squarespace templates had features that others did not. But that's changed.
 All version 7.1 templates now have access to the same feature and design options. Which begs the question: if there's now no real difference between templates, surely I should just head over to Squarespace and pick the one I think is the prettiest? Short answer? No. While Squarespace released a new batch of e-commerce templates for version 7.1 sites,
there are only eight options
. Which means, if you don't want to spend a great deal of time customizing,
there's a high chance your website will look very similar to a lot of other Squarespace sites out there
(compared to
Wix
, for example, there aren't a lot of options). But – here's the clever part – Squarespace has left up (and will continue to support) all of its 7.0 designs, many of which have everything an e-commerce website could ever need. That means
there are a lot more great Squarespace e-commerce templates, if you know where to look for them
.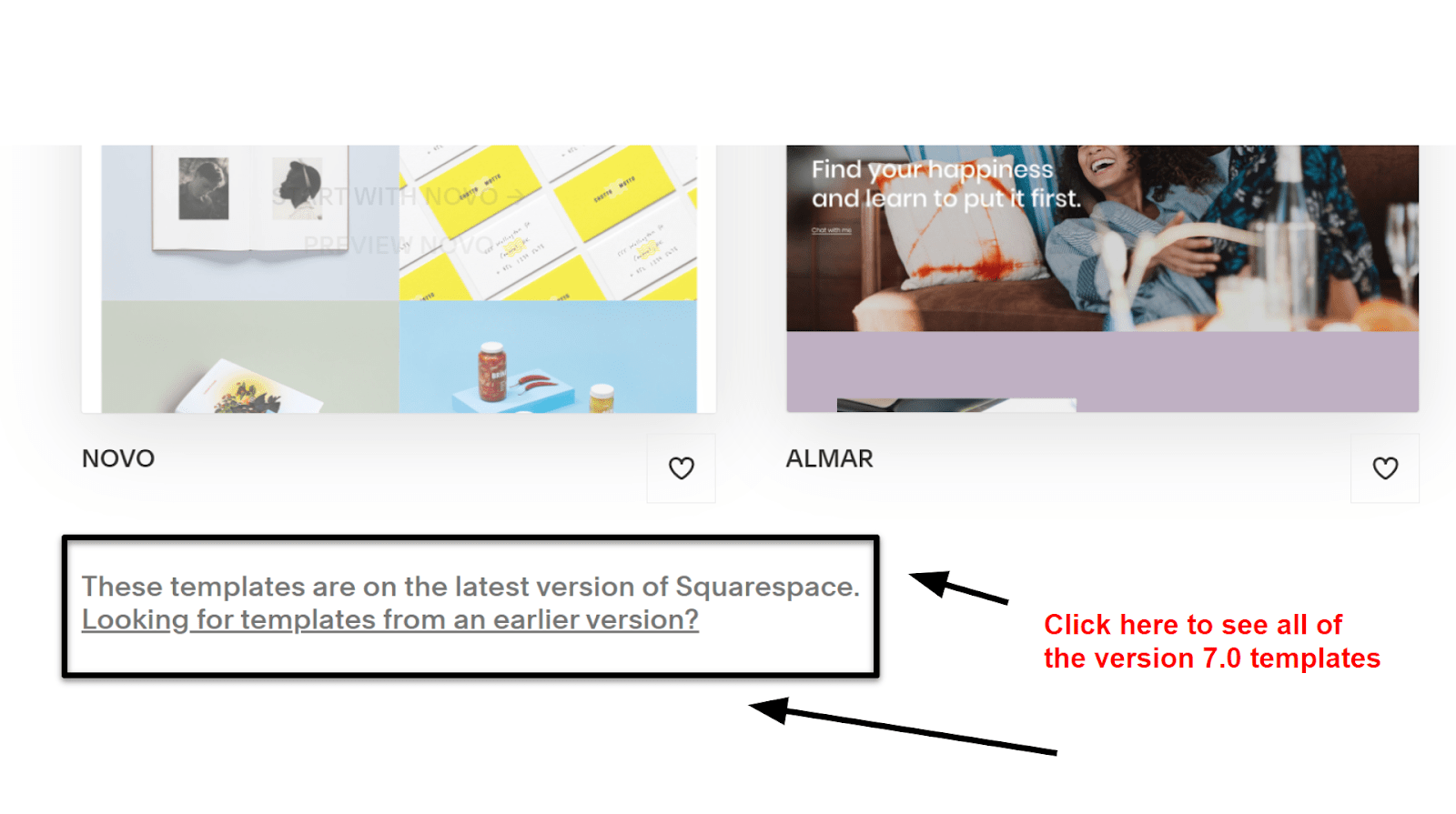 Squarespace E-commerce Templates That Lead the Pack
Squarespace is famous for its gorgeous, clean and modern templates. Squarespace 7.1 comes with approximately 70 preset designs, while Squarespace 7.0 has a little over 100, including ten e-commerce options.
All Squarespace templates are automatically mobile-responsive
, meaning they will look good no matter what kind of device your visitors are using.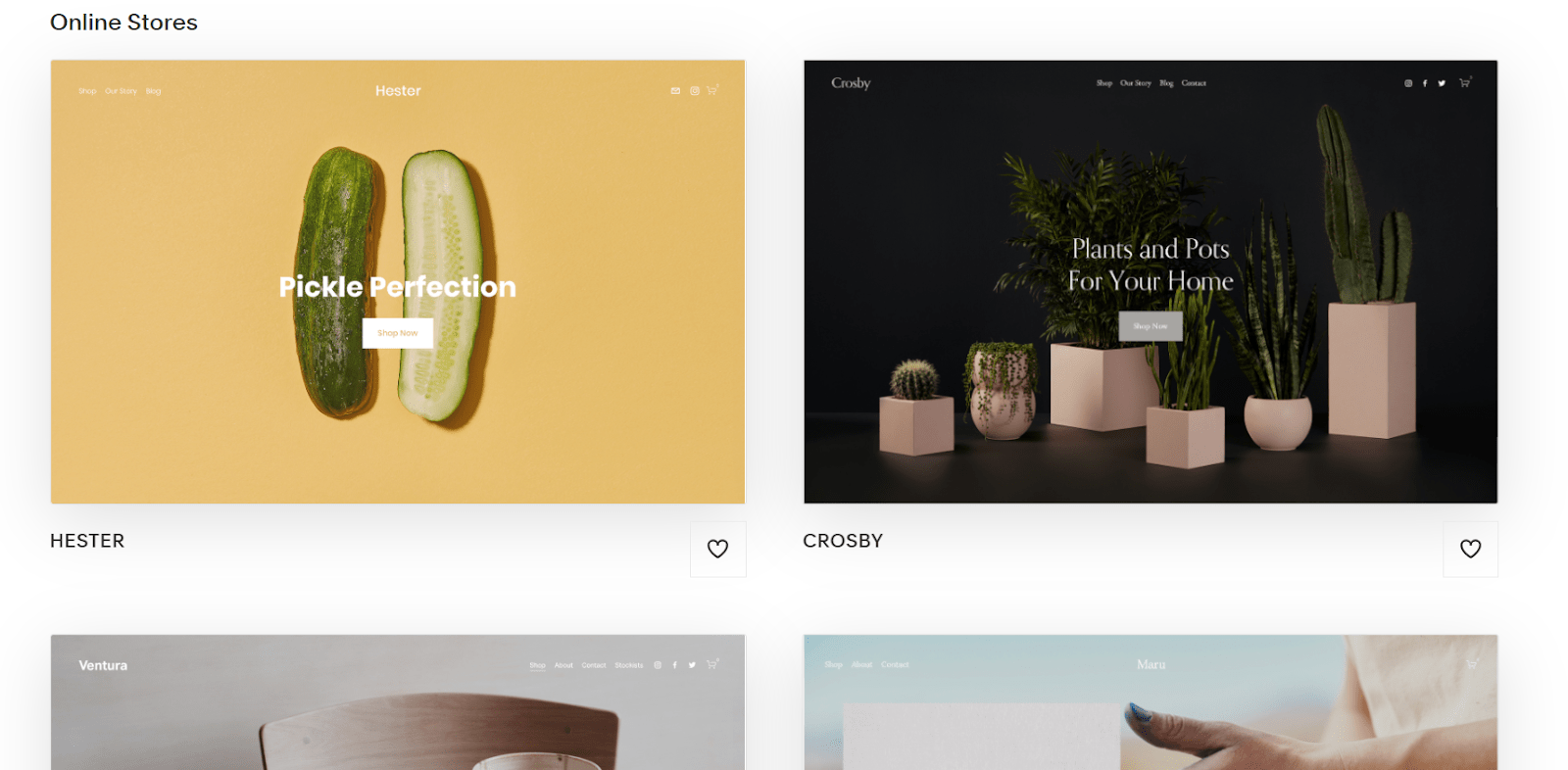 If you choose a version 7.0 template and then change your mind,
it is possible to switch between templates
 – but bear in mind that it involves quite a few steps. You can't switch between version 7.1 templates, per se, but you can change them so drastically that this isn't really a major drawback. And in case you get any wild ideas, it's also not possible to switch from a 7.0 to a 7.1 template (or the other way around). You'd essentially have to build your site again – so
it pays to choose the right template from the start
. Here are my recommendations for where you should begin your search.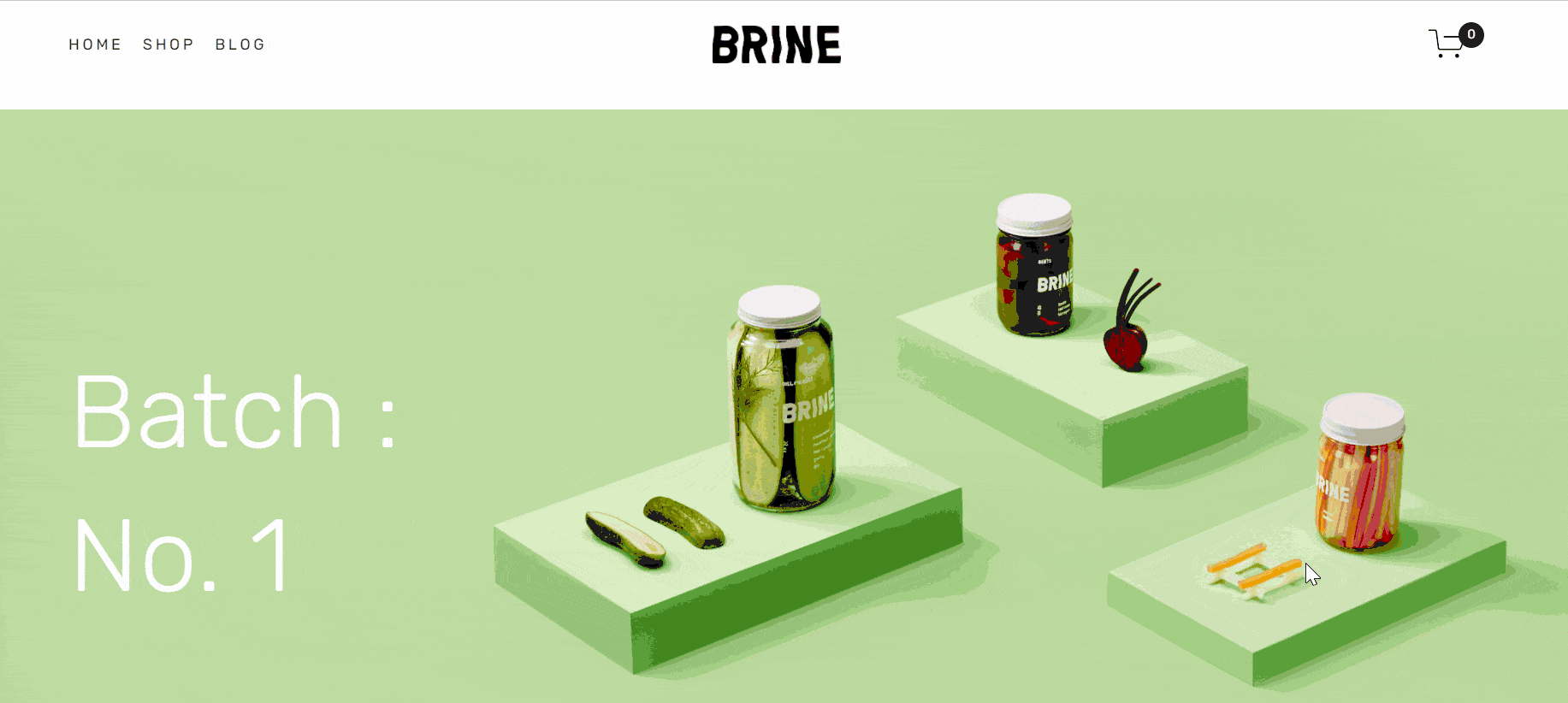 Let's start with the old. As the most cursory of internet searches will tell you,
Brine
is everybody's favorite Squarespace template
 – so it shouldn't be disregarded just because it doesn't fit in with the new 7.1 crowd. Actually, there are plenty of people who still prefer
Brine
to all of the new 7.1 templates. Why? Simply put, because it's
super flexible
. It has way, way more design features and settings than any of the other 7.0 templates. As well as loads of advanced blog and products options – perfect for e-commerce websites – it incorporates:
Slideshow banners
Custom social share buttons
Sticky navigation (menus can "stick" to the top of the page as you scroll)
Stacked index pages (a full-width, long scrolling page that allows you to spotlight elements of your site)
Parallax scrolling (when different elements move separately as you scroll)
Super customizable navigation menus
Extra mobile editing options
Brine
also includes plenty of text space for engaging, product-selling copy and simple, pared-back product pages that let your items speak for themselves.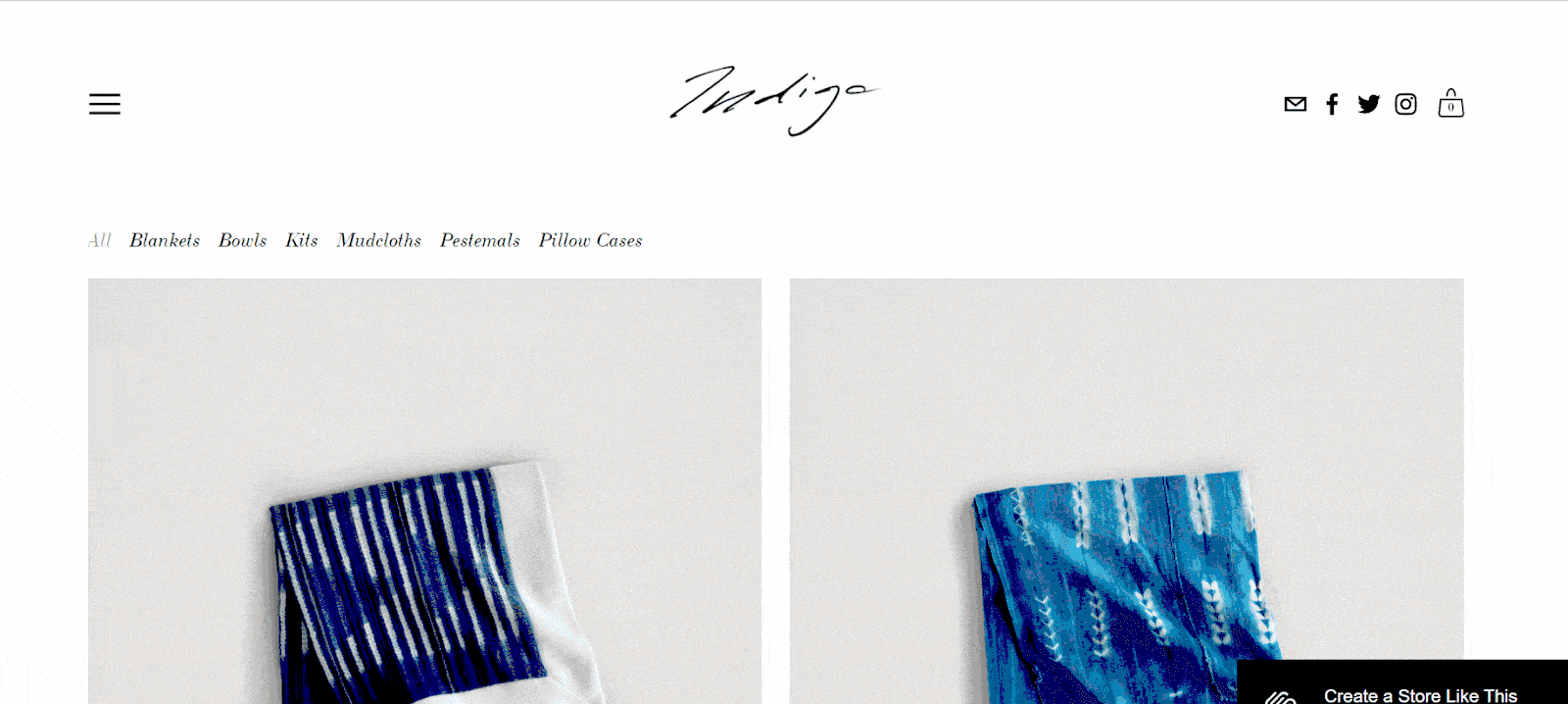 But flexibility isn't necessarily the be all and end all of everything. Let's say, for instance, you're just a small shop owner and you're getting into this whole online store thing for the first time. You don't want a website template that's going to overwhelm you – but you still want some control. That's where
a simpler design
 like
Indigo
comes in.
Indigo's
homepage comes ready-populated with product blocks, so all you need to do is add your own images and a few contact details, upload your logo, and you're good to go. If
Brine
packs a punch with its bold colors and fonts,
Indigo
 has a softer feel more suited for hand-crafted products – although its striking layout and clean lines would work for almost any niche, really.
Indigo
 is also
a good option if you've got a lot to sell
, because it allows you to organize your products by category – saving your visitors from having to scroll endlessly to find what they're looking for. You can also add a search function. One of
Indigo's
 coolest features is its
"hamburger navigation"
 – the triple bar icon that you see on so many websites nowadays, which opens to reveal a navigation menu when clicked. This gives your visitors an easy and clear way to navigate through your site – meaning you'll lose fewer customers between your homepage and a sale. It's also good to know that, even though it looks relatively simple,
Indigo
 does come with a lot of customization options (not as many as
Brine
, but still a lot). So, further down the road, if you wished, you could add things like a blog, extra product options, and social share buttons. One major thing you can't add, however, is an index page.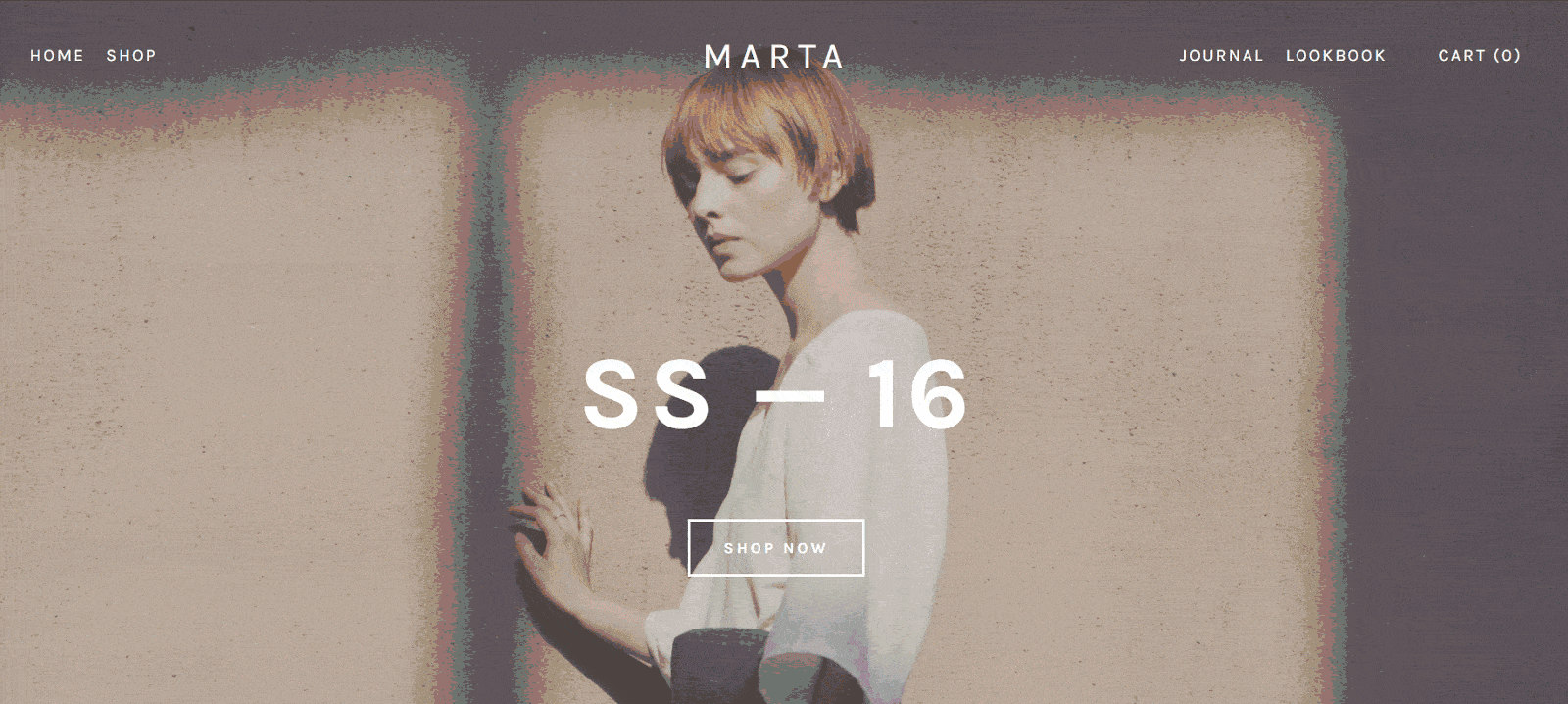 Rounding off my selection of the best 7.0 Squarespace themes is
Marta
, another bold e-commerce template with a heavy emphasis on eye-catching visuals – great for high-end products, fashion and homeware. Like
Indigo
,
it also offers the option to navigate by category
 – an absolute must-have feature if you're selling a lot of products (no customer will be willing to scroll for eternity to find what they're looking for, they'll just head elsewhere).
Marta
also comes with customization options galore
. My personal favorite – additional navigation options – is something that could easily be overlooked. All web stores need pages dedicated to topics like shipping, size guides and returns – but you wouldn't necessarily want these menu items taking up space in your top navigation. Unlike some templates,
Marta
lets you tuck them neatly down in your website's footer, where (if you think about it) you'd expect to find them.
Marta
also comes with a number of cool ready-to-go e-commerce features
 like product zoom, a quick view option and on-hover effects. There's also an ultra-customizable blog section and an Instagram integration already built in.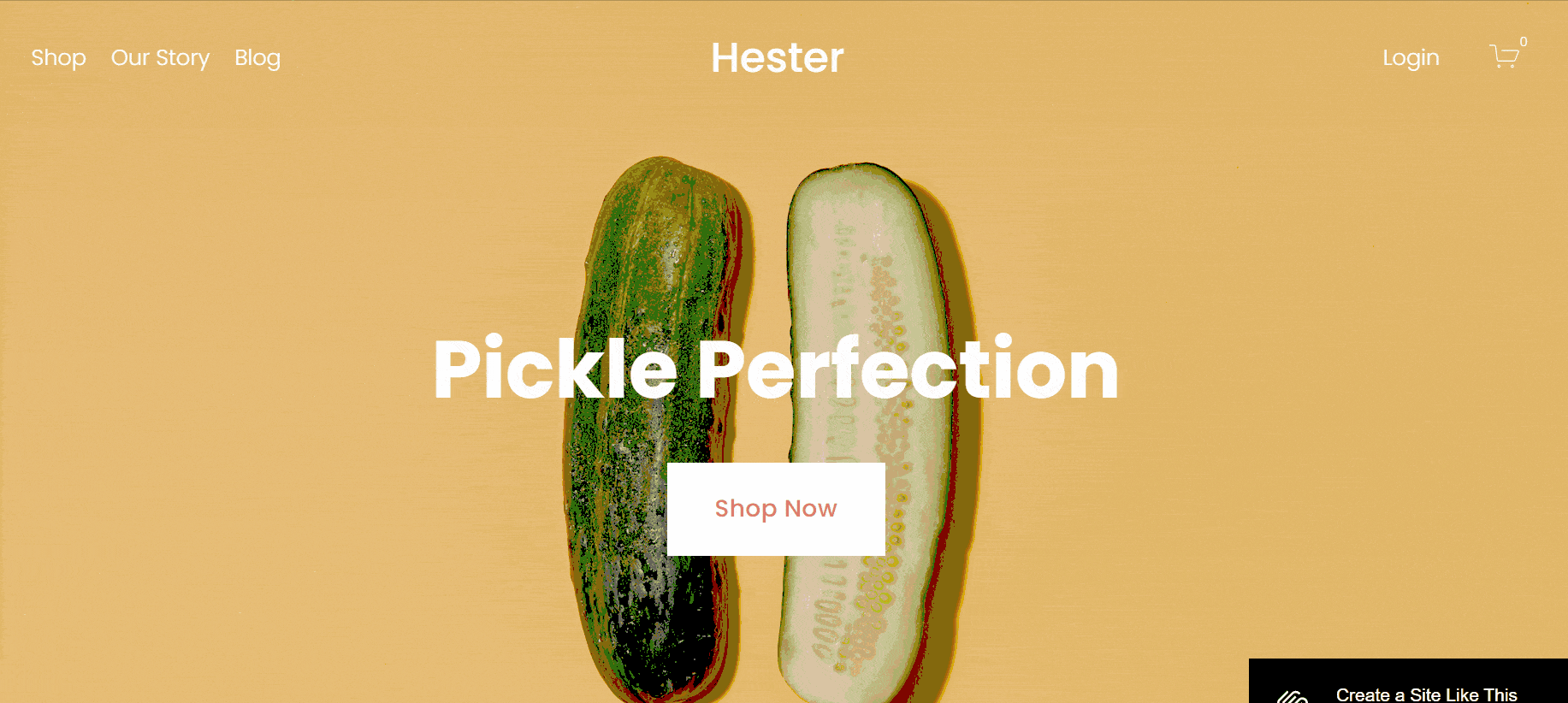 And now onto the new. Since all version 7.1 Squarespace templates come with the same feature and customization options, I'm going to focus on the look and layout of these templates. Don't be swayed by the products on show in the demo version (although it's tempting). Pick the one that's closest to the design you've been envisioning.
Hester
has to be the most eye-catching of the new 7.1 designs, combining
bold blocks of color, clear call-to-action buttons and striking fonts
 for an easy and aesthetically-pleasing shopping experience. "Hey!" I hear you say, "That's just
Brine
dressed up in different clothes!" Yes, they look similar, but there are some key differences. Most obviously,
Hester
is a 7.1 theme, so it comes with
all
of the customization options
 – really, the sky's the limit. Depending on what your website is for, you can customize
Hester
with any of the following:
Blog pages
Events pages
Layout pages
Portfolio pages
Store pages
Hester
also swaps out
Brine's
white background for bold color blocks overlaid with photographs and call to action buttons. There's even a customer login button built in, perfect for your shoppers who keep returning again and again!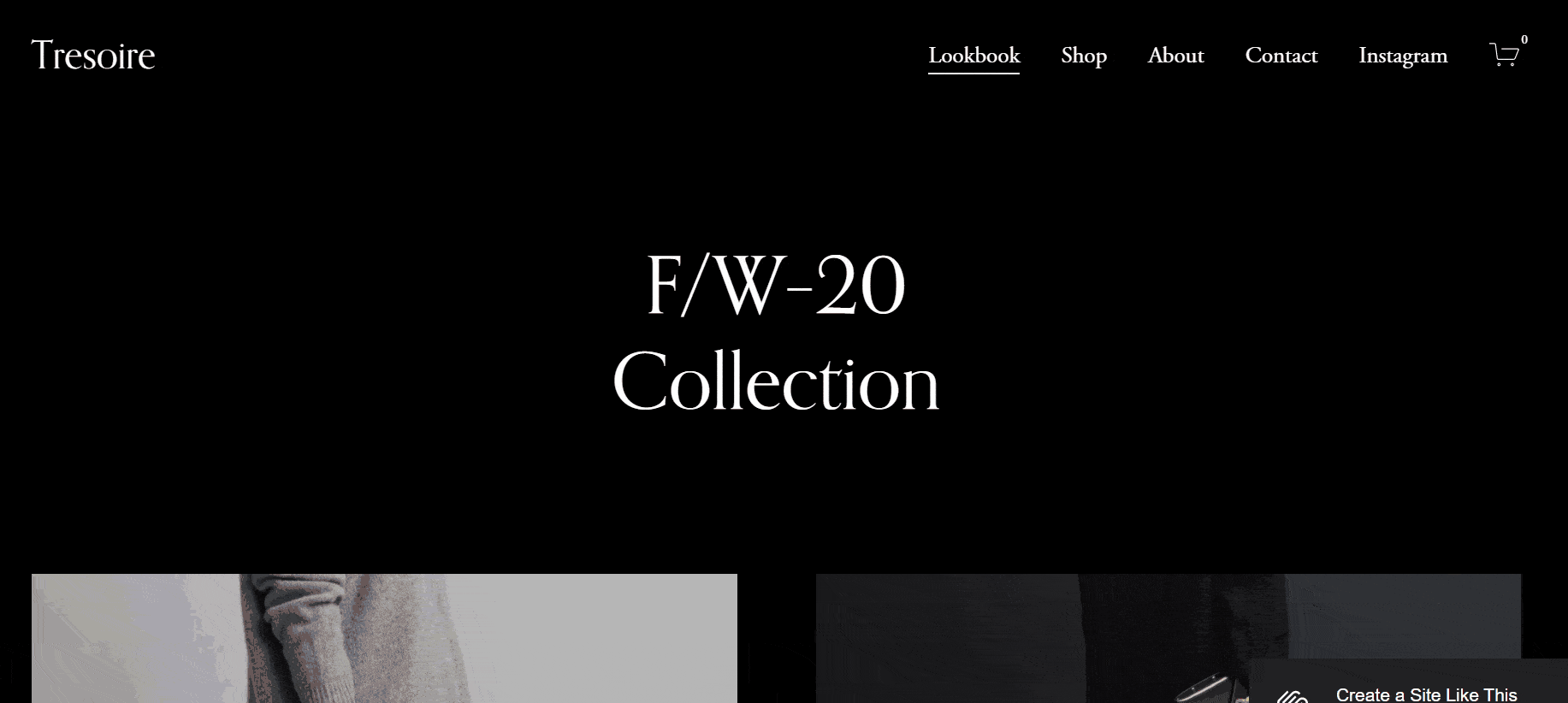 The thing about a lot of Squarespace e-commerce templates – in fact, pretty much all of the ones I've discussed so far – is they are heavy on the visuals.
Most rely on stylish, eye-catching (and enormous!) pictures to draw you in
. That's all very well when you've got the time and money to invest in high-caliber product photography. But if you're just a small business with a bunch of item photos (that you most likely took on your phone),
your site is never going to look as professional as the Squarespace demo
. That's why I like the
Tresoire
theme (if you're not a fan of the bold, black background, you could always change it).
It abandons full-width photographs in favor of smaller, neat product spotlights
 and an about page that gives you plenty of space to sell yourself – without having to rely on cutting edge photography.
Tresoire
pairs a dark color palette with sleek fonts and a minimal navigation bar to create an elegant website layout, perfect for e-commerce websites that want to make a splash.
Squarespace Templates for E-commerce to Stay Away From

Of course, try as they might, Squarespace can't get everything right. If you're building an e-commerce website on Squarespace, I'd recommend avoiding
Fulton
and
Pedro
– for different reasons.
Fulton
is a version 7.0 theme that looks great – but the devil is in the detail! A closer look will show you that
Fulton
doesn't allow you to edit your site for mobile only
. So if your website looks great on a desktop but terrible on a tablet, you're stuck with it – or you'll have to find a messy compromise. Nowadays, having a mobile-optimized site has become increasingly important as more and more people shop online on their phones. To avoid scaring away shoppers, it is vital to select a theme that allows you to make small tweaks to your mobile site easily.
Pedro
is another 7.0 theme that's worth avoiding, simply because
what makes it look cool in demo mode is probably beyond the reach of the average online store holder.
 Without the proper graphics, those twirling plants on the home page are not going to be easy to replicate with your own products. It's best to just keep it simple. And if it's just because you're a fan of
Pedro's
bold, dark color palette, you'd be much better off going with
Crosby
,
Pedro's
new, updated, 7.1 cousin – which comes with much more design and feature options.
Just in Case: Some Wix E-commerce Templates Worth Considering
As I mentioned above, Squarespace doesn't have the largest selection of e-commerce templates – but some web builders out there do! Wix, for example, lets you
choose from more than 500 free templates
– more than any other site builder out there – and lets you not only narrow your choice down by website type, but also by what you're selling. (
Plus, there's a free plan
.) So, if none of the Squarespace options listed above feel right, you might consider checking out the competition. Here are a couple of Wix designs that might tempt you away.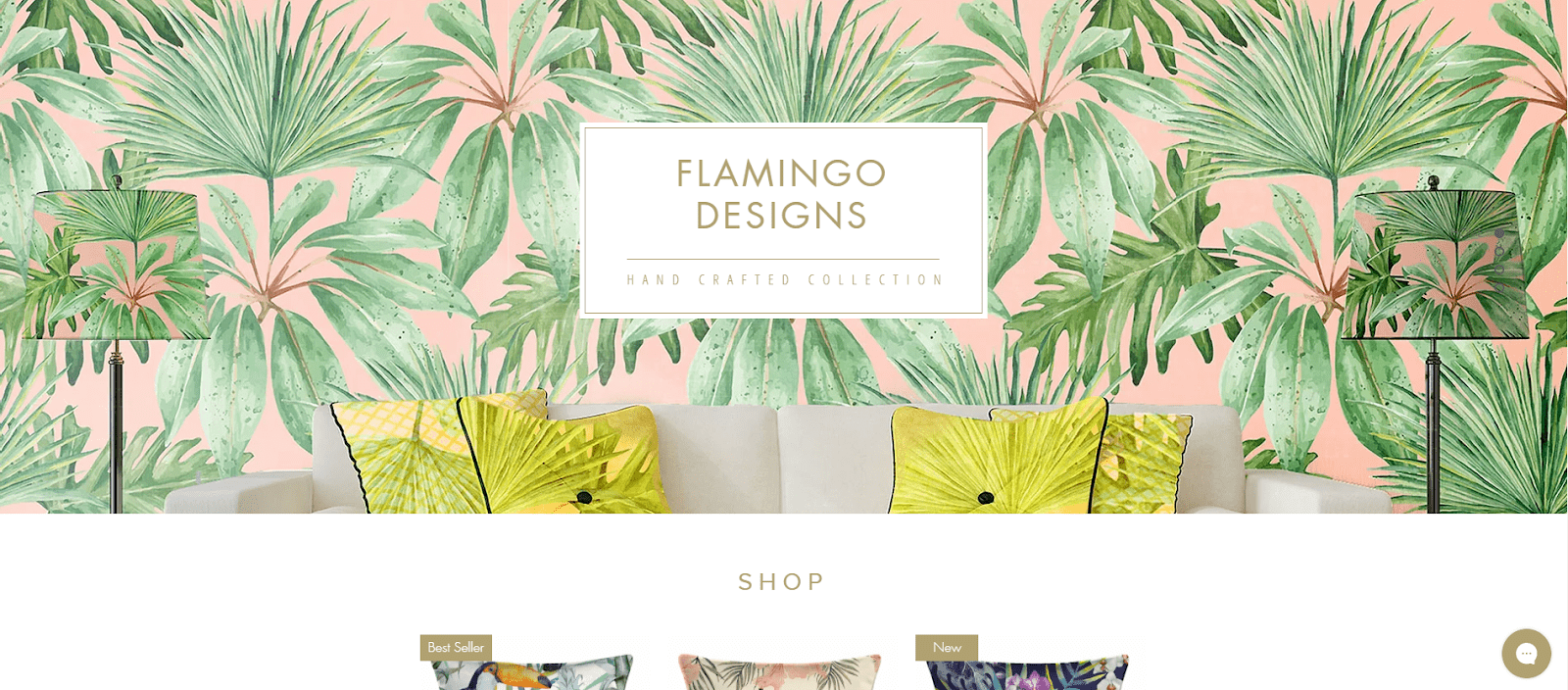 Equally perfect for Fashion & Clothing, Jewelry & Accessories, and Beauty & Wellness online stores, the
Home Accessories
 template draws potential customers right in with its simple yet vibrant design, eye-catching, full-width images and elegant gold and white color palette. If you don't like the color scheme, you can mix it up – as all Wix templates are completely customizable. This template uses a single-page design to create a seamless browsing experience, taking your customer by the hand and guiding them through the most important sections of your store – including featured products, an about section and a contact section. There's also a chat function built in – great for answering any customer questions. The relatively simple design is enriched with an ultra-professional parallax scrolling effect – a trick which makes the background of the page move slower than the objects in front, creating an immersive, 3D experience for your visitors.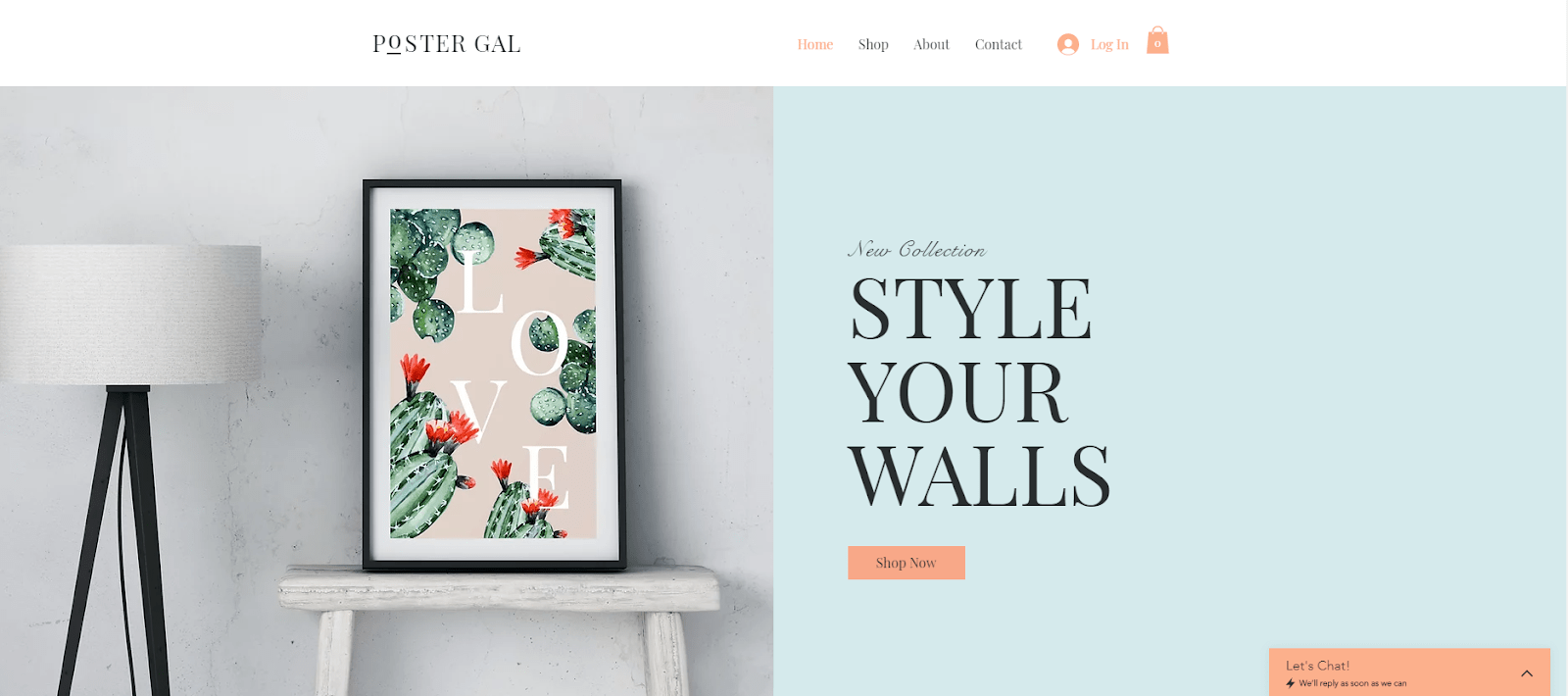 The
Poster Shop
 template combines an asymmetrical layout, slideshow photographs and a pastel color palette to strike an offbeat, trendy feel, while the plain white background helps make your products pop. The use of smaller picture blocks, plain color blocks and snippets of clip art helps you create a neat, eye-catching website without the need for ultra-high-quality product photographs. This template excels at serving online stores that provide a wide range of products. It incorporates features enabling customers to easily sort and filter products by price range, color, and product name, ensuring a smooth and efficient buying experience. Furthermore, you can also employ this template for selling digital products.
Squarespace E-commerce Templates: Quality, Not Quantity
Compared to some web builders out there, Squarespace doesn't have the largest selection of e-commerce templates – especially considering it doesn't offer a free plan (but there is a
free trial
).
However, what Squarespace lacks in quantity it more than makes up in quality
. All of the e-commerce templates on offer give good value for money in terms of design, features, and customizability. It's important to choose a good template to send out the right message to visitors, since your site's design is most likely the first thing they'll notice. Squarespace has a lot of good choices, but if you'd like more,
check out our list of the top website builders in 2023
, most of which offer e-commerce templates.
FAQ
Is Squarespace good for e-commerce?
Squarespace is best known for its sleek, visual templates, so it's a great choice if you want to create a well-designed website that lets your products shine. But it's important to note that e-commerce features are only included on the three most expensive Squarespace plans – and the cheapest e-commerce plan charges transaction fees, so small business owners might be able to get a better deal elsewhere. If you do decide to stick with Squarespace, make sure you take advantage of any special offers.
Is Shopify better than Squarespace?
Shopify and Squarespace are both good tools for creating online stores, but with a key difference: with Shopify the focus is solely on e-commerce – meaning that it offers more flexibility and scalability for online store owners, whereas Squarespace can help you create a more all-encompassing experience for your customers. To better compare the features of both store builders, read our expert Shopify review and our expert Squarespace review.
How do I change my website template on Squarespace?
If you are using a version 7.0 site, you can switch between templates by clicking "Install New Template" in the Design tab of the home menu. A lot can change when you swap templates, so make sure you know what to expect. It's not possible to switch between version 7.1 templates – but they are so customizable that you shouldn't really need to. It's also not possible to switch from a 7.1 to a 7.0 template, or vice versa. If you're looking for more options, check out our list of the best website builders in 2023.
What products can I sell on Squarespace?
Squarespace Commerce stores allow you to sell four different product types: physical products, digital products, service products, and gift cards. You can sell physical and service products as one-time purchases or subscriptions.