💯

Free Plan
Yes

📄

Number of Templates
60+

🔌

Apps/Integrations
Yes

🛒

E-commerce Tools
No
Blogger Is a Simple Platform for Simple Blogging
Blogger is one of the old-school blogging platforms that used to be a cultural phenomenon for teenagers back in the day. It's simple, it's easy to use, and it's owned by Google. Normally, it wouldn't matter who owns a website builder, but when it's Google… it matters.
If you have a Google account, then you already have a Blogger account. When I dug deeper, I found that my Blogger account was also integrated with Google AdSense and Google Ads, making it super easy to start monetizing and bringing traffic to my blog.
Blogger provides a free subdomain and a free SSL certificate that comes preinstalled. You can also purchase your own custom domain and point it to your Blogger site for free.
Because it's a Google site, Blogger is available in 60+ languages. It also supports right-to-left languages, with right-to-left templates available, as well as bidirectional text editing capabilities.
While Blogger should be a huge name today because of its parent company, it actually didn't make our list of the top website builders. Keep reading to see if it might still be right for you.
Features and Ease of Use
You can use Blogger to create and monetize a basic blog with content, images, and videos. The platform is pretty simple to use and doesn't require any technical know-how.
I found the dashboard to be well-labeled and user-friendly. There is a side menu with all the tools you need to manage and design your website. I could arrange my homepage by easily dragging and dropping the gadgets. Creating an actual blog post is as simple as working with a Google doc.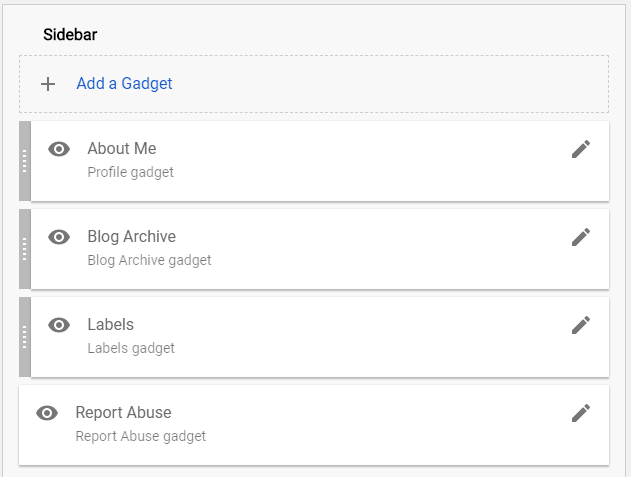 Blogger provides 12 themes, and each theme offers a selection of at least three different color schemes to choose from. Additionally, you have the flexibility to utilize custom HTML coding on the themes and select from a wide array of third-party themes.
I really like the comment moderation tool, which allows me to approve or delete comments from my blog visitors. But Blogger isn't perfect. You don't have the ability to block or filter words that you don't want in the comments. And with no IP tracking capabilities, you also can't block specific blog visitors or see what country the blog comments are coming from.
Pricing and Support
Blogger is free to use, and there's no catch – it won't even put ads on your site (unless you enable Google AdSense in order to monetize your blog). While free is a nice perk, it usually means there are limits, which is no surprise. This is why I prefer Wix for my blogging platform. Wix offers a free plan as well, which is great, but when it's time to turn your blog into something more or expand your site, a paid plan is actually quite affordable and upgrading is easy.
Blogger lacks a dedicated customer support team. However, they do provide a help center with user guides and articles. Additionally, I found community forums where Google staff occasionally jump in to respond to questions (although it's not guaranteed).