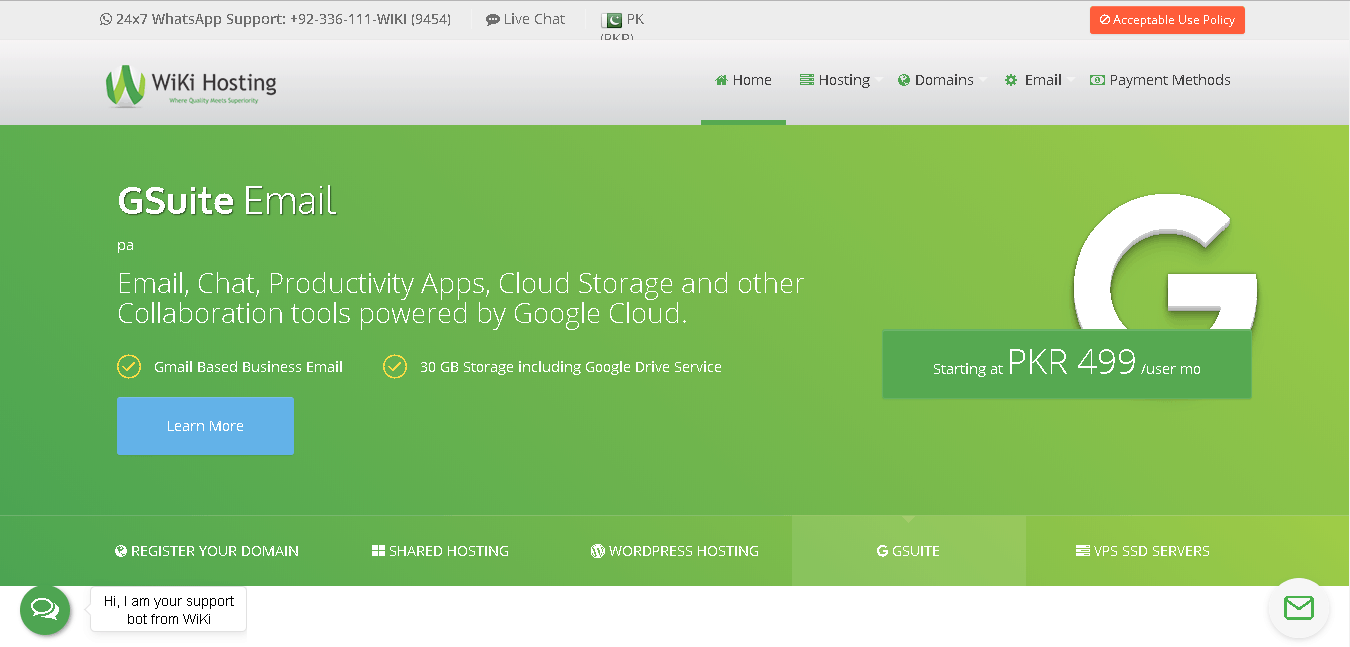 When it comes to helping businesses and individuals build a smart team, maintain, and expand their online presence, WiKi Hosting has it down. They were founded in 2012 to provide the most reliable web hosting services in
Pakistan
. Despite being relatively new to the hosting industry, they've lived up to that mission and more with their vast range of hosting packages and other resources. Their plans serve both novices and experienced webmasters, as well as small to large businesses. They operate a website in English.
Features and Ease of Use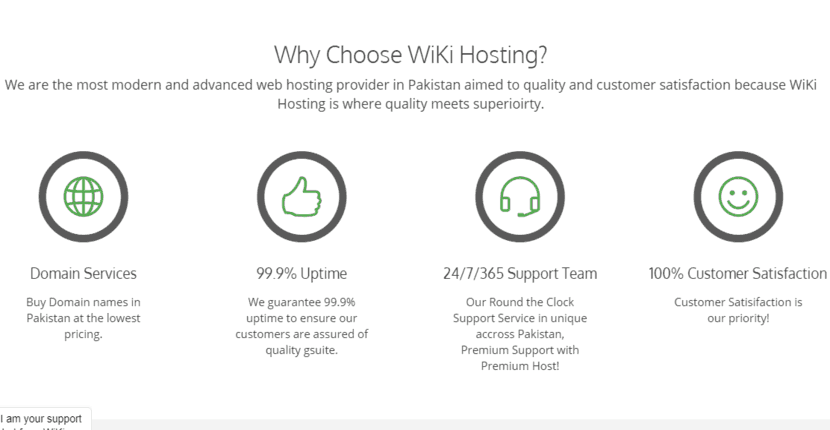 WiKi Hosting sets themselves apart from other hosting providers in Pakistan with the level of service and support they give to customers. They offer Linux and Windows shared hosting plans, Google G Suite, WordPress, phpVMS, VPS, and dedicated hosting. Their hosting services are designed to be fast and easy to use, even for beginners. Some of the features of their shared hosting plans are:
99.9% uptime guarantee
Host one website or unlimited websites on one account
Free domain registration on annual hosting purchase
Daily, weekly, or monthly automated backups
From 2GB to unlimited storage space
Three months free SSL certificate
Up to four add-on domains
The Windows shared hosting is managed on Plesk and comes fully installed with ASP.NET 2.0, 3.5, and 4.0. You also get databases run on MsSQL, MySQL, and Access.
WiKi Hosting's Linux shared hosting is fully secured with CloudLinux and CageFS; they both work to increase the efficiency of the server by monitoring and containing resource spikes from the accounts sharing one server. That way, a traffic spike or need for more resources from another user doesn't affect your website, keeping yours stable and secure. Considering they provide CLoudLinux with cPanel as the management panel, you can choose the PHP version you need and use more than 50 PHP extensions.
The plans are beginner friendly and easy to use. The one-click application installer, Softaculous, is on the cPanel for you to install applications. The Weebly website builder is also available. You don't need to know how to code to use it, just choose any of its pre-made themes and drag-and-drop your website design. You can also go for the WordPress optimized hosting. It's run on one of the most powerful processors, having hexa (six) CPU cores. Another plus is the SiteLock Anti-Malware that they provide. It protects up to 500 pages on each website you host.
Pricing and Support
WiKi Hosting solutions are budget-friendly. While the single domain shared hosting plans are priced exactly as expected, the unlimited shared plans and the WordPress packages are unexpectedly cheap. Given that you get 10GB CodeGuard cloud backups on the WordPress hosting and it's on a globally distributed CDN, it's a big steal. Another plus is that you can add resources as you need them without having to upgrade your plan. The PHPVMs for virtual airlines and VPS hosting are reasonably priced as well.
WiKiHost provides exceptional customer support, with response times as low as a few minutes on support tickets. They're also accessible via web chat, WhatsApp messenger, Facebook messenger, email, and phone. There is a knowledge base link presented however no information within, so you'll have to rely on their technicians.
How much does WiKi Hosting cost?
WiKi Hosting offers plans from $1 to $9. The price depends on which type of hosting plan you choose. You can see the updated pricing table (updated weekly) below.

Which WiKi Hosting plan should I get?
My recommendation is to start with a cheaper plan. You can always upgrade later on. WiKi Hosting can help you with the migration to a more expensive plan. The increase in visitors many times takes longer than expected and you shouldn't pay a lot of money until the need arises. Of course, your needs may vary, and you can consult with a hosting expert from WiKi Hosting here.

How good is WiKi Hosting's customer support?
WiKi Hosting is not ranked as one of our top web hosts. But that can also be a result of WiKi Hosting being a small, under the radar, hosting provider. There are advantages to a small hosting company – as a customer, you are more important to them. You can also check out our comparison of the most popular web hosting services here.