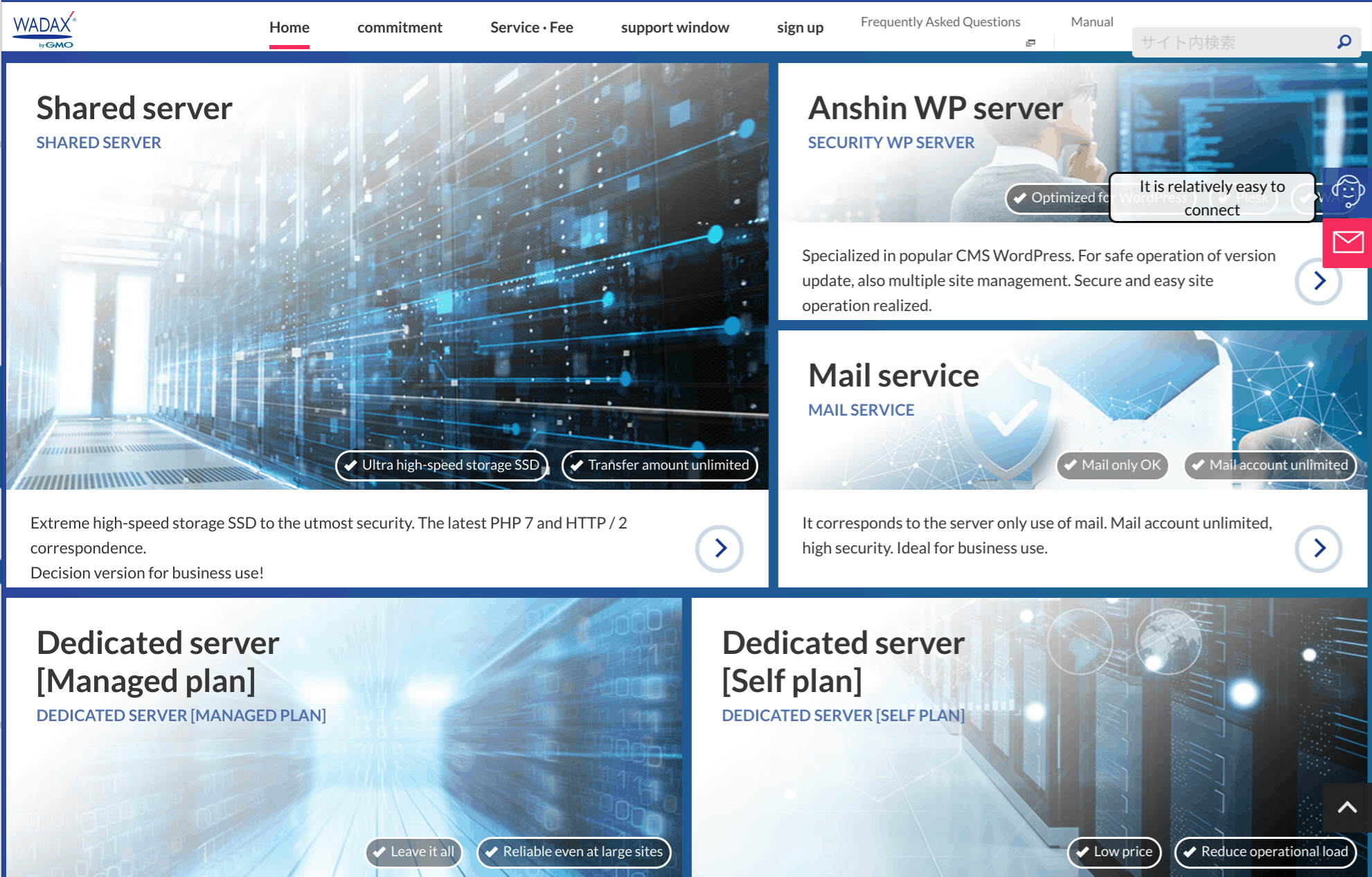 To compare the best web hosts, we hosted the same WordPress website on each one and tested performance, customer service, and value for money.
Check out the results here.
WADAX is owned by the larger GMO Internet Group that has been providing Japanese internet services since 1995. WADAX focuses on customer service and security, with 24/7 monitoring to prevent hacking, tampering, and DDoS attacks. The WADAX website is in Japanese.
Features and Ease of Use
This full service hosting provider offers a range of services including shared hosting plans that come with the following core features:
99.9% guaranteed network uptime
Backups as an optional add-on
Domain registration at an additional cost
Up to thirty add-on domains
SSL certificates available for purchase
From 20 GB to 150 GB SSD disk space
Unlimited monthly data transfer
One of WADAX's core selling points is its commitment to safety and security; therefore its plans come with several security measures including:
Web virus check to block viruses and malware intrusion
Periodic security (vulnerability) diagnosis by WADAX engineers
Irregular intrusion detection and prevention
Large-scale DoS / DDoS defense
Free shared SSL, and FTP over SSL
Whilst I am not convinced that the provision is over and above that of other companies, WADAX's commitment to safety and security is clear.
This company colocates its servers in the SoftBank Data Center in Japan. Whilst it's always better if a company owns its own center, WADAX does commit to using its own staff to monitor and manage its servers 24/7. These servers use hybrid SSD and HDD, which are in RAID 1 and RAID 6 configuration respectively.
PHP, MySQL, and PostgreSQL are all available up to the latest versions, but you can select lower versions to suit your environment. Advanced coding languages are also supported, with Perl, Ruby, and Python all included as standard. Cron jobs are enabled so you can schedule regular scripts.
Although not apparent on the WADAX website itself, third-party reviews suggest that this provider offers a 99.9% uptime guarantee.
Pricing and Support
The WADAX plans are slightly overpriced compared to other shared hosting providers, but you will benefit from multiple domains, website building tools, and support for some advanced scripting languages. The prices also exclude a setup fee (equivalent to two months' fees) and backup fees, both of which are slightly unusual but not unheard of as paid extras.
Whilst the security features are one of WADAX's main focuses, several security add-ons must be purchased separately if required. These are the web application firewall (WAF), SiteLock security, and premium SSL certificates from the likes of GlobalSign.
You can purchase the hosting plans on one, three, six, or twelve-month terms, with the monthly fee reducing in line with longer commitments. There is also a 30-day money-back guarantee, which should make you feel better about making more of a commitment.
In terms of customer service, WADAX claims to "never say no to a customer." They even provide a handy table that tells you when you are least likely to receive a rapid response by phone or email: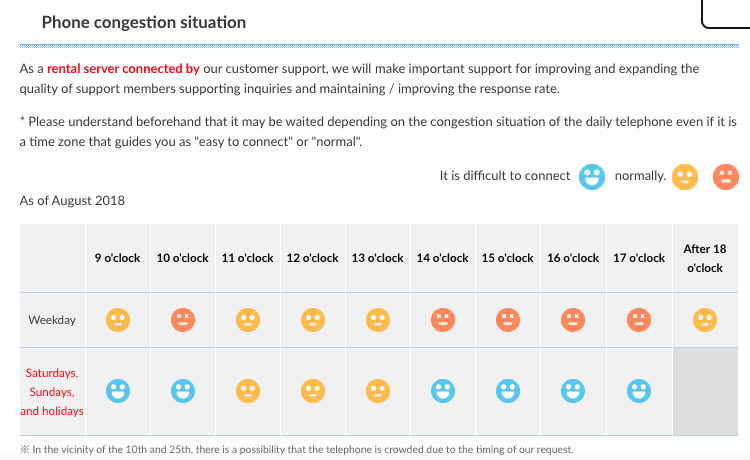 In general, it's advisable to reach out to the company on weekends when you require assistance, assuming that's when you'll need it. Unfortunately, when I reached out as a potential customer, I didn't receive a response within two business days. However, they advertise their support as 24/7, and there's also an FAQ page available that could potentially help you resolve your own issues.