🏆

Performance Grade
B+

⏱️

Uptime Guarantee
Yes

🔒

Free SSL
Yes

🔧

Hosting Types
Shared, VPS, Dedicated Server

💡

Basic Plan Features

Storage: 15 GB
Bandwidth: Unlimited
Websites: 11

💲

Starting Price

$

5.00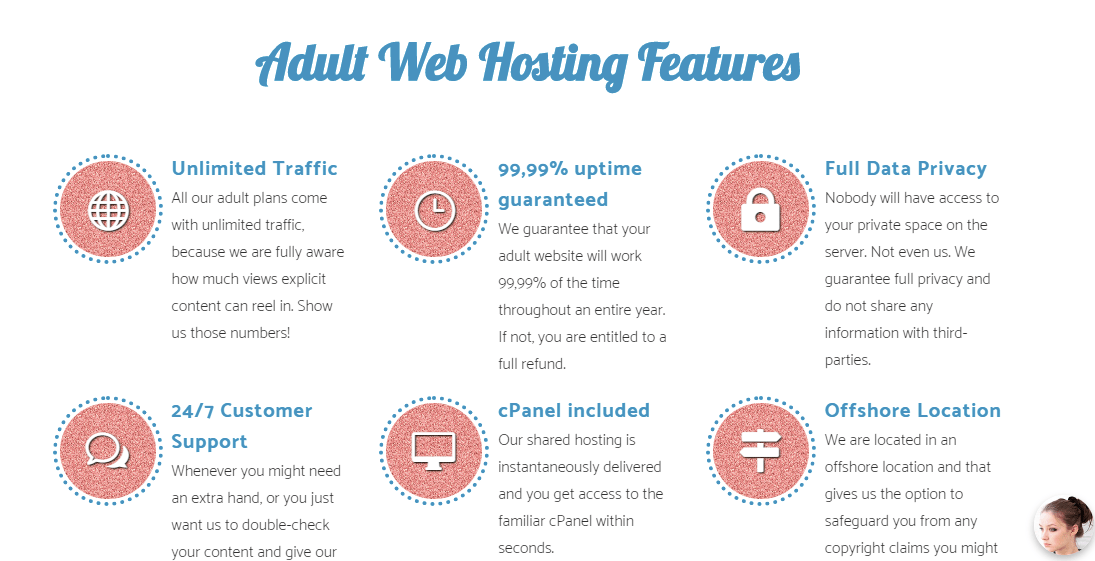 ViceTemple is specialized in hosting adult websites. The company was founded in 2016 by individuals with eight years of experience in the hosting industry. With a team of 12 and a privately-owned data center in Amsterdam, it serves over 200 adult websites and applications. It also provides adult website development services. Its website is available in English only.
Features and Ease of Use
ViceTemple offers web hosting, Virtual Private Servers (VPS), dedicated servers, and domain services (including adult domains like .xxx). Here are some of the features of its shared hosting:
99.99% uptime guarantee
Automatic backups
Free SSL certificates
Between 15GB to 180GB storage
Unlimited traffic
Between 10 to unlimited add-on domains
Before I go in-depth into its features, you should know that you can't just use any web host for adult content. Many web hosting companies have it in their terms and conditions that adult content is not allowed and they will shut your website down.
Plus, adult websites tend to be more heavily trafficked and use more server resources than the other "regular business" websites on the same server. As such, it's better to go for a provider that offers only adult hosting so that you're clear on what it accepts and what not from the start.
Furthermore, you need data privacy when you are in this niche and ViceTemple promises full data privacy whether you're on a shared, VPS, or dedicated server. No one – not even its staff – will have access to or share your data with third-parties. Also, the company monitors its servers 24/7 to ensure that it stays online and protected from intruders.
Now, to the website building features. If you don't want to take advantage of its web development help, you can custom code your website and upload your files through FTP or cPanel file manager. Also, you can use a CMS as it provides a one-click installer as well.
For the adult industry, growth can happen fast and as such, you need to easily be able to upgrade when you need to. With ViceTemple, there's a one-click upgrading feature. Plus, with the usage statistics, you can tell when your website needs to be moved to a better server.
If your website can't stay in shared servers, you can move to VPS or a dedicated server. There are many perks to this, including being able to choose your preferred operating system, full root access, and ability to add more custom security features.
Pricing and Support
ViceTemple offers affordable prices for the hosting it provides, and this applies not only to shared hosting but also to VPS plans, which come with cost-effective features including RAID 10. The dedicated server plans are also competitively priced.
The company offers one-month hosting on all of its hosting/server services. However, if you're willing to go for a longer duration like 36 months on shared hosting, you'll get a 50% discount. VPS and dedicated servers are available for 24 months on the longest subscription and for that, you get a 25% discount.
You can pay with PayPal, credit card, Bitcoin, or Altcoins. If you don't like the service or are dissatisfied, you can request a refund within 45 days of purchase and unlike many other providers, this guarantee applies to VPS and dedicated servers as well. You'll get a refund through PayPal regardless of what you paid with/through. After the 45 day period, you can't get any refund again be it full, partial, or prorated.
Customer support is available 24/7 through live chat and ticket. I tried the live chat but after ten minutes of waiting, I had to submit a ticket because I didn't get connected to an agent. However, my ticket was replied to fast.