To compare the best web hosts, we hosted the same WordPress website on each one and tested performance, customer service, and value for money.
Check out the results here.
TimeWeb is one of Russia's top web hosting vendors. Founded in 2007, the company now hosts over 400,000 websites. The hosting provider also has a significant presence in Ukraine, Belarus, Germany, and Kazakhstan. TimeWeb has two modern data centers in St. Petersburg and has the capability to take on large web hosting projects from big business enterprises all across Russia. Over the years, the brand has gained a reputation as a web hosting provider that lives up to their commitment to deliver the highest standards in security and reliability. Their website is only available in Russian.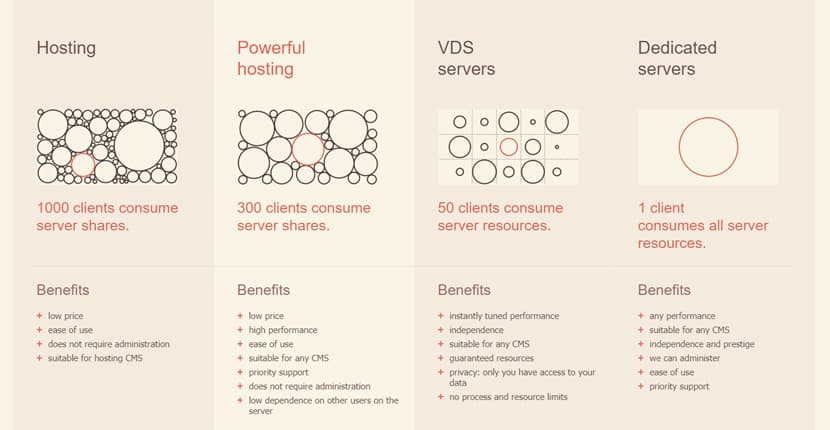 Features and Ease of Use
TimeWeb is known across Russia as a stable, reliable hosting vendor that provides web hosting services to big corporations. However, the vendor also has hosting solutions for small and medium-sized businesses. Their hosting plans come loaded with an array of features that includes:
Automatic regular backups
Excellent network availability
SSL certificates
SEO and advertising tools
Unlimited mailboxes
Unlimited add-on domains
Free website migration service
99.9% uptime guaranteed
However, there were a few features in particular that really made TimeWeb stand out from the crowd:
Innovative control panel – instead of using a generic control panel, TimeWeb has designed their own control panel in line with the needs of their customers. This modern, user-friendly control panel is designed using the customer feedback that TimeWeb has been receiving over the years. It includes automatic CMS and application installers, detailed visitor analytics, and the ability to change your hosting plan right from the interface. Plus, this control panel can be accessed from any mobile device.
State-of-the-art data centers, equipment, and software – TimeWeb has invested heavily in modern equipment and powerful data servers that guarantee their customers the most stable, high-performance websites. This vendor uses industry-leading software that are regularly updated with the latest security patches, keeping their entire system safe from attacks. Their data centers have a fault tolerance of up to 99.9%.
Exceptional redundancy protocols – TimeWeb uses uninterruptible power supply designed with powerful redundancy protocols that include two independent electrical inputs, a backup diesel generator built with an automatic start system, and additional tanks that can run the diesel generators for an extra 24 hours. They also perform free regular backups. However, TimeWeb will require you to pay for unscheduled website data backups.
Pricing and Support
I was surprised by how cheap this vendor's hosting plans are, considering that they're one of the biggest and most respected hosting vendors in Russia. What's more, TimeWeb is in the habit of further discounting their inexpensive hosting plans by as much as 20%. All prices on their website are listed in Russian rubles. In addition, the vendor offers new customers a ten-day free trial and a free domain when you pay for one year of hosting up front.
Users switching to TimeWeb from other web hosting companies get a welcome gift of three months' free hosting. The caveat is that you'll have to pay for at least six months' worth of hosting to be eligible, and you'll need to contact them within 15 days of opening your account with them.
TimeWeb's technical support team is available to their customers via a toll-free Russian telephone number, live chat, email, Skype, and social media. The vendor has also made available other local landlines that customers can use to reach their support team. The team is made up of highly-trained hosting professionals with years of experience in this business. What's more, TimeWeb has a fairly comprehensive Help Center that covers many hosting topics, answering pertinent questions that TimeWeb customers have asked over the years.
Quite often, you find that big vendors struggle to provide consistent and quality support services to all their customers. This is not so with TimeWeb. Just a few minutes after sending an email to TimeWeb support, I received a response. We then discussed in considerable detail a few domain management questions I raised. The answers I got were precise and effectively solved the challenges I had.
How much does TimeWeb cost?TimeWeb offers plans from $2 to $62. The price depends on which type of hosting plan you choose. You can see the updated pricing table (updated weekly) below.
Which TimeWeb plan should I get?My recommendation is to start with a cheaper plan. You can always upgrade later on. TimeWeb can help you with the migration to a more expensive plan. The increase in visitors many times takes longer than expected and you shouldn't pay a lot of money until the need arises. Of course, your needs may vary, and you can consult with a hosting expert from TimeWeb here.
How good is TimeWeb's customer support?TimeWeb is not ranked as one of our top web hosts. But that can also be a result of TimeWeb being a small, under the radar, hosting provider. There are advantages to a small hosting company – as a customer, you are more important to them. You can also check out our comparison of the most popular web hosting services here.