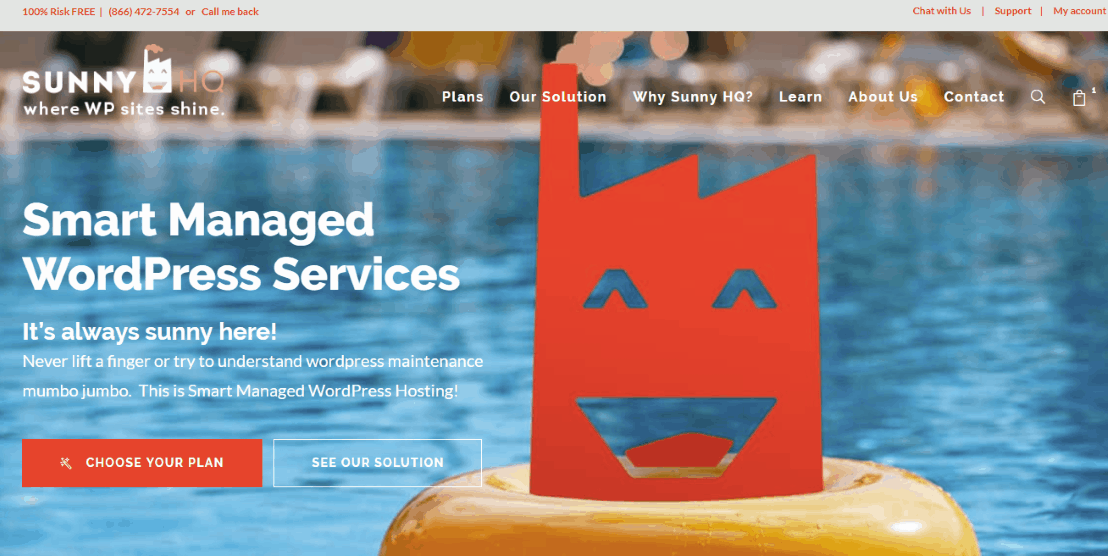 Sunny HQ was founded by Dylan Bost and John Henson who both understood that optimizing hosting for WordPress websites is more than providing servers that support PHP-based applications. The company is based in Raleigh, North Carolina and its servers are located in Texas, United States. The website is in English only.
Features and Ease Of Use
Sunny HQ is all about WordPress. It doesn't host anything else. This focus is an advantage, though, because it has honed its skills on all things related to WordPress. It offers the following features and resources:
99.95% Uptime SLA
Daily website & database backups
Let's Encrypt SSL Certificates
Although the hosting covers one WordPress website, it supports multiple websites under WordPress multisite and Sunny HQ might give you hosting for more accounts/websites at a reduced rate.
You don't get access to cPanel or any hosting control panel. Once you pay, WordPress is installed for you and you can handle your website straight from your WP dashboard. It will allow you access to SFTP and MySQL if you need them.
Your website is optimized for speed and performance with CloudFlare CDN, image compression, and advanced caching.
Information can be stolen through brute force attacks. Hackers can spread fake content or phishing links, deface your website, or whatever goal they have, and brute force attacks are frequent for WordPress websites. So, it's relieving to see automatic IP lockout against IP addresses that are showing suspicious behavior.
If you have ever had to deal with the "white screen of death" on WordPress from live tweaks, you'll love the staging feature that this web host offers. Sunny HQ allows you to create a copy of your website through staging so that you can test new designs and code without affecting the performance of your live website.
Pricing and Support
The benefits of WordPress hosting is better performance for WP websites than what normal shared hosting can provide. It's expected that it should be slightly more expensive than normal shared hosting servers. However, Sunny HQ takes more expensive to a whole new level. Its prices are way over the top compared to what you'd get elsewhere.
You can pay with credit/debit card or e-check, and the subscription periods are for one month and 12 months. Sunny HQ offers two months off if you take the longer-term hosting period. Also, if you end up unsatisfied with the hosting within 60-days after payment, you can request a full refund.
Sunny HQ's support agents work 24/7. You can call them, request that they call you, send an email, or initiate a live chat. The company provides live support coupled with in-depth blogs and how-to videos on WordPress.
I wanted to know about connecting my domain to my account, and the agent I discussed this with on live chat was helpful with step-by-step directions. They even offered to do the DNS direction themselves.