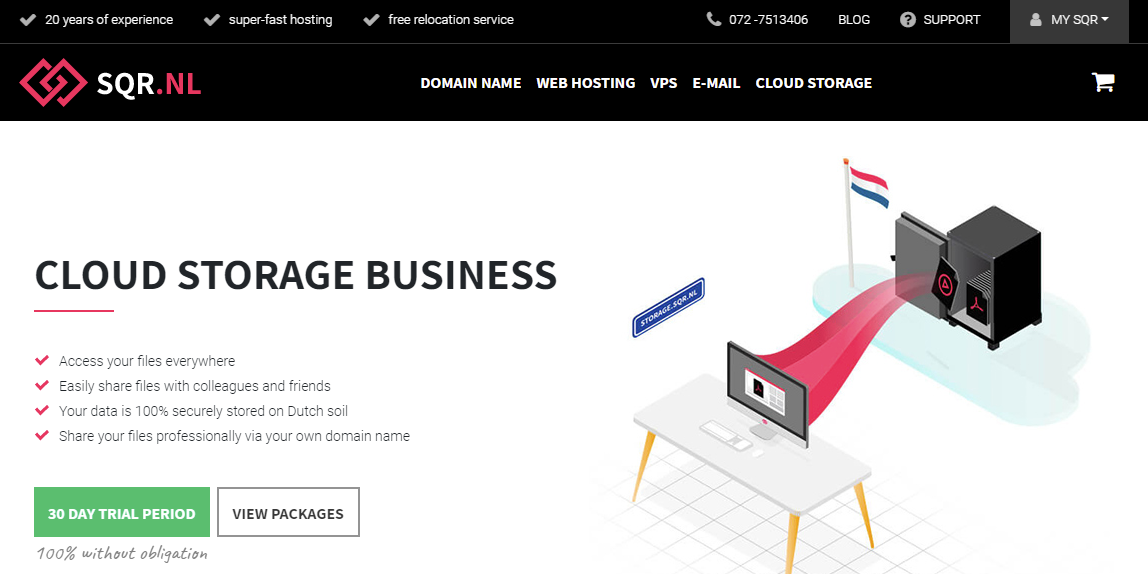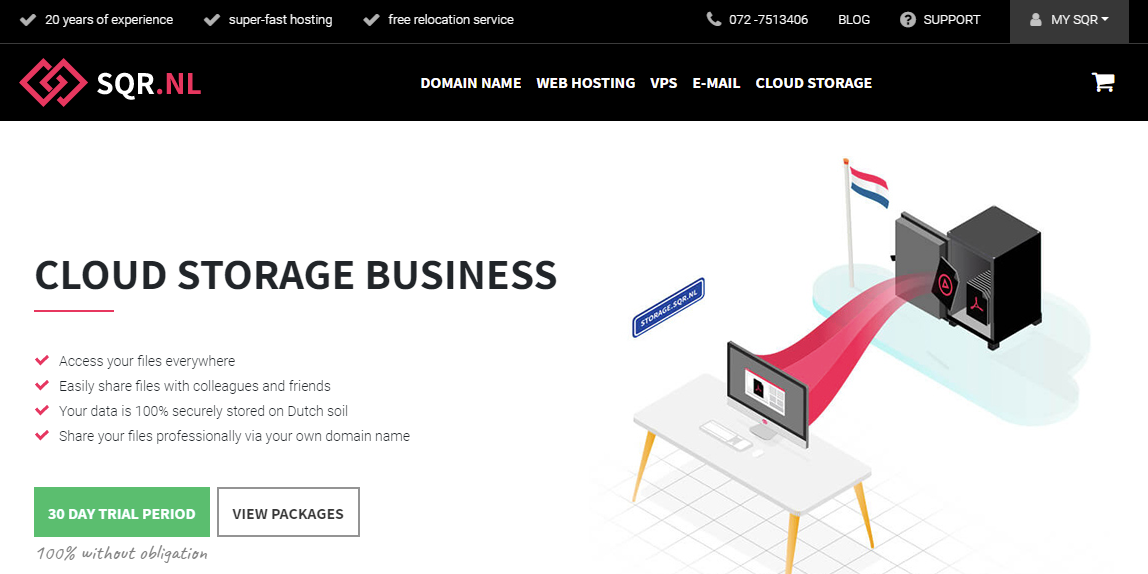 SQR.NL comes from Cyso Stable, a web hosting provider that has been in existence since 1997. SQR.NL is a web hosting company that's located in Alkmaar, Netherlands. The company offers Web hosting, reseller hosting, Virtual Private Servers (VPS), cloud storage, and domain services. Its servers are located in the Netherlands and its website is available in Dutch only.
Features and Ease of Use
SQR.NL serves more than 5,000 customers with web hosting. Its shared hosting plans offer the following features:
Automatic backups
Two, five, or ten websites
Anywhere from 10GB to 50GB
Unlimited traffic
SQR.NL offers 10, 25, or 50 email accounts depending on the plan that you choose. Spam messages are a frequent occurrence for email addresses displayed on the web, so if it's on your website or you have a contact form, that's an open invitation for spam. With SQR.NL, though, it is kept to a minimum.
There's also a virus scanner checking each email for viruses, along with the spam filter that filters out spam messages and prevents them from getting to your inbox.
Want to use a CMS but don't know how to install it? No problem. The company offers easy installation of scripts, including WordPress, Joomla!, Drupal, and OsCommerce. There's a tool in the control panel that handles automatic installations.
Aside from the regular shared hosting plans, SQR.NL also offers WordPress hosting. It provides automatic installation of WordPress core, theme, and plugin updates so that your website isn't vulnerable due to a lack of updates. Also, the plans offer more storage (up to 80GB SSD).
Furthermore, there's Let's Encrypt SSL provided, automatic backups, SSH access, and GIT connection from the second plan upward.
Pricing and Support
SQR.NL offers quarterly and yearly subscription periods on web hosting. Its prices are in line with what some of its competitors offer for similar features. In the first year, it provides a 50% discount to new customers and afterward, you'll have to pay the full cost.
Furthermore, it provides a free domain name (.nl, .eu, .de, .be, .com, .net, or .org) if you choose to pay for one year.
Despite its nice features, SQR.NL is lacking in providing guarantees. To start with, there's no uptime guarantee or even average uptime to expect. All it does is make a claim that there's "practically no downtime."
There's also no money-back guarantee, so even if you don't like the service or experience downtime, you're stuck or will have relinquish the funds you've invested and switch hosting companies.
I reached out to sales support for customer support, and I must say, it was a good experience. The agent provided honest assistance, and I didn't have to wait even a minute, as they had promised for live chat responses. Moreover, they have a phone number, WhatsApp (with a promised response time of one minute), and email (with a promised response time of one hour) for further support.
If you'd rather handle things yourself without reaching out to them, you can use the offered knowledge base and blog for articles.