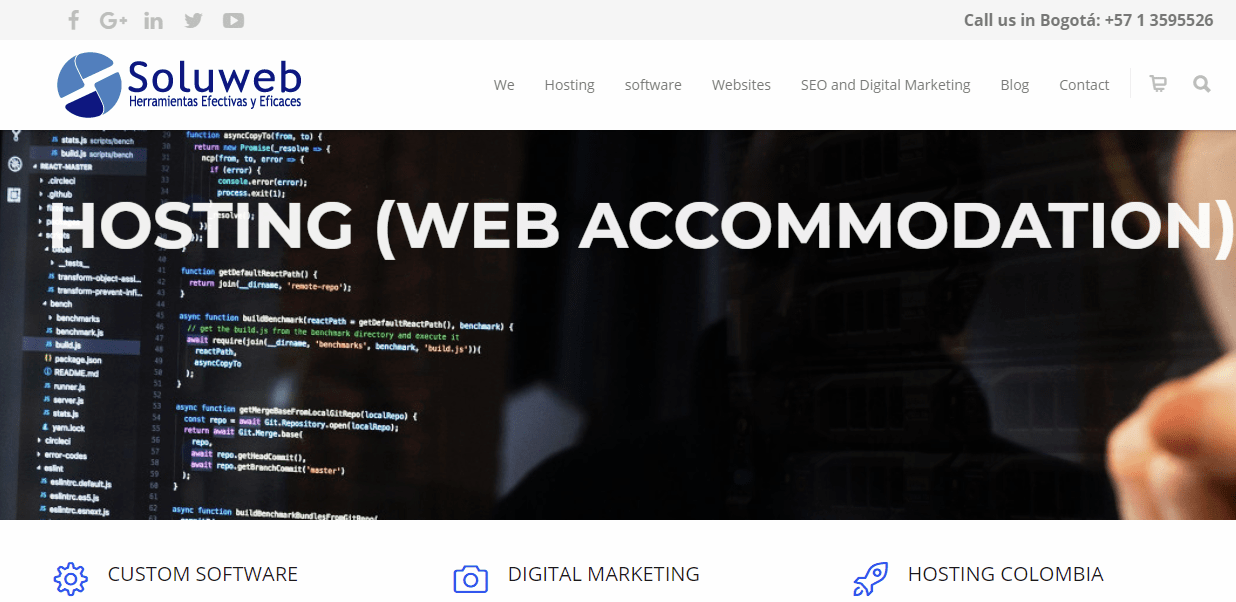 Colombia-based web hosting company, Soluweb (Soluciones Web) provides shared hosting, Virtual Private Servers (VPS), dedicated servers, and cloud servers. It was founded in 2001 to enable companies to increase productivity, minimize costs, and build relationships through optimized websites, hosting, and software. Its website is in Spanish.
Features and Ease of Use
Soluweb's dedicated servers are custom built with three automatic backups every week. If you want one, you'll have to contact the company with details of what you want and it will generate a quote and features for you. The cloud servers are custom built as well.
Shared hosting and VPS are offered in specified plans on its website. Customers on any of its five shared hosting plans get the following:
99.9% uptime guarantee
More than one hosted domain on the top plan only
Anywhere from 500MB to 10GB storage space
Up to 100GB bandwidth
Given the storage space that Soluweb provides, you wouldn't be able to host a large, digital E-commerce website or any website that needs lots of space. It does well with the bandwidth provided, though, especially with the storage space that you have to use.
If the space on the shared servers isn't enough for you, the VPS might be. You can get up to 200GB SSD and 5TB bandwidth on the VPS plans.
Many companies underestimate the risk and severity of DDoS, but you only need one attack to incur severe damage, from your website to emails and other connected workflow and communication systems. Soluweb understands this and thus, provides protection against DDoS attacks to your website and server.
It provides cPanel for hosting management, which is quite popular. It doesn't mention website builders or software installers, and that's not surprising given that it provides website development services. You can install your application by uploading the core file, creating a MySQL database, and connecting it to your web application.
Pricing and Support
Soluweb keeps its prices affordable for its services. The VPS plans are low-cost, while the shared hosting plans fall in the mid-range. You won't find the lowest prices in the market, but they also aren't the highest, considering the features offered.
There are a few downsides that I feel it's important to mention. It doesn't provide a free SSL or domain name; I was prompted to add my domain for a fee to my cart before checkout. Another thing is that there's no free trial, so you can't test the service to know how well it works beforehand, nor is there a money-back guarantee. That would have been nice to have to mitigate your risk.
The lowest subscription period is three months, though you can also pay for six months or twelve months at a time.
Soluweb provides the necessary customer support options – phone for immediate response and connection, and email for those who don't want to speak with a support agent. Unfortunately, there's no live chat or knowledge base, so you're stuck with the previously listed methods of support.
Support agents are available from Monday through Friday from 8:00 AM to 5:00 PM. I sent an email but never received a reply.