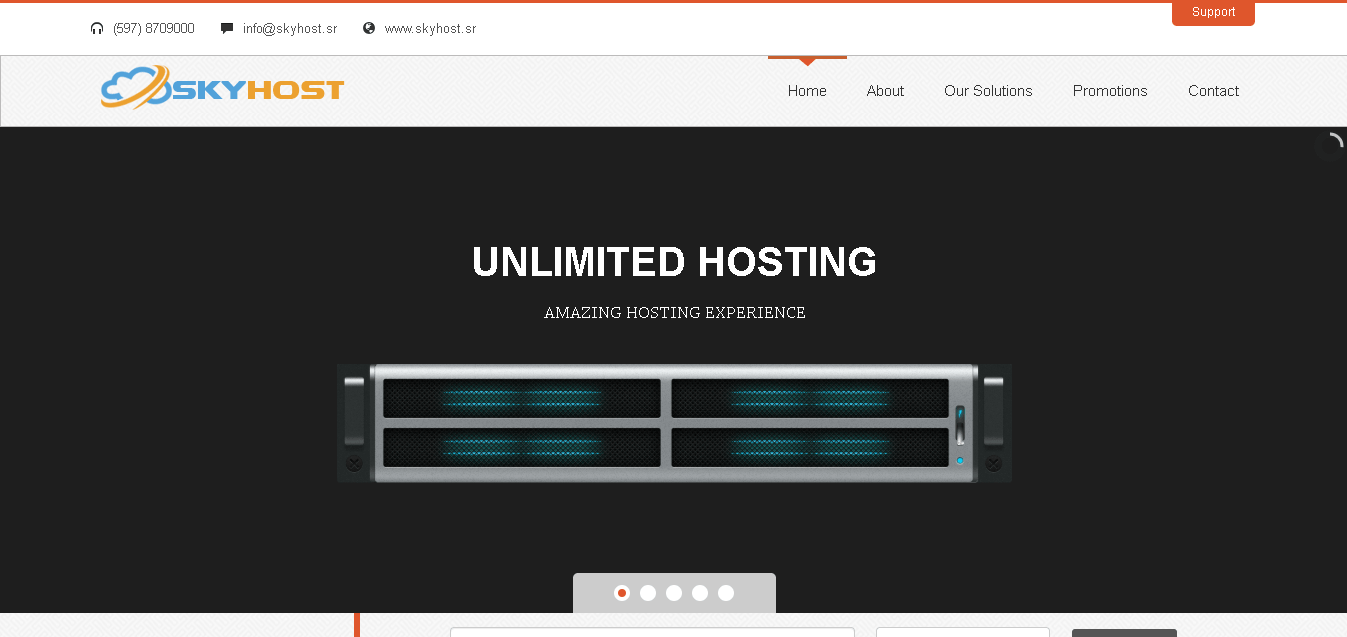 To compare the best web hosts, we hosted the same WordPress website on each one and tested performance, customer service, and value for money.
Check out the results here.
SkyHost positions itself as an honest company with this tagline – "We say what we do, we do what we say." But there's a lot left to be desired. The company claims to meet all your shared hosting and site backup needs. Apart from its shared hosting and website backup services, the company also offers reseller hosting, domain registration and transfer, and web services. Though the company says it offers business hosting for e-commerce stores and busier websites, I couldn't find any details on its website. SkyHost's website is in English.
Features and Ease of Use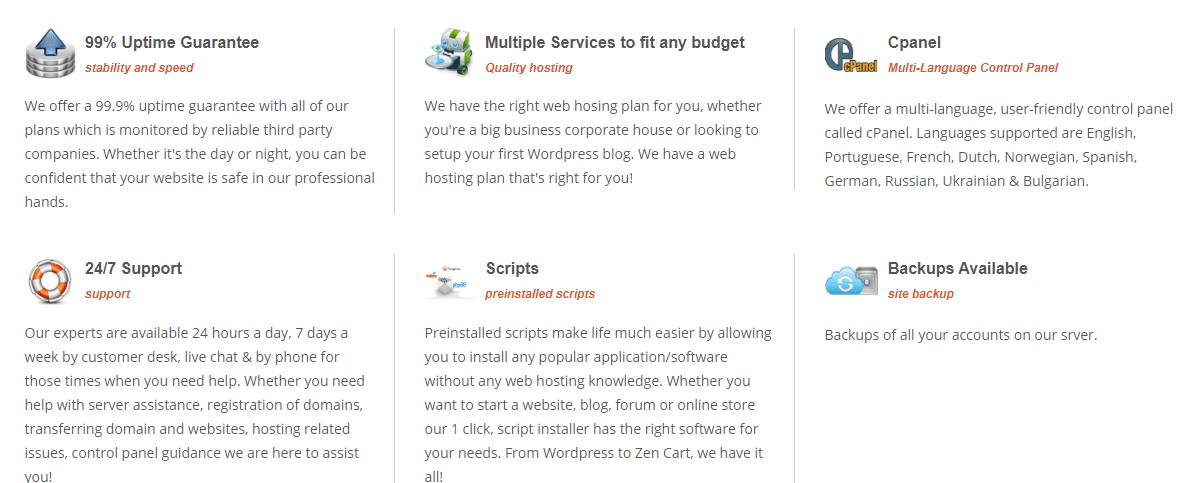 Though SkyHost lists four shared hosting plans – Basic, Unlimited, Reseller, and Shoutcast, only two (Basic and Unlimited) are web hosting plans that come with:
5GB – unlimited HDD
10GB – unlimited bandwidth
Three – unlimited MySQL databases
Daily backups
cPanel/free scripts
Several URLs on SkyHost's website show a 404 error page (Portfolio, Blog, Features etc.), lead to where there's no content (its Facebook page), or simply lead to nowhere (its Twitter and YouTube URLs). Even its order buttons (for its plans) don't work and keep redirecting you to the same page. In addition, the yearly cost of its Shoutcast plan is displayed incorrectly (since its monthly cost and yearly cost don't match).
All of these make me wonder if the company was in a hurry to get its website live, is redesigning its website, or is just partly functional at present. Apart from its two hosting plans, SkyHost offers three reseller hosting plans, and one Shoutcast plan for streaming audio. All plans are backed by its 99.9% guaranteed uptime.
Not many hosting providers offer SHOUTcast hosting and by bringing it to its clients, SkyHost makes it easier to stream your audio for your online radio station.
Another unique feature offered by the company is its multilingual cPanel control panel that supports English, German, French, Portuguese, Bulgarian, Dutch, Ukrainian, Norwegian, Russian, and Spanish.
SkyHost also offers a one-click script installer, which you can use to install and run any popular software/application – from WordPress to Zen Cart, without any coding or programming knowledge.
SkyHost's servers are cooled and powered by renewable solar and wind energy. Thus, it offers carbon-neutral web hosting services to help bring down the carbon footprints of individuals, organizations, and businesses throughout the world.
Pricing and Support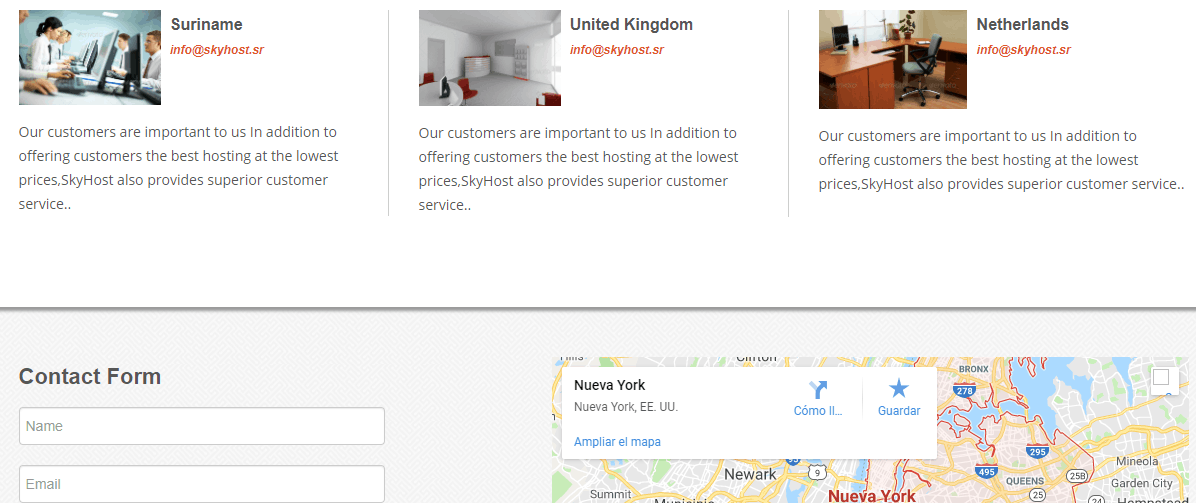 Shared web hosting plans from SkyHost are competitively priced. It appears you can pay for these monthly/yearly plans in Surinamese Dollar though there was no way to confirm this.
Though SkyHost's "About Us" page talks about a money-back guarantee, I couldn't find any details about it elsewhere.
SkyHost's customer support can be reached via phone, email, and an online form. Though the company claims 24/7 support, my attempts to contact the company via different methods failed. The company's home page mentions a live chat too but I couldn't find it.
Those looking to manage issues on their own when unable to reach support would be disappointed with SkyHost as the company doesn't offer anything in this department such as a knowledge base or tutorials.
How much does SkyHost cost?
SkyHost offers plans from $5 to $25. The price depends on which type of hosting plan you choose. You can see the updated pricing table (updated weekly) below.

Which SkyHost plan should I get?
My recommendation is to start with a cheaper plan. You can always upgrade later on. SkyHost can help you with the migration to a more expensive plan. The increase in visitors many times takes longer than expected and you shouldn't pay a lot of money until the need arises. Of course, your needs may vary, and you can consult with a hosting expert from SkyHost here.

How good is SkyHost's customer support?
SkyHost is not ranked as one of our top web hosts. But that can also be a result of SkyHost being a small, under the radar, hosting provider. There are advantages to a small hosting company – as a customer, you are more important to them. You can also check out our comparison of the most popular web hosting services here.