Hosting Types
Game server hosting (VPS) for Minecraft, Hytale, Ark and Rust
Storage
HDD or SSD up to 320GB
Bandwidth
Unlimited
Starting Price

$

2.50

per month
Support Channels
Ticket via control panel (live chat only for sales)
Money-Back Guarantee
24 hours
Uptime Guarantee
99.9%
Most of my reviews are for regular web hosts that may incidentally provide specialist game servers. However, I've also reviewed hosts that primarily provide game servers that could nonetheless be used for other kinds of hosting since they have all of the same essential characteristics. You can also check out our best web hosting services list to see which hosting provider could fit your business needs best.
This one is arguably even father along the game hosting spectrum, since ScalaCube is mainly concerned with Minecraft Hosting, although it also offers hosting for Rust, Ark, and potentially other games. And consistent with what I've already said, this host assures you that you can use your server purpose whatsoever provided it doesn't violate any laws.
Since the most important thing for online gaming is low latency, ScalaCube offers virtual and dedicated servers all around the world — in North America, Europe, the United Kingdom, Australia, and Asia — so you can host your site where your users can get the lowest ping times.
ScalaCube's website is in English.
Features and Ease of Use
ScalaCube offers 9 Minecraft VPS plans, 9 Minecraft PE VPS plans, 12 Ark plans, and 41 Rust plans. The nine Minecraft VPS plans provide you with:
768 MB to 32 GB RAM
1x to 8x 3.4GHz CPU
10 GB to 320 GB SSD storage
Automated backups (for a one-time fee)
These game hosting plans allow you to install an unlimited number of "slots" on one VPS server, subject to the "max-players" value set for your server. It means your server can seamlessly support a large number of players providing the CPU power and RAM is sufficient.
Despite the gaming bias, the hosting plans also provide everything you would expect to find for traditional web hosting, including a control panel, root access, FTP, MySQL with phpMyAdmin, PHP, and Apache. You also get a pre-configured website and forum for free.
ScalaCube lets you choose between HDD and the far faster (and more reliable) SSD storage, and it provides unlimited traffic without throttling. You get a 99.9% availability guarantee, which is around the industry average.
Pricing and Support
ScalaCube's Minecraft VPS plans are priced competitively. You can pay for plans monthly in a wide range of currencies: USD, EUR, GBP, CAD, AUD, NOK, SEK, MXN, BRL, NZD, and RUB. At the time of this review, you could get a Minecraft server at a 50% discount.
There is no money-back guarantee as far as I can see, but this is not an issue when you're only committing to monthly payments.
Although you can contact this company via various methods (including email and live chat), it emphasizes that the 24/7 support team only responds to tickets submitted via the control panel. It's little surprise, then, that my offline live chat messages were never answered.
For self-help, you'll find several articles in the support section: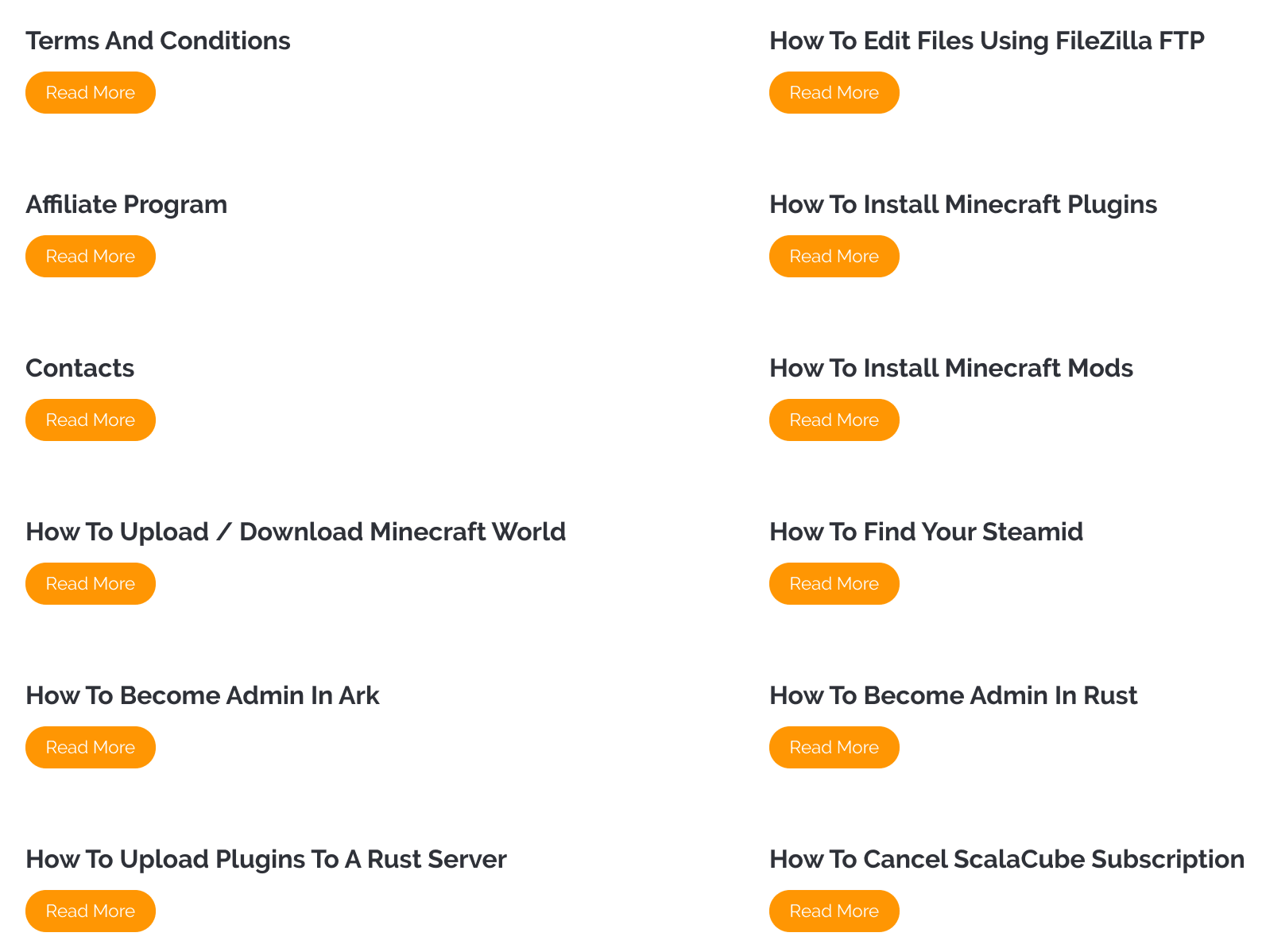 How much does ScalaCube cost?ScalaCube offers plans from $3 to $96. The price depends on which type of hosting plan you choose. You can see the updated pricing table (updated weekly) below.
Which ScalaCube plan should I get?My recommendation is to start with a cheaper plan. You can always upgrade later on. ScalaCube can help you with the migration to a more expensive plan. The increase in visitors many times takes longer than expected and you shouldn't pay a lot of money until the need arises. Of course, your needs may vary, and you can consult with a hosting expert from ScalaCube here.
How good is ScalaCube's customer support?ScalaCube is not ranked as one of our top web hosts. But that can also be a result of ScalaCube being a small, under the radar, hosting provider. There are advantages to a small hosting company – as a customer, you are more important to them. You can also check out our comparison of the most popular web hosting services here.