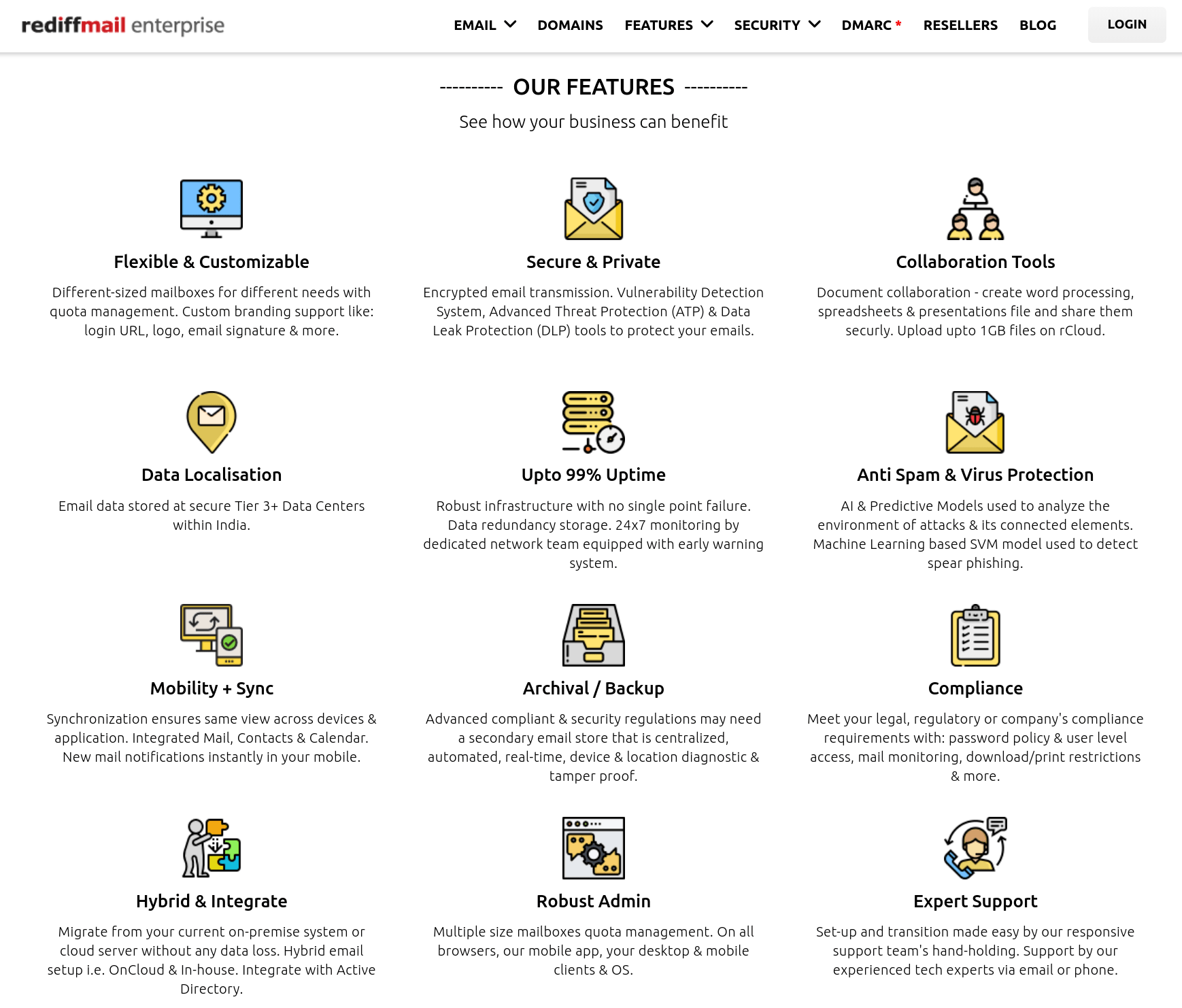 To compare the best web hosts, we hosted the same WordPress website on each one and tested performance, customer service, and value for money.
Check out the results here.
Rediffmail is the email hosting brand of Rediff.com India Limited, which was founded in 2005. It doesn't offer website hosting packages, but it does offer email hosting, domains, and reseller solutions. Its website is available in English.
Features and Ease of Use
With Rediffmail's email hosting solutions, your data is stored securely at Tier 3+ data centers on fully redundant infrastructure with 24/7 monitoring.
You get the following value-added features with Rediffmail's services:
Mobility and synchronization
Robust administration
Branded ad-free email
Archival/backup options
Data localization
Up to 99% uptime
Three flexible and customizable plans provide between 1 GB and 10 GB storage space per email ID. These packages come with a custom login page, and they feature advanced threat protection, encrypted email transmission, data leak protection, and vulnerability detection.  To ensure your security, this vendor has employed advanced machine learning artificial intelligence features and models to detect and predict spear phishing threats.
Rediffmail's enterprise cloud-based email service gives you absolute control over how much storage you require for your data, and it allows you to access all the resources in your allocated cloud from anywhere in the world.
Redffmail's domain services let you register a domain name to be used for professional-looking company email addresses. You have complete control over the A Record for domain assigning, mail server mappings (MX Records), URL redirect, name server (DNS), WHOIS record, and domain ownership validation with the TXT Record.
Pricing and Support
Rediffmail provides domain registration, reseller, and email hosting packages at pocket-friendly prices. While you don't get unlimited storage space, the advertised 10 GB storage (per ID) should be sufficient for email data.
At the checkout, you can choose between 1 and 50 email IDs with up to 25 GB storage each (therefore more than the advertised 10 GB) for a period of 1 to 5 years, but with no apparent discounts for multi-year commitments. You can pay by PayPal, check, debit/credit card, and even in cash.
The best thing, for me, is that you can request a premium email demo at any time to evaluate if Rediffmail's services will suit you before you buy.
You can call this company during extended office hours on weekdays and Saturdays. You can also contact the company via email, live chat, or online contact form. If you'd like to try supporting yourself, you might find answers to common questions on the FAQ page.
I had a less-than-satisfactory experience when I tested the 24/7 live chat support. First, it's bot-based, so you don't talk to a real person, at least initially. Second, it has been programmed specifically to accept a restrictive range of questions before opening a support ticket on your behalf.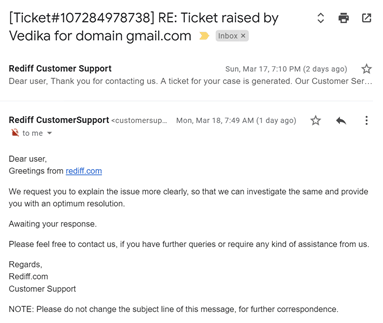 How much does Rediffmail cost?Rediffmail offers multiple plans priced highest to lowest. The price depends on which type of hosting plan you choose. You can see the updated pricing table (updated weekly) below.
Which Rediffmail plan should I get?My recommendation is to start with a cheaper plan. You can always upgrade later on. Rediffmail can help you with the migration to a more expensive plan. The increase in visitors many times takes longer than expected and you shouldn't pay a lot of money until the need arises. Of course, your needs may vary, and you can consult with a hosting expert from Rediffmail here.
How good is Rediffmail's customer support?Rediffmail is not ranked as one of our top web hosts. But that can also be a result of Rediffmail being a small, under the radar, hosting provider. There are advantages to a small hosting company – as a customer, you are more important to them. You can also check out our comparison of the most popular web hosting services here.