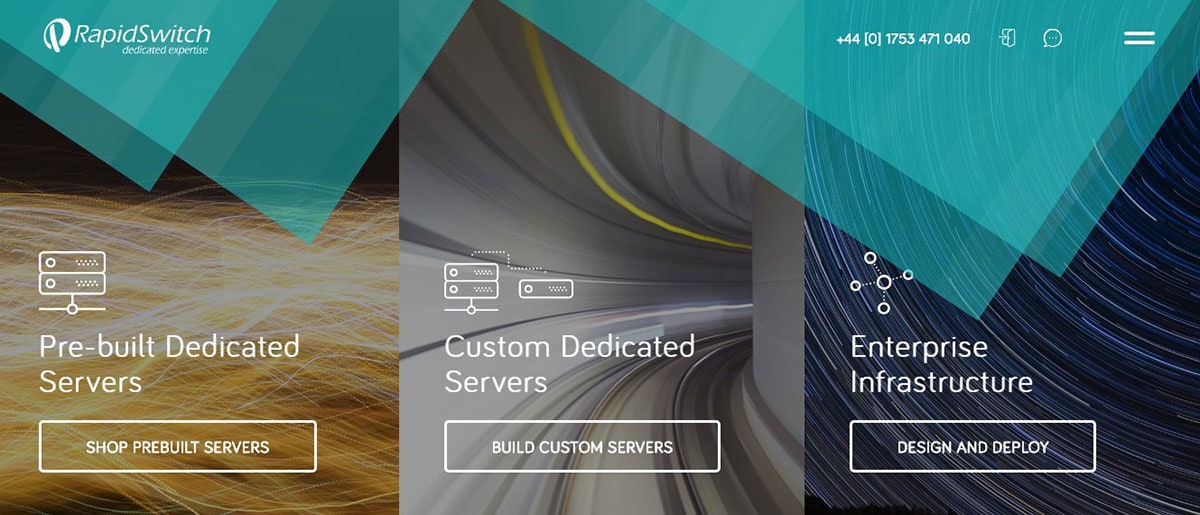 With over 20,000 servers deployed to date, RapidSwitch has been a key player in the premium hosting market in the U.K. for almost two decades. They operate 7 N+1 data centers with reliable infrastructure that enables them to deliver premium server hosting, cloud storage, and colocation services at prices that most of their competitors can't match. Some of their notable customers include Last.fm, Hoseasons, Joomla Wired, and Livestation.
Features and Ease of Use
Starting with their dedicated servers, they have a range of powerful machines with 10Gbps connectivity and a 100% network uptime guarantee. These servers are actively monitored and managed 24/7 all year round. You can choose from pre-made plans that all provide room for customization.
E3 Entry Range – Powered by Intel Xeon E3-1270 v5 with four CPU cores, these servers come with a default setting of 64GB RAM, four 250GB SSD storage drives, and 1Gbps network port speeds.
E5 Enterprise Range – Running on Dual Intel Xeon E5-2630 v4 Series processors, these servers have a default setting of 128GB RAM, two 250GB SSD storage drives, and 1Gbps network port speeds.
E7 Enterprise Range – Designed for maximum performance, these servers are built with Quad Xeon E7-4830 v4 with 56 cores, 512GB RAM, 12 500GB SSD storage drives, and guaranteed network port speeds of 1Gbps.
Xeon Special – Based in their Gosport data center, these servers run on Intel Xeon Quad-Core X3450 processors with 16GB RAM, a minimum of two 2TB SATA hard drives, and 1Gbps network port speeds with 200Mbps guaranteed.
E3 Special – Based in their Maidenhead data center, this package comes with Intel Xeon Quad-Core E3-1240 CPUs, one 500GB SATA hard drive, 32GB RAM, and 1Gbps network port speeds with 200Mbps guaranteed.
Dual E5 Special – Powered by Dual Xeon E5-2430 with 12 cores, these servers come with 64GB RAM, four 600GB 15K SAS drives, and 1Gbps network port speeds with 300Mbps guaranteed.
Under cloud hosting, you have two options: private or public. These come with a 100% uptime SLA. Easy to build and manage, their private cloud is good for you if you want virtual machines with high availability. You can build as many machines as you want and use their enterprise storage or dedicated SAN. Their public cloud can serve you well in case you want a small number of resilient, high-performance servers.  Based wholly on VMware technology, these RapidSwitch cloud solutions ensure that there's no single point of failure anywhere on their platform.
Though they don't have shared hosting plans, RapidSwitch means business when it comes to dedicated servers and cloud hosting. Ready on demand and with 100% uptime, their machines are built for speed and maximum performance. I like the fact that you can control your cloud environment, consolidate resources, and slash costs. You can also order value-added services such as cloud backups, layer 7 load balancers on gigabit connections, P2P network solutions, and cloud archiving separately.
Pricing and Support
Few hosting companies in the United Kingdom can match RapidSwitch in terms of pricing. They're able to provide inexpensively-priced premium hosting packages because they fully own and operate all their physical infrastructure. Coupled with their U.K. price-match policy against competitors, RapidSwitch ensures that they'll always top the charts in affordability.
RapidSwitch also has an array of fixed-spec servers on offer at all times. These are limited in stock and have had their prices slashed to the lowest possible rates.
Unlike certain hosting companies that outsource a critical function such as support, RapidSwitch keeps it local. You can initiate a live chat, send an email, or directly speak to real U.K.-based support technicians and on-site network engineers at any of their data centers. They are available 24/7 to help you with fixing server issues or resolving any hosting problems related to your account.