To compare the best web hosts, we hosted the same WordPress website on each one and tested performance, customer service, and value for money.
Check out the results here.
Psychz Networks is a U.S. company that initially started as a shared hosting provider but evolved into a provider of specialized services that include colocation, private cloud, and CDN services. For those  looking for hosting services, their dedicated servers offer experts total freedom in designing their website or a network of websites on powerful servers with 1 Tbps internet connectivity. Since their inception in 2001, they've been the web hosting vendor of choice for over 10,000 clients.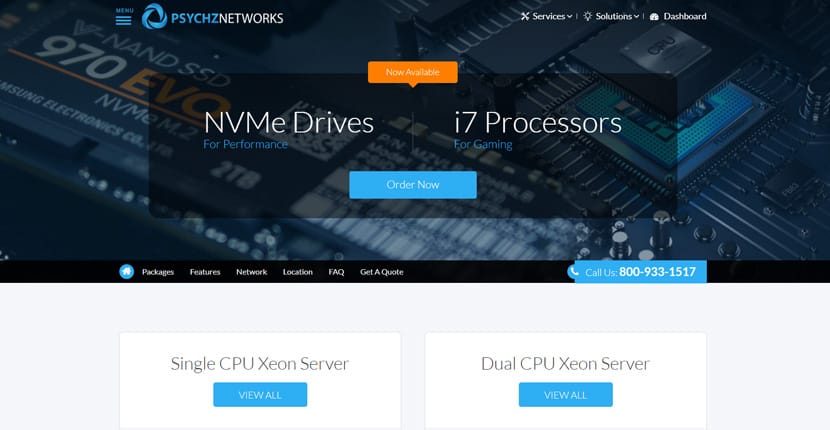 Features and Ease of Use
Psychz Networks' dedicated servers offer you complete freedom and control over your website or network of websites on servers offering single or dual-core Xeon processors. With their dedicated servers, you get the following features:
Servers with customizable features
2Gbps DDoS protection standard, with the option to increase this to up to 500Gbps
Statistical tracking
API access
1 Tbps internet connectivity
Edge layer firewall
Psychz Networks owns and operates two data centers located in Dallas, Texas, and Ashburn, Virginia. Additionally, they've also partnered with data centers around the world to offer their users single-CPU Xeon servers in places such as London, Amsterdam, Johannesburg, Mumbai, Tokyo, and Taipei.
If you're looking to host a gaming server, Psychz Networks now offers i7 processors for gaming along with NVMe drives for increased performance. If you require managed hosting of your servers, that option is available for an additional fee.
Dedicated servers are not for beginners, and you're responsible for setting up everything on the server unless you choose a managed hosting option. Beginners should look for a provider that offers shared hosting.
Experts should have no problem using this product, as it includes multiple tracking and administrative features such as DDoS attack tracking, port traffic graphs, and more.
Pricing and Support
Psychz Networks offers multiple options for setting up your dedicated server. They offer you the option of running a Single CPU Xeon Server or Dual CPU Xeon Server. Each server comes with multiple configuration options offering massive storage, memory, from four to eight CPU cores, and more. You have the freedom to customize those options according to your needs. If a particular configuration offers 24GB of memory but you require 48GB, you can easily upgrade the RAM by paying a little extra. There are numerous options available, too many to list in this review, so I recommend visiting the website for more detailed information about their servers.
Psychz Networks offers standard support for this type of service, providing online ticketing support and a fairly standard knowledge base. If you ever do encounter an issue, Psychz Networks promises a 30-minute response time on support tickets. You're expected to know what you're doing, so they aren't going to offer much support outside of problems that arise from their servers directly. If you don't have much experience managing a dedicated server, then this is not for you.