Dedicated hosting can cost well over a hundred dollars a month, so you'll need to look beyond the marketing jargon to make sure you're really getting what you need.
You want to know you're going to get enough resources to keep your website running smoothly, and decent security features are a must in this day and age. If you're new to dedicated hosting and not sure how to set up your own server, managed support should be a priority.
I tested dozens of dedicated server hosting providers to find the best options out there.
Now I'm here to help you pick the right host for your needs.
Short on Time? Here Are the Best Dedicated Server Hosting Services in 2023
InterServer – Fully customizable plans for a wide range of low- and high-end servers
Liquid Web – A selection of fully managed dedicated servers backed by powerful hardware for peak performance
Hostwinds – Cheap but reliable dedicated servers, perfect for high-traffic websites and small applications
What We Look For in the Best Dedicated Server Hosting Services
Out of all the plans I tested, these factors were the most important:
Resources: If you're going to pay the premium price for a dedicated hosting service, you have to make sure that the CPUs and memory included are enough to meet the requirements of your website.
Performance: Uptime guarantees are important, but you want to know your host's actual uptime records. You also want to know your site is going to load quickly for your visitors, no matter where they are in the world.
Storage type: HDD or SSD storage will have a direct impact on the performance of your website. Almost all hosts on my list give you a choice between the two, with HDD being the cheaper option.
Option for managed dedicated servers: With fully managed servers, the server setup, administration, security, and operations are handled by the provider. This is an excellent option if you don't have extensive Linux knowledge. Some dedicated servers are not fully managed, but come with managed support for basic maintenance and setup.
Pricing: Dedicated hosting is a premium service with a significant price tag, but cheap dedicated servers with decent performance do exist. All the hosts on my list strike a balance between price and value.
1. InterServer – Fully Customizable Dedicated Hosting Plans
Although InterServer offers a number of "Rapid Deploy" preconfigured dedicated servers, the first thing you'll notice about its service is an impressive range of customizable features.
You can scale any offer to suit your needs, which also means you're likely to find a good option within your price range.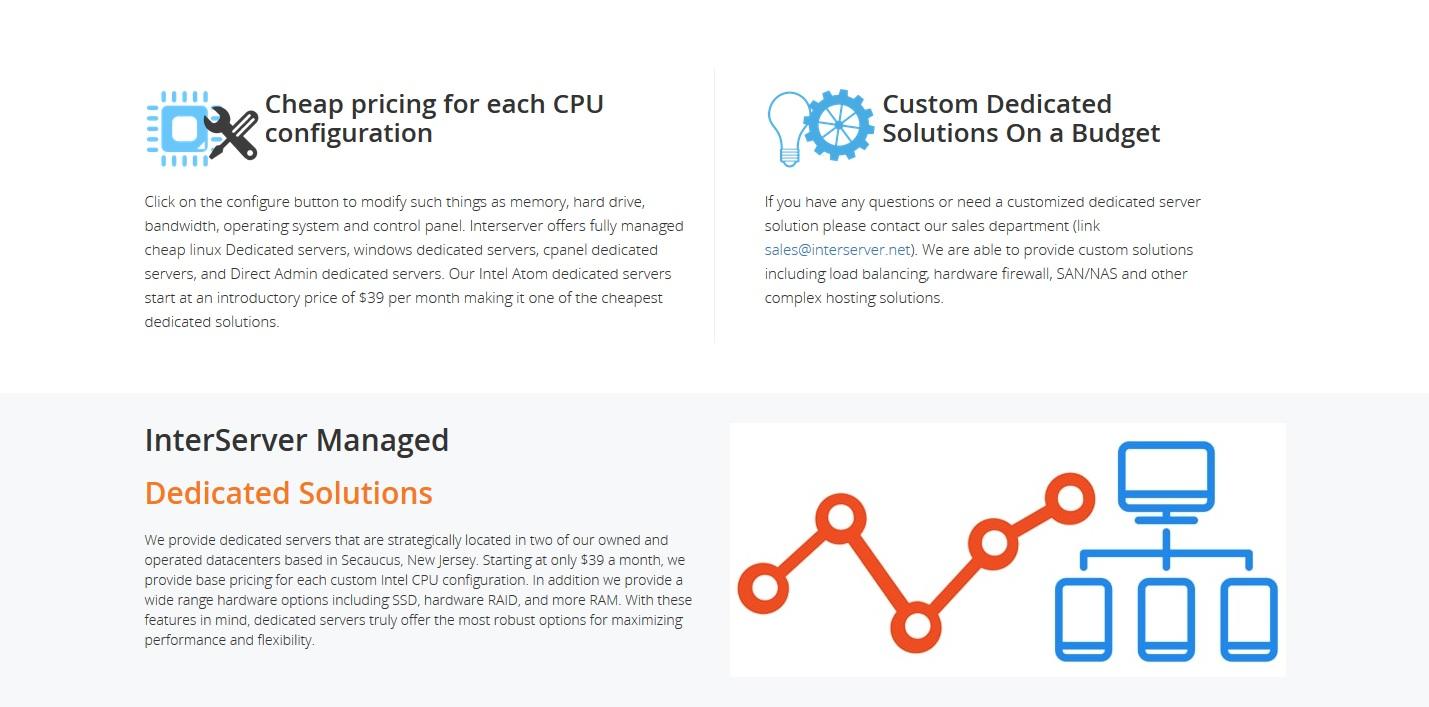 With CPUs that range from 4 to 24 cores and up to 256 GB of RAM, you can create a dedicated server with extraordinary performance or opt for a more modest setup. The cost tends to vary widely depending on server specifications, but overall,
the value for money with InterServer is excellent compared to most other services.
The majority of
InterServer's dedicated hosting plans
 include 250 GB HDD storage as a baseline, which is slightly disappointing. The cost to upgrade to SSD storage starts out pretty minimal but it becomes steeper as you add more space. However,
even the most basic plans include 10 TB of bandwidth
through a 1 GB port, which is considerably more than most websites will use. The one downside of InterServer's dedicated hosting service is that all of the company's data centers are located in the US, just outside New York City.
In other words, you're likely to get an excellent performance rating in the US, Canada, and Western Europe, but your visitors from Asia and Australia might face subpar loading speeds.
Features:
Custom dedicated servers: You can add exactly as many resources as you need to create a plan that is both suitable for your project and budget-friendly.
Improved security features: You get free DDoS protection against attacks up to 20 GB on all dedicated server plans.
Free managed support: InterServer will take care of system reinstalls, hardware issues, and the repair of malfunctioning services.
Free migration service: When you move an existing website to one of the provider's dedicated servers, the support staff ensures a smooth transition with little to no downtime.
Read our
in-depth InterServer review
 for a full list of features.
| | |
| --- | --- |
| CPU Range | 4 to 24 cores |
| RAM | 8 to 256 GB, DDR4 |
| SSD Storage | Yes, but for additional fee |
| Data Center Locations | US only (New Jersey) |
| Support | 24/7 phone, email, ticket, and live chat; knowledge base |
2. Liquid Web – High-End Dedicated Hosting Services
Unlike InterServer, Liquid Web focuses entirely on high-end configurations for dedicated hosting.
Liquid Web's three dedicated hosting plans
 all come with the high price tag that you would expect from a premium service.
The most basic dedicated server comes with a four-core CPU, 32 GB of RAM, two 240 GB SSDs, and 5 TB of bandwidth, which is not bad but not excellent either, given the price. For four times the cost, you can upgrade to 16 cores and double your RAM and storage space to create a top-performing server.
Additional customization options are available, but you're better off, money-wise, with a bundle.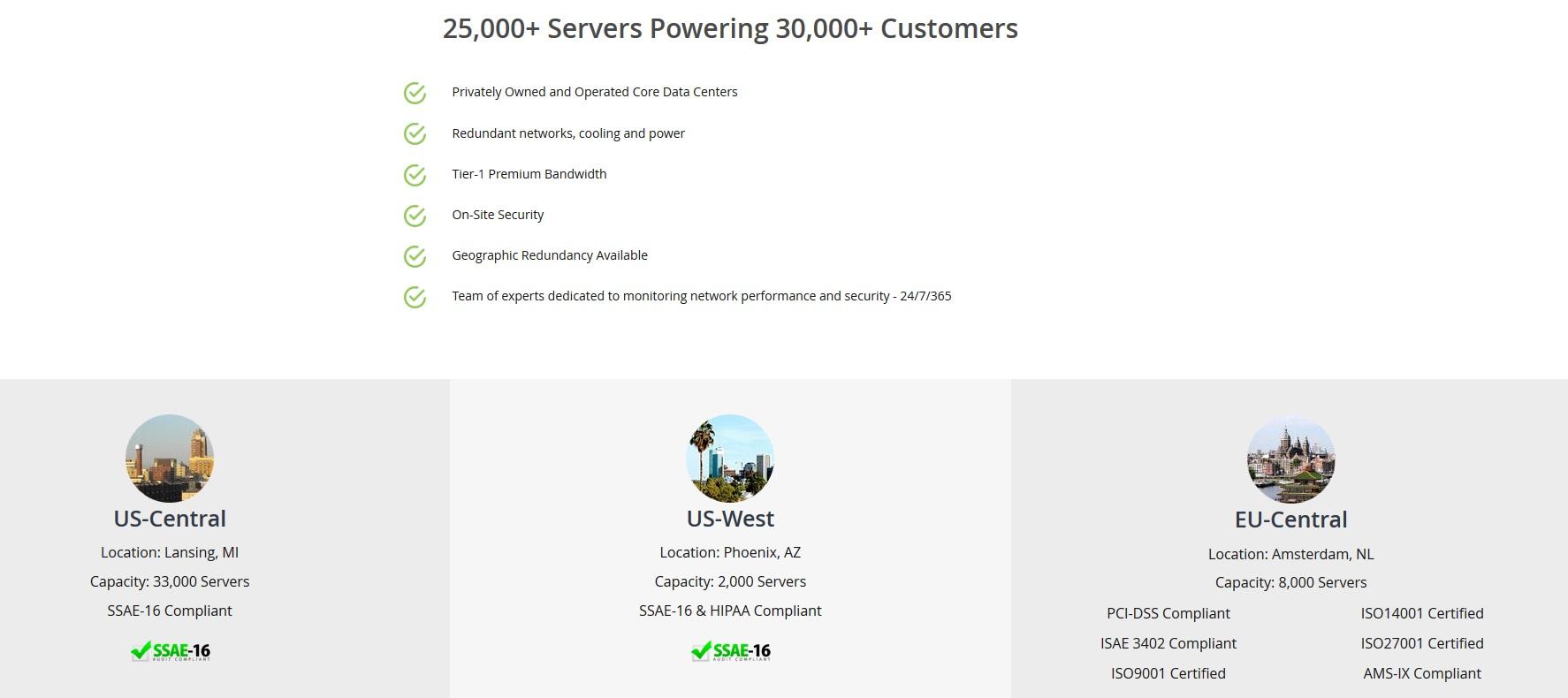 Liquid Web owns three data centers.
Two of these centers are in the US, and the third is in The Netherlands. If your target audience is not US-based, you can opt for the European data center, although this almost doubles the cost of your plan. You can expect excellent uptime around the world, but loading speeds may not be as fast in Asia and Australia.
Features:
Fully managed dedicated servers: Regardless of your plan, support agents take care of almost all server tasks for you, basically ensuring the proper functioning of your machine.
Premium control panel: Liquid Web gives you a choice of three premium control panels – InterWorx, Plesk Onyx, or cPanel – that make it easier to manage your domains, security, and features.
High-performance infrastructure: The CPUs included in Liquid Web's pricier plans, such as the Intel Xeon Silver 4108, use more recent technologies than many other hosting providers. Advertisements might not tell you this, but an eight-core processor released a decade ago is not as effective as a four- or six-core released five years later. If performance is important to you – and it should be – this is something to keep in mind.
100% uptime guarantee: This is higher than most other hosts will give you. If you cannot reach your server at any point during the month, Liquid Web gives you credit for 10 times the amount of downtime.
Want to know more? Read our
expert Liquid Web review
.
| | |
| --- | --- |
| CPU Range | 4 to 16 cores |
| RAM | 16 GB to 256 GB, DDR4 |
| SSD Storage | Yes, on all plans |
| Data Center Locations | US, The Netherlands |
| Support | 24/7 phone, email, and live chat support; knowledge base |
3. Hostwinds – Decent and Cheap Dedicated Servers
Hostwinds doesn't focus on the newest, most expensive server configurations but rather aims to give you good value for your money.
Hostwinds' affordable dedicated server plans
 make it a solution definitely worth considering. Hostwinds' starter plan includes a four-core CPU, 8 GB of RAM, 1 TB of storage on an HDD (or, alternatively, 120 GB SSD storage), as well as 10 TB of bandwidth on a 1 GB port, which is more than enough for your average high-traffic website. If needed, you can add more storage and RAM, all for a reasonable fee that will keep the overall monthly cost relatively low. On the higher end of Hostwinds' options, you'll find a 6-core CPU with 96 GB of RAM, up to 1 TB of storage on SSD (or 3 TB on HDD), and 10 TB of bandwidth (with the possibility to upgrade to unmetered): in short, everything you need to run a high-traffic website.
Even if your project is fairly demanding in terms of specs, you can still achieve peak performance with this configuration, and at a bargain, too.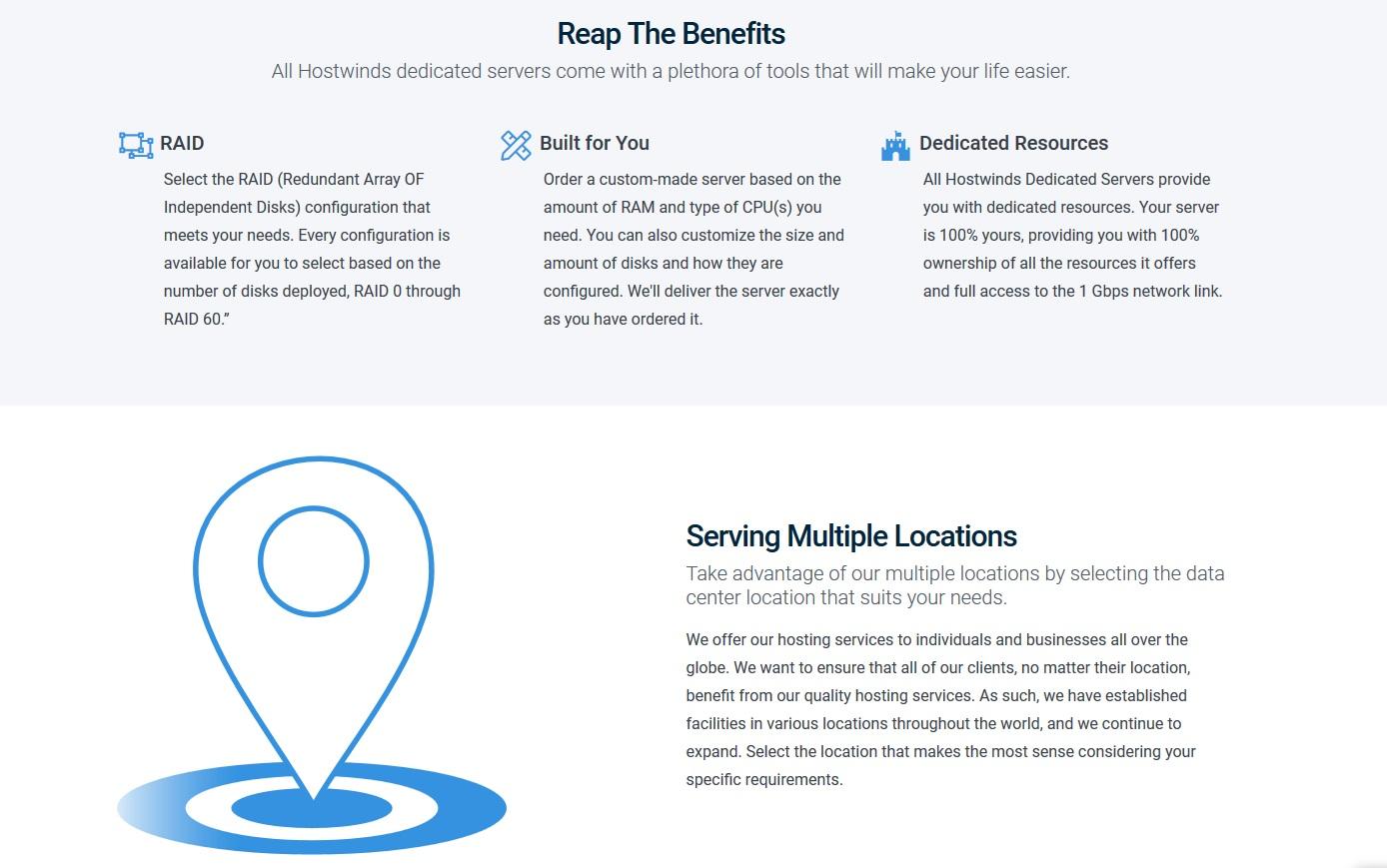 Most users confirm great uptime with Hostwinds, but there have been some reports of websites that were offline for days a year.
As such, before you choose one of Hostwinds' plans, you should consider that something like this – although unlikely – might happen to you. In case it does, you are backed by the provider's 99.9999% uptime guarantee, which entitles you to refunds based on the amount of downtime your website experiences per month.
Features:
Fully managed dedicated servers: Hostwinds puts an entire team of experts at your disposal to ensure the proper functioning of your server. Whenever you encounter a problem you cannot solve yourself, an agent is there to offer immediate help.
Integrated nightly backups add-on: For a small fee, the provider will create daily backups of your server so you don't have to worry about it. Backups can be stored indefinitely, and you can access them at any time.
US and European data centers: Hostwinds operates in three data centers – two in the US and one in The Netherlands – although these are leased, rather than owned by the company. The Tier 4 facilities should guarantee that your website experiences no more than 26 minutes of downtime per year (that's 99.995% expected uptime).
To learn more about the company, read our
in-depth Hostwinds review
.
| | |
| --- | --- |
| CPU Range | 4 to 6 cores |
| RAM | 8 GB to 256 GB, DDR4 |
| SSD Storage | Yes, on all plans |
| Data Center Locations | US, The Netherlands |
| Support | 24/7/365 phone, ticket, email, and live chat; knowledge base |
Like in the case of  Liquid Web,
FastComet's dedicated hosting plans
 are fairly expensive compared to the average. What you get in return is a fast-loading website and a choice of 11 high-performing data centers distributed around the world.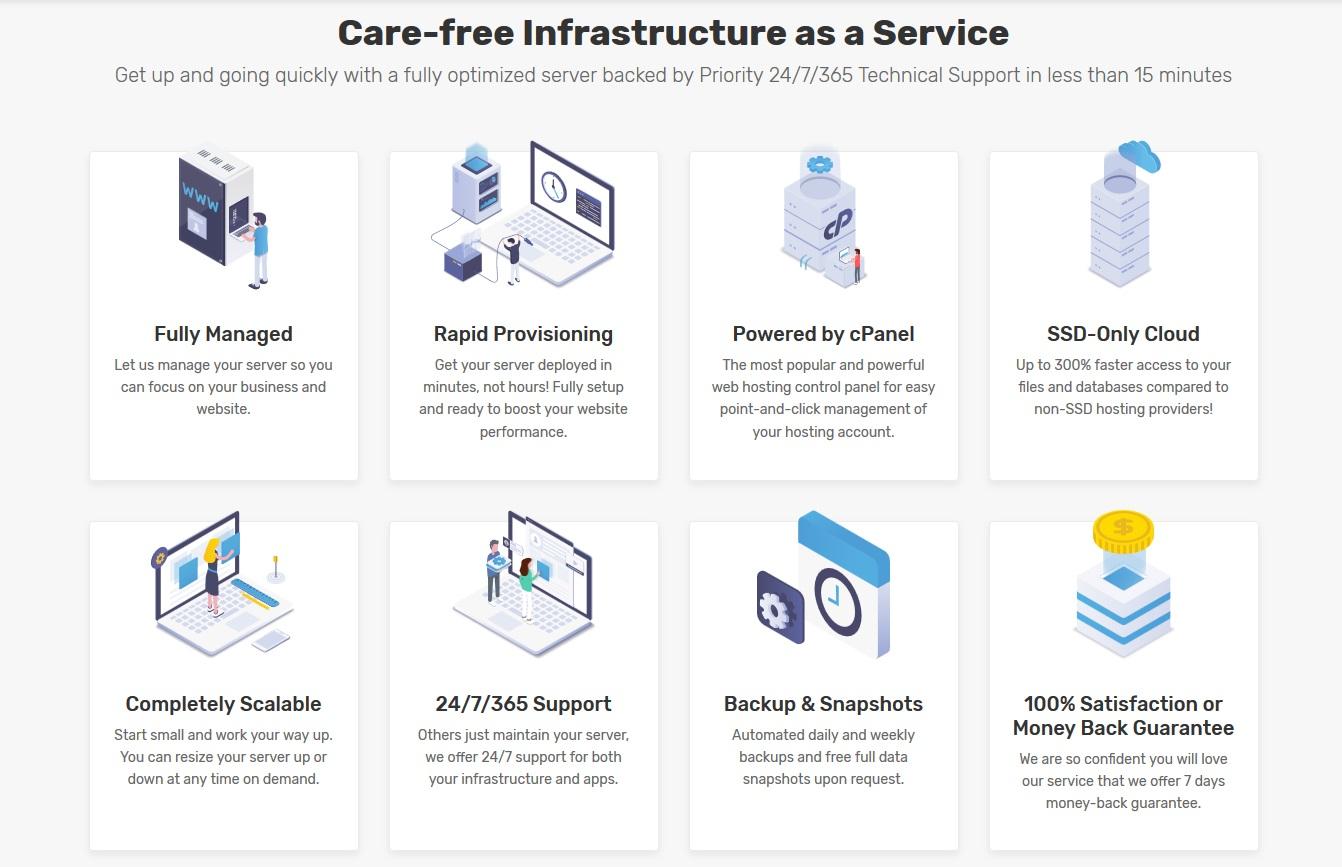 With four preconfigured dedicated server options, FastComet doesn't give you much room for customization. This is not necessarily a bad thing.
If you don't have very specific hosting needs, you can use any of these bundles to make a quick purchase and start working on your transfer without having to worry about every little detail.
In case you do have specific hardware requirements, the CPUs available range from two cores for the basic plan to 16 cores for the premium. You get between 4 GB and 32 GB of RAM, as well as between 4 TB and 7 TB of bandwidth depending on the bundle you choose, which is slightly less than what other services will give you.
On the plus side, SSD storage is included in all plans.
Although the basic plan only gives you 80 GB of storage space, you can go up to a generous 640 GB with the most expensive bundle.
Features:
Fully managed dedicated servers: FastComet allows you to benefit from dedicated hosting without necessarily being versed in Linux. The support team will take care of server maintenance and security so you can focus on your project.
Rapid provisioning: Your server can be deployed within minutes, rather than hours or days. In addition, you can scale your resources whenever necessary without experiencing any downtime.
AMD EPYC 7501 CPUs: Included on all plans, these are newer and much more powerful than the older Intel Xeon 1230 (v2 and v3) processors used by most other hosts.
Worldwide server locations: FastComet's data centers are distributed around the world in locations where few other hosts operate. With servers available in North America, Europe, Asia, and Australia, your visitors are likely to enjoy speedier loading times.
For more information about the different plans, read our
expert FastComet review
.
| | |
| --- | --- |
| CPU Range | 2 to 16 cores |
| RAM | 4 GB to 32 GB, DDR4 |
| SSD Storage | Yes, on all plans |
| Data Center Locations | North America, Europe, Asia, Australia |
| Support | 24/7 ticket and live chat support; knowledge base, tutorials |
A2 Hosting offers a wide variety of dedicated server options that are classified into four main groups. The Unmanaged Server plans give you full root access but do not include a cPanel license, while two of the managed options (Discount SSD and Managed Flex) offer cPanel but deny root access.
The only plan that includes both root access and a cPanel license – as any dedicated hosting service should, in my opinion – is the Core Flex, which is also the most expensive.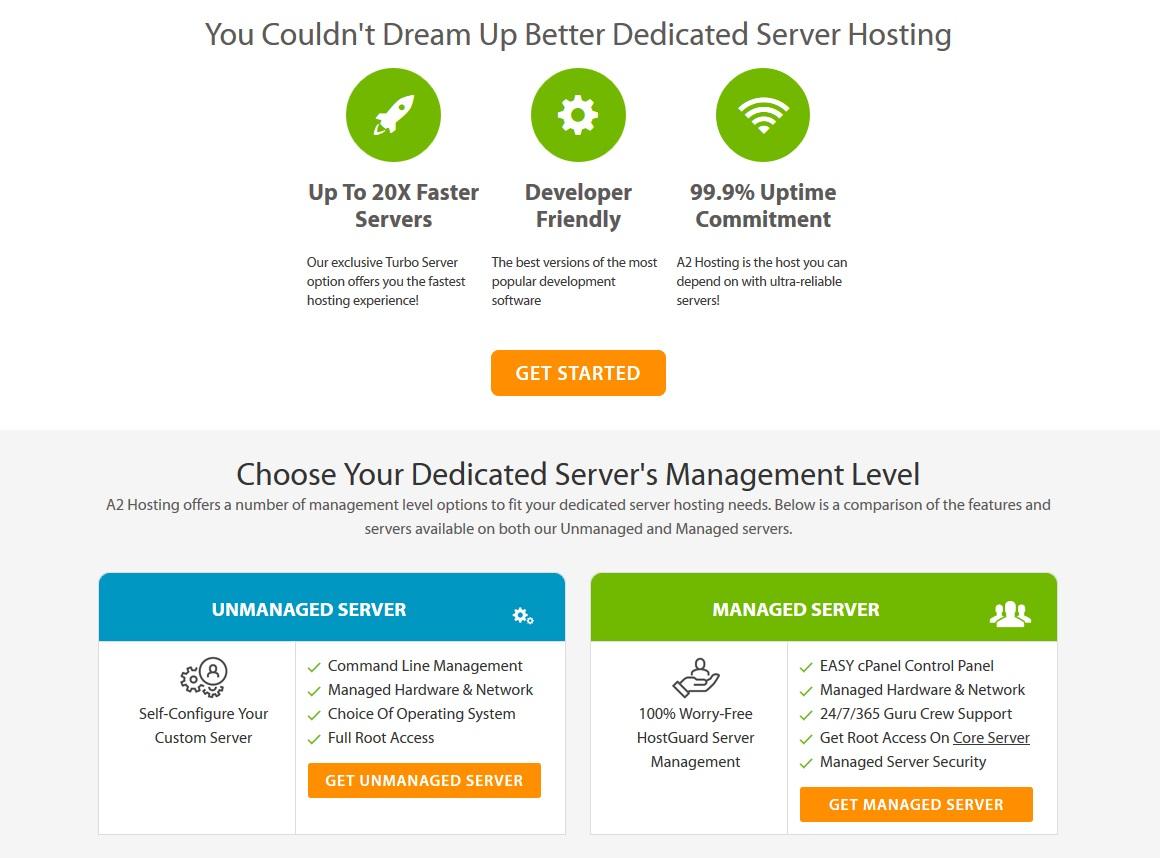 In terms of hardware,
A2 Hosting's dedicated servers
 are decent, but only for its pricier, fully managed options. For example, its Mach Core Flex includes a eight-core CPU, two 1000 GB HDDs with the possibility to add two 1 TB SSDs, 16 GB to 512 GB of RAM, and 20 TB of bandwidth.
Overall, you get a high-end server for a cost that is just above the market average.
Features:
Managed and unmanaged servers: If you're new to dedicated servers and aren't prepared to take on complete responsibility for your own machine's functionality and security just yet, opting for managed support can be an excellent choice. For developers who desire a service with higher customizability, the three Unmanaged Server options would be more fitting.
Turbo Boost servers: These are drop-in replacements for Apache, designed to give you 20x faster page loads.
Data centers around the world: A2 Hosting's four data centers are located in the US, Europe, and Asia, so you can expect fast website loading speeds in most regions of the world provided you choose the right server location for your audiences.
For more information, head over to our
in-depth A2 Hosting review
.
| | |
| --- | --- |
| CPU Range | 4 to 8 cores |
| RAM | 16 GB to 512 GB, DDR4 |
| SSD Storage | Yes, but only on some plans |
| Data Center Locations | US, Europe, Asia |
| Support | 24/7/365 phone, ticket, live chat, and Skype support |
So Which Dedicated Server Is Right for You?
Choosing between dedicated hosting providers can be challenging, especially if you're not sure about the configuration you need for your website.
Ultimately, though, the most important fact you can take away from this comparison is that no one plan will suit everyone's needs.
For example,
if you have very specific hosting needs, you should go with InterServer,
because it offers fully customizable plans for both low- and high-end servers at an exceptional price-to-performance ratio.
If, on the other hand, you're looking for a fully managed, hands-on support experience and the best possible hardware to host a tech-heavy, high-traffic website or application, you should go with Liquid Web.
Although its bundles come at a premium price, you know that the investment is worth it because you can run nearly anything on its servers – and with complete peace of mind. To help keep things simple as you decide on the best dedicated server hosting option,
here are the most important features for each of the above:
| | | |
| --- | --- | --- |
| | Standout Features | |
| InterServer | Customize your dedicated server to suit your needs down to the last detail. Budget-friendly and high-end specifications are available. | |
| Liquid Web | Fully managed dedicated servers suitable for large businesses, as well as those who are not yet familiar with this type of hosting. Newer, high-performing CPUs are included in some plans. | |
| Hostwinds | Fully managed and affordable dedicated servers. Best for businesses or users that don't actually need a high-end configuration. | |
| FastComet | Fully managed dedicated servers with a choice of 11 high-performing data centers around the world. Newer AMD EPIC 7501 CPUs included on all plans. | |
| A2 Hosting | Managed and unmanaged dedicated servers with four data center locations around the world. Businesses and experienced users can save money by managing their own server. | |
FAQ
What is dedicated web hosting?
Dedicated web hosting plans offer remote bare-metal servers for single users. This is the only type of hosting that gives you full and exclusive access to a physical machine. Your server is not shared with multiple clients or businesses and can be configured to meet higher performance standards. Unless you opt for a managed dedicated hosting plan, you are completely in charge of both the functionality and the security of a dedicated server.
Why have a dedicated server?
Dedicated servers give you complete control over your server and its specifications so that you never have to deal with nameless virtual resources on servers that may or may not meet your requirements. You might choose to upgrade to dedicated hosting for enhanced performance and security. While you lease a dedicated server, the resources allotted to it are exclusively used to serve your needs. In addition, the server can only be accessed by you and/or your company, which makes you less vulnerable to malware and hacks.
How much does dedicated hosting cost?
The cost of dedicated hosting can vary greatly based on the provider and the server specifications you choose. Generally speaking, however, dedicated hosting is significantly more expensive than shared plans, and somewhat more expensive than VPS (virtual private server) options. For some of the best deals today, don't miss our list of the top web hosting services.
Is cloud hosting cheaper than a dedicated server?
This depends on a few factors. For low-end specifications, for example, cloud hosting tends to be cheaper than a dedicated server. As your website or app begins to require more resources, the situation is reversed and you are likely to save more money with a dedicated server. Traffic predictability is another important factor to consider. Dedicated server hosting plans are not as easy (or cheap) to expand and/or contract in terms of hardware compared to cloud options. If your traffic is relatively steady, choose a dedicated server. Otherwise, a highly scalable cloud solution is a better option. Click here for more information about cloud and VPS hosting.