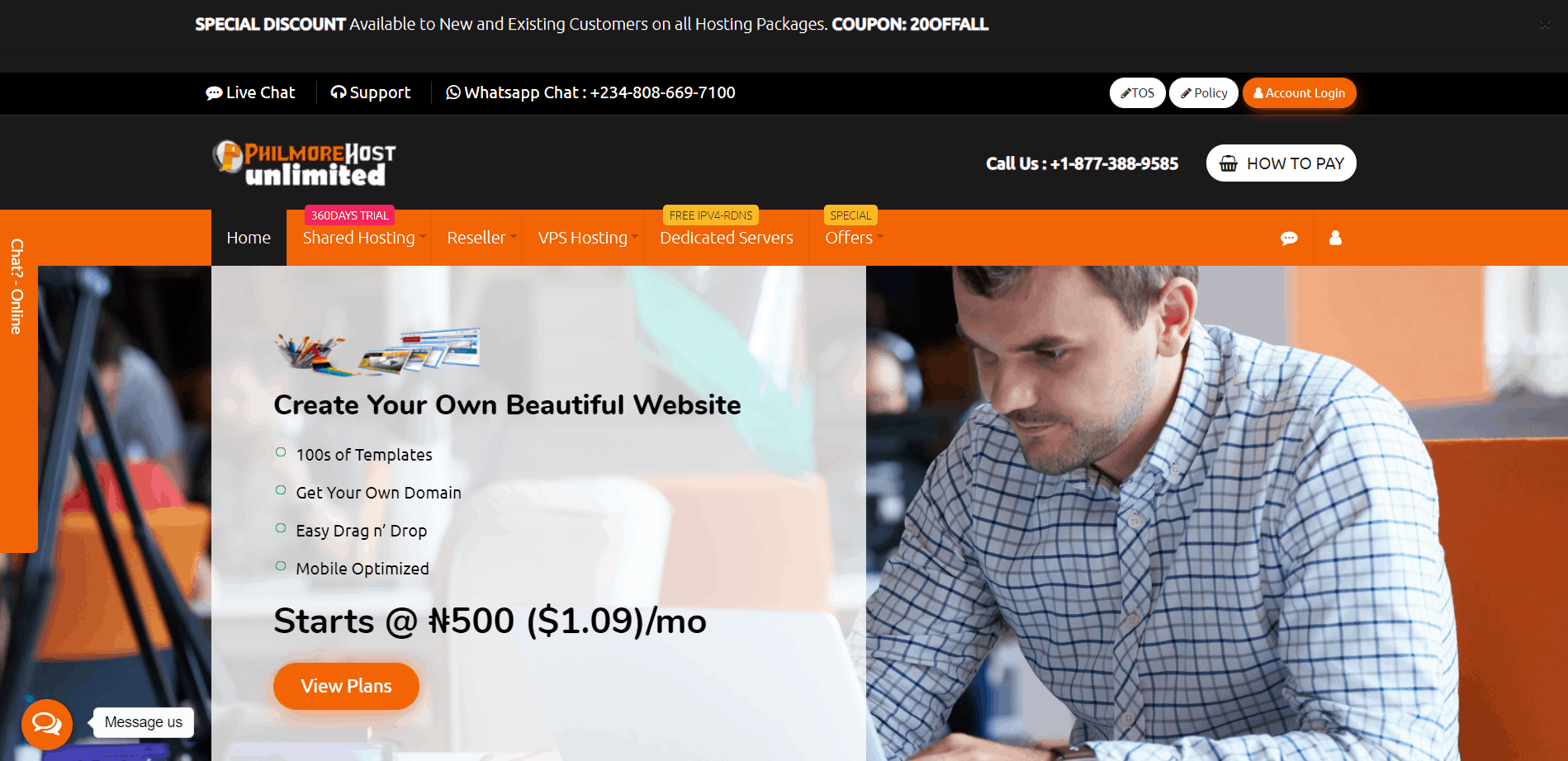 PhilmoreHost is a Nigerian web hosting provider offering reliable and scalable solutions for businesses of all sizes. They're staffed by a team with over 20 years of experience in the IT sector. Though headquartered in Africa, this hosting provider has a global reach with the help of three data centers located in the United Kingdom, the United States, and Australia.
Features and Ease of Use
This company offers a variety of hosting options based on the specific needs of their customers, including shared hosting, VPS hosting, CMS hosting, and dedicated servers. Overall, their range of offerings is pretty standard, and you can easily find similar ranges almost anywhere on the market.
However, what you will rarely find on the market are their bundled offers, which include a fully-featured hosting package along with SEO maximization, social media marketing (SMM), and even an on-page optimization service ensuring that your website will ace Google's PageSpeed Insights assessment. This complete website management service is likely what's made them a popular choice amongst their customer base, especially for time-crunched business owners who haven't got the time to learn about all the latest SEO and SMM techniques.
PhilmoreHost's servers employ state-of-the art Intel processors with high-performance memory, ensuring optimal hosting experiences for their users. Their infrastructure and networks are fully redundant, minimizing the possibility of downtime.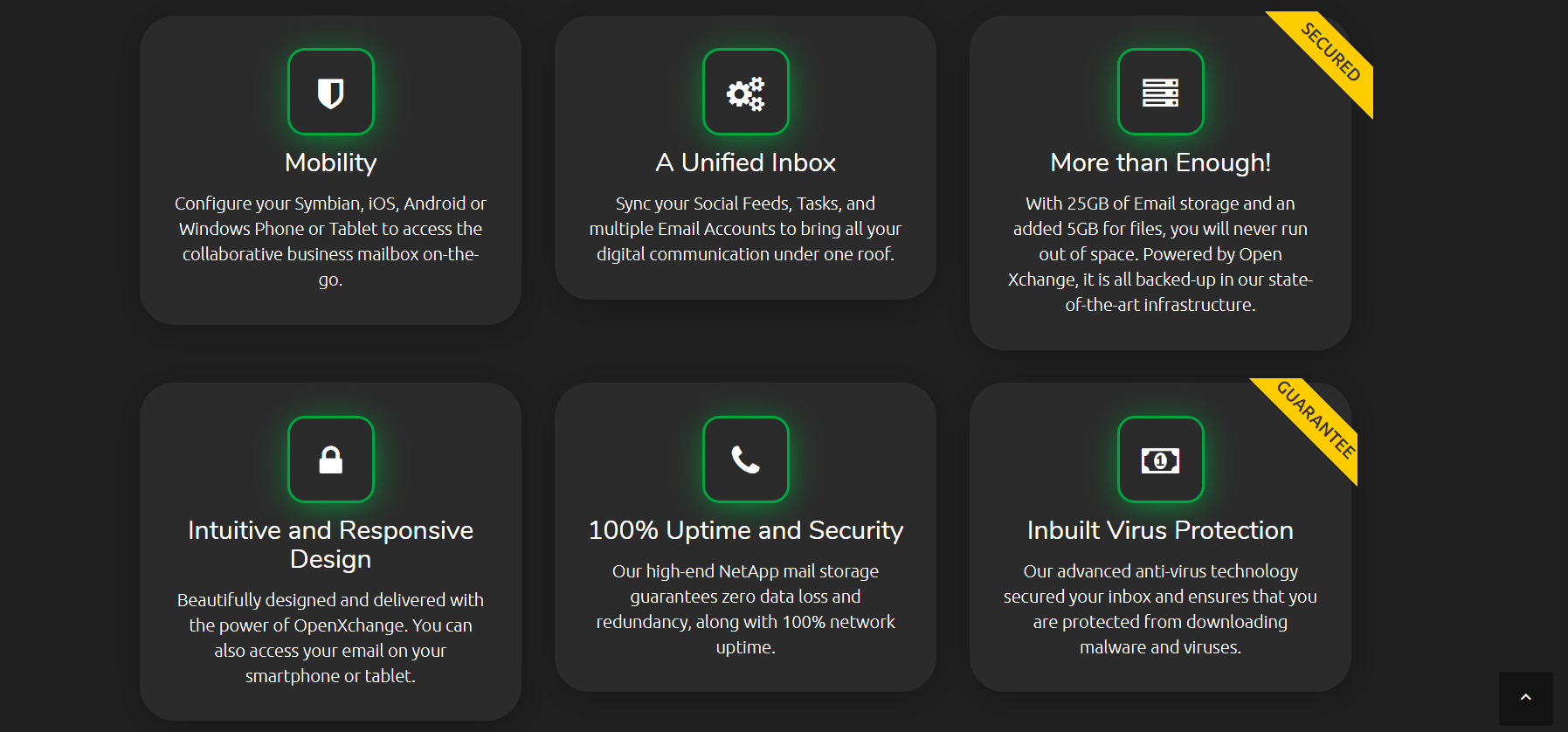 All of their hosting solutions come with value-added features such as SEO tools, Cloudflare CDN, free SSL certificates, Softaculous, free cloud backups, and even a website builder — making their service extra-friendly for beginners looking to launch their first websites. On top of that, customers who register domains with them get free WhoisGuard protection, which keeps all of your personal information private and secure.
None of their shared or reseller hosting packages appear to have an uptime guarantee. Their VPS hosting service comes with a 99.9% uptime SLA, while their dedicated server packages come with a 100% network uptime SLA.
Pricing and Support
PhilmoreHost lists all of their shared hosting prices in Nigerian, though they've also done a simple conversion to what seems to be USD. Their USD prices are far higher than the actual converted rate, however, so there may be some conversion charges there. Also bear in mind that the rates listed are sometimes annual and sometimes monthly — you'll have to read carefully to figure out which one it is. Overall, for the features and resources they're offering, their packages are very reasonably priced. There's no free top-level domain included in Economy or Deluxe shared hosting packages, however — you'll have to register your own.
Fortunately, PhilmoreHost does have a free shared hosting plan available, so you can test out their service at no risk. They also have a seven-day money back guarantee applicable only for their shared and reseller hosting service.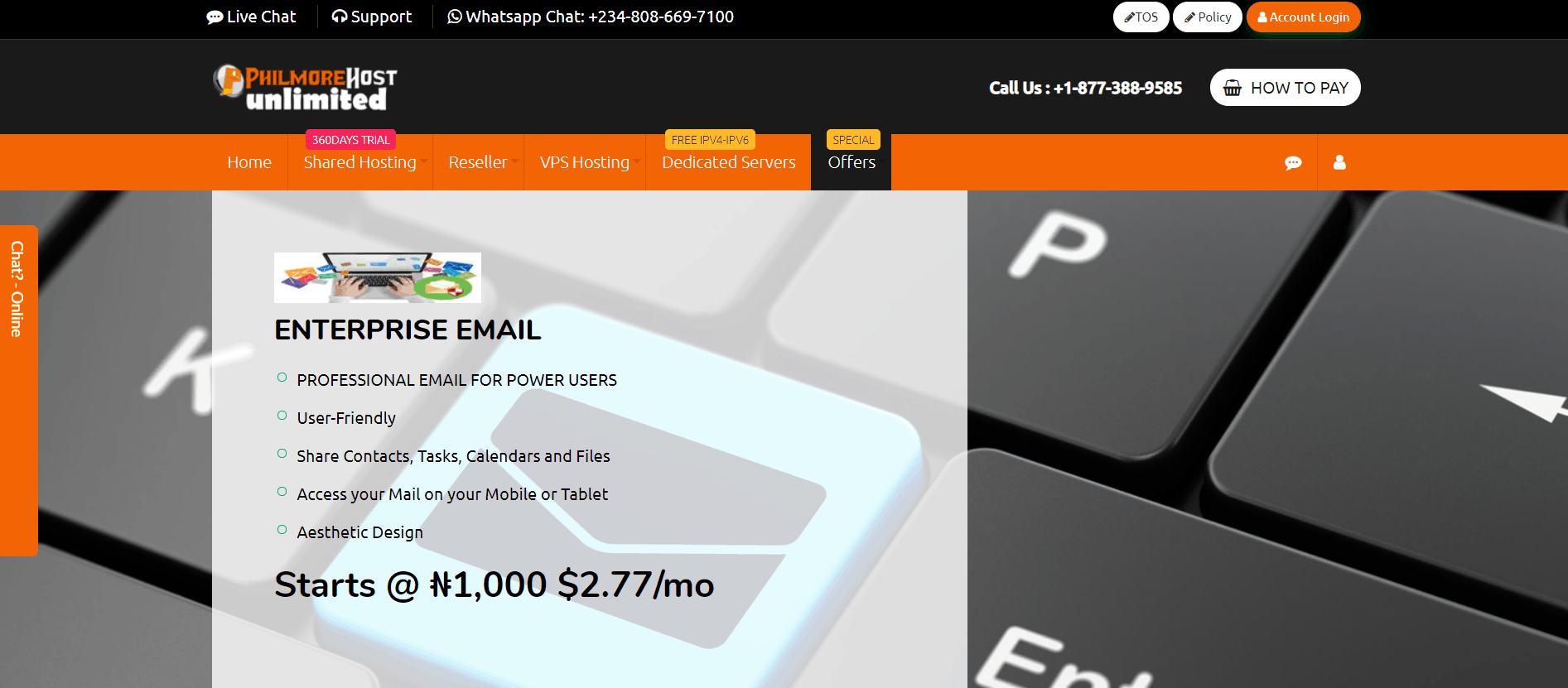 PhilmoreHost offers support via a number of channels, including a couple convenient but rarely featured ones: WhatsApp, Facebook Messenger, email, support tickets, live chat, and phone. Their live chat isn't the most responsive; it took a few minutes before I connected with one of their agents. However, it's adequate. PhilmoreHost also has a sparsely populated knowledge base, although I have to say their website isn't the most user-friendly. It took quite a bit of clicking before I could finally access their help articles.