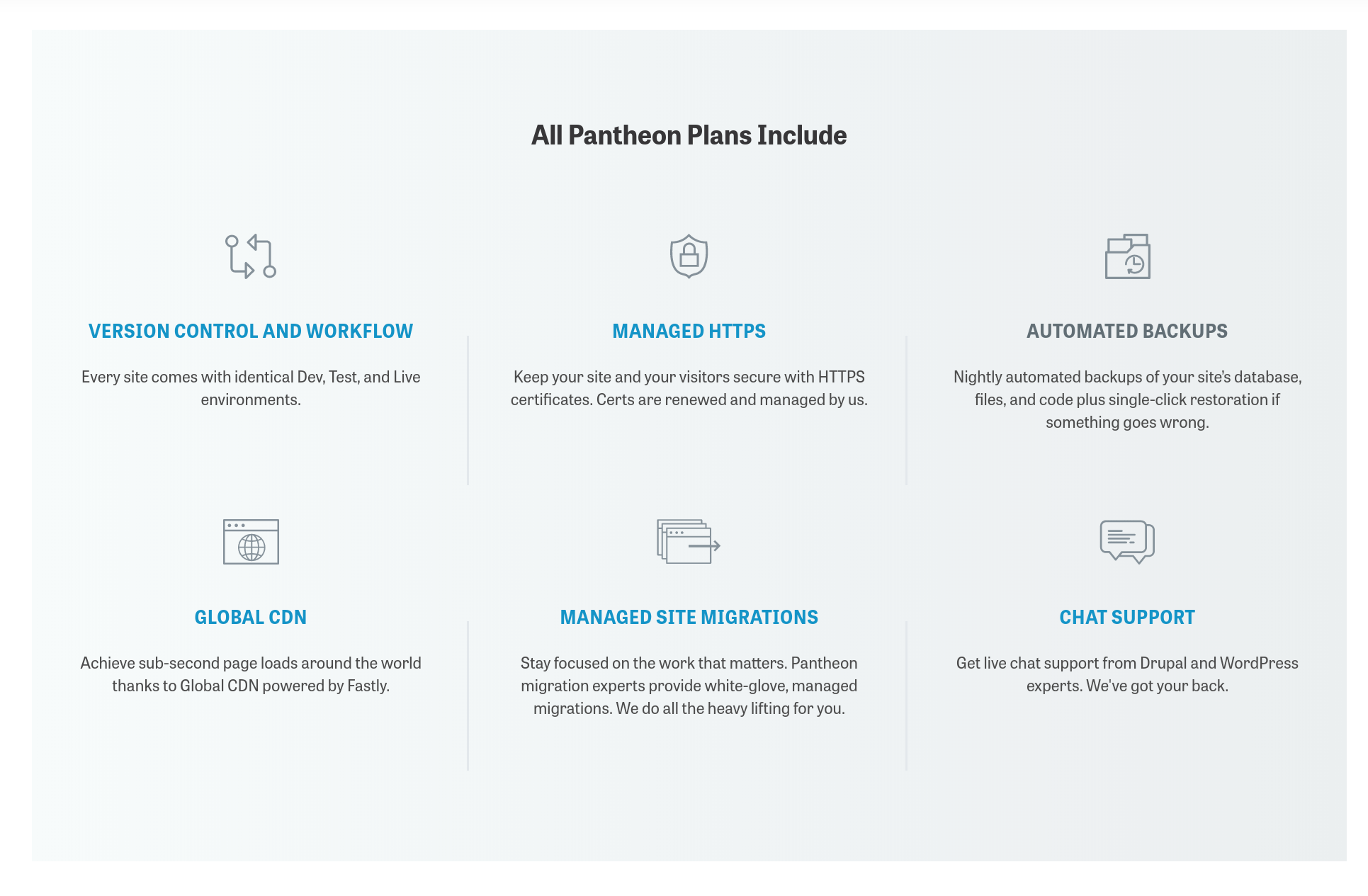 Pantheon was founded in 2010 with the mission to empower marketing and development teams to internet success thanks to its powerful platform and learning center. From its U.S. office, it targets web hosting services at medium-sized businesses and custom solutions at large enterprises.
Pantheon boasts 60+ global points of presence (POPs) in North America, Africa, Europe, Asia, Australia, and South America. These power the 285,000 websites of its customers and agency partners.
Features and Ease of Use
Pantheon provides hosting plans with the following features:
99.9% – 99.99% uptime guarantee
Free SSL for five to 200 domains
Weekly and daily automated backups
From 20 GB to 200 GB SSD
Pantheon is not a domain registrar, so you'll have to purchase a domain separately from NameCheap or another popular provider and point it at Pantheon's servers. Also, no website builder is bundled.
Pantheon doesn't do cPanel, and instead, it offers its own custom control panel that lets you deploy WordPress, WooCommerce, or Drupal with one click. WordPress and Drupal developers will enjoy the ease of managing all their websites from a central dashboard that facilitates one-click updates, backups, and more.
Several features accelerate website loading times, such as the Fastly CDN that has connections to your customers in every continent. You have complete control over the multiple levels of caching granularity.
I particularly like Pantheon's security and failover solution, with a redundant server in an offsite location that can take over if the primary server fails. The system is monitored 24/7, and you'll receive alerts if anything adverse happens.
Pricing and Support
Pantheon's pricing is on the high side, so probably not suitable for small businesses. There is no free domain registration (or any domain registration at all), but you can get a free SSL certificate.
You can take Pantheon's hosting for a free test drive (no credit card required) as long as you're happy to do so on a subdomain; i.e., live-yoursitename.pantheonsite.io. It's a good idea to take up this free trial because there is no money-back guarantee.
If you run a web development agency, you can benefit from Pantheon's partner program, which provides discounted pricing along with training and a management platform. Educational institutions are also supported by Pantheon.
Support resources extend to extensive documentation, including a quick start guide and video guides. For one-to-one assisted support, you can reach out via live chat, ticket, telephone, video conference, or Slack. I was connected within two minutes when I tried the live chat: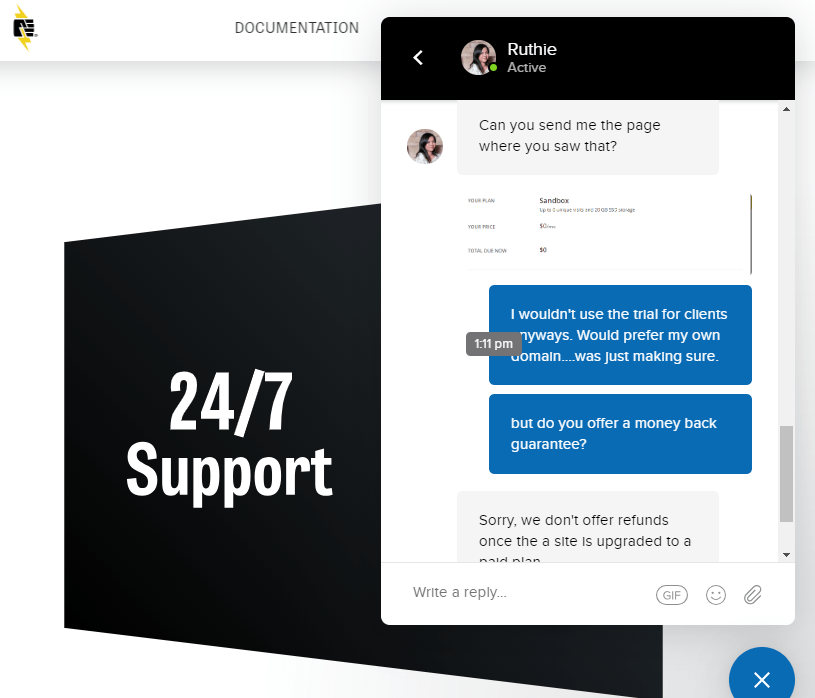 How much does Pantheon cost?
Pantheon offers multiple plans priced highest to lowest. The price depends on which type of hosting plan you choose. You can see the updated pricing table (updated weekly) below.

Which Pantheon plan should I get?
My recommendation is to start with a cheaper plan. You can always upgrade later on. Pantheon can help you with the migration to a more expensive plan. The increase in visitors many times takes longer than expected and you shouldn't pay a lot of money until the need arises. Of course, your needs may vary, and you can consult with a hosting expert from Pantheon here.

How good is Pantheon's customer support?
Pantheon is not ranked as one of our top web hosts. But that can also be a result of Pantheon being a small, under the radar, hosting provider. There are advantages to a small hosting company – as a customer, you are more important to them. You can also check out our comparison of the most popular web hosting services here.