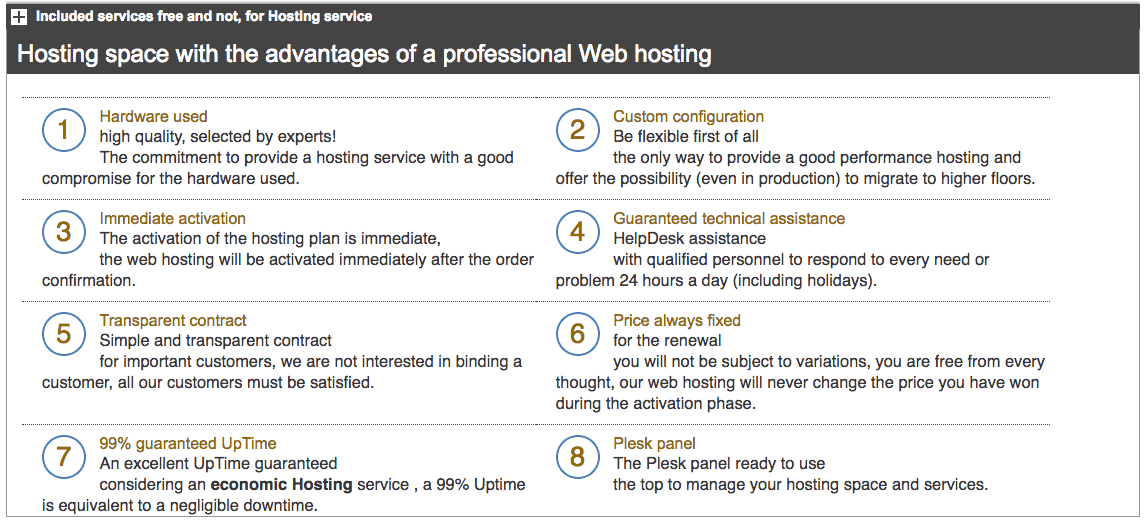 To compare the best web hosts, we hosted the same WordPress website on each one and tested performance, customer service, and value for money.
Check out the results here.
NTLab is an Italian company that has been in business since 1999, with more than 4,000 servers located in data centers in Europe and the U.S. The comprehensive website is available in Italian.
Features and Ease of Use
This is a full service host offering all hosting services, ranging from shared hosting and domain registration to dedicated servers and VPS. The shared hosting plans come with these core features:
99.9% uptime guarantee
Daily automatic backup
Free domain registration available
SSL certificates
Up 200GB SSD disk space
Up to 1000GB monthly traffic
When you purchase a plan from NTLab, you can choose to have servers located in its own U.S. based data center or servers co-located in a European data center. All of the plans use SSD for faster disk speeds, and while the shared hosting plans run on Linux, if you're purchasing a dedicated server, you can choose either Windows or Linux operating systems.
The uptime guarantees are a little unusual; the Economy plans get a well below par 99.5% uptime guarantee and you need to upgrade to a "Professional" plan to get an industry standard 99.9% uptime guarantee.
There are all the usual advanced level features such as PHP versions 5 through 7, CGI, Perl, MySQL databases, and phpMyAdmin tool. Cron jobs are also allowed for scheduling repetitive tasks, along with remote SQL connections.
The situation is less clear regarding beginner-friendly tools, and I needed to contact support to get more information. It was confirmed that there is a one-click installer, but no website building tool, if that's an important feature for you.
Unique value add-ons offered include free consultations for (a pretty vague) "every need" and custom hosting configuration, both of which are much more hands on services than usually offered in shared hosting plans.
In addition to the shared hosting plans, they offer a wide range of VPS and dedicated server plans. So, if you anticipate the need to expand your online presence in the future, this could be a viable choice for you.
Pricing and Support
There are so many plans and prices, it's quite hard to get a feel for the prices, and to make a judgement about the value for money. Most plans come with a Free SSL certificate and free domain name, which is excellent.
Briefly, there are two tiers of plans "Economy" and "Professional". The Economy plans, as you'd expect, are cheap, but the caveat is that there are features (e.g., daily backups and Cron jobs) that you need to pay extra for. That said, as long as you read the feature inclusions carefully, the cheaper plans include more than enough resources (including unlimited domains) for most everyday users.
Plans can only be bought in one year terms and you need to select either Standard or Full monitoring of the account, which if you choose the latter, comes with an extra cost. To top it off, there's a set setup fee added. To be honest, I don't like it when providers nickel and dime customers like this.
There's a good variety of ways you can get support. Logged out users can access a comprehensive FAQ section and existing customers can login to a help desk area. You can email, phone, submit a ticket, or hop on live chat with customer service representatives who are available 24 hours a day.
When I visited the website at around 10:00 AM on a weekday, the live chat window was offline. I sent an email and received a response later the same day. The reply was polite and answered all of my questions in full, clarifying some of the beginner friendly features.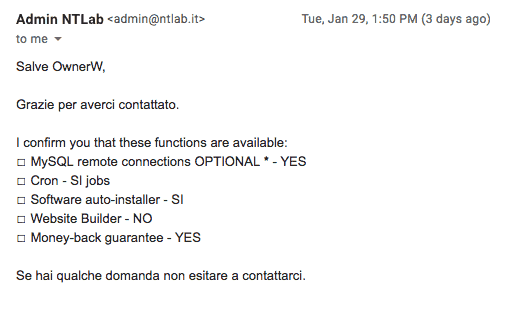 How much does NTLab cost?
NTLab offers plans from $3.30 to $30. The price depends on which type of hosting plan you choose. You can see the updated pricing table (updated weekly) below.

Which NTLab plan should I get?
My recommendation is to start with a cheaper plan. You can always upgrade later on. NTLab can help you with the migration to a more expensive plan. The increase in visitors many times takes longer than expected and you shouldn't pay a lot of money until the need arises. Of course, your needs may vary, and you can consult with a hosting expert from NTLab here.

How good is NTLab's customer support?
NTLab is not ranked as one of our top web hosts. But that can also be a result of NTLab being a small, under the radar, hosting provider. There are advantages to a small hosting company – as a customer, you are more important to them. You can also check out our comparison of the most popular web hosting services here.