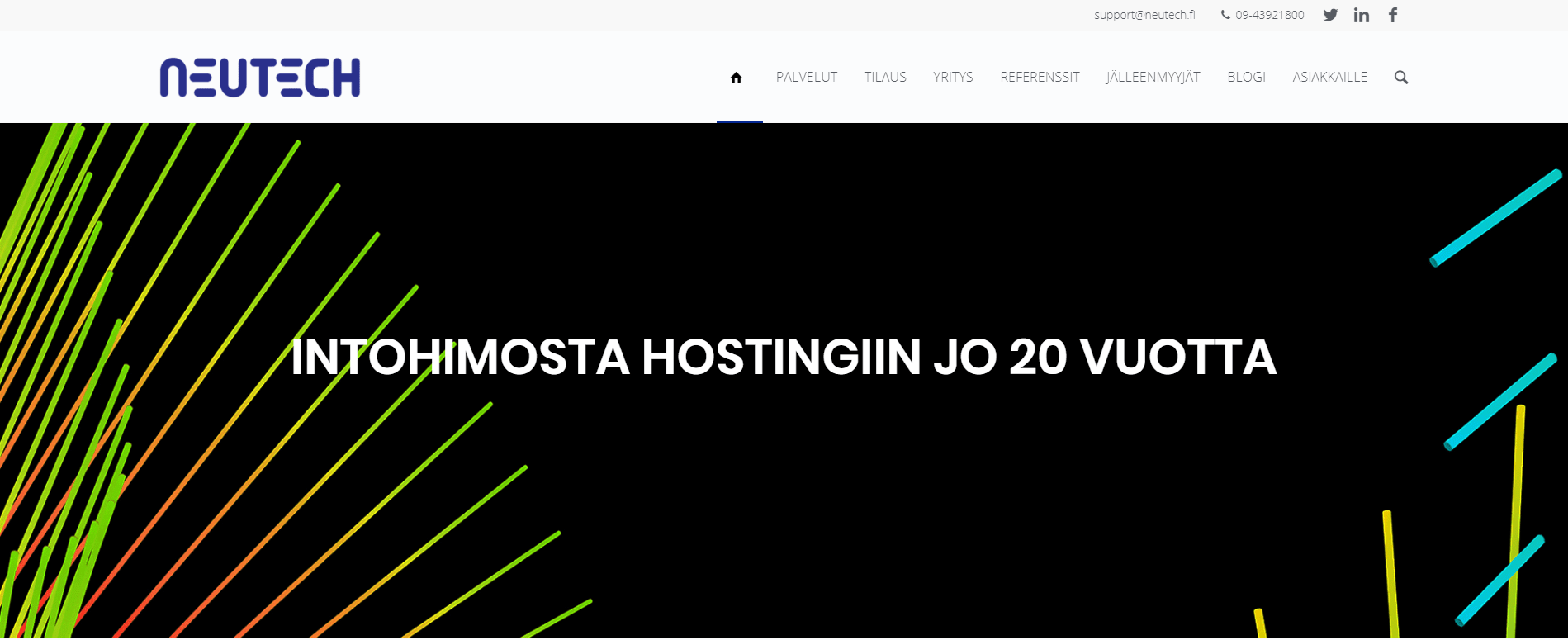 Neutech is a Finnish web hosting provider with servers in Helsinki. Finland has recently gained a reputation of being one of the leading cloud service providers in the world, given the number of scientists and engineers they produce and the fact that the country has very little corruption and risk of natural disasters.
Features and Ease of Use
Neutech offers shared, VPS, and cloud VPS hosting services. All of their plans are fully customizable: you can configure anything from the amount of storage you want to the level of backup functionality you require.
Finland's new data protection laws hold companies increasingly accountable for data protection and give citizens more control over how companies use their data, which will appeal to security-conscious individuals and corporations.
It's no surprise that Neutech has also chosen to offer their customers cloud hosting services. These feature a 100% uptime SLA, so if at any time your service goes down due to a fault at their end, they'll refund pro-rated fees for the loss of service. They don't offer any pre-made packages: instead, you'll have to contact them to customize a plan specifically tailored for your needs. They do list a few example configurations and price ranges on their website, however.
Neutech also has a range of pre-made shared hosting plans available. Their smallest web hosting package includes:
100MB storage
3GB monthly bandwidth
5 mailboxes
One shared SSL certificate
FTP access
Basic visitor analytics
Note that you won't get any databases or SSH access with this plan. This means that you'll be able to set up an extremely basic website, but you might run into problems if you want to install any scripts that require data collection. Their highest-tier shared hosting plan upgrades you to 15 GB storage, 150 GB bandwidth, SSH access, unlimited databases, and detailed visitor analytics. There's also a dedicated email hosting package available.

Neutech has maintained a minimum uptime of 99.8% over nearly two decades. In 2016, they averaged a service uptime of 99.98%.
Pricing and Support
I found Neutech's prices a bit on the high side, even considering that their servers are based in Finland. Their entry-level shared hosting package includes an extremely restrictive amount of space and bandwidth at roughly the same price as most other hosts. Plus, it doesn't include any databases, and it's unclear whether or not they provide a one-click app installer, so the feature set seems limited.
Neutech does not provide any free plans or trials, and it appears that they do not offer a money back guarantee either. Unless the information regarding a money back guarantee is hidden deep within their website, it may be inaccessible to most visitors. I must admit, their website navigation can be a bit challenging since they do not present the plan ranges on a single webpage. To get the full details of each plan, you have to click through several pages.
That said, they seem to do well when it comes to prompt and professional customer service: their users report that Neutech responds to their technical issues quickly and are proactive about monitoring their servers for problems. Support is available only in Finnish via telephone and email, so international customers may have trouble navigating the language barrier.