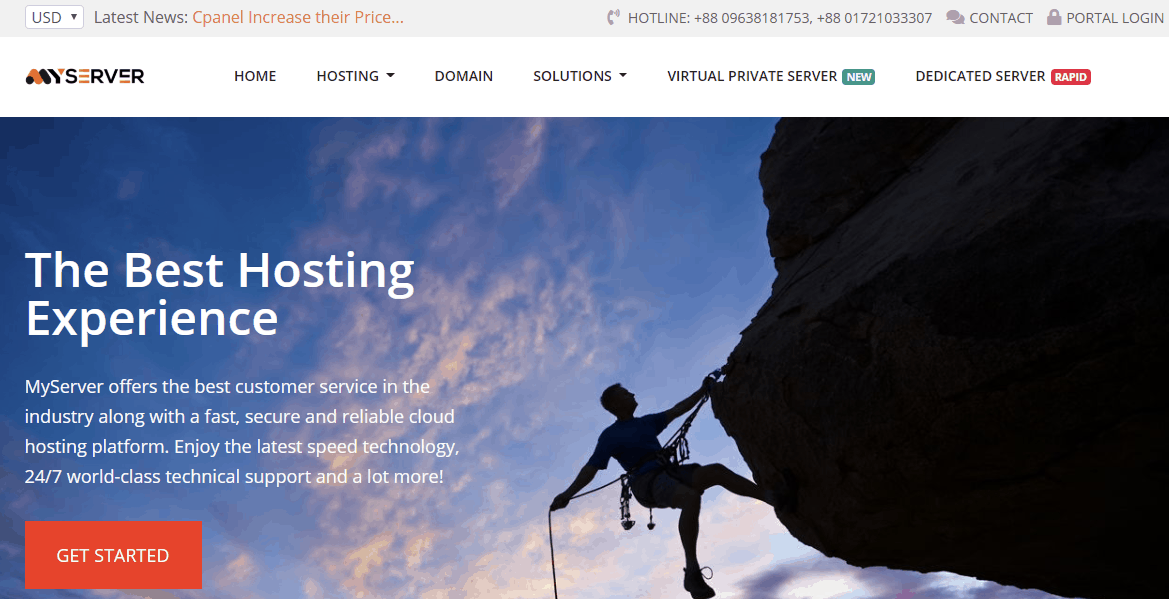 Founded in 2008 and based in Bangladesh, My Server offers domain services, web hosting, reseller hosting, security services, email services, and more. The company uses data centers in the United States, Greenland, United Kingdom, Argentina, Russia, Taiwan, and Australia to cater to its clients. With a website in English, it communicates its services in detail.
Features and Ease of Use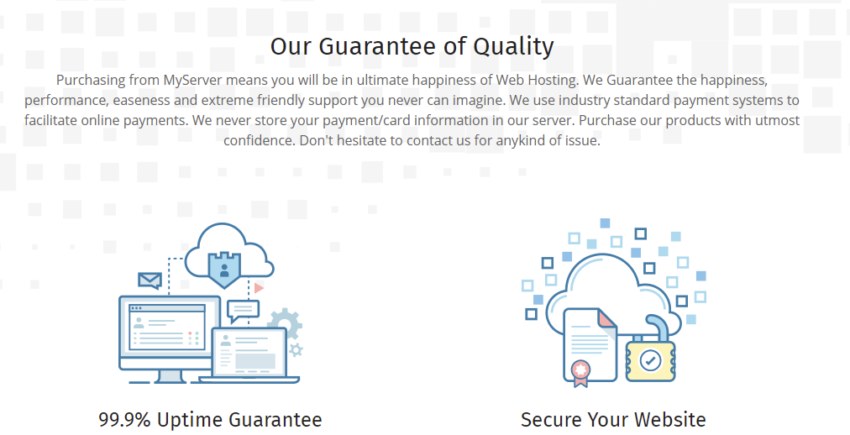 My Server offers three shared hosting plans with the following features:
99.9% uptime
Daily automatic backups
Between 2GB to 10GB storage space
Up to 500GB bandwidth
Free SSL certificate
Regardless of how small your business is, being on the web comes with numerous risks. One of them is DDoS attacks and they continue to grow in sophistication and force. To protect your server and prevent unnecessary costs, My Server protects its customers using the Cloudflare DDoS protection network, which is larger than any recorded attack in history.
Furthermore, customers are protected from the easy spread of malware among accounts on the same server. With CloudLinux operating system, each customer is placed in a light-weight virtualized cage that ensures that what they do and how they use their resources doesn't affect other customers.
Other protection systems that are available are SpamExperts (against spam emails), JetBackups, and free SSL certificate for one year.
Security is important and so is performance. For good web hosting, you need both. My Server uses solid state disks to ensure that not only is its system durable and reliable, it also provides awesome performance. Furthermore, the usable core and RAM limit on its plan is enough for the other features that it provides.
My Server's shared hosting is easy to use for many people; it comes with the widely known control panel – cPanel – that's praised for its intuitive interface and comes with features that make hosting management a breeze for beginners. One of such features is a one-click installer and on My Server, you get one.
Pricing and Support
My Server offers monthly subscriptions for web hosting, VPS, and dedicated servers. You can pay for one year at a time with web hosting, if that's what you prefer. While you can order most of the services from its website, the dedicated server plans require potential customers to open a ticket before any purchase can be made.
The company offers cheap prices. Better yet, there's a free domain for life on the top two plans; you'll never need to pay for your domain again as long as you stick with this company. Don't forget that there are free SSL certificates, as well.
The money-back guarantee period for web hosting is a bit confusing. On the shared hosting page, it mentions 30 days, while in the store, there's 60 days.
Technical customer support is available 24/7 through ticket, email, and Facebook messenger. It also has phone numbers that you can call if you need help. I reached out through email but never got a reply.