🏆

Performance Grade
B+

⏱️

Uptime Guarantee
No

🔒

Free SSL
Yes

🔧

Hosting Types
Shared, Dedicated Server, Cloud

💡

Basic Plan Features

Storage: 50 GB
Bandwidth: Unlimited
Websites: 1

💲

Starting Price

$

3.39
Magic Online has an exceptionally long track record of providing premium server and web hosting solutions that stretches back over 25 years from Paris, France. They currently host over 10,000 servers, have over 20,000 businesses as clients, and have a total of 60,000 customers.
Their high-end data servers are located in two facilities in the Greater Paris area as well as in another facility in Lyon.
They are a French hosting company serving a mainly French customer base.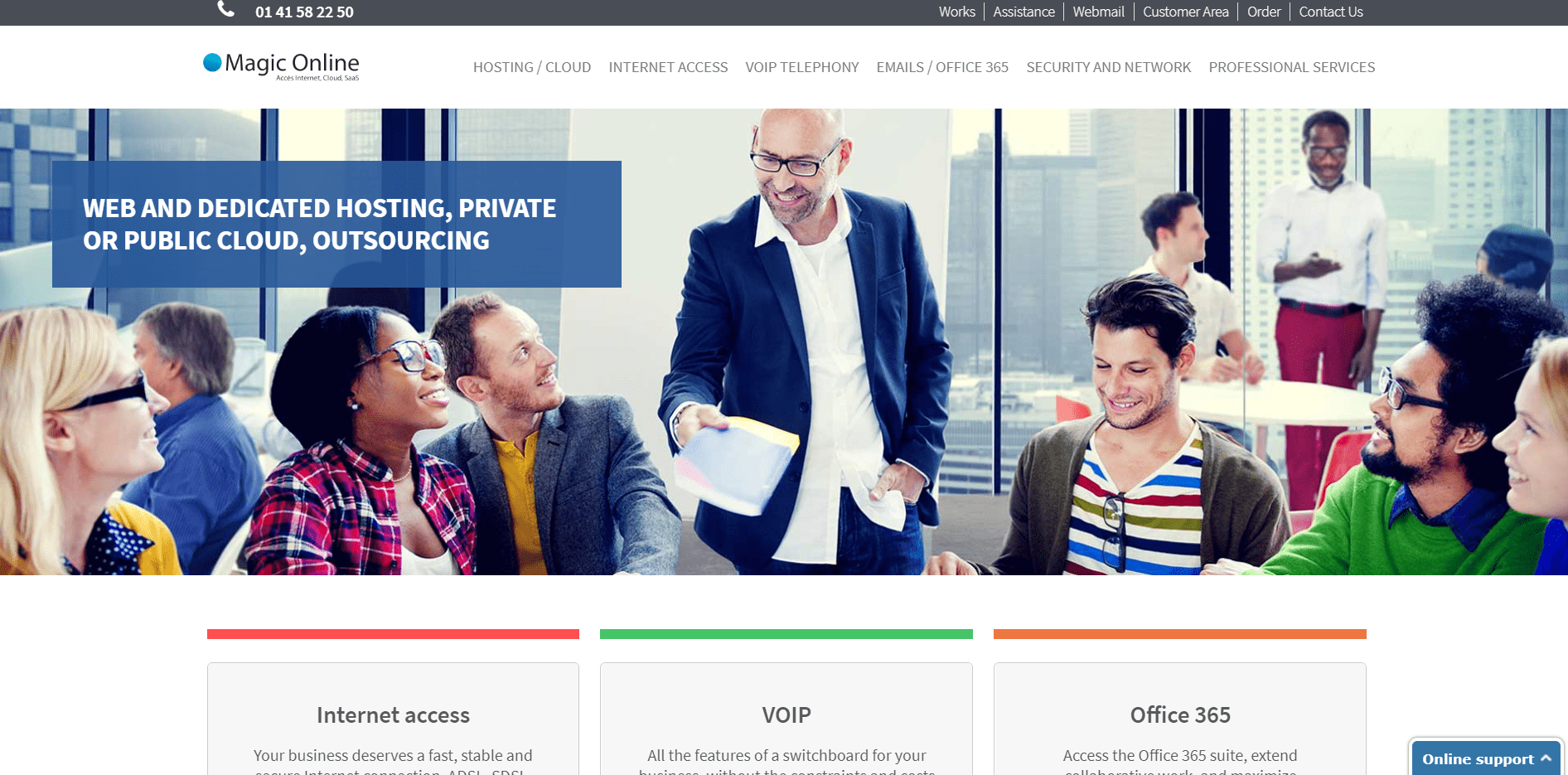 Features and Ease of Use
Magic Online has an array of plans that will suit a variety of customers, whether an individual looking to launch a simple website or a large corporation looking for a high-powered dedicated server solution. They also have a website builder, SEO coaching tools, and even a unified workstation cloud backup service to make things ultra-convenient for any company.
Magic Online provides an exceptionally complete hosting offering with all the basics you need for web hosting even on high-end servers:
Unlimited SSL certificates
One-click app installer with 150+ available scripts
Free domain registration with huge range of extensions available
One-click backup and restoration service
They also provide a number of unique and outstanding features that befit their status as a premium hosting provider:
Instant and Automated Provisioning: You can provision a new dedicated, VPS, or cloud server automatically within minutes without needing to wait for consultation or approval.
Professional Services: Magic Online provides a whole list of professional services that range from WordPress hosting and management to solution architecture to advanced troubleshooting so customers can get more out of their solution.
Web Hosting Variety: You can choose from a number of web hosting types, such as standard shared hosting, e-commerce website hosting, or website builder hosting with add-on SEO tools.
Here's where Magic Online has really taken extra care to provide the highest-quality services for their clients: all of your websites will be hosted in Tier IV data centers with fully-redundant and high-availability infrastructure. During the checkout process, you can also further customize any package you choose by adding private MySQL cores for added performance. Those on VPS or more private hosting options won't really see much difference, but clients on shared servers will appreciate this feature.
Strangely enough, Magic Online doesn't seem to readily advertise an uptime guarantee or any sort of SLA on their website. However, given their Tier IV data center status (essentially the most advanced type of data center available), I wasn't too concerned about this oversight.
Unfortunately, the Magic Online website and signup process can be quite complex with almost too many options, configurations, and upgrades that can make it difficult to wrap your head around things. However, they do make use of great software platforms that make it easy to manage your hosting product as well as a website, if you choose to host one. If there is anything you don't know how to do, you could probably arrange for it to be delivered via professional IT services.
Pricing and Support
The pricing schemes can get a bit complex at Magic Online. Not only do they offer a wide range of hosting types that each contain multiple plans, but there are also a huge number of customization and upgradable options for most. Their prices are definitely competitive in the European market, but it can be hard to keep track of what gets billed in which timeframe and how much you will end up paying. Therefore, you should carefully review the terms for each type of hosting before you sign up.
There aren't any free versions or trials, but they do have a 30-day satisfaction guarantee, during which you'll be refunded the full amount if you're not totally convinced that they're a good fit for you.
As their main focus is on premium server solutions for large enterprises, it's no surprise that Magic Online offers 24/7 support with all their plans via live chat, a French telephone support line, tickets, and email. To access most of the technical support channels, you need to log in to the client area. They offer a wide range of professional IT services, including server management and security. Their support is available 24/7, except for new customers inquiring about purchasing a commercial hosting plan, who will receive a response during regular working hours. However, due to Magic Online's large customer base, users may experience long waiting times. On the positive side, they do offer comprehensive help documentation.