Founded in 2009 and based in Hong Kong, KoDDoS is a premium hosting provider specializing in high-end hosting. They offer medium- to high-risk web hosting, advanced DDoS protection, and offshore shared, reseller, VPS, and dedicated server hosting packages. They have data centers located in the Netherlands and Hong Kong, which affords their customers an additional layer of security and data privacy.
Features and Ease of Use
KoDDoS offers a range of services including shared hosting, DDoS proxy protection, DDoS-protected colocation services, VPS hosting, and dedicated servers.
However, KoDDoS's primary added value is in the extra security they offer their customers. They have a variety of pre-made, non-customizable, high-security hosting packages available. You can choose from their medium- to high-risk shared hosting or their offshore hosting packages.
Their medium-risk shared hosting packages start with a maximum attack filtering of 10 Gbps, 10GB RAID10 storage space, and 50GB of premium clean bandwidth. The highest end of this range has a maximum attack filtering of 120 Gbps, 30GB RAID10 storage space, and 200GB of premium clean bandwidth.
All packages come with unlimited MySQL databases, emails, and FTP accounts. With any of these packages, you can select from three server locations: Hong Kong, the Netherlands, or the United States. You'll also get a dedicated IP address for your website. Opting for the high-risk shared hosting packages gives you greater maximum attack filtering, more packets per second, and more bandwidth.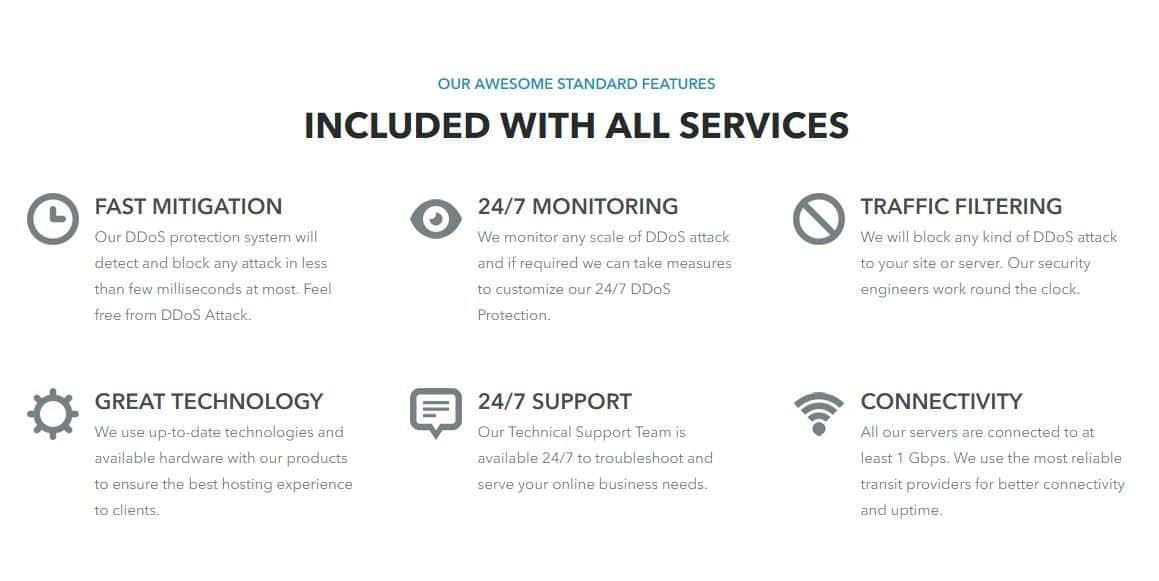 Given that KoDDoS is on the higher end of the spectrum, I wouldn't recommend them for beginners. They are best for businesses that have previously experienced an onslaught of DDoS attacks on their websites – or that anticipate such attacks, depending on the industry they're in.
KoDDoS also supports multiple languages, including Chinese, Russian, Spanish, French, and Italian.
Pricing and Support
KoDDoS is definitely pricier than the typical entry-level hosting provider, but in this case, you get what you pay for. With that heftier price tag comes a team of top-notch security experts coupled with state-of-the-art hardware to combat any attacks on your IT infrastructure giving you greater peace of mind and allowing you to focus on expanding the reach of your website.
They don't give you a free plan or a money back guarantee, but that's understandable given the level of service they offer. However, if you opt for their anti-DDoS protection plan, they do provide a 7-day money back guarantee. They want to make sure you're covered when it comes to DDoS protection.
KoDDoS offers 24/7 support through live chat, phone, or email. The few support tickets I submitted netted an average response time of 5-20 minutes, which was a good sign. Plus, not only were they fast, but they were able to give clear, helpful answers that resolved all the questions I had.
How much does Koddos cost?
Koddos offers plans from $9 to $40. The price depends on which type of hosting plan you choose. You can see the updated pricing table (updated weekly) below.

Which Koddos plan should I get?
My recommendation is to start with a cheaper plan. You can always upgrade later on. Koddos can help you with the migration to a more expensive plan. The increase in visitors many times takes longer than expected and you shouldn't pay a lot of money until the need arises. Of course, your needs may vary, and you can consult with a hosting expert from Koddos here.

How good is Koddos's customer support?
Koddos is not ranked as one of our top web hosts. But that can also be a result of Koddos being a small, under the radar, hosting provider. There are advantages to a small hosting company – as a customer, you are more important to them. You can also check out our comparison of the most popular web hosting services here.