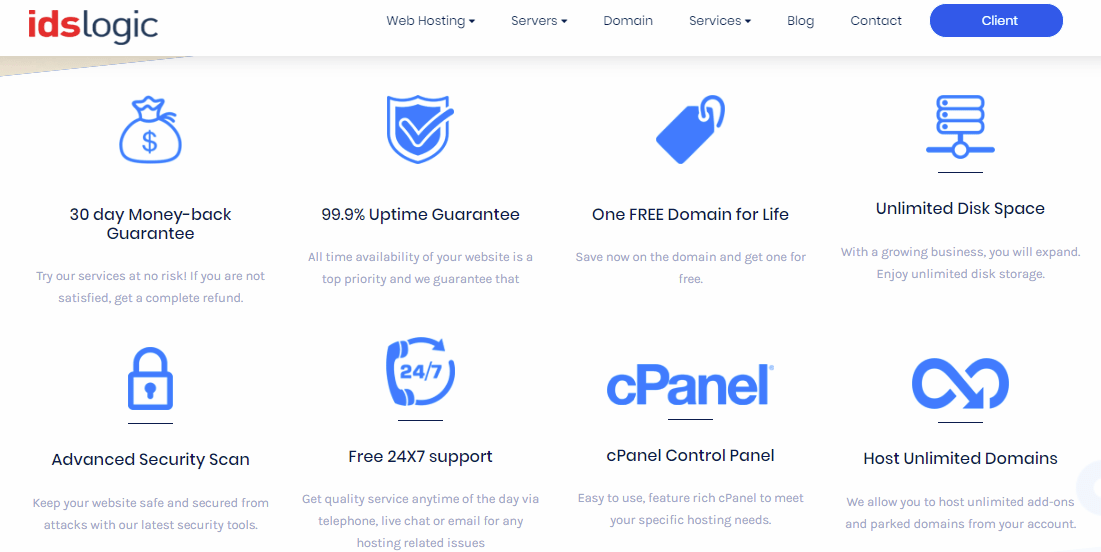 IDS Web Hosting is an Indian web hosting company with three locations in India and a branch in the United Kingdom. It offers shared hosting, VPS, dedicated servers, cloud servers, domain registration, SSL certificates, and email services.
So far, it has hosted over 1000 customers with 780 websites and registered over 1000 domains. Its website is available in English only and its servers are located in Lithuania and the U.K. If you need servers in India, it will provide those for you as well.
Features and Ease of Use
For its web hosting, IDS Web Hosting offers four plans, and its shared servers run on Linux. The features that it provides are suitable for small to medium websites. If you own multiple websites or are looking to host more than one client on one shared server, you might find these plans perfect for you.
Shared hosting customers get to enjoy the following:
99.99% uptime guarantee
Daily automated backups
One, two, five, or unlimited websites on one account
Anywhere from 20GB to unlimited SSD
Up to unlimited bandwidth
The company provides some features that accelerate and enhance the performance of the servers. One of them is SSD storage. SSD is fast accelerating read and write times and ultimately how fast your server processes requests and your website speed.
It also connects customers with a Content Delivery Network (CDN) which saves a cached version of your website to different servers and network. When your visitor requests your website, the CDN serves content from the closest server to your visitor, ensuring that your website is fast even if your visitor is far from the main server.
The shared servers are on cloud infrastructure for a faster hosting experience, caching mechanism, and backups.
IDS Web Hosting provides cPanel for hosting management. It is the most popular system for web hosting companies, and is considered the industry standard for ease of use and a beautiful mix of features for both beginners and advanced users. This web hosting company also provides a website builder along with hosting so that you don't have to write any HTML.
Pricing and Support
IDS Web Hosting shared hosting prices are based on the storage, bandwidth, email accounts, and the number of websites allowed on the plans. All four plans are low-cost. The features provided are often much more expensive from other companies.
Although it doesn't provide a free SSL as a hosting feature, you can get a free trial of a Comodo PositiveSSL certificate for 90 days. Be aware that it does offer a free domain either.
The cloud servers and VPS offered by the company come at affordable prices. Although the dedicated servers are not the cheapest option, they are in line with what other competitors offer.
Subscription periods for shared hosting is 12 months, 24 months, and 36 months. There is also a 30-day money-back guarantee, so your risk is lower. On the higher-level categories, you can also pay month-to-month, with payments processed via PayPal, MasterCard, Visa, PayMoney, etc.
IDS Web Hosting doesn't have a knowledge base to help customers quickly solve issues without needing to contact the support agents. Fortunately, the support agents work 24/7 and can be reached through email, phone, and live chat.
I sent an email and received a response in less than five minutes.