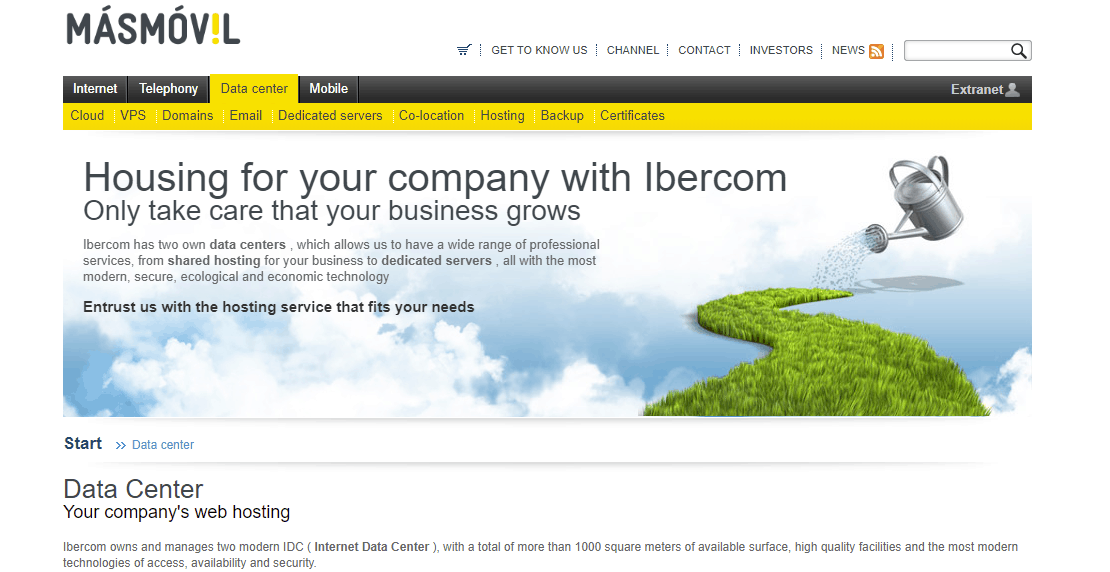 Ibercom was founded in 1997 to provide telecommunication and Internet services to clients within Spain. Over the years, the company has grown to acquire other businesses and offer more services.
For hosting, the company offers shared hosting, cloud hosting, VPS hosting, dedicated servers, and co-location. It also offers email hosting, domain name registration, SSL certificates, and backup services It has two data centers located in Spain and its website is available in Spanish.
Features and Ease of Use
Ibercom's shared hosting comes in three plans: Basic, Advanced, and Professional. They have the following features:
Free domain registration
Anywhere from 2GB to 10GB disk space
20GB, 50GB and 100GB bandwidth
Up to 200 FTP accounts and up to 200 mailboxes can be created with its shared hosting. The FTP accounts can be created in such a way that users can access certain folders, each with specific login details.
Ibercom's shared hosting is available on Linux and Windows operating systems, but be aware that specific Windows hosting tools like MSSQL are reserved for the top plan only.
On every plan, you'll get MySQL databases with PostgreSQL database on the advanced and professional plans. The MySQL and PostgreSQL databases are used for Linux hosting while MSSQL is used on Windows hosting.
On the Windows hosting, an ODBC connector is included for use with Access databases and this can be activated from the control panel. Several other connectors can also be configured in case you want to connect to more Access files.
It comes with web design tools to help you create professional-looking websites. This is ideal for individuals who want to establish a quick web presence without web design skills.
From the control panel, you can install web applications in just one click. These are some of the supported applications: WordPress, Joomla, osCommerce, and Magento.
Pricing and Support
Ibercom offers the basic plan on an annual subscription period, while the advanced and professional plans both give you the option of monthly and annual subscription periods. The annual subscription periods come with a discount.
The prices for each package are a bit high, especially given that you can get quality service with the same features for a lower price from many other hosting providers. On the plus side, though, it offers a free domain when you buy a hosting plan.
Ibercom has a short-code with which you can call customer support and it also has email support. If you're not in Spain, though, that phone support isn't for you. Also, there's no knowledge base nor live chat support, so you're stuck with emailing only.
I sent an email but didn't get any response, despite waiting for about two weeks.