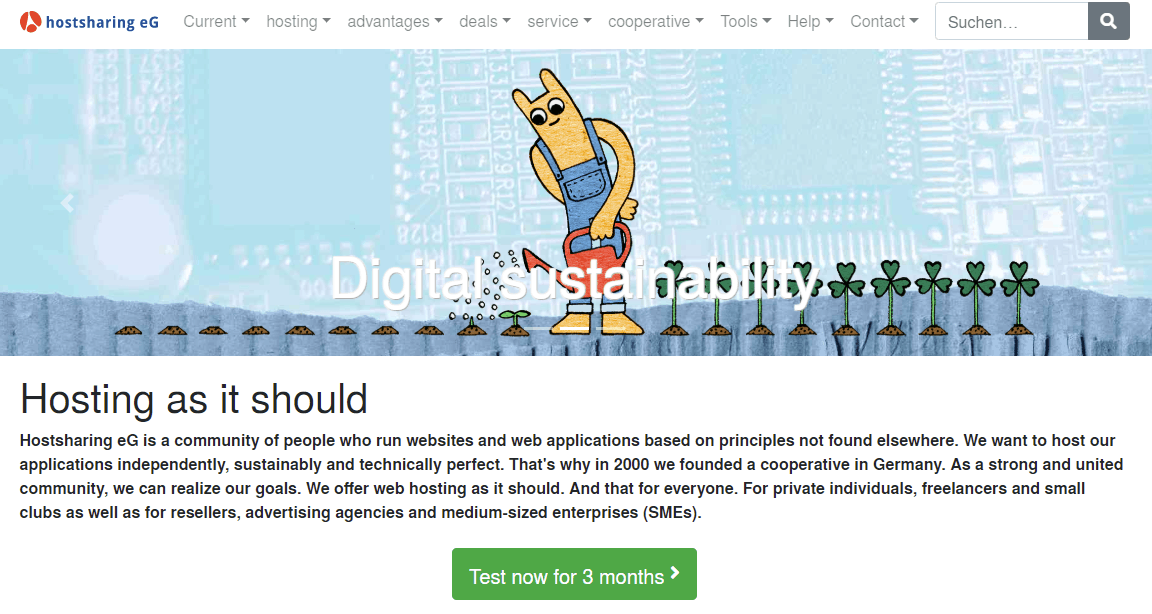 Founded in 2000, Hostsharing eG is a community of developers that provides domain registration, SSL/TLS certificates, anti-spam, shared hosting, reseller hosting, and dedicated server services.
It serves individuals, small, and medium-sized enterprises who are its registered members in Germany, Austria, and Switzerland. Hostsharing eG has data centers in two locations in Germany and its website is available in German.
Features and Ease of Use
Hostsharing eG's shared hosting, called Managed Webspace, come with these features:
99% uptime guarantee
Free SSL/TLS certificates
Daily remote backup
Anywhere from 1GB storage
Bandwidth from 10GB to 1000GB
Users can choose between MySQL or PostgreSQL and get at least five of either database. It also supports phpMyAdmin and phpgAdmin tools. It supports a number of programming languages like PHP, Python, Ruby, Node.js, Perl, Java, and others.
The vendor also supports Apache web server, CGI, FastCGI, Passenger, Rack, WSGI, and Meteor scripts.
Hostsharing eG uses the HSadmin management tool, which is a secure and user-friendly web interface for the management of different aspects of the hosting account. With HSadmin, you can manage your domain, databases, email addresses, and others effectively. Also, it supports the installation of content management systems (CMS) like WordPress, TYPO3, Joomla, Drupal, DjangoCMS, and Plone.
Cron can be scheduled to run certain jobs/tasks at specific intervals. This tool is very helpful if you need to delete some files regularly in order to save space.
Hostsharing eG offers easy installation of the free Let's Encrypt SSL certificates to help in securing sensitive information on your website. This further improves your visitors' trust and will also improve SEO ranking.
If you need to login to your account from a remote location, you don't need to worry about security as Hostsharing eG provides SSH access.
Furthermore, the company provides a 14-day free trial on all its plans. While they do not offer free domain registration, users can take advantage of a complimentary SSL certificate.
Pricing and Support
Hostsharing eG doesn't offer specific plans. It allows potential and existing customers to pick the exact features that they want. Its allowance for storage starts from 1GB and goes up to 100GB. You can also pick your bandwidth and a few other features.
Prices are listed as a monthly fee but they are not as cheap as what some other host providers with similar features offer.
As stated earlier, you'll need to register as a member of its cooperative to order a plan. It does, however, offer a free trial to non-members for a period of three months.
Its support agents are available by phone and email. I sent an email to support and they responded in less than 10 minutes.