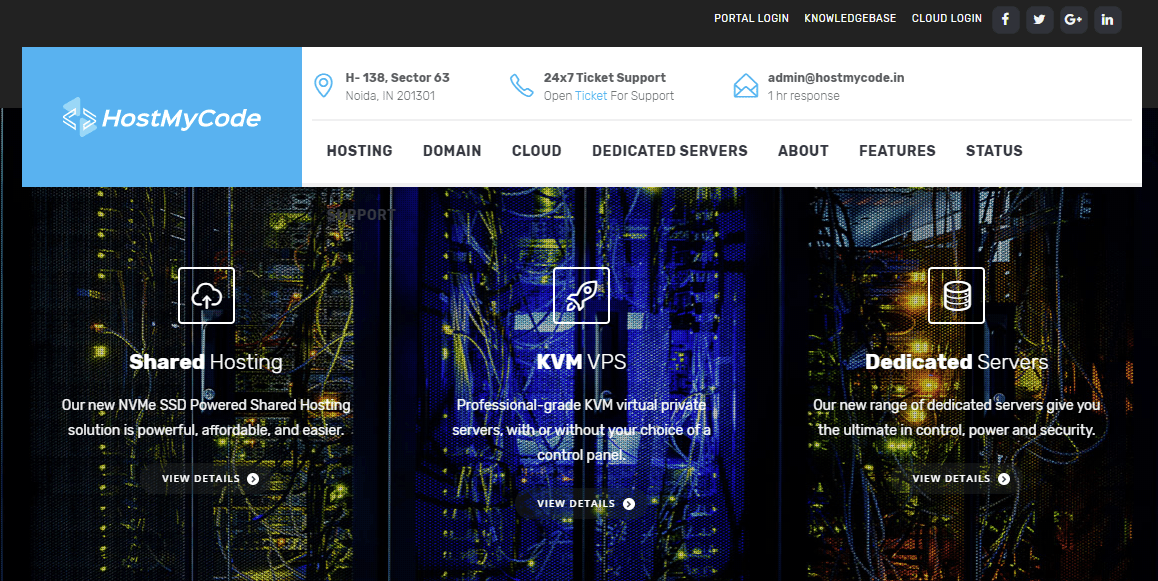 In business since April 2014, HostMyCode offers a range of hosting services that include web hosting, virtual private servers (VPS), and dedicated servers. With a website in English and servers that are located in numerous countries in several continents, it serves clients all over the world.
Features and Ease of Use
HostMyCode offers two categories for web hosting; Premium SSD Web Hosting and  Offshore SSD Web Hosting. Customers get more options and resources from the former than the latter. These are some of the features on both:
99.9% uptime
Weekly/daily automatic backups
Free SSL certificates
Unlimited domains per account
Between 1GB and 125GB
One difference between the two categories is that the Premium SSD Web Hosting uses NVMe SSD while the Offshore category uses SSDs. SSDs are good, but NVMe SSDs are way better. Various tests have shown that NVMe SSDs can be more than 7x faster than HDDs and 4x faster than SSDs. Both categories enjoy the fantastic benefits of the LiteSpeed web server.
Also, for customers in the Premium SSD category, there are remote backups to a data center in Switzerland, so if anything were to happen to the main data center – a fire, for example – the data is still safe in the remote location. Also, all of its shared hosting plans are in RAID 10 to ensure fast IOPS and that data is not lost in case of hardware failure.
HostMyCode uses CloudLinux with CageFS ensuring that each customer is isolated to the resources that they paid for, preventing them from viewing the sensitive information of another client on the same server. It also has some security benefits, like preventing the spread of malware.
The company supports a plethora of programming scripts, including PHP, Python, Ruby, and Node.js. For beginners to web design, it provides a free website builder tool that comes with more than 345 premade themes. Plus, its control panel – cPanel – comes with Softaculous to enable easy set up of more than 350 CMSes that include WordPress and Joomla!.
Pricing and Support
If you're looking for low-cost hosting, HostMyCode has it. Its yearly prices are one-month prices for similar features for some other hosting companies. Unfortunately, it doesn't offer one-month hosting; its prices start from one year, likely because of how low the prices are.
Also, there's no free trial, so you can't tell in advance if the service will be beneficial to you. However, the features hold promise of great performance and the vendor offers a 30-day money-back guarantee. So, if you find out that the performance doesn't match up with its advertising, you'll get your money back with no questions asked.
Its VPS and dedicated servers are priced in line with what its competitors offer and you can pay for one month at a time.
Customer support is on offer via live chat, knowledge base, ticketing system, phone, and WhatsApp. It's available 24/7 and I tried the live chat and got an appropriate response immediately.