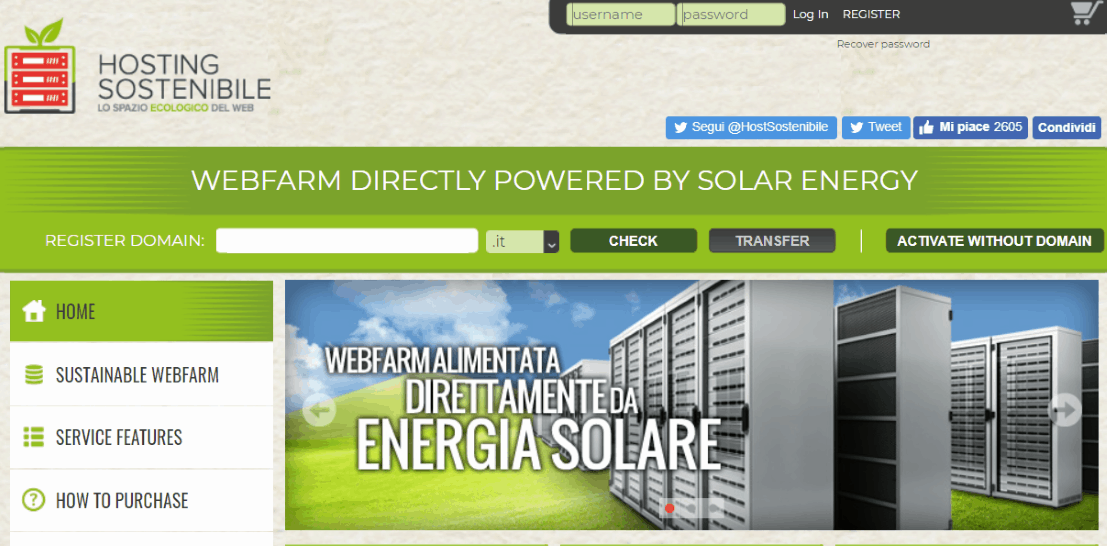 Hosting Sostenibile, a company located in Italy, runs a data center that's fully powered by solar energy. It was founded in 2012 and has strong concerns about reducing carbon emissions from hosting servers. Its website is available in Italian only. The company offers shared hosting, VPS, and dedicated servers along with domain registration. Its servers are located in Bologna, Italy.
Features and Ease of Use
If you need custom solutions or the better performance that only VPS or dedicated servers can provide, you can get them from Hosting Sostenibile, but it doesn't have set plans. You'll have to contact the company with details of what you need.
Hosting Sostenibile offers shared hosting in three plans, from which you can get the following:
99.5% uptime
Daily automatic backups
Free .IT or .EU domain
From 1000MB to 3000MB
Unlimited traffic
The shared hosting plans are suitable for simple, small websites and businesses. For one, the limit on storage space to 3000MB on the top plan might not be enough, given that it includes space for emails and everything else.
Then, emails accounts provided are at most five. Sure, you can buy more from Google or another email service, but it's easier to just use ones provided by your web hosting company. Five won't do, except for a small startup.
Hosting Sostenible has some safety measures in place, including DNS redundancy that is a fail safe solution for DNS outages that can come from DDoS attacks, configuration errors, or infrastructure failure.
For hosting management, the company provides Plesk. Its user interface is clean and easy to get used to at first glance. With Plesk comes fail2ban intrusion prevention that you can use to prevent, slow down, or stop brute force attacks, limit the number of requests per unit of time, ban IPs showing malicious signs, and more.
Hosting Sostenibile supports multiple versions of PHP for website programming, and you can also use Perl.
Pricing and Support
The prices that Hosting Sostenibile quotes for the three shared hosting plans are high for the features on offer. You'll get similar features or even better for a lower price elsewhere. Although it quotes monthly prices on its website, I noticed that there was no place to choose that option before checkout and I was stuck with paying for 12 months.
If you choose to proceed, you can pay with PayPal, Visa, MasterCard, or American Express. Beware of the one to two day activation time. This is a long time, considering most companies activate the services between a few seconds to hours.
VPS and dedicated servers are offered at custom prices. Depending on your requirements, the company will draw up a quote for you.
You can contact customer support through tickets and email only; there is no option for immediate connection via phone or live chat. The knowledge base contains a few tutorials that might assist you, saving you from having to wait for support.
I had to contact the support agents because I couldn't find the answers to my questions in the knowledge base. I sent an email and received my answer several hours later.