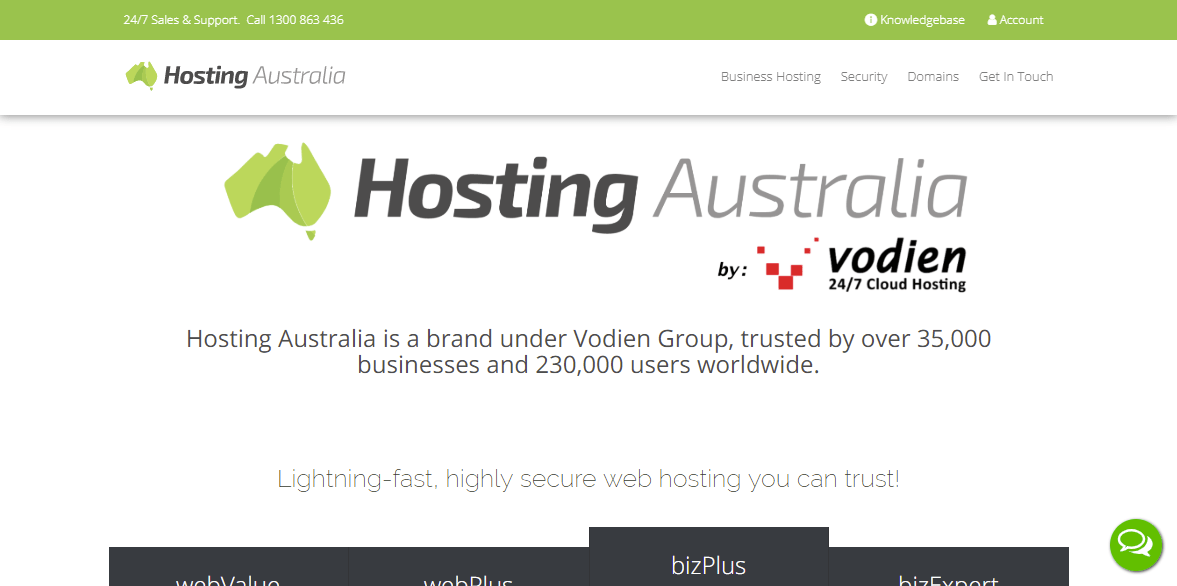 Hosting Australia was founded in 2016 and is owned by Vodien Group, a cloud hosting company that is trusted by over 35,000 businesses and 230,000 customers all over the world. It offers web hosting, cloud hosting, and domain registration services. Its servers are located in the Equinix data center in Sydney, Australia.
Features and Ease of Use
Hosting Australia is a front for Vodien, so all of the links for services redirect to the Vodien Group website. Regardless, this is what you get through Hosting Australia. There are four hosting categories with these features:
99.9% uptime
From 15GB to 60GB SSD Storage
Unlimited bandwidth
Daily or weekly automatic backups
Either five or ten websites
One downside of shared hosting are the vulnerabilities and connections with other accounts on the server. Unlike dedicated servers, if a DDoS is targeted at another customer, you'll be affected as the whole server might go down. To reduce the possibility of this happening, Hosting Australia provides DDoS protection for your website.
Another feature that it uses to combat some of the vulnerabilities of shared hosting is CloudLinux, which helps to boost security and server efficiency. With this operating system, you're assured of using the resources you pay for without being affected by excessive usage or malware issues from another customer on your server.
Hosting Australia supports PHP programming and as such, you can use PHP-based applications like WordPress on its servers.
If you don't want to manually install the software or don't know how, you're well taken care of with the one-click installer that Hosting Australia provides.
One feature that I truly like from this provider is its automatic backups. Providing automatic backups is one thing and allowing customers to easily restore them is another.
I have had to deal with providers that asked for money to restore the highly-advertised automatic backups, so it's great to see that Hosting Australia allows customers to restore their backups from their control panel at no cost.
Pricing and Support
Hosting Australia offers reasonable prices for the features on offer. The prices might look quite high for the storage, but hosting is more than that. The other resources like the dedicated RAM, hardware, and software that it provides make it worthwhile.
The vendor doesn't offer a free trial or a free version, and the subscription periods are three months, six months, 12 months, and 24 months.
The company lacks clarity in its money-back guarantee policies. Although their terms and conditions page indicates a 60-day period, surpassing the industry average of 30 days, my initial email inquiry with the sales team revealed that they do not actually offer a money-back guarantee.
A few days later, I contacted support again but this time, via live chat, and was told that it's a 30-day guarantee. Regardless of what the term of that is, you can still get a refund generally, but only on the leftover hosting period and if the company determines that its services aren't working.
Hosting Australia offers 24/7 support, and you can reach them through phone, live chat, and email. They also provide remote support through TeamViewer and have a knowledge base with in-depth guides.