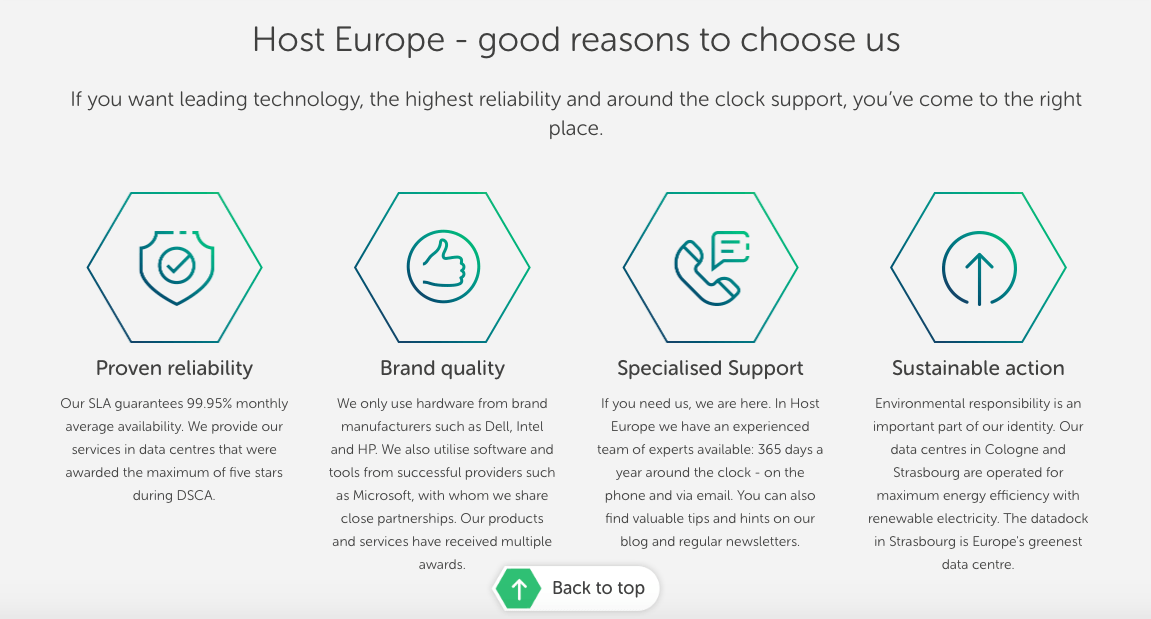 Host Europe, a German company, was founded in 1997 with a vision to provide high quality hosting. The company hosts more than 1 million domains, with 250,000 customers, and 46,000 virtual servers in use. The website is available in German and English.
Features and Ease of Use
This is a full service host offering all the usual hosting services. To give you an idea of the quality of the provision, here are some of the core features included in the shared hosting plans:
95% uptime service level agreement
Daily data backups
Domain registration available
1 annual domain SSL and SiteLock Light always included
50 GB to 500 GB storage
Flat rate of traffic
Host Europe own two data centers in Cologne and Strasbourg powered by green energy, which have reportedly have 66% less energy consumption for the infrastructure when compared to similar data centers. The power is supplied by generators with n+1 or 2n+1 redundancy and the center has connections available with 550 Gbit/s to the most important carriers, as well as a fully redundant MPLS ring structure with a total capacity of 100 Gbit/s.
The servers are solid state drives (disk read / write speeds up to ten times faster than HDD), and the company uses robust Hewlett Packard branded hardware. What's more, Host Europe commit to 99.95% uptime and back it with a solid service level agreement.
These plans are feature-packed. For experts, all plans come with FTP and SSH access, as well as support for PHP version 7.2, Ruby, Python and CGI scripts. Plans come with multiple MySQL databases, .htcaccess, as well as Server Side Includes.
For beginners, all plans come with a Mini version of the website building tool, however, if you need more, you can purchase either the Basic or Premium versions of the tool as an add-on. The website building tool is comprehensive and includes some nice value adds such as 15 (Basic) or 80 (Premium) design templates, a responsive editor, and for customers of the Premium plan a PayPal and Dropbox integration, as well as HTML code.
Overall, I am impressed with the packages, and my only real gripe is that whilst you can have unlimited subdomains, only one domain is allowed per account, which is limiting for most website owners.
Pricing and Support
The prices are okay, in line with local and international competitors, given the level of resources and quality of the infrastructure. A SSL certificate is always included, however, domain registration is an added cost.
If you purchase a plan in a one month term, there is a small setup fee. However, if you opt for a twelve month plan, the fee is waived. What's nice is you can up or downgrade at anytime, without incurring any costs. There isn't a money back guarantee but you can cancel at anytime, with four weeks notice.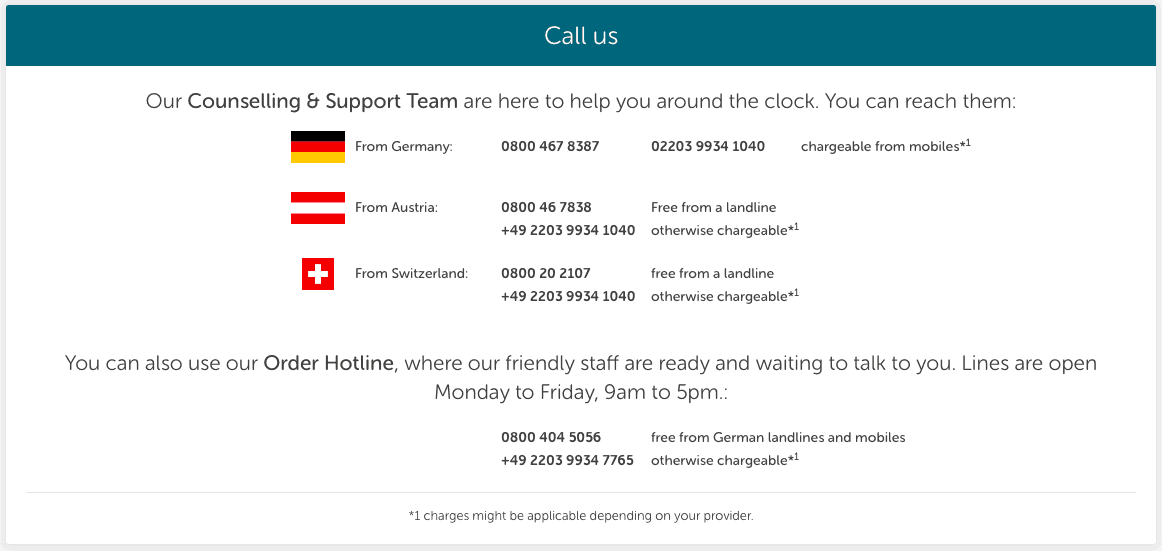 If you need support, there are multiple ways to get it available 24/7/365. You can reach them through local German, Austrian, and Swiss telephone numbers, or by emailing their sales, support, or contract-related addresses. While there is a small FAQs section on the main website, it's worth noting that there might be additional resources exclusively accessible to logged-in users since there is a client login zone.