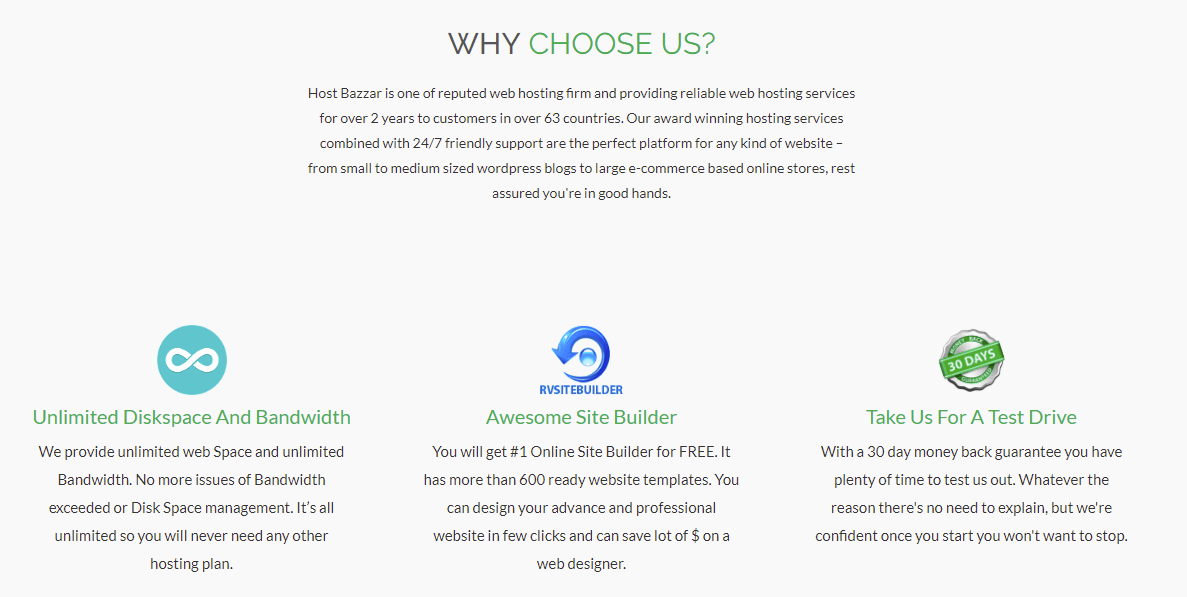 Founded in 2007, Host Bazzar offers web hosting services, including shared hosting, reseller hosting, VPS hosting, dedicated servers, and domain registration. It has served over 1,500 customers. The company's servers are located in Florida, in the U.S., and its website is available in English only.
Features and Ease of Use
Host Bazzar offers shared hosting options, which include SSD shared hosting, Linux shared hosting, Windows shared hosting, and application shared hosting such as WordPress and Joomla hosting. These are some of its features:
99.9% uptime guarantee
Anywhere from 5GB SSD to unlimited storage space
Unlimited Bandwidth
Daily automatic backups
Anywhere from one to unlimited websites per plan
The vendor offers unlimited storage space on all of its shared hosting options except for SSD shared hosting which starts at 5GB. This is also well suited to  a small business or start-up. For those not on SSD, the hard drives are pretty solid clocking 15,000 revolutions per minute for speed.
Also, the drives are in RAID 10. That provides excellent mirroring and striping, which ensures that you don't lose your files when one of the drives fail.
Host Bazzar also features server side includes (SSI), cron, IonCube PHP loader, and CGI for smooth server and website processes.
One part of this company that I like is its attention to security. It offers DDoS protection that allows only legitimate traffic to your website.
It takes it further with SSL support. SSL certificates are essential for websites, be it E-commerce or not. They enforce HTTPS protocol on your website to improve security and give you a chance with search engine rankings.
Host Bazzar provides Softaculous, which is a one-click installer for CMSes like WordPress and Joomla. There's also a website builder with more than 600 website templates. For those looking to write their code from scratch, it supports PHP and Python programming and is compatible with Dreamweaver.
Databases are MySQL with PHPmyAdmin as a management tool. You can access them and other tools through the easy-to-use control panel that this company provides, which is cPanel.
Pricing and Support
Host Bazzar gives you a 30-day money-back guarantee on all of its plans. You can also go for monthly, quarterly, bi-annual, and annual subscriptions.
Its prices are affordable when compared to the features that it offers. Also, it offers free domain registration, but this offer doesn't apply to customers on the first two shared hosting plans.
The company offers 24/7 customer support. You can get support through phone, email, live chat, skype, and support ticket. Unfortunately, it has no knowledge base.
I sent an email to the support team and received a reply about four days later.