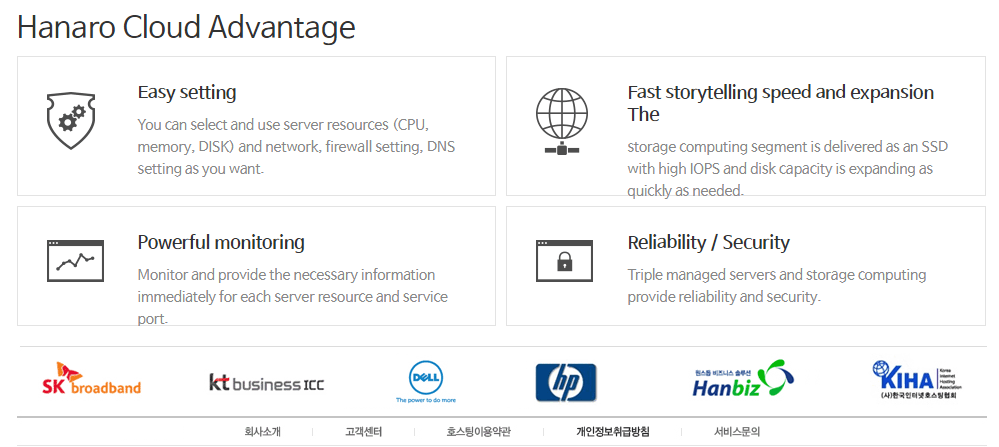 Founded in 2003, Hanaro Hosting (HHosting) provides a range of I.T. services including hosting, co-location, systems integration, and web consultancy. It is focused on high-end hosting, offering only dedicated servers and cloud hosting plans to South Korean customers from its data center in the same country.
HHosting's website and support are provided in Korean.
Features and Ease of Use
HHosting offers cloud hosting as its base hosting service. The nine cloud hosting plans allow customers to add more disk space and RAM for a fee. All nine plans provide the same bandwidth and SSD storage; the difference is in the RAM and CPU core that you get.
Cloud hosting customers get the following:
Daily snapshot backups
50 GB SSD
600 GB bandwidth
SSD storage allows HHosting's servers to process data faster and handle more visitors at a single time. For even faster performance you can take advantage of the CDN offers to route your traffic through different networks and deliver cached copies of static content to your visitors from local servers.
While HHosting offers daily snapshot backups, customers can also purchase 50 GB external backup space. It's a similar situation for your firewall, where you get a firewall for free but can enhance it for a fee. There is no free website builder for cloud hosting solutions, but one is available to buy, with hundreds of templates to choose from. There is apparently no cPanel or auto-installer at all.
Pricing and Support
HHosting's cloud hosting is reasonably priced for the features on offer. But beware that there are no free incentives such as domain registration or SSL to lower the costs even further, so you have to pay extra for these at the checkout.
There are no advertised free trials or money-back guarantees, so you'll need to take a leap of faith when committing your cash to this company.
The 24/7 customer support is substandard since it's almost impossible to contact the company by any method other than a phone call. There's no obvious email address, and the contact form returned an error every time I tried it. On the plus side, the technical guide (knowledge base) contains a good number of articles for customers to help themselves: