To compare the best web hosts, we hosted the same WordPress website on each one and tested performance, customer service, and value for money.
Check out the results here.
Green.ch had its humble beginnings as a local internet provider in Switzerland. Founded by the Swiss Farmers' Association in 1995, they've since grown to become the fifth largest internet provider in the country and have expanded their offerings to include digital TV, telephony, web hosting, and domain registration services. They operate five of their own data centers – all based in Switzerland – and have built over 100,000 customer relationships.
Features and Ease of Use
Green.ch offers a range of shared, cloud, and dedicated server hosting packages. The features of their shared hosting packages are as follows:
| | | | | |
| --- | --- | --- | --- | --- |
| | Start | Comfort | Plus | Advanced |
| Storage | 5GB | 10GB | 50GB | 100GB |
| Bandwidth | Unlimited | Unlimited | Unlimited | Unlimited |
| Hosted domains | 1 | 10 | 50 | 100 |
| Email accounts | 10 | 50 | 100 | 150 |
| FTP accounts | 1 | 5 | Unlimited | Unlimited |
| Free domains | 0 | 1 | 3 | 3 |
| MySQL databases | 1 | 10 | 50 | 100 |
Their most basic plan seems generous with its allotment of storage and bandwidth, but also comes with a correspondingly higher price tag. Also, note that the Start and Comfort plan do not include a website builder or Content Management System (CMS) – you'll have to purchase at least their Plus plan for that.
The Start plan also does not include a one-click installation of WordPress, so beginners might hit a steeper learning curve. Then again, they do offer a customizable WordPress hosting package where they create your entire WordPress site and then host it for you, so that should suffice. The price may be a deterrent for cash-strapped individuals or businesses, though.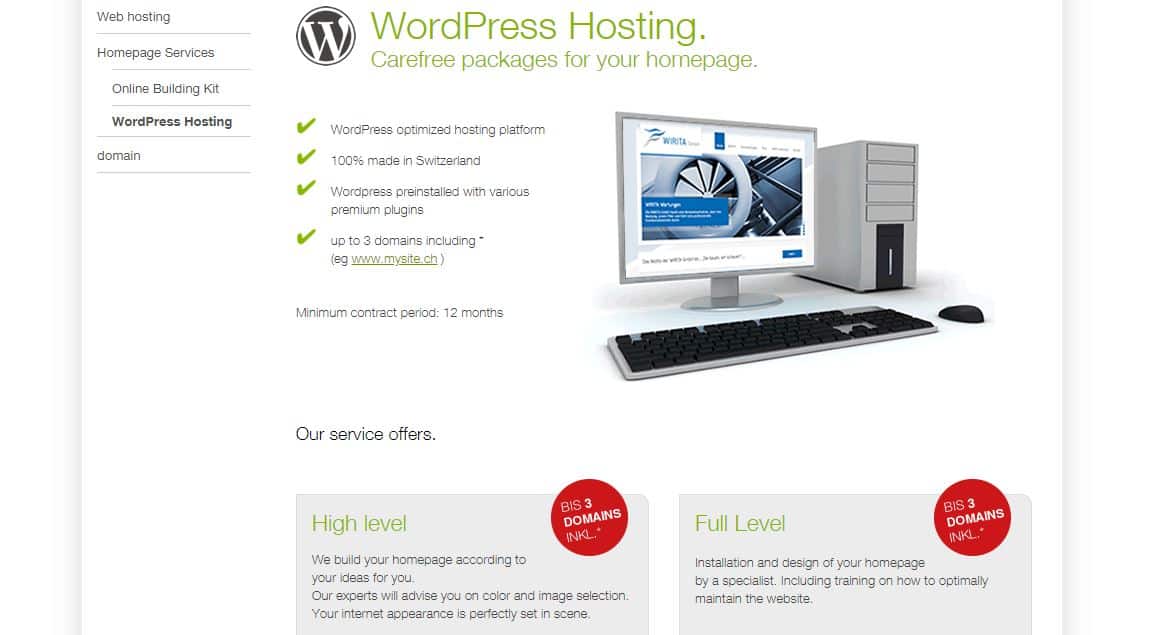 None of the plans include SSL certification, so that'll have to be purchased separately. On the upside, they do provide free daily backups with copies spread across multiple data centers, so you can rest assured that your data will be extremely well-protected should any mishaps occur.
As a Swiss company, they also enjoy the extra protection that makes their country such a popular haven for corporations. Switzerland is economically independent and politically stable, which means businesses cannot be forced to disclose information about their clients (unless, of course, the authorities are investigating a client and are able to obtain an injunction). This point will be particularly attractive for security-conscious businesses.
Pricing and Support
I felt that Green.ch's hosting plans were a bit expensive. Although their shared hosting plans offer good storage, bandwidth, and plenty of email accounts, the entry-level plan doesn't include a free domain registration, despite the higher price. Additionally, it only provides one MySQL database, which feels a bit stingy.
There's no free version available, nor does there seem to be a money back guarantee.
They do have a reputation for being very reliable, but it remains to be seen how convenient it is to host your website with them – perhaps this is the trade-off for all that extra security.
Support is available in three languages – a testament to Swiss multilingualism. However, their telephone hotline is only available during Swiss business hours (8AM – 5.30PM Monday to Friday), which may prove challenging for international customers. The alternative is to email their support or submit a request via their online form, but you may only get a reply the next business day. There's no live chat available.