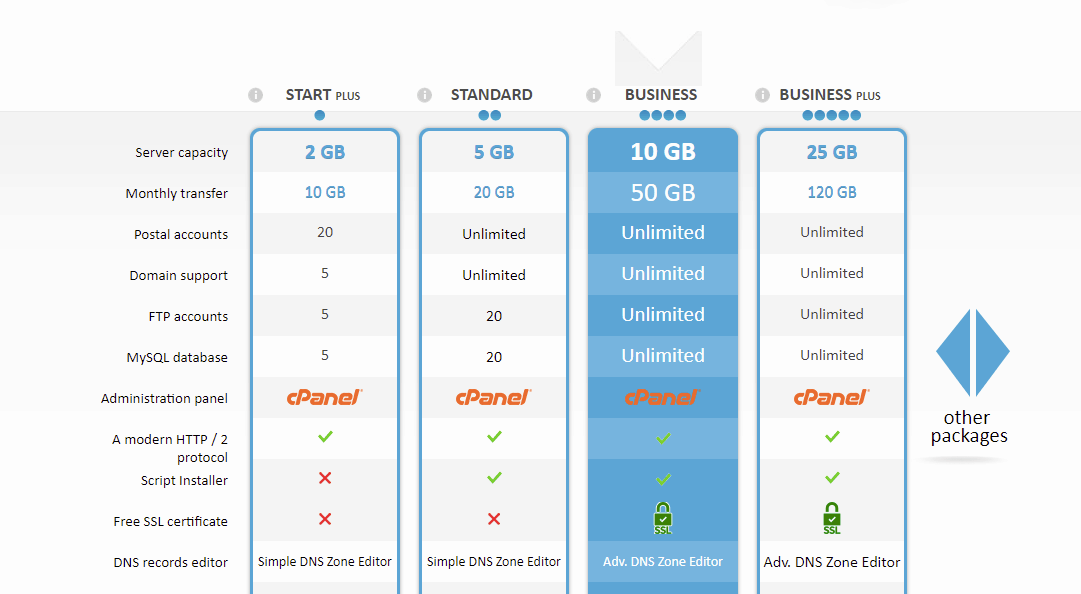 Founded in 2005, eXone.pl is a web hosting company that's based in Poland. It offers shared hosting, Virtual Private Servers (VPS), and dedicated servers through its servers that are located in a data center in Poland. Its website is available in English and Polish.
Features and Ease of Use
eXone.pl offers VPS where you can choose the exact RAM, vCPU, and storage space that you want. Also, it allows customers to pick the operating system distribution that they prefer. VPS is suitable for medium to large businesses.
If your needs are more in line with small business websites like a local business webpage, you should check out the shared hosting plans. They provide the following features:
99.5% uptime guarantee
Daily automatic backups
Free SSL certificate on some plans
A free domain
Either five or unlimited websites per account
Up to 25GB storage space
Although the storage space works for small websites, the inode limitation is a bit low on the first three plans. If you are actually going to set up five websites on the plan and use a content management system like WordPress, you're likely going to exceed that. From my experience, five simple websites (four WordPress) used about 30,000. Most hosts leave the limit at at least 150,000.
The company provides HotLink and Leech protection to protect your media files and login attempts. Also, it provides protection against spam emails with antivirus and antispam for all email accounts on its servers.
eXone.pl provides cPanel to shared hosting customers. You can easily manage email accounts, website files, databases, cron jobs, backups, and other hosting settings through the management tool.
For website building, you can write your own code; it supports PHP. There's also a website builder tools for customers who don't know how to write HTML.
If you're more into using web applications like WordPress, Joomla!, and PrestaShop, you're covered for installation. eXone.pl provides the Softaculous tool in cPanel to ensure that customers don't have to deal with manually setting up web applications.
Pricing and Support
eXone.pl offers low-cost prices. The shared hosting comes in seven plans with varying features, and the minimum subscription period differs based on the plan. It also provides a free SSL certificate and domain name on some of the plans, which helps to further reduce your overall website setup spending.
Some plans allow for monthly payments, but a few others only offer annual payments. Also, it provides a 14-day free trial on all shared hosting plans. When it comes to the paid duration, you can pay with your credit card. There's no money-back guarantee but you can request a refund, if you feel its relevant.
The VPS is low-cost, and the company throws in an extra 40GB of free storage space with any VPS configuration you order.
eXone.pl promises a one hour response time on technical support. There's a live chat, phone number, and email address that you can use to reach out to support. It also provides support through Skype. If you'd rather solve the issue yourself without contacting a support rep, you can check its knowledge base but the articles are more on billing and VPS.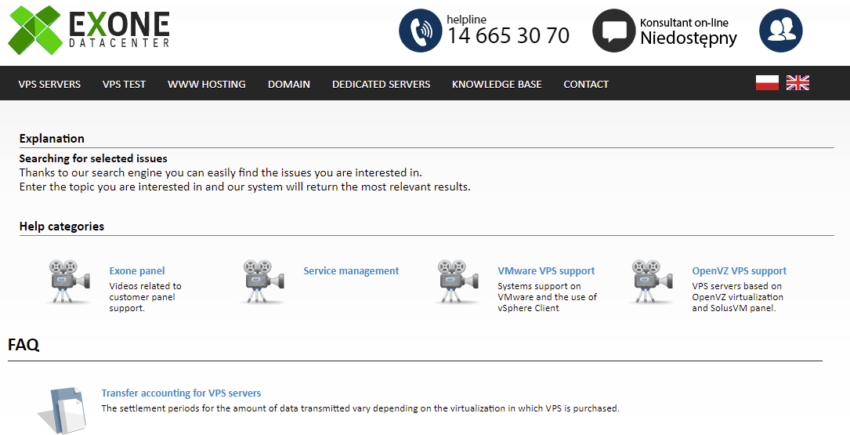 Disappointingly, I sent an email but never received a reply.