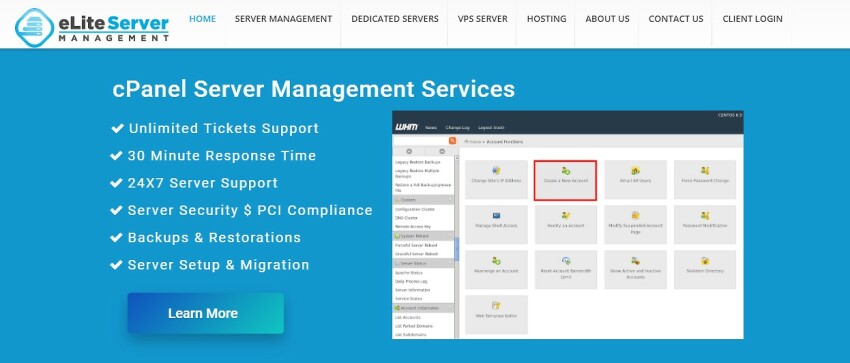 eLite Server Management's English-language website doesn't say when this host was established, but it does state that it currently manages and monitors more than 200 servers around the world.
The offered services include VPS, different kinds of dedicated servers, some cPanel stuff (server management, monitoring, and hardening), SolusVM server management, managed AWS, VMware management, backup services, website security, and email solutions.
Features and Ease of Use
There are four VPS packages and 22 dedicated server packages, but some of those dedicated servers are only listed on the separate store pages (not on the main website).
The VPS packages provide you with:
100% network uptime guarantee
40 GB to 500 GB SSD storage
1,000 GB to 3,000 GB bandwidth
2 GB to 16 GB memory
1-core to 6-core processors
1 Gbps dedicated speed
The virtual servers use KVM virtualization for reliability, stability, and performance. You get root access for full control of your server, and DDoS protection to guard against distributed denial of service attacks. SiteLock plans are available to improve your website's security, and this vendor also offers specialized server management services.
Pricing and Support
The SSD VPS packages are pretty cheap. You can pay for them monthly in Indian rupees or U.S. dollars via PayPal or Payza.
Although eLite Server Management's website alludes to a 30-day money-back guarantee, I confirmed with customer services that this only applies to server management packages (and not to VPS plans):

Please reach out to our 24/7 customer support team via ticket or live chat at your convenience. While the live chat feature wasn't "live" when I initially attempted to use it, I did, however, receive a subsequent email that effectively addressed my questions. It's worth noting that our self-support resources might be somewhat underwhelming; our knowledge base appears to be rather sparse, but you can find a handful of frequently asked questions that could be helpful.