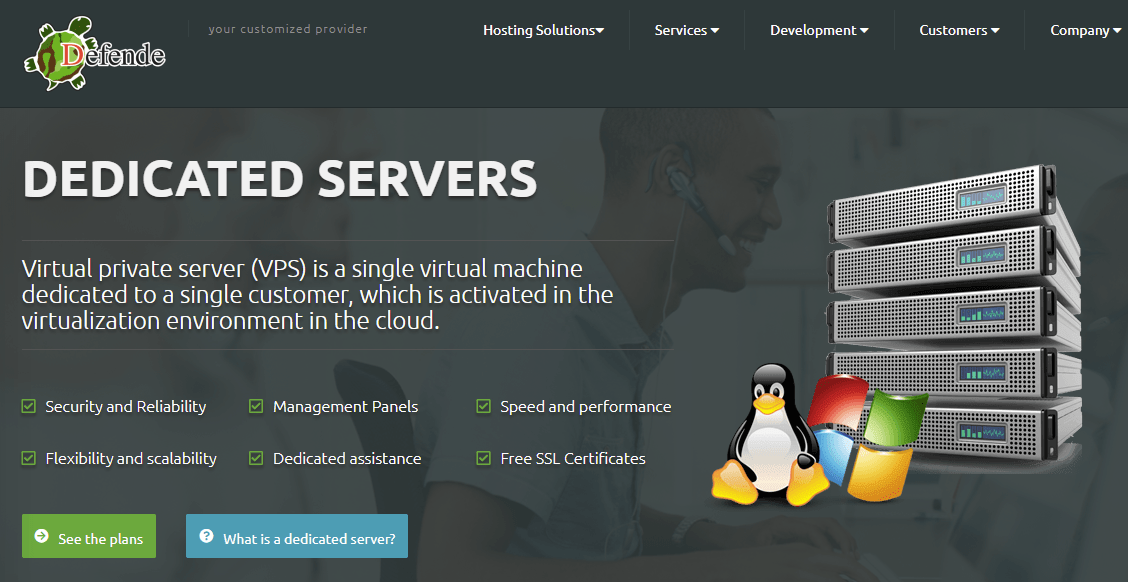 Founded in October 2003, Defende is a spin-off of another hosting provider: Business Network Service. Defende offers a range of web hosting and IT services, including software development, IT consulting, cloud VPS, shared hosting, email hosting, and dedicated servers. Its servers are located in Italy. The company's website is available in Italian only.
Features and Ease of Use
Defende offers four shared hosting plans with varying features. It supports both Linux and Windows operating systems and you can choose your preferred operating system before you checkout. These are some of the features that the company offers:
99% uptime
Daily and weekly automatic backups
Free SSL certificate
Free domain for a few extensions
Anywhere from 1GB to 15GB storage space
Unlimited bandwidth
Defende provides web hosting management tools that allow customers to manage databases, FTP, emails, and more. You can also use it to view the statistics of your website, traffic, and how much resources you have left.
Defende supports PHP, but not much else; though you can switch between multiple versions of PHP.  If your plan is to use Python, you'll have to look elsewhere,  because it's not supported. Databases are MySQL with PHPMyAdmin management tool, and MSSQL, too.
Another feature that you might like is the ability to choose your web server. You can choose Apache, Nginx, or IIS. Apache or Nginx are a better choice if you are looking to use an open-source OS like Linux and other open-source applications. IIS is for the Windows OS environment.
The company doesn't provide premium/advanced web hosting features. That's likely because it doesn't specialize in hosting and provides design and development services, as well.
Pricing and Support
Defende has some affordable prices on the base plans. However, in the general sense, its prices are high for the features on offer. You pay more for features that you'd get for a lower price from Defende's competitors.
Despite the listed monthly prices, Defende doesn't provide a one-month hosting subscription. It's lowest and only offered subscription period is one year. That's a long time, especially given that it doesn't provide a chance to test it with a free trial. Furthermore, there's no money-back guarantee.
Defende provides customer support through phone and email. Its office is open from 8:30 AM to 12:30 PM, and 2:00 PM to 6:00 PM, Monday – Friday. It doesn't have a knowledge base nor a live chat option that customer can easily use for contact.
I emailed Defende's customer support and got a response in less than two hours.