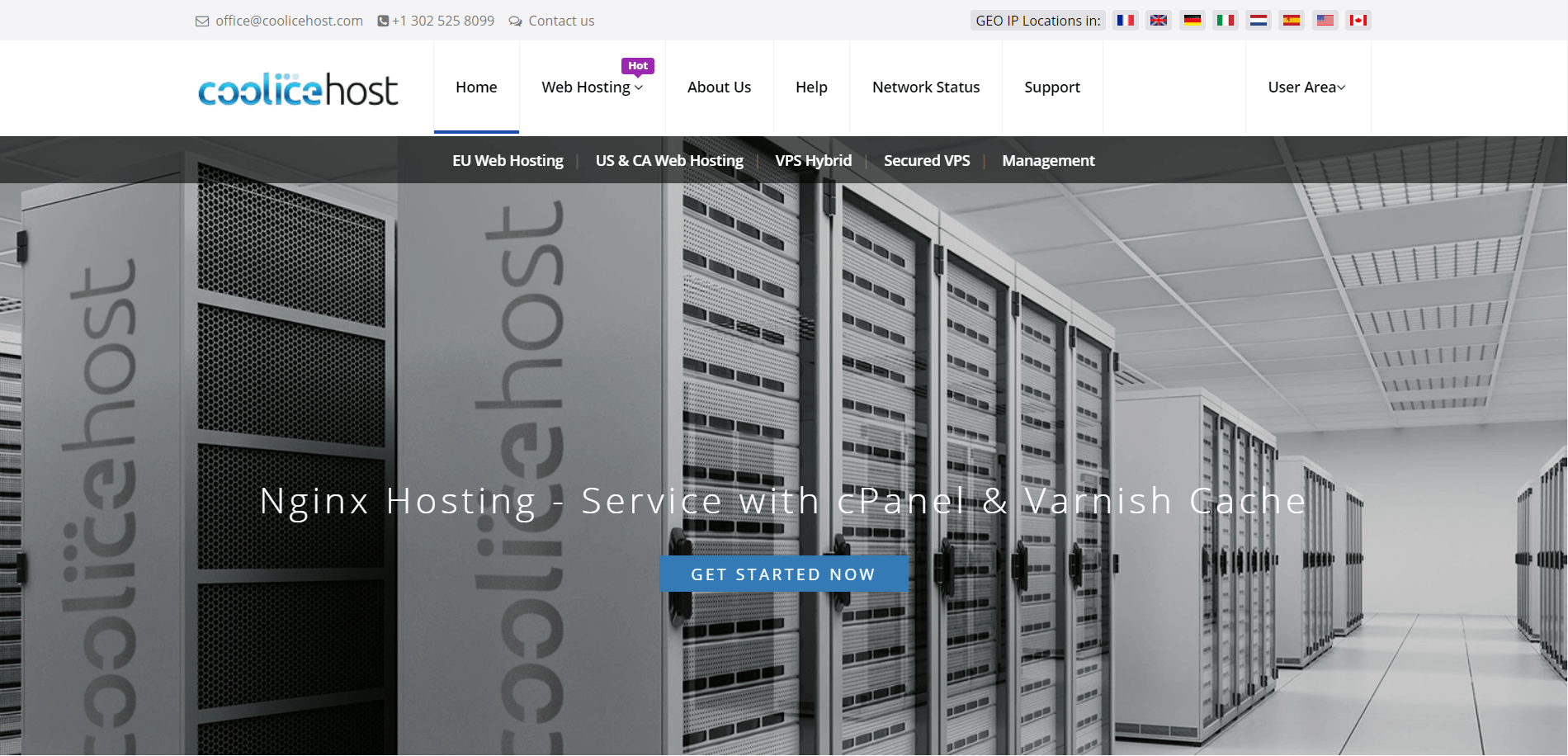 CooliceHost started out providing cPanel hosting in 2005, boasting Red Hat 3 Advanced Server (AS) times. In 2013, they overhauled their entire feature set and began offering their proprietary Nginx (Engine X) technology, a faster and more powerful web server capable of operating the most popular content management systems and e-commerce platforms at a greater level of performance than Apache. Having recently introduced hybrid VPS and server management services, the company is currently focused on medium to large business clients. With data centers across Europe and North America, they have the infrastructure to run a reliable, premium hosting service.
Features and Ease of Use
CooliceHost has streamlined their web hosting services to two primary markets: Europe and North America. Their European hosting service relies on Tier 3 Certified data centers located in the United Kingdom, Spain, Netherlands, Germany, France, and Italy. This allows clients to procure local IP addresses, ensuring better search engine optimization for specific European markets. With a redundant power supply, SSD storage, and fiber paths, it's almost impossible to imagine your website going dark. Plus, they offer free DDoS attack protection and a 24/7 server monitoring system – two features I was especially pleased with.
Their standard European hosting service includes four plans, each providing unlimited data traffic and the option to host a minimum of three websites. The starter Webmaster Mini plan offers 5GB of SSD storage space, an unlimited number of email addresses, and 50 MySQL databases. Note that this Webmaster Mini plan does not include CGI support, however. For CGI script support, you'll have to go for their Webmaster plan or better.
Their highest-grade shared hosting plan includes:
25 GB Enterprise SSD storage
Unlimited Websites Hosted
Unlimited Bandwidth
Unlimited Email Addresses
Unlimited MySQL Databases
Unlimited Parked Domains
Unlimited Sub-domains
With the American hosting service, the offer stays the same in terms of what you get in each package. The main difference between the two hosting options is the fact that this service will be hosted on servers located in the U.S. and Canada. Both American and European hosting plans include a wide variety of third-party apps you could install for free. E-commerce business owners will also be happy to learn that even the most basic hosting plan includes a free SSL certificate.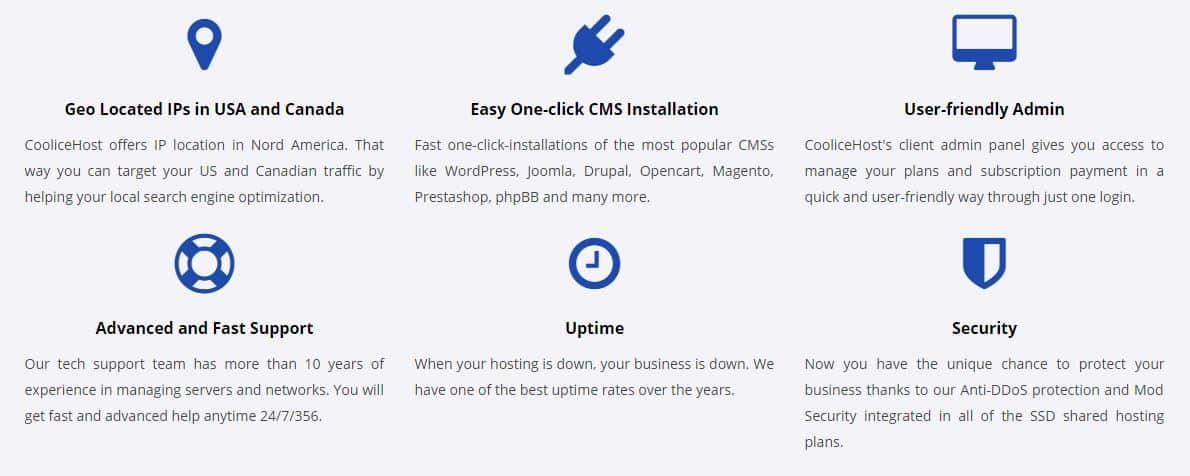 Setting up an account and managing your website is easy with the provided cPanel installation, even if you've never done it before.
Pricing and Support
Although CooliceHost is not the cheapest option available, it still offers highly affordable pricing. Furthermore, they provide a level of service and a rich set of features that easily justify their prices.
There's no free plan available, but CooliceHost does offer a 30-day money back guarantee. Also, what's interesting about this company is that you can pay your bills by credit card, PayPal, and Bitcoin.
The CooliceHost user interface is simple and intuitive to use, so it should be fairly easy to get things done. However, if by chance you ever get stuck, there's a knowledge base to help you out. Additionally, their tech support is available around the clock via phone, email, and a support portal. Most of the time, their servers ran beautifully as promised. However, during the few occasions when I did need to contact their customer support, they exceeded my expectations as well: every ticket got a full, well-thought-out response in a remarkably short time.