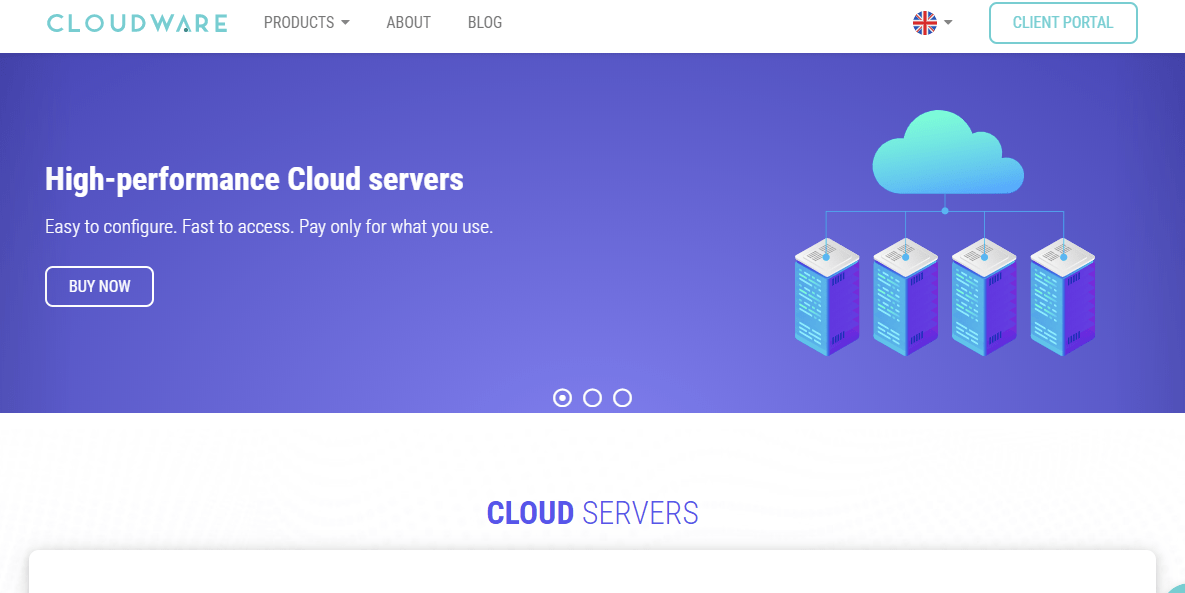 Cloudware was founded in 2012 to provide shared hosting, cloud servers, and dedicated servers. Its data center is located in Bulgaria, and its website is available in English and Bulgarian.
The shared hosting plans on Cloudware's website are those of another hosting provider called Siteground. An attempt to purchase the shared plans will redirect you to Siteground's website. Siteground is a top host and actually ranked seven out of all the web hosting companies.
Features and Ease of Use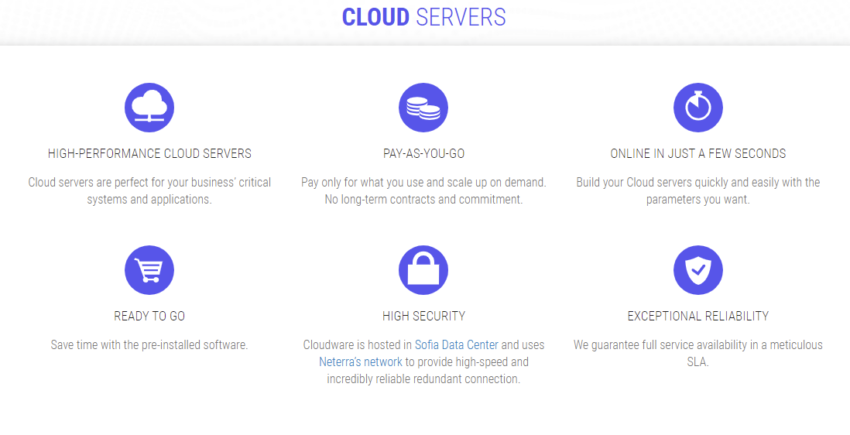 Technically, Cloudware only offers cloud servers and dedicated servers. Its cloud servers are hosted on virtual machines and have the following features
99.9% uptime guarantee
Up to 480GB disk space
Unlimited bandwidth
Customers can get up to 32GB RAM and 16 virtual CPUs. The vendor uses Xen for virtualization, which allows resources of one powerful physical server to be divided into a few virtual servers running independently. This enables multiple operating systems like Linux, Windows, and FreeBSD to run simultaneously on completely isolated cloud servers.
These operating systems that it supports can be selected when ordering. At the point of purchase, you can also configure your account with up to five IPv4 addresses and 500MB port speed.
Cloudware offers protection against DDoS attacks. Attacks from hackers are detected and mitigated so that only clean traffic enters the network.
Data is stored on SSD drives, which are faster than traditional storage methods and offer a better user experience. In addition, the benefits of hosting on cloud servers are numerous. In terms of reliability, if a physical component fails, the service will still be running because all components, devices, and network routes are duplicated and redundant.
Pricing and Support
Cloudware has eight standard cloud server plans and two high-performance cloud server plans, giving you lots of options to choose from. Its smaller plans are cheaper and more affordable for those starting out. All of its plans are charged monthly, so there are no long term contracts or commitments.
You can make payments through bank transfer, ePay, PayPal, BitPay, and credit or debit cards. Payment for services can be made in BGN, EUR, or virtual currency – Bitcoin (BTC).
The company offers a refund if you cancel within 30 days of subscribing. This does not include service installation fees and does not apply to add-on services, software licenses, or other additional services.
Cloudware offers support agents available through live chat, phone, email, ticketing system, and knowledge base. I utilized the email support option but did not receive a reply, despite waiting for over three weeks.