To compare the best web hosts, we hosted the same WordPress website on each one and tested performance, customer service, and value for money.
Check out the results here.
AltusHost has been competing to be recognized as the top managed web hosting service since 2008. They focus on quality customer service, uptime, and competitive prices. AltusHost has some of the fastest servers on the market and a strong presence in Europe, with data centers in the Netherlands, Bulgaria, and Sweden. To date, AltusHost has served more than 10,000 satisfied customers.
Features and Ease of Use
Unlike many of their competitors, AltusHost does not rent or resell hardware from large providers. They prefer to use their own technology to make sure they are in full control and everything runs smoothly. This gives them a unique edge in the market, as they have a keen understanding of their product and how best to tweak their services to give their users the best customer experience possible.
While they focus mainly on dedicated server packages for enterprise-grade customers, they do have an array of plans for smaller companies and individuals. For starters, their entry-level cPanel shared hosting plan affords small to mid-sized businesses the following:
10GB SSD storage
Unlimited bandwidth
5 hosted add-on domains
Automatic daily backups
SSL certification
Softaculous app installer with 300+ available apps
They also provide a free website migration service and a website builder, both of which were nice touches on an entry-level package.
What I appreciated most about their shared hosting service, however, was the level of performance and support that comes even with the most basic package. Every user account enjoys a LiteSpeed Web Server installation, which ensure that servers operate several times faster than the typical Apache Web Server installations that most other providers sport. Also, their CloudLinux operating system eliminates many of the resource allocation issues a typical Linux shared hosting OS would have, so even on a shared hosting account, your website's performance won't take a hit when other websites on the same server get a surge of traffic.
AltusHost also offers VPS hosting packages for businesses that have outgrown their shared hosting plans but don't yet require the level of performance that dedicated servers would provide. These VPS packages are fully managed, with the option of either Windows or Linux as an operating system. Plus, with AltusHost VPS hosting packages, you get full root access to your virtual servers, and you can also reboot your power panel remotely without contacting customer support.
Pricing and Support
AltusHost offers plenty of different web hosting plans for all kinds of needs and budgets. Their plans are fully customizable, and there's an excellent 45-day money back guarantee for shared hosting plans (50% more than the industry standard).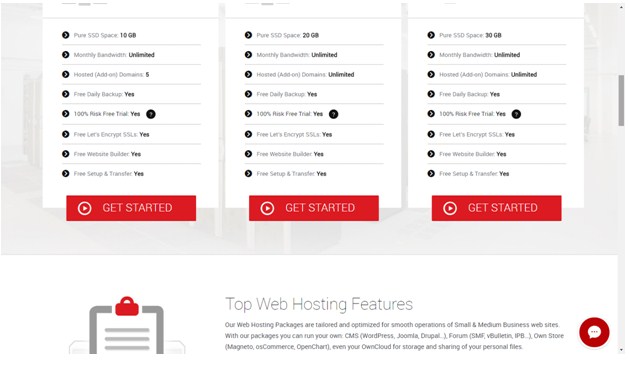 What I really love about AltusHost is that it's super easy to upgrade or downgrade your VPS at any time – a feature rarely found with other hosting providers. If you notice that you're paying for something that you don't really need, you can simply remove the feature. Upgrading is just as easy, as you can scale vertically at any time. Plus, AltusHost offers a 14-day risk-free money back guarantee for VPS plans, yet another rarely-found feature in the industry.
To access most of AltusHost's support channels, such as live chat and their support ticket system, you need to log in. On the positive side, they promptly respond to support tickets. When I reached out to them, I received a response within a few hours. Non-customers can expect a response to their emails within 24 hours, but only during the workweek.
How much does Altus Host cost?
Altus Host offers plans from $6 to $17. The price depends on which type of hosting plan you choose. You can see the updated pricing table (updated weekly) below.

Which Altus Host plan should I get?
My recommendation is to start with a cheaper plan. You can always upgrade later on. Altus Host can help you with the migration to a more expensive plan. The increase in visitors many times takes longer than expected and you shouldn't pay a lot of money until the need arises. Of course, your needs may vary, and you can consult with a hosting expert from Altus Host here.

How good is Altus Host's customer support?
Altus Host is not ranked as one of our top web hosts. But that can also be a result of Altus Host being a small, under the radar, hosting provider. There are advantages to a small hosting company – as a customer, you are more important to them. You can also check out our comparison of the most popular web hosting services here.