Acens is a Spanish telecommunications and web hosting company. They've been in business since 1997 and operate primarily in South America, including countries such as Spain, Brazil, Peru, and Mexico. One of the pioneers of cloud hosting solutions, Acens currently serves over 100,000 customers out of their two state-of-the-art data centers located in Spain.
Features and Ease of Use
Acens has solutions for companies of all sizes, offering them safer, more flexible, and more efficient models for both private and public cloud hosting services. Their two Spain-based data centers span more than 6,000 square meters and house over 12,000 servers.
With their cloud services, you can opt for either private, hybrid, or public cloud hosting. You can choose to manage it yourself, or delegate the administration of the server to Acens. They take care of all the security on the backend so you can focus entirely on running your websites or web applications. Of course, these cloud solutions are scalable and resources can be adjusted up or down at any time via the easy-to-use administration panel.
Acens also has a range of pre-made cloud hosting packages designed for a variety of project types, from simple web applications to more demanding, enterprise-scale web projects. One Cloud XS, their most basic plan, starts you off with:
50GB SSD storage
1GB RAM
1 Intel® Xeon® vCPU
Unlimited bandwidth
A private network between your servers
100 email accounts per organization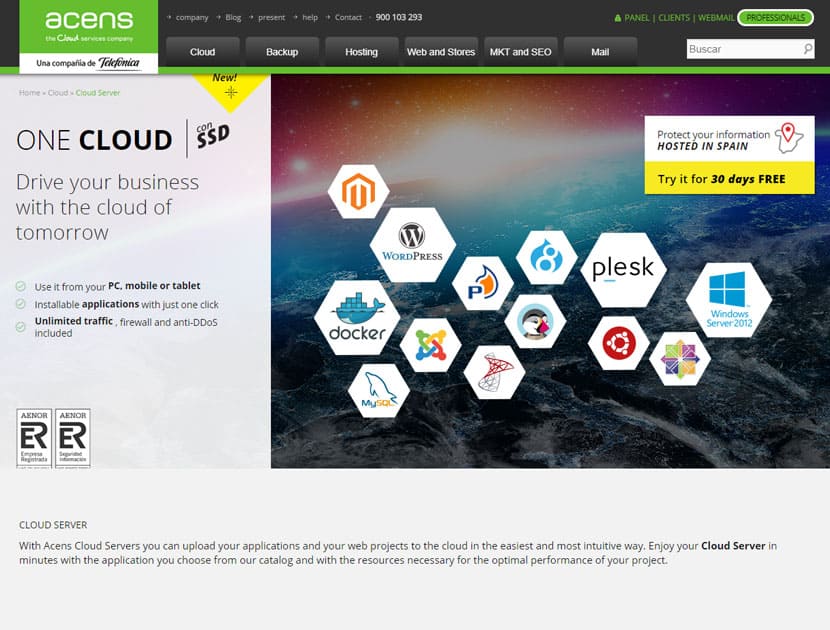 At the other end of the spectrum you have One Cloud XXL, which includes the unlimited bandwidth and private network of the basic plan along with:
360GB SSD storage
32GB RAM
12 Intel® Xeon® vCPU
All cloud hosting plans also come with an intuitive management panel that allows you to configure every aspect of your hosting account. The most common functions are kept at the foreground, while less common and more complex functions have been moved to the background to increase ease of use. The management panel is also fully responsive, so you can make changes to your hosting even while on the go. Plus, you get a one-click application installer that includes the latest versions of the most popular CMSes, operating systems, and development environments.
If you ever outgrow these cloud hosting packages, Acens has three cloud datacenter packages available. These are best for clients who require extremely high server performance levels, processing power, and efficiency.
Acens also provides shared, VPS, and dedicated server hosting solutions. Their shared hosting plans seem to be pitched more at larger enterprises or businesses with a lot of multimedia content, however, given that the entry-level plan starts you off with 50GB of SSD storage.
Since Acens has their data centers and support staff located in Spain, it's evident that their target market is primarily the Spanish and Portuguese audience. However, this might pose a challenge for customers who are not fluent in Spanish. It's worth considering this language barrier when deciding to work with Acens, especially if you prefer support services in a language other than Spanish.
 Pricing and Support
Considering the level of performance they offer, Acens offers competitive rates for their cloud hosting solutions. However, do note that their most basic plan starts you off with quite a lot of resources — and perhaps far more than a single individual with a single, basic website would require. This means that Acens is better-suited for businesses rather than small setups. They also provide a 30-day free trial for select packages, though they don't offer a money back guarantee.
The advantage of cloud hosting is that changing your resource allocations is a hassle-free process. If at any time you expect a surge of traffic or need to process a large volume of transactions, you can scale up your plan via the intuitive management panel – and then scale it back down later on so you're only paying for what you need.
As one of the pioneers of the cloud hosting industry, Acens knows what they're doing. They offer expert support 24/7 via phone, email, and a ticketing system. Do note that their support team is Spanish-speaking, however. Likewise, all of their help documentation is written in Spanish. Also, there's no live chat available.
How much does Acens cost?
Acens offers plans from $4 to $22. The price depends on which type of hosting plan you choose. You can see the updated pricing table (updated weekly) below.

Which Acens plan should I get?
My recommendation is to start with a cheaper plan. You can always upgrade later on. Acens can help you with the migration to a more expensive plan. The increase in visitors many times takes longer than expected and you shouldn't pay a lot of money until the need arises. Of course, your needs may vary, and you can consult with a hosting expert from Acens here.

How good is Acens's customer support?
Acens is not ranked as one of our top web hosts. But that can also be a result of Acens being a small, under the radar, hosting provider. There are advantages to a small hosting company – as a customer, you are more important to them. You can also check out our comparison of the most popular web hosting services here.