To compare the best web hosts, we hosted the same WordPress website on each one and tested performance, customer service, and value for money.
Check out the results here.
100TB is a UK-based hosting provider specializing in dedicated servers. Part of the larger UK2 Group, they have offices in both the United Kingdom and the United States. As the name implies, they offer a whopping 100TB of monthly bandwidth with their dedicated servers. Their premium high-bandwidth hosting packagesare run on servers deployed in 26 locations worldwide.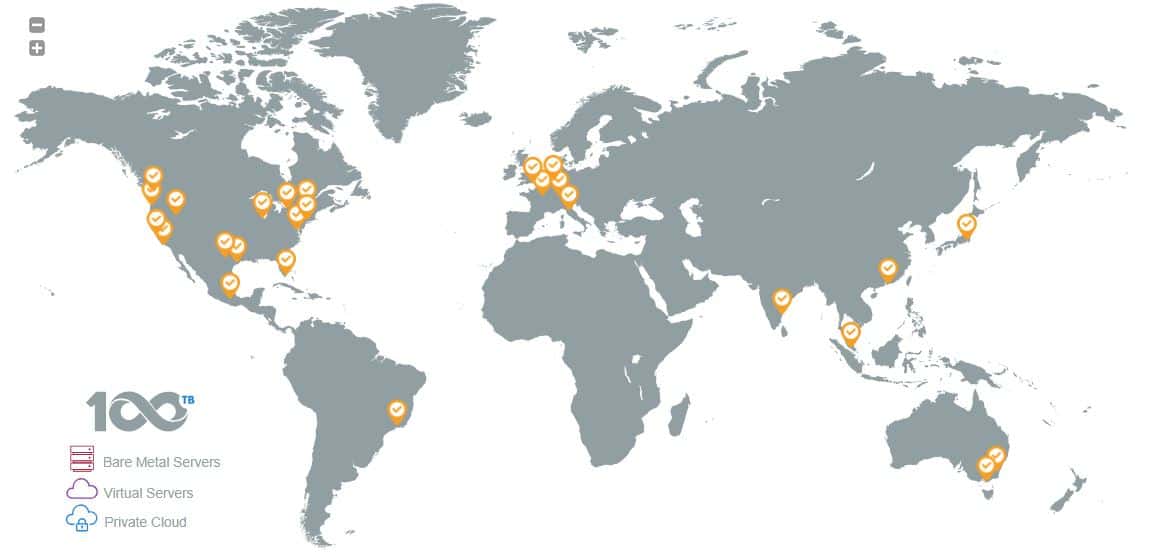 Features & Ease of Use
Unsurprisingly, 100TB's reliability is unparalleled. Their uptime guarantee is 99.99%, which works out to be about five minutes a month – though a more thorough test reveals that websites hosted on their servers can go months without any downtime.They also have a Service-Level Agreement to return credit to their users should server uptime drop below their guarantee.
Their private cloud hosting plans are easily their best offerings. They offer you the security and privacy of your own data center, which is yours to customize as you wish. 100TB's private cloud servers are powered by OnApp, the industry's leading fully-automated orchestration platform.
Since they specialize in dedicated servers, they don't offer many of the typicalweb hosting features, such as website builders, email, or domain registration. Plesk and cPanel licenses are available, but are optional features that come at an additional cost. However, they do provide their own custom control panel for users to manage their servers.
100TB does not cater well to beginners, given that their primary offerings are enterprise-level solutions. This means that 100TB is best suited to users who already know what they want in a dedicated server and have experience managing one. Of course, their customer support is top-notch and available to help when needed!
Pricing & Support
100TB's plans are priced monthly, and you can choose between bare metal servers and private cloud hosting packages. Each server can be configured for the specific needs of your business, but plans are relatively fixed after that because they require actual hardware.
They also offer a budget-friendly VPS hosting option for smaller websites, which can be quite appealing to startups or small e-commerce stores that expect future growth. Although there isn't a free version available, they provide an hourly pricing scheme for their virtual server hosting plans. Unlike the dedicated servers, you can conveniently adjust VPS resource allocations through the user interface.
100TB offers round-the-clock support via live chat, email, and phone. Their phone response times are excellent: on every occasion, I was able to speak to a customer support representative in under a minute. Email times are similarly responsive, with most queries answered within 10 minutes. Customer support representatives were well-versed in the technical aspects of server management and able to help withany questions I had.