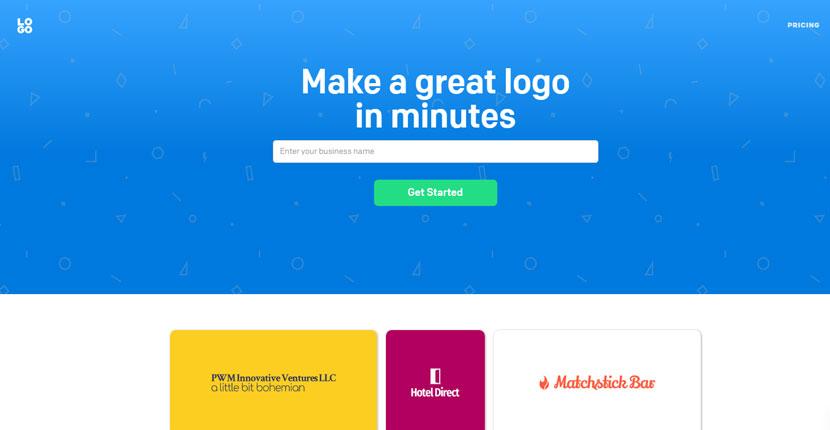 Creates Decent Logos, but I've Seen Better
Logo.com, based out of Vancouver, Canada, claims to have used its "Logo Design Engine" to serve over 5 million logos since its founding.
Sure, if you want a quick logo concept, it delivers on that promise without being overly fancy or feature-packed. And you don't need any special software or graphic design skills to use it.
But when you can pay as little as $5 for a real custom logo created by a professional designer on Fiverr, is this DIY tool really worth using? Read about my experience with Logo.com, and why I've decided it just can't compete.
Features and Ease of Use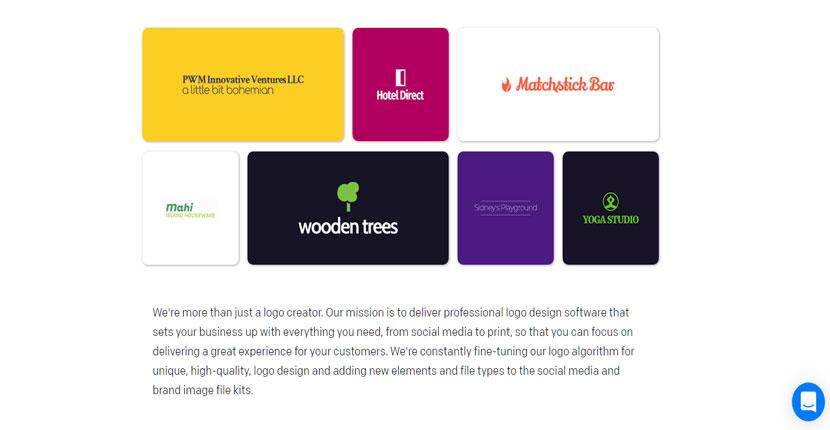 Logo.com is pretty easy to use; you don't have to do much editing if you don't want to. It's free to try, but fair warning – your final logo design will cost real money. It also doesn't offer much in the way of features; the biggest design decisions (font choices, color schemes, and logo layouts) are handled by the AI wizard. You get to ultimately decide if you like what you see.
The logo creation steps are also simple. After you enter your business name, slogan, and industry, you can watch as the AI wizard generates potential logos for you. Choose the logo design you like best, and keep it as is or make simple edits.
Generates Unlimited Logos, but with Random Elements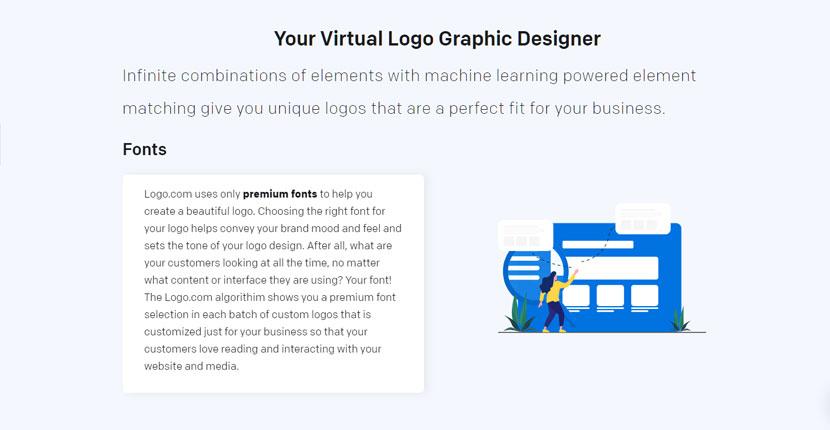 Logo.com goes into great detail to describe its very simple process: It uses a range of "premium" fonts, icons, and color swatches to generate logo options for you. Unfortunately, you don't have much control over what it chooses.
Another downside is that even after creating millions of logos, Logo.com only supports the English language, and has limited character support for Latin-based languages. It won't let you use any non-Roman characters – I tried several to no avail.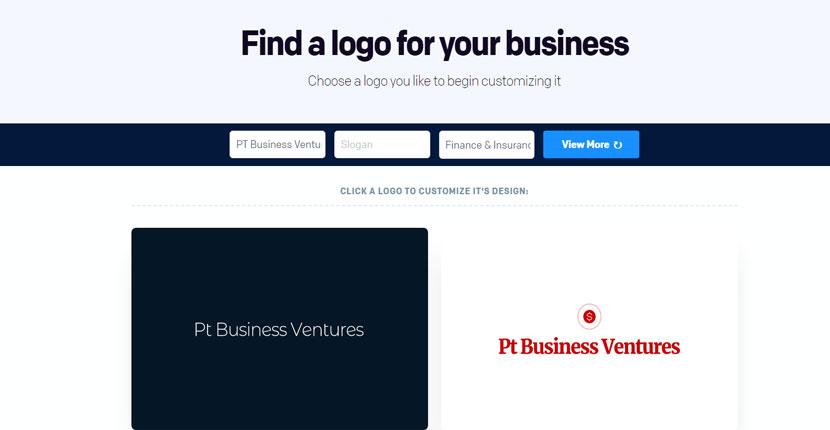 Logo.com can generate unlimited logos, yet it seems to incorporate a random, limited selection of design elements while doing so.
For example, I found some of the combinations had absolutely nothing to do with the industry I chose (finance and insurance). I was seeing medical, dental, and nature icons instead of business-related designs. I couldn't tell it up front which colors I liked, either.
So, this "virtual" designer still needs a little work.
Limited Editing and Layout Options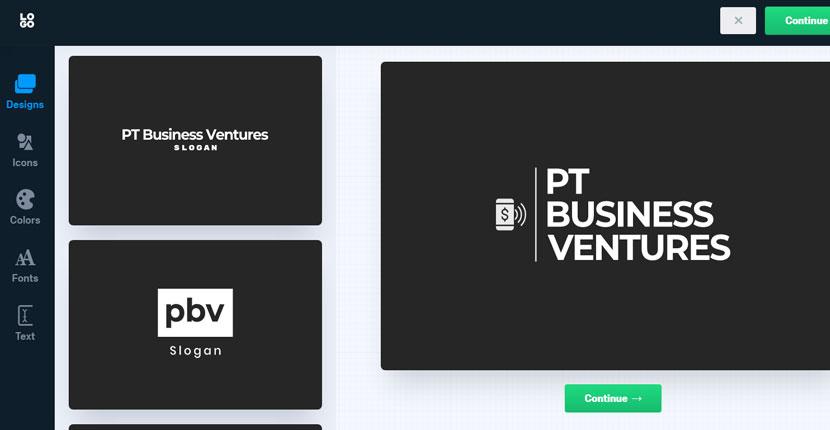 The design interface looks slick, but it's extremely limited in terms of making logo edits. This might be just your thing if you don't want to spend a long time fussing over your logo design, but I found it very frustrating.
You have little control over the layout or individual logo elements – before you buy the logo, you can't click or drag any part of it to make manual adjustments.
So, how do you tweak the design? The logo editor generates previews of layouts, colors, and font variations for your consideration. You can select design variations until you see a combination you like, but that can take a while. You can also search for industry-related icons that fit your design better if you don't like what the AI generates for you.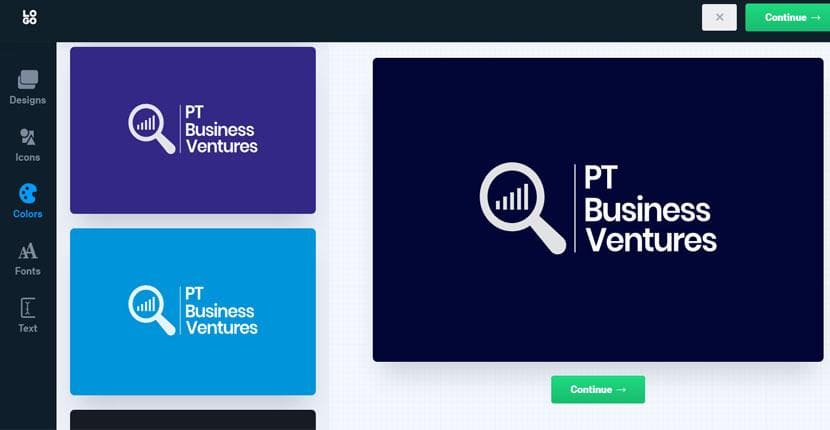 In my opinion, it would be much easier to type in your text and choose from a library of fonts, icons, and color palettes. With this greater design freedom, you could start with an AI-generated design, and make it your own by editing each part of your logo until it looks just right.
Note: My colleagues have tested and reviewed quite a few other AI-powered logo makers that give you more design freedom. Don't miss our list of the best logo design services.
Free to Look, but Not to Save
Here's something else to keep in mind – you can't save a logo in-progress.
If you like what you've made, you'll have to purchase your logo before you can save and download it. You can preview your logo before you buy it, but if you want to come back to it later, you're out of luck unless you've paid.
Pricing and Support
A Nice Selection of File Formats for a One-Time Fee
Logo.com offers a single logo package for a one-time fee. The downloadable ZIP file comes packed with ready-to-use PNG and SVG files, including:
Color and black-and-white versions of your logo
Business card templates
Social media graphics
A website favicon
High-resolution wallpapers for your desktop and mobile devices
Accepted payment methods: All major credit cards, PayPal, Apple Pay, and Microsoft Pay.
Usage Rights Are Slightly Confusing
Logo.com claims you have full commercial and non-commercial usage rights of your logo as a whole, and can even file a copyright or a trademark, but individual logo elements (such as fonts and artwork) cannot be trademarked.
This is where you'd be better off hiring a professional logo designer on Fiverr. You'll actually pay less for a truly custom logo featuring original artwork that you can trademark. If you want to see some samples, check out our in-depth Fiverr Logo Design review, where we tested several different designers.
It's Hard to Find Answers
Logo.com isn't very generous with support – there are no instructions on how to use the logo maker, and the FAQs don't offer much help beyond the basics.
It does provide several contact methods, including a form, email address, phone number, mailing address, and live chat (when available), but good luck getting a response.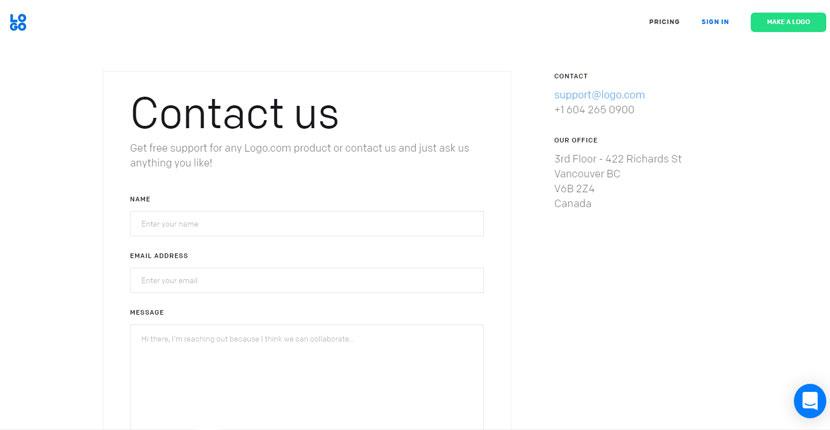 I wanted to know if you can edit a logo after purchasing it. I asked via chat, but  didn't get a response, even after several hours.
I asked during what should have been normal business hours, and from the same time zone as their office… I guess the support team doesn't check in very often.