Data Security and Online Backup Made Easy
| | |
| --- | --- |
| Data Server Locations | US |
| Backup Options | Manual, backup reports available, no offline backup/restore, no backup from external drive, no mirror image backups |
| Limits and Restrictions | None |
| Applications and Operating Systems | Windows 10 (64-bit) iOS 10.13 and later |
| Encryption Keys | 256-bit AES, Argon 2, XChaCha20, and ECC, private encryption key |
| File Access | Web app, desktop app |
| File Sharing | Yes, via app |
NordLocker has impressive cybersecurity tools that make it easy to protect your data and securely back up important files.
It gives you complete control of how you protect and store your data. You choose which folders, documents, photos, or videos you want to encrypt, store, and manage in lockers. You decide which lockers and data to keep on your PC or Mac. And you choose what you want to securely back up to the cloud.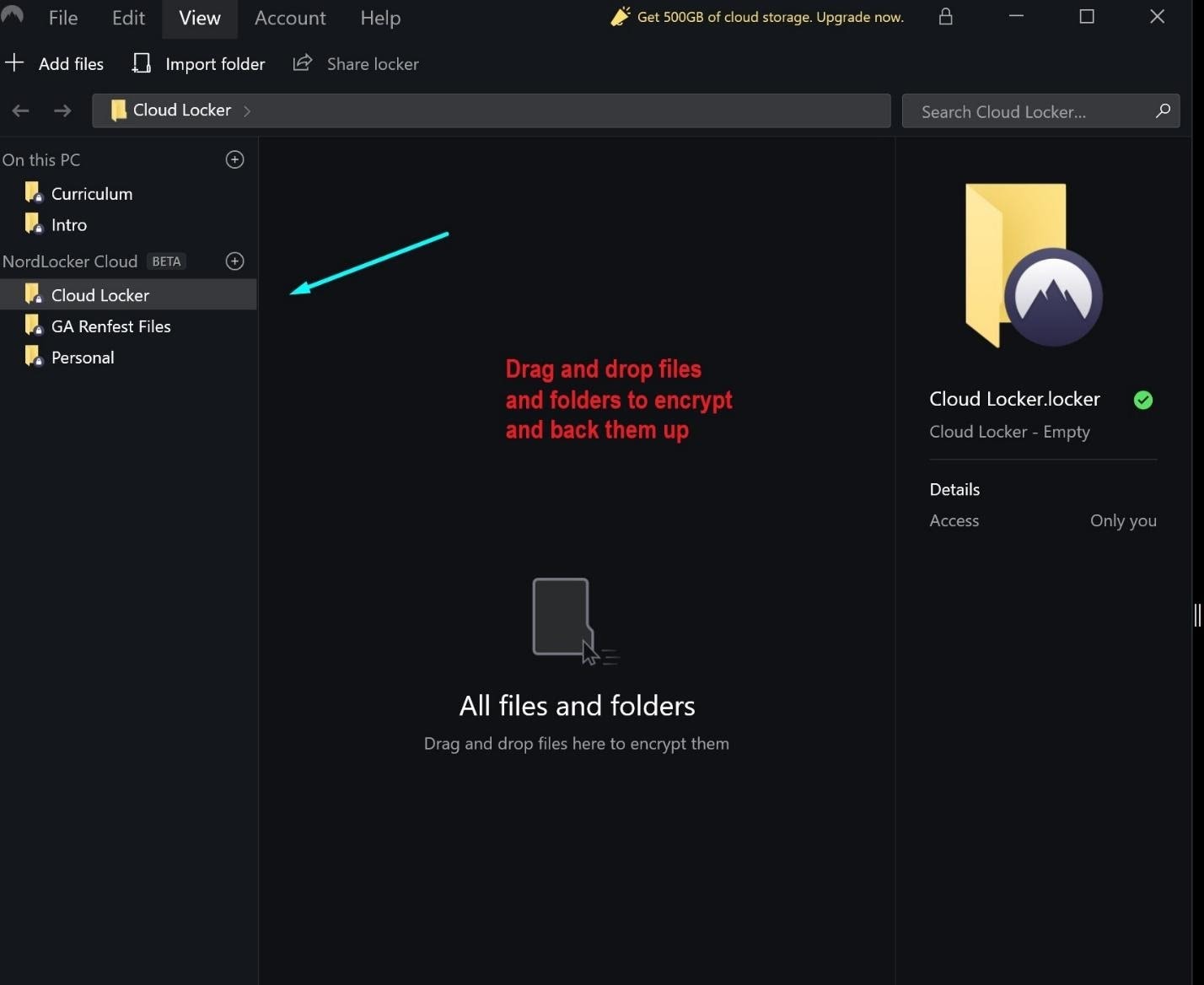 You can install the software for your NordLocker account on multiple computers at no additional charge.
You can also install more than one NordLocker account on a single device; since each account has its own master password, it cannot be accessed by other users.
Back Up Files with Drag-and-Drop or One Click
NordLocker makes it easy to encrypt important or sensitive data and securely back it up to the cloud. Simply click on Add files and then drag and drop a file, or an entire folder, to an existing or new desktop or cloud locker.
Alternatively, right-click a file or folder and select Convert to Locker. With either approach you can select multiple items, making it easier to encrypt and back up lots of data quickly.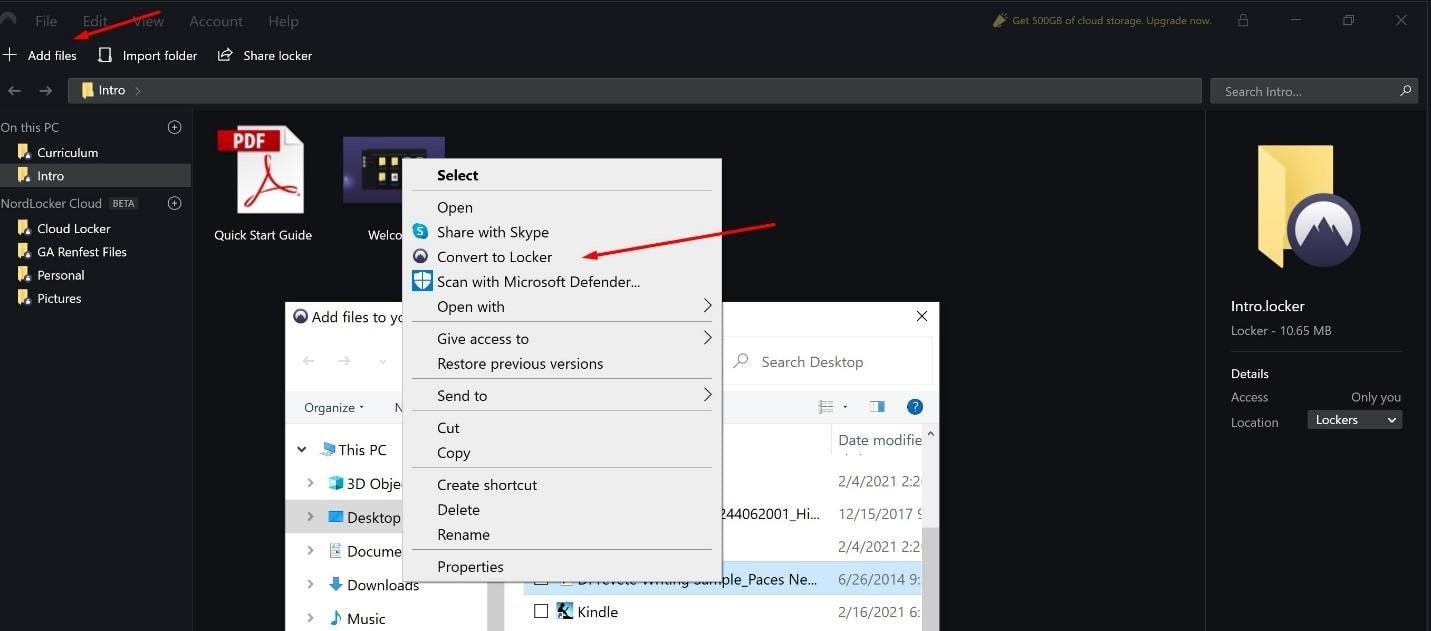 NordLocker doesn't allow you to schedule your backups or back up data from external hard drives or network-attached storage. It also doesn't back up system or application files, or create a disk image so you can reboot your computer if it crashes. These aspects of your backup will need to be handled manually.
You might miss the convenience of having a backup service that just does it all, like iDrive or Acronis. But NordLocker's flexible approach does have its advantages.
Some files stay on your desktop, encrypted and instantly available to be edited or shared. Others are securely stored in the cloud and organized in searchable lockers, where they can also be edited, shared, or recovered.
What's more, each time you launch the NordLocker application, it automatically syncs all the files you've stored in the cloud.
Restore Data from Any Computer
Restoring an individual file from your cloud lockers is simple. Select a file from one of your lockers and choose Export decrypted. Then decide if you want to download a copy or remove the file from cloud storage.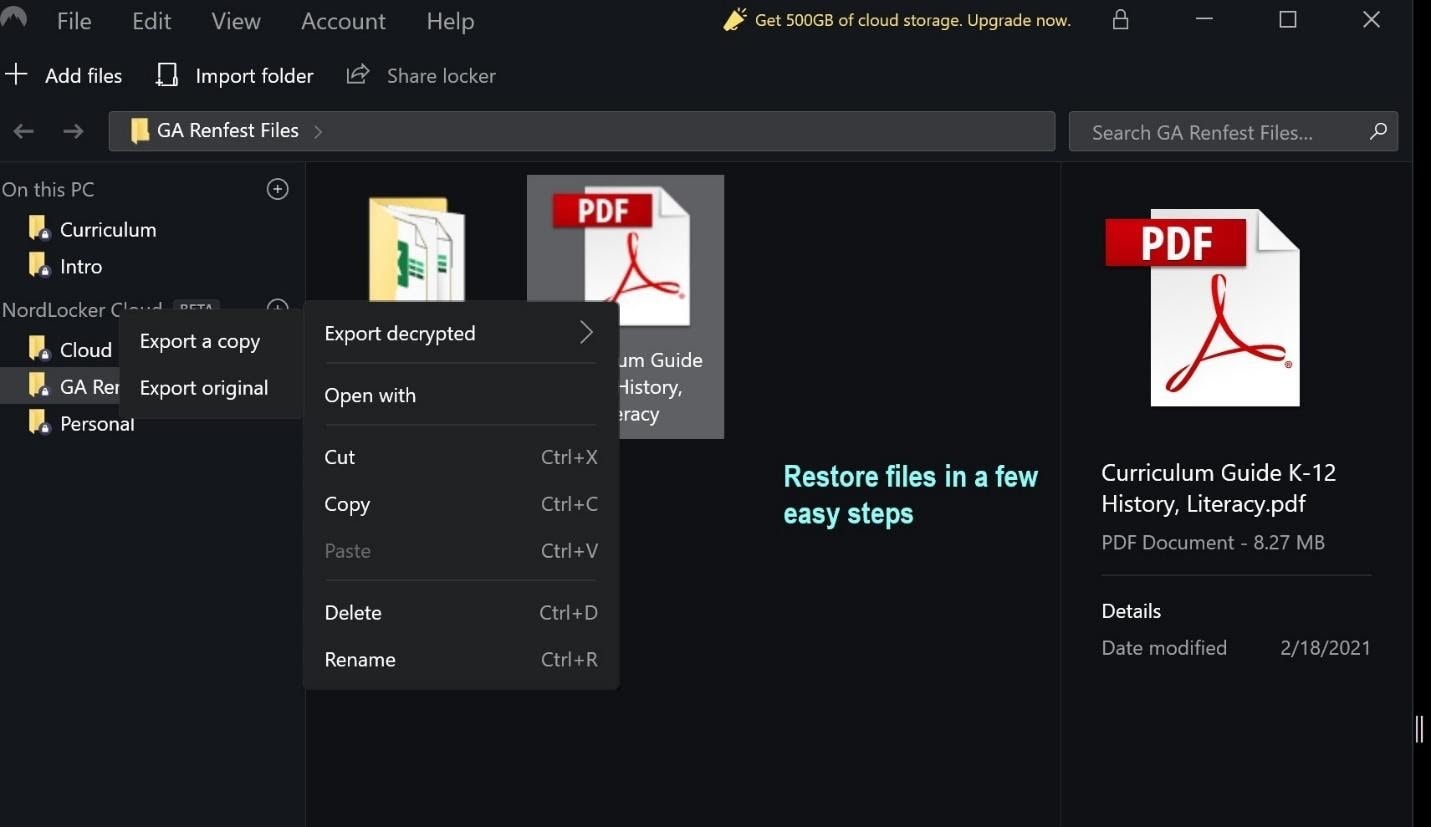 If your computer is stolen, damaged, or lost, you can log into your NordLocker account and recover and download all the data you had stored in cloud lockers onto a new computer.
NordLocker is missing some disaster recovery options, however:
It won't download your backed-up data to a hard drive and mail it or send it by courier, as some other online backup services do. Data recovery is strictly digital.
You can't restore your data from your phone or tablet.
You also can't recover files that were stored in desktop lockers.
A Zero-Knowledge Process Secures Your Data
When you open a NordLocker account, you immediately realize this is a company that takes privacy and data security seriously.
After you download the software, you can either log in to an existing Nord account or create a new one. If you're setting up a new Nord account, the service will send a six-digit verification code to your email.
Note: Billing and payment for NordLocker is handled through a centralized Nord Account (which also includes services like NordVPN) rather than your specific NordLocker account.
Then it's time to choose a master password for your NordLocker account, which is a private encryption key (PEK) known only to you that NordLocker doesn't store and can't retrieve. This also means NordLocker can't decrypt your data without your permission. (This is an important privacy and security feature that I'll cover again later in this review.)
Each time you launch the application, you have to enter your master password to access your lockers, whether they're stored on your computer or in the cloud.

Fortunately, recognizing that we all forget passwords – including the important ones! – NordLocker creates a 25-digit recovery key that can be used to reset your master password. Store this safely. If you forget your password and misplace the recovery key, there's no way to access your files.
Advanced End-to-End Encryption
NordLocker protects your files with impressive state-of-the-art encryption. It uses 256-bit AES encryption supported by additional cryptographic hashing algorithms – Argon2, xChaCha20, and elliptic-curve cryptography (ECC) – to keep your data private, whether it's on your computer, in transmission, or at rest in the cloud.
Simply drag and drop a file to a desktop locker and it's instantly encrypted.
It's just as easy to encrypt and back up a file or folder to the cloud with a drag-and-drop or right-click. You'll see the encrypted file pop up on your NordLocker dashboard before it's transmitted over a secure connection to NordLocker's cloud servers.
End-to-end encryption ensures no one – not even law enforcement – can view your files.