Weebly Pro
is popular among users and reviewers,
but is it right for you? Does it offer good value for your money? Don't rush to commit to a paid plan.
You don't want to end up paying for features you don't need — especially if you decide to pay upfront for one or two years.
Besides, what if even Weebly Pro ends up being too restrictive for you? It's always a good idea to consider other options, such as Weebly's Business plan, or even another website builder altogether. In this article, we'll share our
Weebly Pro
experience with you. We'll take a look at what features it offers, whether it gives you good value for your money, what alternatives you might want to explore, and what other Weebly costs you should consider.
Read on to find out if Weebly Pro could be a good choice for you.
Exploring Weebly's Features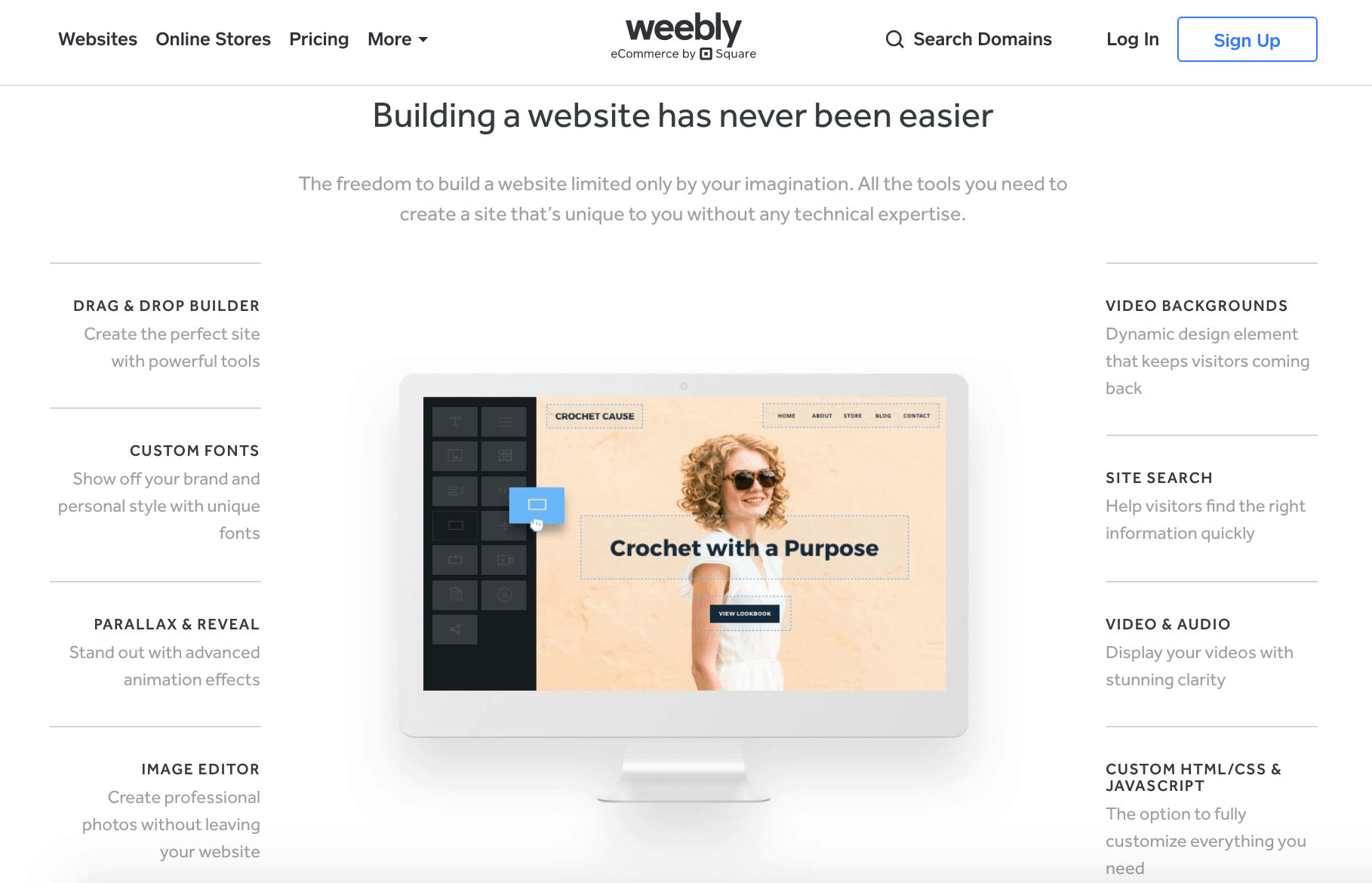 Weebly offers three paid plans: Connect, Pro, and Business. We'll focus on Weebly Pro in this review, but first, let's take a look at what Weebly's other paid plans offer. The most basic plan,
Connect,
is the cheapest. All it really does is allow you to connect your Weebly website to a custom domain name (e.g., www.example.com). You get a free domain name when you pay for a year of Connect in advance, but that's literally the only advantage over the free plan.
All other features are identical to the free version.
Weebly Pro is a little more expensive, but you get a lot more features.
It's a great plan, as long as you don't need the more advanced e-commerce features included in Weebly Business (an even pricier plan we'll discuss a little later). In addition to everything the free plan offers, Weebly Pro gives you SSL security, a free domain name (if you sign up for 12 months), and a whole lot more.
1. More Storage — Way More!
Weebly Pro gives you
unlimited storage space.
You'll no longer have to worry about running out of space when you're uploading images and videos to your website. On the free plan, each file you upload can be only 10MB max. On Weebly Pro, each file can be 250MB max. And if you want to upload a video, it can be 1GB max.
2. No Ads!
Some of the biggest frustrations of having a free Weebly website are the Weebly branding and the ads that are splashed all over your website.
With Weebly Pro, your website will be free of ads and look much more professional.
3. Handy Search Bar
Weebly Pro's search bar can help your visitors find the information they're looking for quickly and easily. Another thing that's great about this feature is that
you can even control what comes up in the results when visitors perform a search.
If there's a page you want to keep hidden, you can check the "Hide this page from search engines" option in the page settings panel.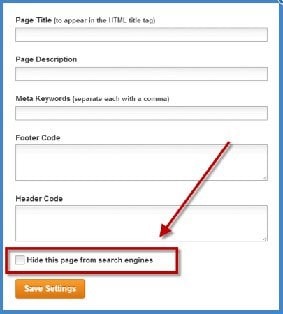 4. Online Store
If you'd like to sell online but you don't have many different products, Weebly Pro could be perfect for you. You can sell up to 25 products on your site. Just keep in mind that when your customer goes through the checkout process, they'll be directed to a secure checkout page on
weebly.com
. If you'd rather have your buyers stay on your own domain, you'll need to upgrade to
Weebly Business.
This plan also lets you sell unlimited products. For every sale you make on Weebly Pro, you'll have to pay the following fees:
Square: transaction rate 2.9% + 30c
Third parties (e.g. PayPal, Stripe etc): transaction rate 2.9% + 30c, plus an additional 3% fee for using a third party
5. Site Stats Insights
Site Stats can show you how much traffic your website is getting. In the free plan, you're restricted to 30 days of visitor data, but in Weebly Pro there are no restrictions.
The advanced site stats in Weebly Pro not only tell you how many visitors your website is getting, but also give you the following information:
Most popular pages on your website (those with the most views)
What people searched for to get to your website
Which external websites have been referring traffic to you
6. Better Support
Weebly's free plan gives you chat and email support, and the Pro plan throws in phone support.
Your questions get priority over questions from free plan users, so you can expect that your issues will be resolved faster.
7. Other Cool Extras in Weebly Pro You Might Not Know About
In addition to the advertised features in the pricing charts on Weebly's website, there are other advantages to the Pro plan that are easy to miss. Here are the best ones:
Beautiful Slideshows
You have more options for your website's header on Weebly Pro.
You can have a slideshow of images instead of a single static image (which is all you can have on the free plan).
You can customize your header slideshow and control transitions, the delay between slides, navigation options such as buttons or arrows, and linked text on your images. It's worth noting that Wix offers a slideshow header as part of its free plan. If this feature appeals to you, but you're unsure whether you'd really benefit from Weebly Pro's other features, it may be worth
checking out Wix
instead.
HD Video
With Weebly Pro, you can also use the HD Video element within the editor.
This is a great alternative to uploading your videos on YouTube before embedding them onto your website.
Since Weebly offers unlimited storage and unlimited bandwidth on the Pro plan, you don't have to worry about running out of space (as long as each video is less than 1GB in size).
Audio Player
If you have a podcast you want to showcase on your website, or music you want to share with your visitors, the audio player in Weebly Pro makes this really easy.
You can only upload MP3 files,
so if your audio is in another format you will need to convert it to MP3 first.
Favicon Creation
Favicons (those little icons you might see next to a website's name in your browser's tabs) are a great way to add an extra level of professionalism to your website, and with Weebly Pro you can easily add your own favicon. You could use your logo or something else that represents your website.
Membership Creation
If you want to experiment with a membership-based site or some kind of exclusive "club" on your website, Weebly Pro lets you add up to 20 members.
That's not a huge number, of course, but it's enough to experiment with. When you use the membership feature, you can set up pages to be viewable only to members.
Footer Area You Can Customize
Another Weebly Pro feature is the customizable footer area. In the free plan, you get this link in the footer:

When you upgrade, it's entirely up to you what goes in the footer area, and you can get rid of the Weebly footer link and popup.
You can replace it with your social media links, contact details, or some brief "About Us" information. Simply getting rid of the Weebly footer branding instantly makes your website look more professional.
Password Protection for Your Pages
Want to keep some of your pages private, or available only to certain people? With Weebly Pro, you can easily password-protect your pages. For example, if someone signs up for your mailing list, they could get an email with a password to a page that has exclusive content or a downloadable freebie. One drawback with the password protection in Weebly Pro, however, is that you can only set one password. That means that although you can have many password-protected pages,
all pages will have the same password.
There's no way to set individual passwords for different pages, unfortunately. This isn't a huge problem, but it does mean that once someone has the password, they can access all the password-protected content on your website, making it difficult to offer exclusive content to different groups of people.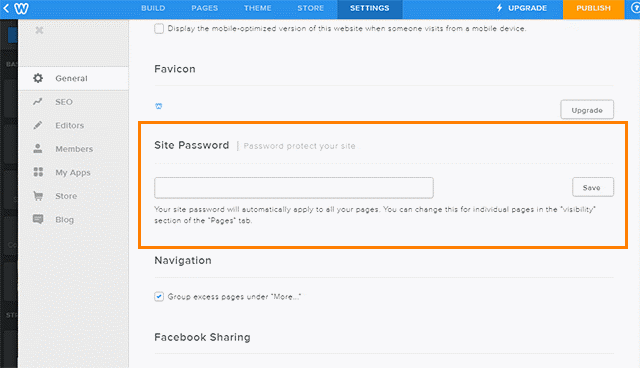 Value Matters – Is Weebly Pro Worth It?
Compared with the prices of other website builder plans with similar features,
Weebly Pro's pricing is about average.
In terms of value, there are both positives and negatives.
Pros:
Unlimited storage and unlimited bandwidth.
This is a great reason to upgrade, and for the price you pay, it's actually really good value.
Ad-free site and custom domain.
If you're using your Weebly website for business, then it's worth upgrading to the Pro plan just for the fact that your website will instantly look more professional. Having a custom domain and losing the Weebly branding are essential if you want to create the best impression.
Cons:
Basic e-commerce features.
While you can set up your online store on the Pro plan, your options are limited in terms of the number of products you can list, and you pay more in fees than you would on the Business plan. If you're serious about selling online, you'd be better off choosing the Business plan.
Plan length.
To get the cheapest (best value) prices for Weebly Pro, you have to sign up for a long-term plan. This isn't uncommon, but it does mean that you have to be sure that Weebly Pro is right for you before you commit to a one- or a two-year plan. Paying monthly will cost you around 35% more than an annual plan. You should also be aware that you get a free domain name only if you sign up for at least one year.
Weebly Pro is a pretty cheap way to make your website look professional. To put the monthly price into perspective, the cost of a month of Weebly Pro is similar to the cost of three premium cups of coffee from your favorite coffee shop. However, it's important to remember that it's not necessarily the cheapest option available, and some of the features you pay for are included for free with other website builders (e.g., Wix's free slideshow header feature, as we discussed earlier).
Exploring the Alternatives
Whether or not you think Weebly Pro is the ideal plan for you, it might be a good idea to explore other options.
Weebly Business Plan
As mentioned, Weebly Pro isn't the best option for selling online. If you want to launch a store with more than 25 products, you'll have to upgrade to Weebly Business. With Weebly Business, you get everything that's included in Weebly Pro, with
additional e-commerce features
that can help you make your online store a big success:
Unlimited products
0% additional fees for third party payment methods
Product badges
Product option
Inventory management
Tax calculator
Coupon codes
Gift cards
Product reviews
Shipping calculator
Shipping label generator
Pop up notifications
Integrated Facebook ads
Advanced e-commerce statistics
Weebly's Business plan is more than twice the price of the Pro plan, so unless you need all these features, it's not going to be cost-effective. Make sure you absolutely need the advanced e-commerce features before you commit. You do get a
30-day money-back guarantee
with all Weebly's paid plans, so if you find that Weebly Business isn't right for you, you can get a refund.
Wix's Free Plan
Weebly's biggest rival,
Wix
, includes some features as part of its free plan that are available only in Weebly's Pro plan. Wix not only gives you the header slider feature for free, but also lets you customize your footer design, add social media details, contact details, and subscription forms, for example. Wix also has more customization options — this is one of the reasons it gets
great user reviews
. You get complete control over where every element on your page is positioned, and there's a wider range of elements you can add to your pages.
If you're thinking of upgrading to Weebly Pro for more customization options, you might want to consider Wix instead.
Will There Be Extra Costs?
With Weebly's paid plans, there will be situations where you're going to incur extra costs — for example, if you want to use a premium theme (which you can buy from third parties like Webfire Themes), or if you want a developer to build a custom theme for you.
The App Market has tons of free apps, but there are also a lot of paid options.
Because some of these are third-party apps, they have separate costs. You might also want to check out some of Weebly's own apps that have premium plans. Another cost that might not be immediately obvious is the price increase if you decide to pay on a monthly basis instead of opting for the annual or two-year Weebly Pro plan. The monthly prices are 35% higher than the annual plan and 50% higher than the two-year plan.
If you decide to pay monthly rather than annually, you'll also need to pay for your own domain name, which costs around $15 if you buy it from Weebly.
Is Weebly Pro Right for You?
Do you
really
need to upgrade to Weebly Pro? Here are some scenarios to consider:
If you have a personal website or blog, then upgrading to Weebly Pro probably won't be cost-effective. If you're mainly looking for features like the slideshow header or customized footer, you might want to try Wix instead.
If want to build a bigger following for your Weebly blog, establish yourself as an influencer, or champion a cause, then you'll benefit from having your own custom domain name and removing Weebly ads. Weebly Pro is a good choice for you.
If you use Weebly for your business website and it's a service-based business (as opposed to a large online store), then you need the professionalism that Weebly Pro gives you. Upgrade to Weebly Pro!
If you run an online business and sell more than 25 products, then Weebly Pro is not going to give you the e-commerce features you need to make your online store a success. Consider Weebly's Business plan.
Remember, if you do find that Weebly Pro isn't right for you, you can use the
30-day money-back guarantee.
If you're interested in learning more about Weebly, take a look at our expert review. However, if you're prepared to elevate your website to the next level, simply click the button below.