But which should you choose: Udemy, the global course marketplace, or Coursera, which offers online learning from the world's best universities?
In the debate of Udemy vs. Coursera, the question isn't about which is better. Instead, we've compiled this guide to help you answer this:
which website best meets your learning style and needs
? A full-time freelancer looking to offer better client services may have different requirements than someone interested in pursuing their passion project. By the end, you'll be equipped to decide whether Coursera or Udemy is best for you.
1. Course Offerings
Coursera Offers 11 Different Learning Programs, but Udemy Wins By Sheer Course Numbers
From photography to law to web development, both Udemy and Coursera offer online classes on a vast variety of topics. With more than 100,000 video courses from 42,000 instructors in over 50 languages,
Udemy's course catalog
is practically never-ending. You can find courses on hundreds of topics that support professional development, academia, or simply learning a new hobby.

As a student, you purchase Udemy classes as you take them. All classes provide
lifetime access
, meaning you can review and retake them as you please. This supports its learn-at-your-own-pace model that you'll read about later on in this review. In the
Coursera catalog
, you'll find more than 2,000 courses in over 30 languages, from 150 accredited universities. These courses are on about a dozen topics that correspond to specific job skills and academic topics – you wouldn't necessarily invest in Coursera to try a new hobby or interest. As a student, you can choose between a few different learning options: single courses, specializations (a series of courses surrounding a single skill), certifications, or degree programs.
Single courses take four to six weeks, specializations take four to six months, and degree programs can take up to three years
. Certifications vary.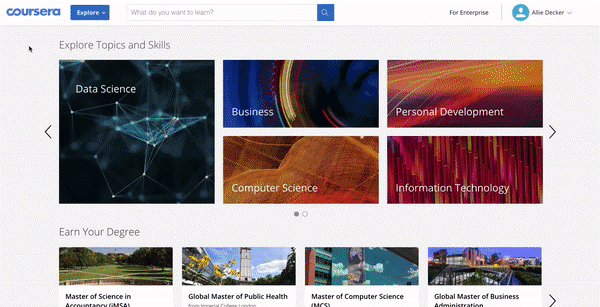 Coursera courses are only available once when you pay for them. To retake one, you'd have to repay for it or audit the material for free (which we'll talk about in the next section.)
And the Winner Is… Udemy
, if only for the sheer number and variety of courses it offers. But, if you are looking for high-quality courses focused on more professional topics, Coursera might take the lead for you.
2. Pricing
You Can Get Seven Days Free on Coursera, but Udemy Is Always Cheap
Online learning isn't cheap, but both Coursera and Udemy provide ways to better afford digital classes.
Udemy courses are incredibly affordable
and practically always on sale. In fact, as I write this, most courses are being offered for less than $10.
Regardless of price, all courses come with a 30-day money-back guarantee, too
. Purchasing Udemy courses is similar to online shopping. When you find a course that you like, you can click
Add to cart
or
Buy now
. When you check out, Udemy will suggest similar courses that you might also be interested in.
It's incredibly easy and straightforward to invest in online learning with Udemy
.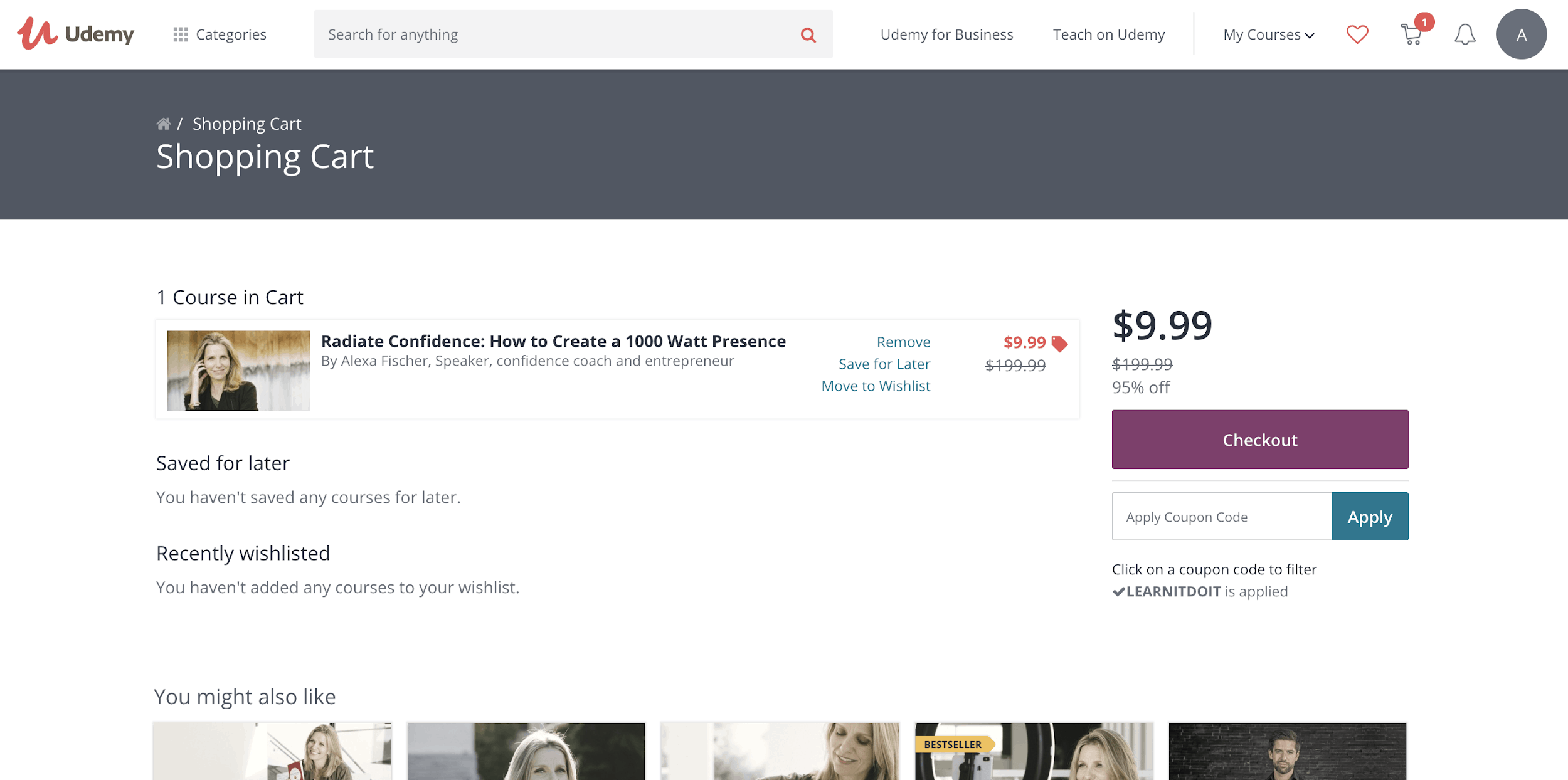 Coursera operates a little differently. Courses vary greatly in price – anywhere from a few dozen dollars to a few thousand – but are much
less expensive than a traditional college degree program
. When you "shop" on the Coursera website, you'll see options to choose a degree program, certification specialization, or single course. When you find a course you like, Coursera will prompt you to
Enroll for free
. If it's your first time on the platform, you can get a
seven-day free trial
 that provides full access to related courses (if the course is part of a broader specialization or degree program), a certificate when you complete the course, and free cancellation if necessary.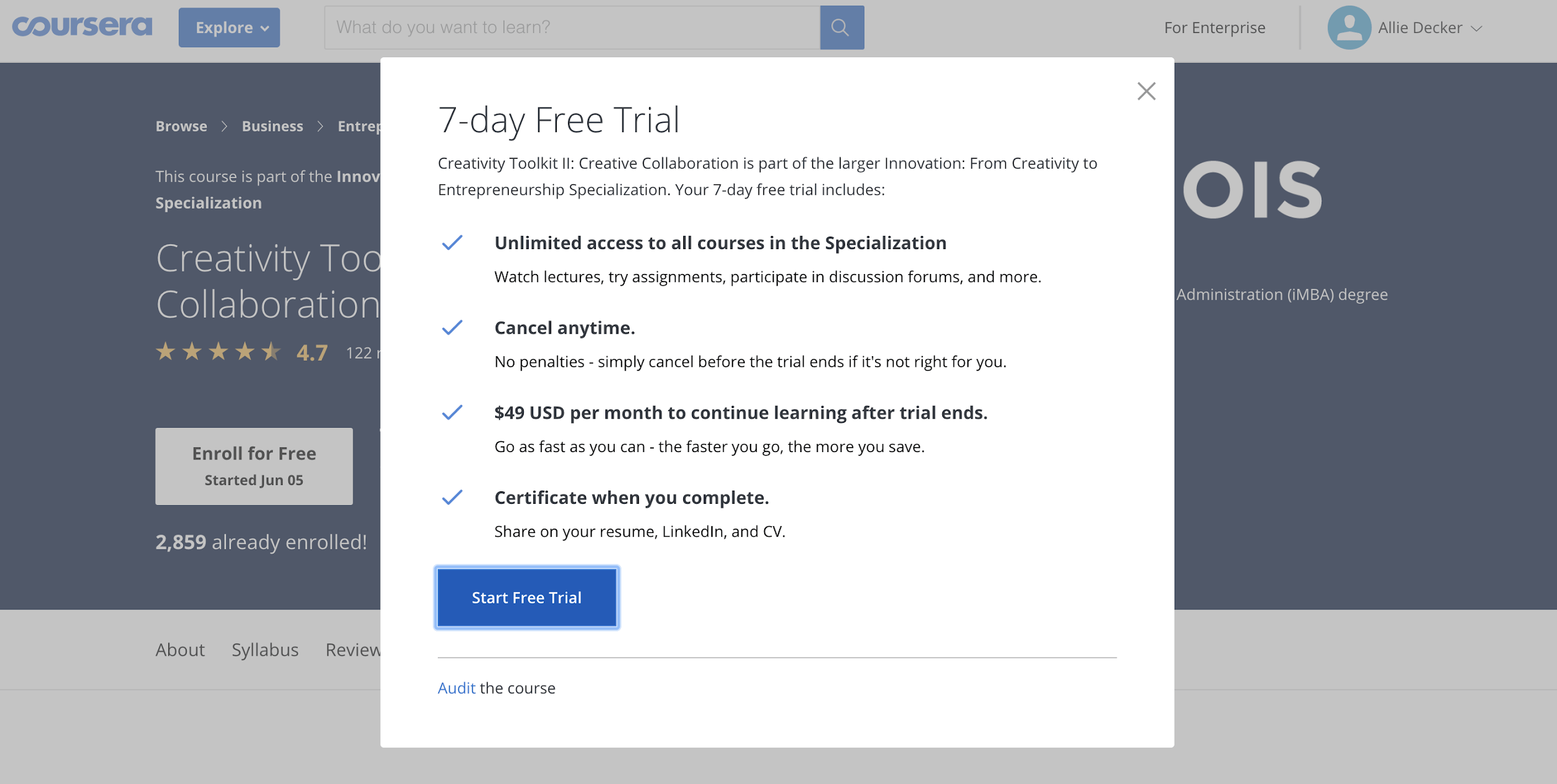 Outside of the free trial or purchase options, you can also choose to audit any course for free – although you won't get the completion certificate to share or publish on LinkedIn.
Lastly, Coursera offers financial aid if you qualify
. You must apply for each course you want to complete, and applications take up to 15 days for review.
And the Winner Is… Udemy
. Coursera offers lots of financial flexibility, and its free trial is a big plus, but Udemy pulls ahead with all-around cheaper course options.
3. Instructor Experience
Anyone Can Teach a Course on Udemy, While Coursera Allows Only the Best
Who's teaching your courses? The answer to this question is almost as (if not more) important than what you're learning. In this section, we'll talk about whether Udemy or Coursera provides more credible instructors. On Udemy, anyone can create or sell a course.
The site has branded itself a "course marketplace," which can be a good and bad thing
. It is easy to teach on Udemy, but there's little to no quality control in terms of how legitimate the instructor or materials are, and the Udemy management team doesn't run courses through an approval process. Because Udemy has such a low barrier to entry, you have to be a little (okay, a lot) more diligent when choosing courses. While some instructors provide high-quality material, others are blatantly advertising or attempting to upsell you. Before investing in a Udemy course, we recommend paying attention to reviews and ratings from former students.
Udemy also highlights popular instructors and best-selling courses, which can make your shopping experience easier
.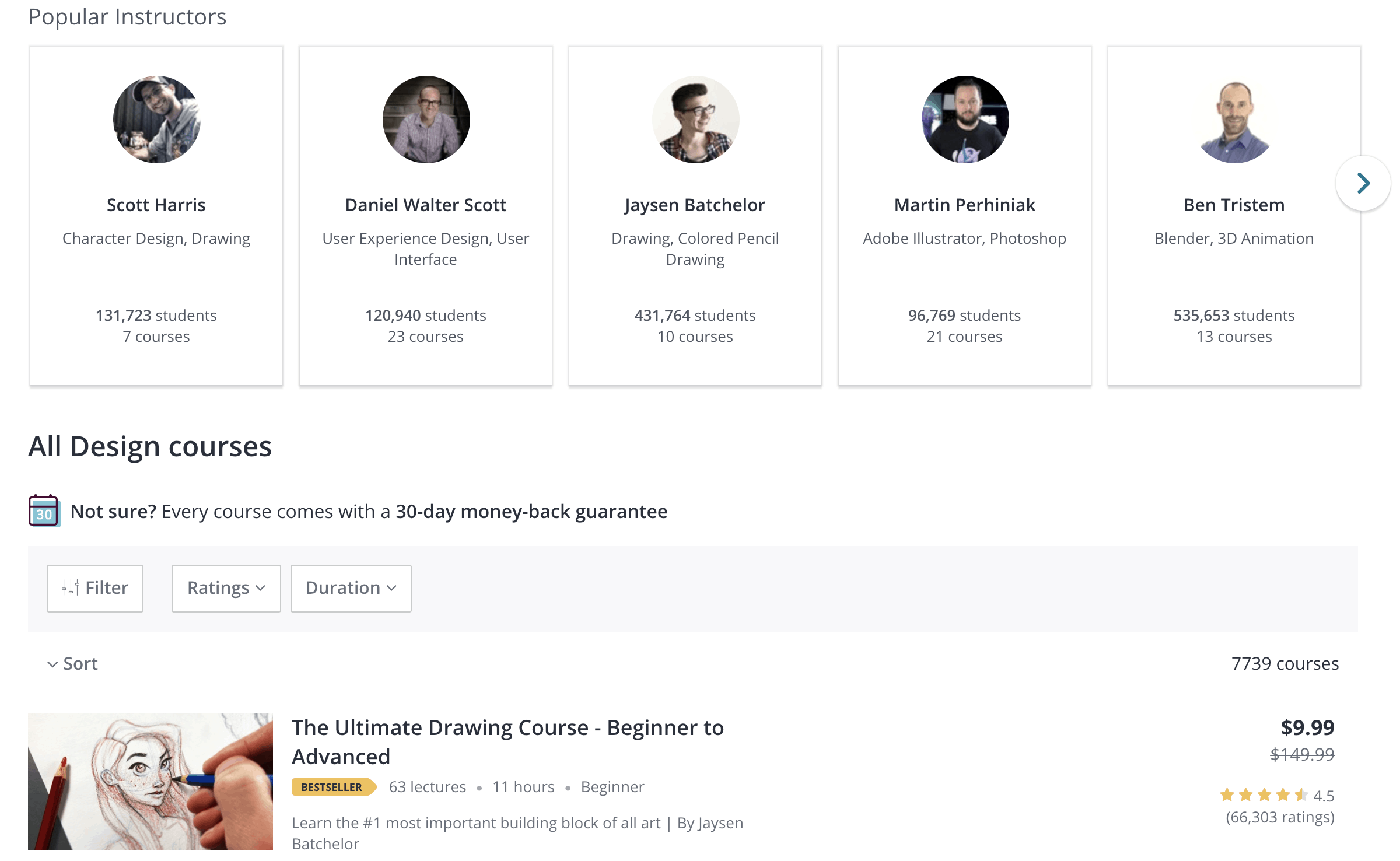 This isn't to say that Udemy courses aren't valuable or educational – it'll just take a little extra research on your part before you commit to a class. Coursera is the exact opposite of Udemy in this respect. Only professional instructors, educators, and experts teach Coursera courses.
In fact, they're often the same folks you'd see in the front of the classroom if you attended a traditional college
.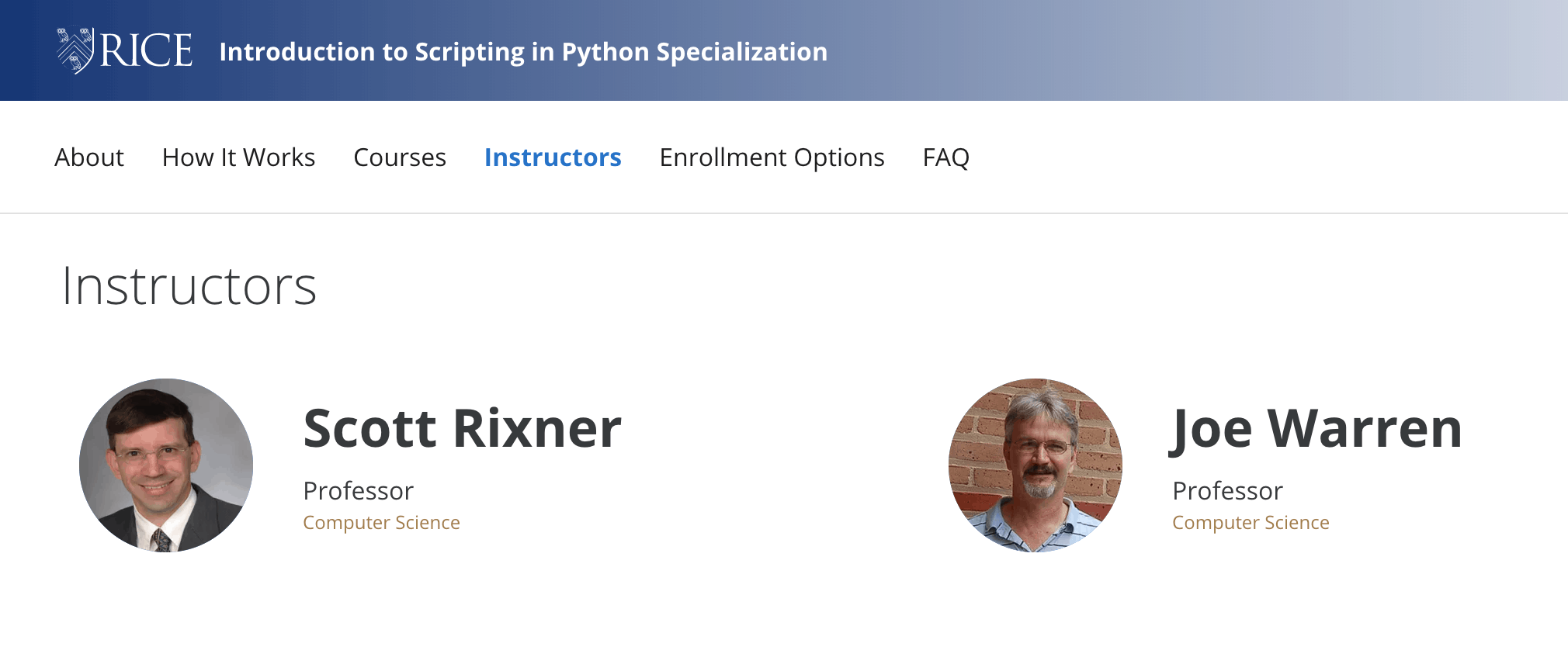 Coursera courses are also often partnered with accredited universities like Duke University or the University of Michigan. With these accreditations and associations, you can be confident that the very best people are teaching your Coursera courses.
And the Winner Is… Coursera
, where you can find world-class instructors teaching virtually every course in the catalog. Udemy also has experts, but it'll take some more digging on your part to find them.
4. Course Structure & Time Commitment
Coursera Is Like a Classroom, Whereas Udemy Hands You the Reins
Everyone has different preferences for how they like to learn. Some excel under daily guidance and structure, while others prefer to learn autonomously.
Udemy courses are completely self-led
. Instructors record video lectures and provide guides and articles, but the actual learning part is up to you. After you purchase a course, you're provided with all the needed materials to complete it. And, as we mentioned above, each purchase comes with lifetime access.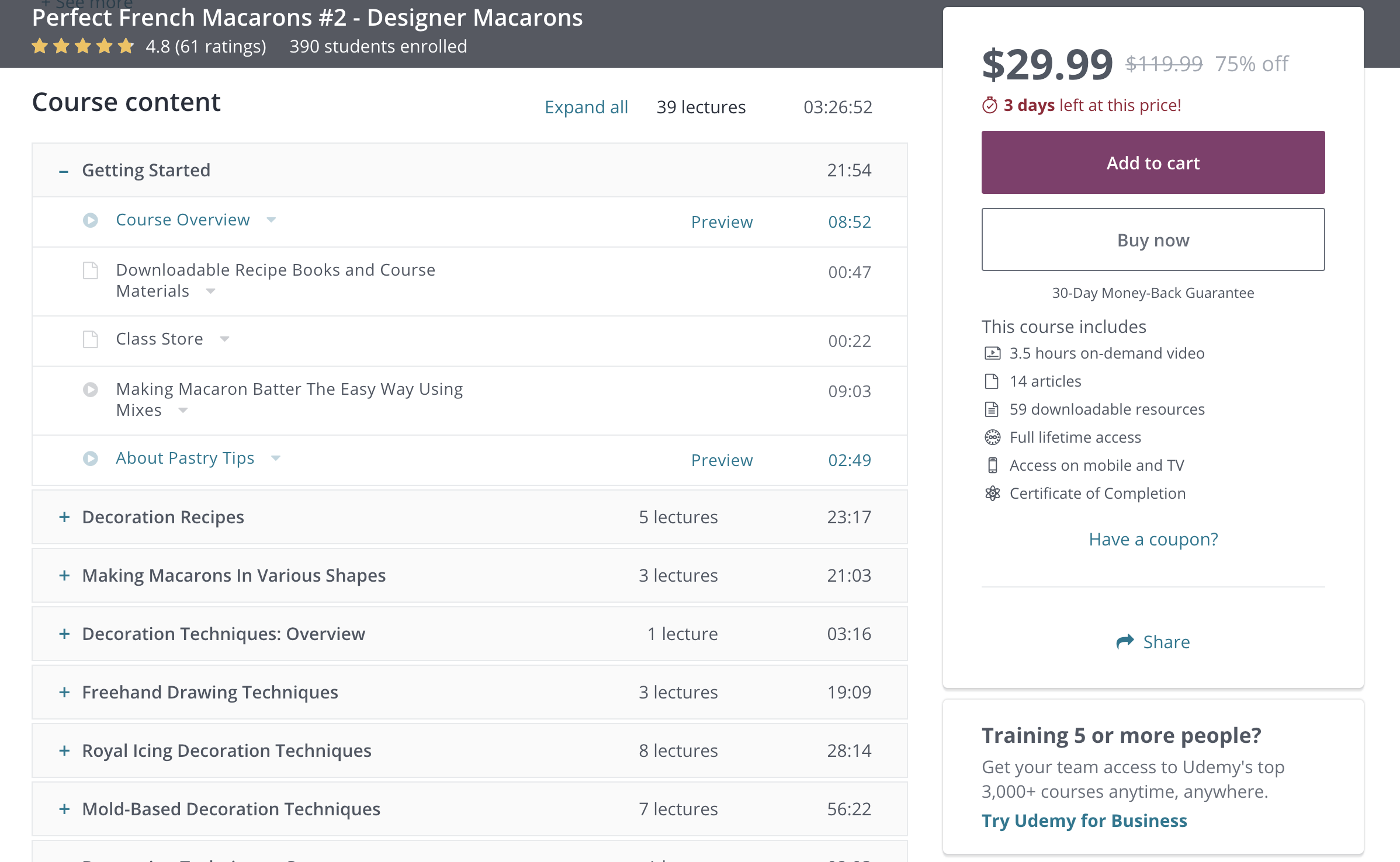 The benefit of this model is that, as a student, you don't feel any added pressure to follow a set timetable or reach class checkpoints
. You can work and learn at your own pace. If you prefer more structure, however, Coursera might be better suited for you.
Coursera courses operate like online college classes
. You must enroll by a certain date and follow a course syllabus by completing assignments, watching lectures, chatting with other students, and receiving peer and instructor feedback.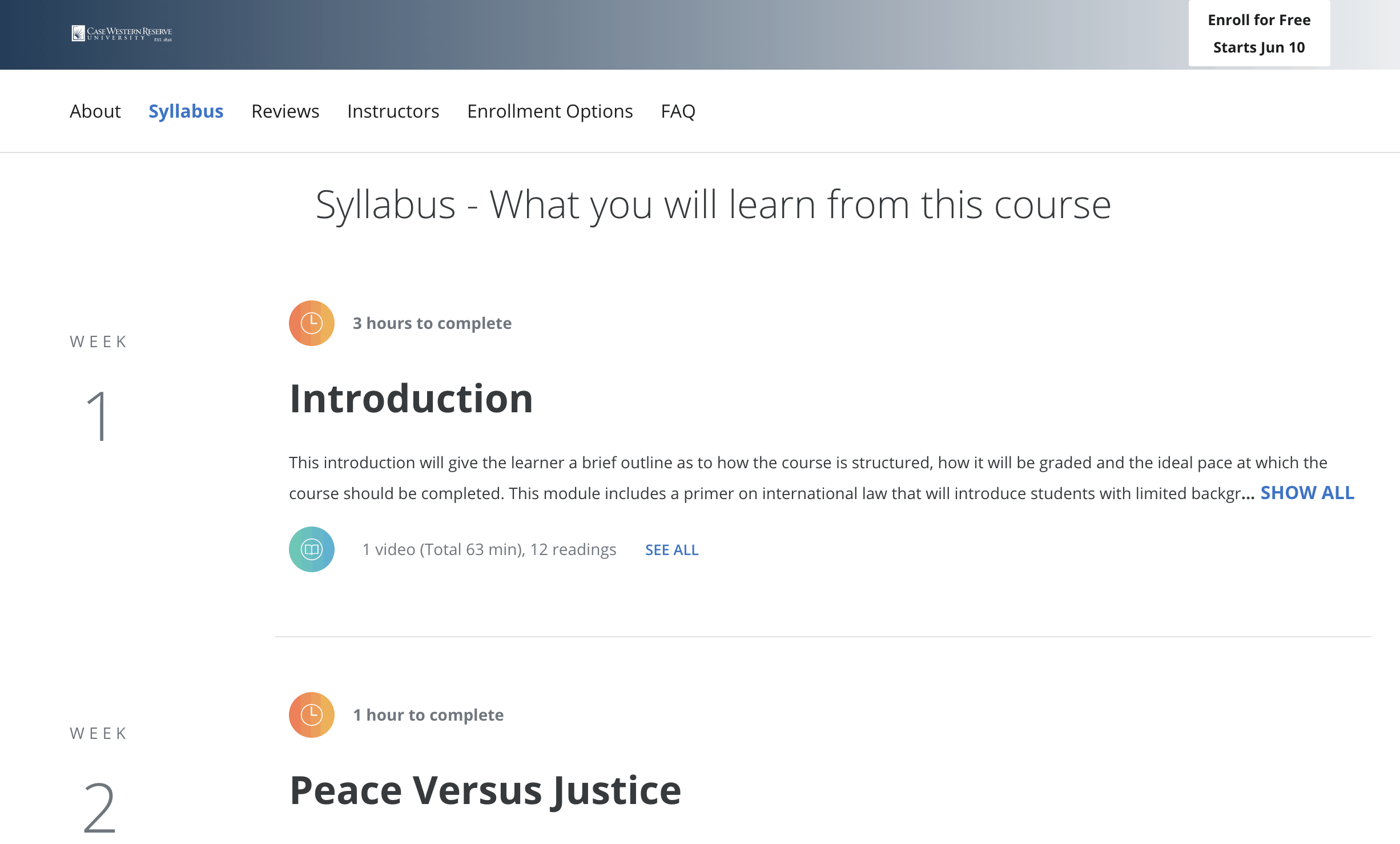 When you enroll in a course on Coursera – whether you're paying for or just auditing – you're obligated to follow the class timetable and complete the course on par with the other students.
Coursera expects active commitment from its students, and it provides the same from its instructors
.
And the Winner Is… Both
! It's hard to pick a winner here because the answer truly depends on your learning style.
If you're self-disciplined and like full control of your course schedule, Udemy is for you
.
If you prefer your online class to mimic a classroom with involved instructors and peers, we recommend Coursera
.
5. Program Credibility & Reputation
Udemy Can Help You Get Smarter, but Coursera Can Help You Get Ahead
Why are you taking an online course? What do you want to show for completing it? These are a couple questions you want to ask before investing time and energy into taking online classes. Course credibility and acceptability may be the determining factor as you decide between platforms.
Udemy is a great resource for boosting skills, but you wouldn't necessarily put its courses on your resume or LinkedIn profile
. Few courses offer credible certificates upon completion, and those certificates are accredited. While completing a course on Udemy, you will acquire and master a new skill. However, it's important to note that this won't automatically grant you a new certification or the ability to leverage the course for advancement in your professional or academic pursuits. In this case, your newly acquired skills will be your main reliance. The only exception, however, is Udemy for Business, which provides businesses professional training for their teams. These courses are intentionally used to develop skills and are meticulously curated by the Udemy team – which sets this program apart from the other Udemy courses. Businesses can invest in either the Team or Enterprise plan. To see the courses offered in this program,
go to the Udemy homepage
, scroll down to the bottom, and click the
Udemy for Business
link.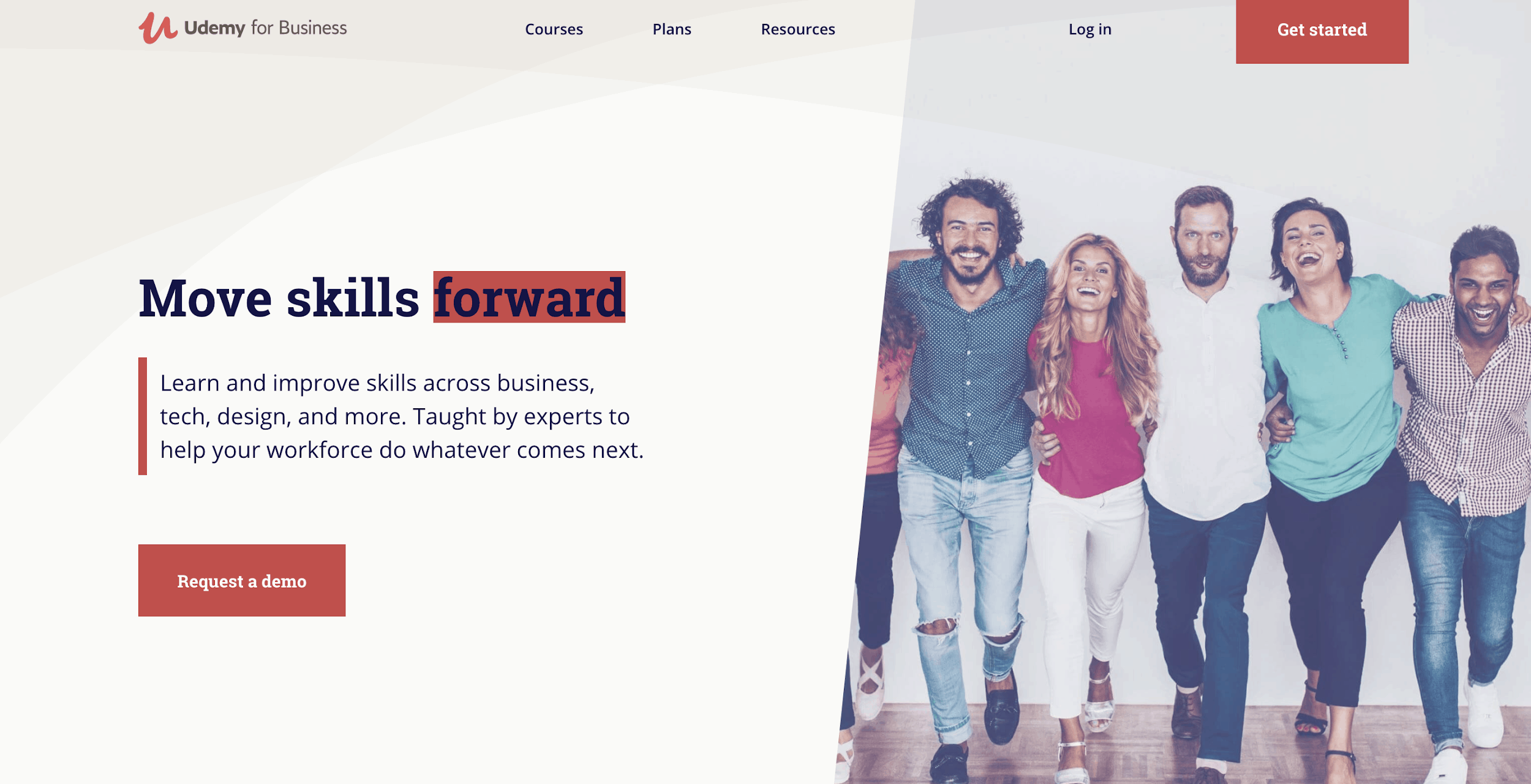 Coursera is quite the opposite. Courses on Coursera are associated with universities and college professors, so they're appropriate to share on a resume.
In fact, all courses provide accredited digital certificates to share on your LinkedIn profile or personal website
. If you are auditing the course, however, you won't receive a certificate

And the Winner Is… Coursera
. Coursera is unquestioningly better for enhancing your resume, achieving a promotion, or investing in your education. Udemy courses are valuable, but they should be treated as a way to enhance your skills, not publicize them.
Coursera or Udemy: Which Classroom Do You Want to Step Into?
Like we said at the start, the debate of Coursera vs. Udemy isn't a matter of which is
better,
it's about which is a
better fit
for you. Take a moment to consider your personal priorities:
What do you want to learn?
What kind of setting do you learn best in?
How much do you want to spend on an online course?
Do you care if the course is accredited or not?
Do you need or want to publish your course completion certificate?
Answering these questions honestly will help you decide between Udemy and Coursera as the best online learning solution for you. Let's review how the two educational platforms perform in each category:
 Course offerings
More than 100,000 video courses on hundreds of professional, academic, and hobby-related topics.
More than 2,000 courses and course programs in about a dozen categories that correspond with job skills and academic classes.
Cost
Courses are affordable and frequently on sale. 30-day money-back guarantee.
Individual courses and degree programs vary greatly in price. There is a 7-day free trial available, and the opportunity to receive financial aid. You can also audit course material for free (but will not receive a certificate).
Instructor credibility
Anyone can create and sell a course, so there is little to no quality control.
Instructors are from accredited universities and often teach in classroom settings, too.
Guidance and time commitment
Courses are self-led and come with lifetime access, so you can revisit the material at any time.
Courses are much more structured. You'll get hands-on guidance, follow a syllabus, and receive peer and instructor feedback.
Program credibility and reputation
Valuable for learning a new skill, but not credible enough to add to your resume or LinkedIn profile.
All courses come with a digital certificate designed for your CV, LinkedIn, or personal website.
Coursera is your best bet if you're looking to learn a new professional skill in a similar setting (and budget) as a brick-and-mortar educational institution. Courses and degree programs are designed to help you get ahead at work, and come with a credible, shareable certificate. Udemy is the better option if you're looking for a budget-friendly way to learn a new skill or hobby on your own time. While the course certificate might not mean much to an employer, there are literally thousands of new skills you can start learning today. Both Coursera and Udemy provide valuable, worthwhile learning experiences. As long as you choose the best learning option for you, you'll walk away with the appropriate research and time commitment. You'll also walk away with a new skill under your belt.